Karo tourism shows resilience amid volcanic eruptions
Apriadi Gunawan

The Jakarta Post
Karo |

Fri, December 29, 2017

| 10:19 am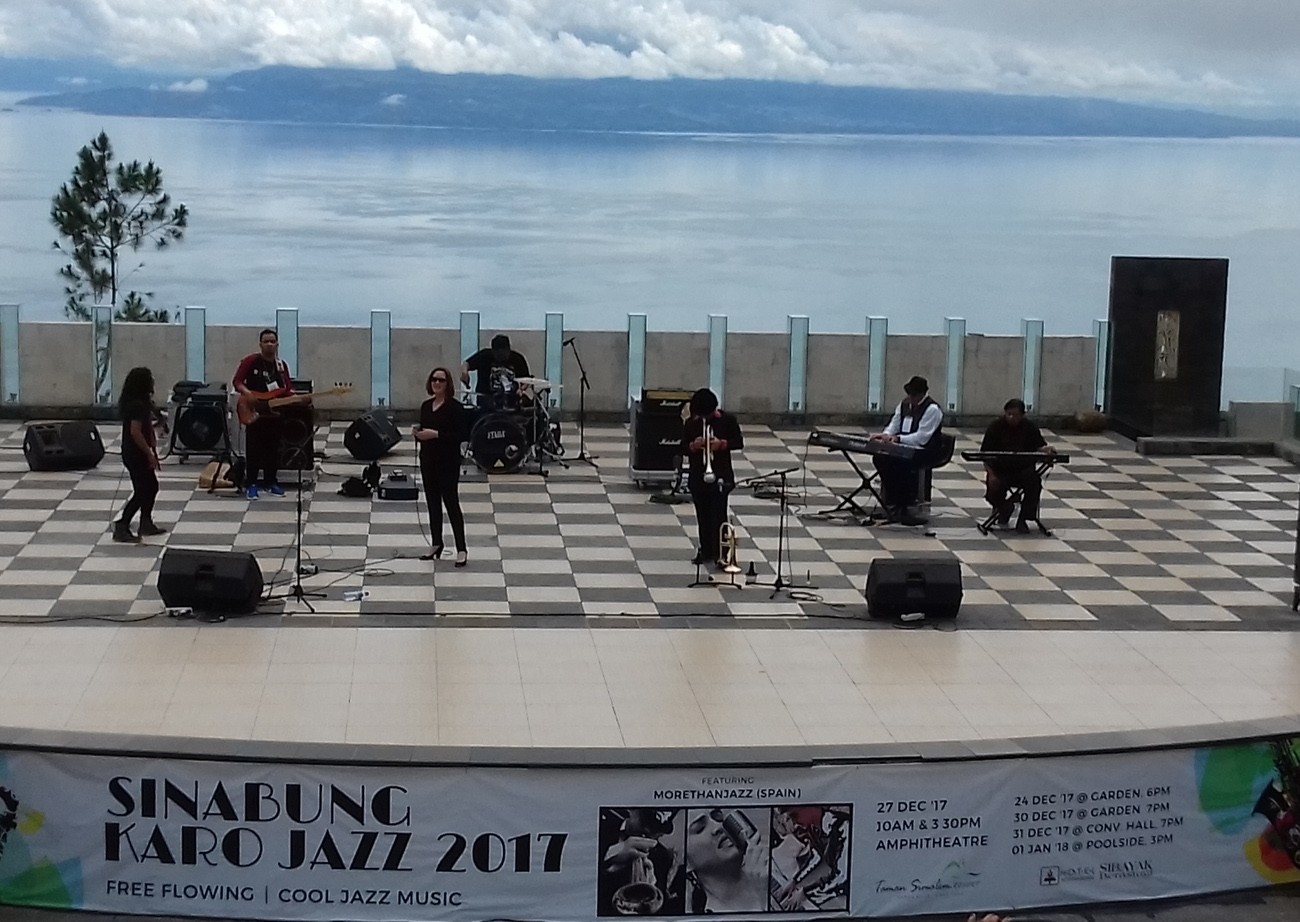 Feel the rhythm: MORETHANJAZZ, a jazz group from Spain, performs local song "Piso Surit" during the 2017 Sinabung Karo Jazz festival at Taman Simalem Resort in Karo regency, North Sumatra, on Wednesday. (JP/Apriadi Gunawan)
The repeated eruptions of Mount Sinabung in Karo regency, North Sumatra, have not deterred people living there from optimizing its tourism potential.

For example, the region recently organized an international jazz festival, dubbed Sinabung Karo Jazz 2017, at the Taman Simalem Resort on Dec. 27.

Head of the Karo Tourism Office, Mulia Barus, said the festival was proof of the safety of the region for tourist arrivals as well as international shows.

"It's the first international post-eruption musical event in Karo," he told The Jakarta Post, hoping it would attract more foreign visitors.
Other than music festivals, Mulia revealed the local government also planned to open a new tourist destination called the Volcano Park, which will make Sinabung's volcanic activity part of Karo's tourism.

"This volcano tourist spot is already in the master plan and will shortly be opened to draw tourists wishing to witness Sinabung's eruptions as part of nature tourism," said Mulia.

Apart from the park, according to Mulia, his office also plans to build a museum dedicated to Mt. Sinabung as a reminder for the nation and coming generations that the mountain has been erupting for years. He is convinced that the museum will later be a tourist attraction and home to various objects and accounts related to the eruptions.

"The Sinabung museum will serve as historical evidence of the longest period of eruptions ever recorded in Indonesia," Mulia said.

The 2,460-meter-high mountain first erupted on Aug. 29, 2010. It occurred after this highest volcano in North Sumatra had been dormant since 1600. With its seven years of eruptions claiming the lives of over 20 people, Sinabung still shows no signs of inactivity.

Sinabung's eruptions have hit Karo's tourism, causing foreign tourists to continue declining in number from 2010 to 2016.

Mulia noted that in the first volcanic outburst in 2010 foreign visitors to Karo totaled 5,796, which decreased to 5,500 in the following year, further to 5,447 in 2012, 2,711 in 2013, 1,951 in 2014, 752 in 2015, and 437 in 2016. Local tourist arrivals only shrank in number from 380,486 in 2013 to 324,670 in 2014.

Meanwhile, Taman Simalem Resort general manager Eddy Tanoto said the Sinabung Karo Jazz gig aimed at restoring the positive image of Karo tourism previously damaged by Sinabung's eruptions.

"Sinabung Karo Jazz will be seen as proof that Karo is safe. Tourists, especially foreign visitors, shouldn't be afraid of staying in Karo despite the ongoing eruptions," assured Eddy.

Advent Tarigan, the initiator of the event, said the MORETHANJAZZ group from Spain would perform in Sinabung Karo Jazz until Jan. 1, 2018. He added that in view of the keen interest shown by the spectators in the past three days, this international concert could hopefully be a regular event.

"We want this musical show to be routinely held in Karo as a magnet for tourists," Advent said.

The highlight of the festival is the performance by MORETHANJAZZ, which plays a number of famous jazz tunes such as Summer Time, Blue Moon and Bye Bye Black Bird.

Vocalist Eva Maria Manso Mateo has also confidently collaborated with local singers to render Karo's regional song, "Piso Surit,"

The presentation of Eva and her colleagues, Fernando Albero Domenech and Noel Honey, was further enlivened as Yogyakarta musician Andy Bayou joined the open stage, set against the background of Lake Toba.

Eva said she was very happy to be able to sing along with local talent and entertain the Karo community currently being plagued by the volcanic eruption.

Admitting her slight fear when invited to Karo because of the Sinabung flare-ups, Eva claimed her fear disappeared as soon as she arrived in the regency.

"My fears about the eruptions vanished all at once as I observed the gorgeous natural scenery in Karo. I will return here someday," Eva said following her performance.

Eva, who previously visited Indonesia in 2004, said Indonesia's tourism, particularly its natural beauty and especially in Karo, had great potential to attract foreign tourists.

"I'm sure many more tourists, particularly foreign musicians, will come to Karo to perform," added Eva, who would tell her fellow artists overseas to visit Karo.
Topics :
Join the discussions