Why breakfast is a must for adolescents
Rishabh Jain

A student who enjoys drumming, playing outdoor sports and reads David Baldacci
Jakarta |

Thu, November 10, 2016

| 12:56 pm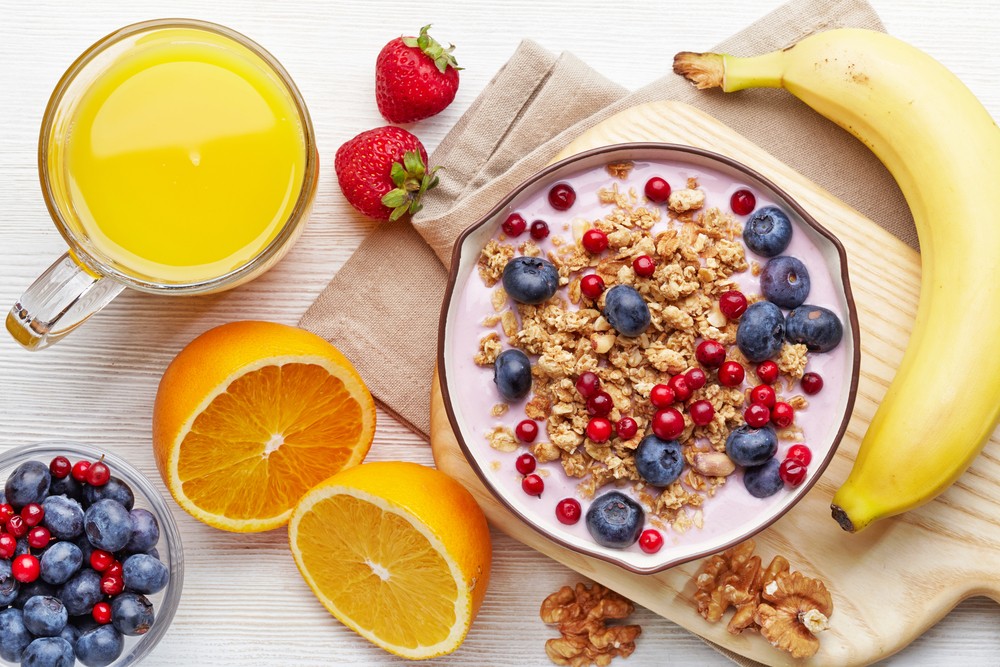 Breakfast is known as the most important meal of the day, yet many people are having difficulty finding the time or finding healthy breakfast meals to enjoy. (Shutterstock/-)
The term 'breakfast' literally means "to break a fast", which breaks the overnight fast that can be as long as 12 to 16 hours, from dinner the previous night to breakfast the next morning. Breakfast should supply one-fourth of the daily requirement of energy and should contain adequate amounts of protein, vitamins, minerals and fiber.
Breakfast is often described as the most important meal of the day, and rightfully so, it not only provides important daily nutrients, such as protein, fiber, calcium and carbohydrates, but also helps improve school performance, allowing students to score higher on tests, according to the Food and Nutrition Service.
Although breakfast is supposed to be the most important meal of the day, it is the one that is most neglected. The most common reasons cited by adolescents for not consuming breakfast are lack of time and not feeling hungry. So, why is breakfast important?
(Read also: Cold-pressed juice brand goes organic)
Breakfast recharges the body
Nutrients missed by skipping breakfast cannot be compensated for in other meals. A study published in "Public Health Nutrition" stated that breakfast is the most important meal of the day as it helps recharge the body and brain with energy and kick starts our metabolism so the body begins burning calories starting in the morning.
The study also states that children who skip breakfast in the morning are more likely to overeat and have lower diet quality than children who eat breakfast everyday. This could lead to increased body mass index (BMI) measurements.
Morning meal boosts memory
Memory is the function that is most affected by skipping breakfast as the brain requires a continuous supply of glucose. Research published in Physiology and Behavior shows the results of an experiment where students who are given a low-glycemic breakfast are able to sustain attention longer than those given a high-glycemic breakfast.
Another study published in Archives of Pediatrics and Adolescent Medicine shows students who participate in school breakfast programs have significantly higher math scores than students who skip or rarely eat breakfast.
High-protein breakfasts reduce cravings
Adolescents who eat breakfast think faster and clearer, solve problems more easily and are more efficient learners. They are less likely to be irritable and aggressive, and they get tired less easily and have enough energy for games and sports. While adolescents who skip breakfast feel tired, have less energy and slower reactions. They are unable to concentrate and think quickly and may suffer from stomachaches, headaches and feel grouchy.
A study from the University of Missouri found that young people who eat a high protein breakfast had noticeable reductions in cravings for sweets later in the day. Additional findings indicate eating a high protein breakfast may contribute to better regulation of dopamine, the chemical in the brain that regulates food motivation and reward.
Proper breakfast helps maintain body weight
There is a common belief that skipping breakfast helps one lose weight but in reality, breakfast skipper's do not lose weight as they may eat more than usual at the next meal or nibble on high calorie snacks to curb hunger resulting in consumption of excess calories that leads to storage of fat in the body.
The human body tends to accumulate more fat when a person eats fewer, larger meals than when the same number of calories are consumed in smaller, more frequent meals. Research from Umea University in Sweden found that teenagers who fail to eat a good breakfast are more likely to become obese and develop high blood sugar in adulthood.
(Read also: Delicious ways to enjoy dragonfruit)
Adolescents who eat breakfast have lower BMI (Body Mass Index) and healthier body weights. Researchers at Umea University in Sweden found that teens who reported not eating breakfast or only eating sweets were two-thirds more likely to develop a cluster of risk factors linked to heart disease and diabetes when they were in their 40s than their peers who ate more substantial morning meals.
Eating breakfast regularly has been found to improve insulin sensitivity (the body's way to react to secreted insulin) and improve glucose tolerance (the body's way to manage glucose), lowering serum triglyceride (type of fat found in blood) and LDL cholesterol (bad cholesterol) levels.
Recent research has also shown that consumption of breakfast is associated with positive moods and calmness. According to a University of Paris study reported in the Journal of Pediatrics, eating breakfast, skipping snacks and cutting down on TV and computer time may help adolescents maintain a healthy weight after they have been treated for obesity.
Identification of influences on breakfast consumption is important for promoting regular breakfast consumption among adolescents. The following determinants have been found to be related to breakfast-eating by adolescents, personal, sociocultural, economic and environmental factors.
Personal factors include consuming breakfast regularly from an early age, a positive attitude to eating breakfast and intentions to eat breakfast.
Sociocultural factors include frequently eating meals together as a family, regular parental and sibling breakfast-eating patterns, healthy parental eating behavior, presence of a parent at breakfast time and parental encouragement to eat a healthy diet.
For economic factors, it is likely that family socioeconomic position has an influence on breakfast-eating.
Environmental factors, like having sufficient breakfast products available at home, are significantly related to breakfast consumption.
According to The American Dietetic Association, eating a breakfast of lean meats, vegetables and fruits with whole grains can improve energy and concentration span. The bulk of the energy from breakfast should come from starch and not from sugar.
Breakfasts containing large amounts of sugar give an initial energy boost but as the sugar is used up, energy levels plummet resulting in fatigue and drowsiness. When too little protein is consumed, one is likely to feel hungry within a few hours.
Breakfasts containing adequate amounts of carbohydrates, protein and fiber keeps one full and also provides a steady supply of glucose and energy over a longer period of time.
While eating any breakfast is better than skipping breakfast altogether, some choices are better than others. Carbohydrate only breakfasts, such as bagels or toast, can provide energy for one to two hours, while complete breakfasts that contain protein, fat and carbohydrates can keep blood sugar levels steady for hours, according to MealsMatter.org.
Traditional breakfasts comprised of whole grains in the form of wheat porridge, parboiled rice or rice flakes provide energy, protein, vitamins, minerals, antioxidants, plant components and fiber, which plays important role in maintaining the health of the digestive system.
Processed, deep fried or oily food, such as preserved meat, cakes, pastries, doughnuts, cookies, potato chips, candy bars and soda are best to be avoided at breakfast time. Greater macro and micronutrient intake, in particular, calcium, fiber, iron, zinc, magnesium and vitamins A, B and C, occurs when cereal is eaten by adolescents for breakfast.
(Read also: Six things to keep in mind when giving juice to children)
Breakfast is one facet of a healthy lifestyle that contributes to the short and long-term health and well-being of children and adolescents. Hence, promotion of healthy breakfast consumption for children and adolescents can play an important role in overall adolescent health.
A healthy breakfast meal should contain a variety of foods, including fruits, vegetables, whole grains, low fat dairy and lean protein. Breakfast consumption is associated with positive outcomes for diet quality, micronutrient intake, weight status, lifestyle factors and is suggested to positively affect learning in adolescents in terms of behavior, cognitive functions and school performance. (asw)
Disclaimer: The opinions expressed in this article are those of the author and do not reflect the official stance of The Jakarta Post.
Topics :
You might also like :
Comments