Malang students turn waste into electricity
Nedi Putra AW

The Jakarta Post
Malang, East Java |

Tue, July 3, 2018

| 11:39 am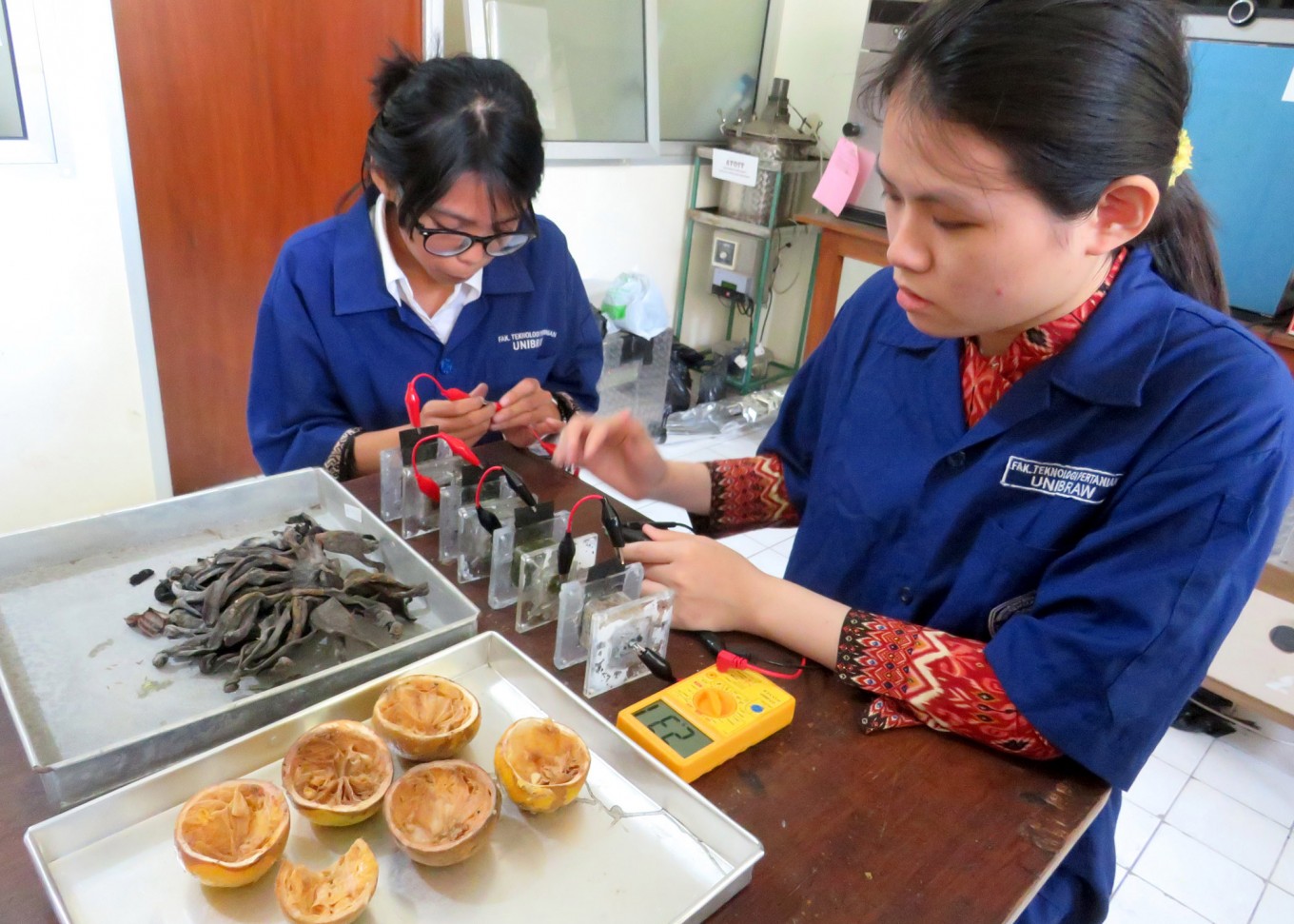 Oddy South Lolo Toding (left) and Elviliana, students of Brawijaya University's School of Agricultural Technology, during a demo of converting organic waste into electricity on July 2. (The Jakarta Post/Nedi Putra AW)
Three students from the School of Agricultural Technology at Brawijaya University in Malang, East Java, have developed ways to optimize waste as an eco-friendly solution to energy needs.
Elviliana, Chrisma Virginia and Oddy South Lolo Toding chose waste banana and orange peel and spinach as research materials, as they were abundant, easy to find and cheap.
"Indonesia is rich in organic plants. However, its waste is still yet to be processed properly even though it has potential to become a source of electrical energy," said head of the team Elviliana on Monday.
"According to studies in several science journals, we found a MFC [microbial fuel cell] method, which is a technology that converts biomass energy from organic waste into microbial activity-based electricity," she said.
She added that the research results did not involve any chemical substances. They stated that the direct-conversion method was more practical and efficient with the usage of a single-chamber reactor.
The three students said the process was relatively simple and cheap. Waste was mashed by using a household grinder, and then inserted into a plastic reactor. Electrical energy was generated after the microbes' acclimatization, which took one day.
Read also: Yogyakarta students develop fever-relieving gel for children
"Not only were the materials cheap and easy to find, making the reactor only cost around Rp 40,000 [US$2.70]," Elviliana said.
The electrical energy outcome was reasonably small, as the reactor generated 0.5 Volt Ampere (VA).
Of the three waste sources, Elviliana said the banana peel generated the most stable energy.
"As long as there was still substrate for the microbes to consume, the reactor could generate electricity for one year," she added.
She and the team wish to further their research so the reactor can cost less and be more portable.
The research will be published in the International Conference on Biomass in Bogor, West Java, in August, and will also be presented in the Tokyo-Tech Indonesian Commitment Award in October in Japan.
"In the meantime, we are filing for a patent. We are also developing a method of utilizing pure solid waste without any microbes or chemical substances, as well as waste residue in the reactor that can be used for ecobricks, or eco-friendly bricks," she said. (wng)
Join the discussions