The U21 Ranking of National Higher Education Systems once famously ranked Indonesia last in its 2013 landmark education report of 50 nations.
---
It was placed far behind neighboring countries like Singapore, which made ninth place, and Malaysia, which cracked the top thirty at 27th.
The government has worked hard over the years to give the nation's children the type of quality education that they deserve and need in order to compete internationally.
In May, for instance, the Ministry of Villages, Disadvantaged Regions and Transmigration launched a training program for 100 teachers in 50 early childhood education centers throughout Central Java.
The government's efforts also extend to partnerships with countries such as Australia and Germany to improve the quality of the country's education sector.
With Australia's Department of Foreign Affairs and Trade, Indonesia launched a partnership earlier this June called INOVASI that focuses on improving the literacy and numerical skills of elementary school children in the West Nusa Tenggara province.
This latter type of action done to lift up children in remote areas is particularly important for the nation, as the rural poor make up the demographic that is most negatively impacted by quality issues in the education systems.
The rural poor left behind
It's hard to go by a day without a TV news story on a school out in the middle of nowhere that doesn't even have basic infrastructural features such as roofs or toilets.
In fact, it was only in August that reports surfaced of an Islamic elementary school in a village in Pasuruan regency in East Java that made its students study in a shed right next to a chicken coop due to lack of proper building infrastructure that could be used as classrooms.
This current state of rural education in Indonesia has been a central concern of the Tanoto Foundation for the past three decades. After all, the improvement of education is intrinsically connected to the foundation's number-one goal of poverty alleviation.
"Our thesis is that schools are the building blocks of society. If you want to alleviate poverty, you have to work through schools," said Belinda Tanoto, a member of the Tanoto Foundation Board of Trustees.
The foundation's efforts towards this end began modestly with the building of a kindergarten and elementary school by the foundation's founders, Sukanto Tanoto and Tinah Bingei Tanoto in the Besitang area of North Sumatra in 1981. Today its efforts have been systematized and encompass entire nationwide education programs to help lift up students, teachers and principals in impoverished rural areas across the country.
Its commitment to empowering the rural poor through education can be seen through its ambitious Pelita Pendidikan program.
Better teachers, better schools
The Pelita Pendidikan program, which started in 2010, is aimed at improving the quality of rural education. To complement the Government's efforts in improving the country's education sector, Tanoto Foundation provides support in three dimensions: improving the quality of the learning process, improving the qualification and competency of teachers, and providing adequate facilities and infrastructure for schools.
Achieving this aim is done through four components: a program to improve teaching skills (Pelita Guru Mandiri), a program to set up school libraries and foster good reading habits (Pelita Pustaka), a program to support partner school stakeholders in creating a safe and conducive school environment (Pelita ASRI) and a program to improve the competency of teachers and caregivers at early childhood education centers (PAUD Program).
One unifying theme in all these programs involves interacting and working with teachers. "To have better schools, you need better teaching. And good teachers are made, not born," Belinda said.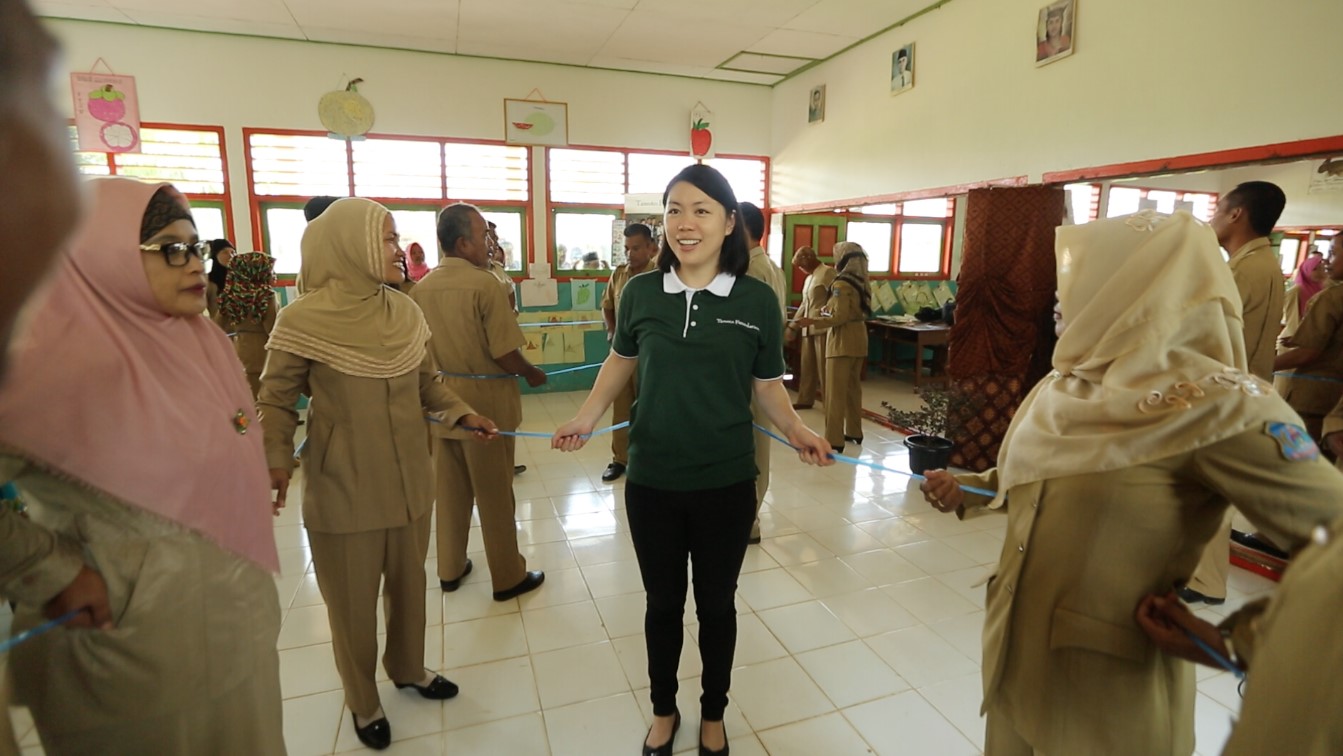 Tanoto Foundation trustee Belinda Tanoto works with teachers at Cinta Damai State Elementary School (SD169/V) in West Tanjung Jabung, Jambi, turning them into local facilitators, as part of the foundation's "Training of Trainers" program. As facilitators, these teachers can help train their colleagues from their school or from surrounding areas in pedagogical techniques such as active, fun and effective learning processes for students.
For instance, with Pelita Pustaka, the foundation trains teachers to be librarians capable of managing small libraries who can ensure the maintenance and accessibility of reading materials. Among the skills taught are book rotations done every 2-3 months among schools located in the same cluster of schools partnered with Tanoto Foundation.
Each cluster in the foundation's network of schools consists of six schools, each with a donation of about 120 books. The goal of having teachers conduct these regular book rotations is so that students constantly have access to new book collections without having to waste old ones.
One such beneficiary of Pelita Pendidikan is Kartika Isnaini. She works as the library administrator and Islamic education teacher for SDN 173/V State Elementary School in the remote Tanjung Benanak village area of West Tanjung Jabung in Jambi, a place so isolated that it takes 124 kilometers to drive there by car from Jambi City.
According to Jazuli, a regional program officer for the Tanoto Foundation in Jambi, the village doesn't even have its own hospital. All it has in terms of facilities is a community healthcare center and a village administrative office.
Prior to participating in Pelita Pendidikan, Kartika was a high-school graduate working as an honorarium-based teacher in the school. She divided her time between teaching and studying for a college degree from the local Mau'izhah Islamic Institute of Higher Education, which, owing to its faraway location of being about 40 kilometers away from Tanjung Benanak, meant that she had to travel regularly between these two locations after finishing up with teaching her classes.
After about a semester of juggling these two tasks, she learned of Pelita Pustaka and found out that the organization was offering scholarships for hard-working, accomplished teachers.
She applied for the scholarship and passed the foundation's three-step selection process (an examination period that included psychological tests and interviews).
In return, the foundation awarded her with scholarship money to help her foot the rest of her college tuition fees. This proved to be beneficial for Kartika in more ways than just financial relief. Aside from learning better library management skills, she also received lessons to improve her pedagogical techniques.
Kartika made use of these skills she learned to become a local facilitator for Pelita Pustaka.
"I learned how to make and incorporate things like dioramas and story pyramids into my teaching. After the training, I was able to share what I learned with other teachers here so that they can also apply what I learned," Kartika said.
Her accomplishments as a facilitator include teaching teachers from 10 other schools in Merlung sub-district and six schools in Renah Mendaluh. She has even been invited to Tebo regency to help disseminate what she learned during her Pelita Pustaka training.
Kartika wasn't the only one at SDN 173/V to enjoy a fruitful partnership with Tanoto Foundation. In fact, the entire school is one of the organization's many success stories when it came to its efforts to improving rural education.
The success story of SDN 173/V
SDN 173/V State Elementary School is one of the 102 schools in the Jambi area that is partnered with the Tanoto Foundation. Its rather remote location puts it and its 179 students some 196 kilometers away from the center of the regency.
Like many other schools, it was initially reluctant to work together with Tanoto Foundation. They thought the foundation was just yet another group that swooped in with empty promises of salvation.
"We had one of our representatives visit SDN 173/V three times, and each time he wasn't given entry to meet with the principal," Belinda said. "Some of the schools are quite tired of having foundations, NGOs and companies promising a lot of things but not deliver."
Eventually, the school's principal, Mutia Lafrida, warmed up to them. Since working with Tanoto Foundation in 2010, nine of her teachers have been given training for improved teaching. Another 10 have been trained to support the school's library program.
The training programs have made the teachers much less rigid and traditional in their teaching methods. In the pasts, education was, for the teachers, centered around them and their delivery of lectures.
Thanks to the foundation's training, classes involve much more active discussion among students.
Instead of one way learning, students at SDN 173/V Tanjung Benanak, Tanjung Jabung Barat District, Jambi, are encouraged to interact with each other and their teachers when learning a subject. Because teachers use fun yet effective activities such as drawing or coloring to learn different topics and information, students are now more involved in the learning process. Based on Pelita Pendidikan's effectiveness and impact assessment by Universitas Katolik Widya Mandala and the Bear Center of the University of California at Berkeley in 2014, 95% of the 3,357 surveyed students feel that teachers' teaching methodology is "good" and "very good."
The students are now encouraged to be involved in the learning process. Teachers no longer just read from textbooks. They'd use visual aids and games to better teach their lessons. Student participation beyond simply answering questions was encouraged. Student creations, such as posters and works of art, are used as decorations in classrooms, whereas in the past the classroom walls were lifeless and empty.
"The goal of displaying student works is to value their creations. In the past, they'd make things and we'd pile them in a cupboard. But after we've gotten training in Tanoto Foundation, we learned the value of displaying their works. It shows them that we value what they've done," said Asmawati, a sixth grade teacher at SDN 173/V who has been teaching for 20 years.
Classrooms also used to be very teacher-centric in terms of structure. The students would all sit in rows and face the teacher while listening and obeying commands for learning and homework. Now students are arranged in clusters facing each other, so they can better discuss with one another and have fun working with their peers. They also can learn in a library or outdoors, not just in a classroom.
Students at Tanjung Benanak State Elementary School (SD 173/V ) in West Tanjung Jabung, Jambi, use a "Word Roulette" game to answer 5W (Who?, What?, When?, Where?, Why?) and 1H (How?) questions about a story. Exercising these skills allows students to develop the ability to quickly and correctly identify important components of stories and word problems. The learning process is often held outdoors to engage students and develop their learning skills through play and experimentation.
The foundation donated 250 books for the school's library and provided 50 sets of chairs and desks to improve classroom comfort.
"Back then, we didn't have a library. We only had text books, not books to read in our leisure time. When we joined Pelita Pendidikan, we received book donation. Our library was originally a toilet area. Then it turned into an unused storage room. Then, with the help of Tanoto Foundation, we converted it into a library," Kartika said.
The hard work between the school and the foundation paid off. In 2013, the school won a Kebun Tungkal Ulu library management contest. The school was also able to improve its national accreditation score from C to B in 2014.
Similarly positive effects can be seen more generally in the schools partnered with Tanoto Foundation.
Long-lasting impacts
In all, as of December 2015, the Tanoto Foundation, through its Pelita Pendidikan program, has reached out to and served 466 schools in the rural areas of North Sumatra, Riau, and Jambi, as well as Jakarta.
Out of this total number of partnered schools, the majority, 311, are primary schools. Another 113 encompass kindergartens, early childhood education centers, play groups and daycare centers, while the rest are junior and senior high schools.
This major focus on children in their early years is an important point for the foundation. If in the early grades, a child lacks the basic skills and can't read, write or count, then it would be hard for them to progress.
"That's where we think we can make the most impact in terms of closing the gap early so they can catch up. Once the students can read, then that opens up another world for them," Belinda said. "You have to promote habits, and habits are formed early in life, so I think it's important to promote that passion, that love for reading much earlier in life, so when they get to the later ages, they can do it themselves."
The results of Tanoto Foundation's support for schools, particularly through its Pelita Pustaka program, have had a demonstrable effect on the schools. As of December 2015, it has renovated and built libraries in 186 schools. Its book donations number at 32,000. It has also trained over 1,800 people like Kartika in library management. More than 140 schools partnered with the foundation now have fully functioning libraries.
A study by the Berkeley Evaluation and Assessment Research Center at UC Berkeley also noted positive results. Students at Tanoto Foundation's partnered schools are now more active in the classroom. They are asking more questions, creating group discussions and moving around the classroom for active learning.
Out of 3,357 students surveyed, some 71 percent talk about lessons in small groups, while 54 percent asked questions and 82 percent walked around the classroom. The study also found that 94 percent of students at these schools no longer litter. Satisfaction rates for surveyed students in all three of the affected provinces averaged out at 98.6 percent.
These numbers, inspiring as they may be, conceal an even more important barometer of success for the foundation that in some ways isn't really measurable – namely, the way that Tanoto Foundation's partnered teachers use what they learn to train other teachers.
The future: 'Training the trainers'
For the Tanoto Foundation, it simply isn't enough that they just provide impoverished rural schools with infrastructural support and teachers with pedagogical training. They don't want to just be one of those organizations that finish at material donations.
"Our work is about changing mindsets. It's not the infrastructure that makes the difference. If you only give the hardware without improving the software, then it's a waste," Belinda said.
Towards this end, the foundation's training representatives train local teachers in the hopes that they would be inspired by their newfound knowledge to the point of wanting to become facilitators who can further spread what they learned to other teachers in the area.
One trainer at the Tanoto Foundation would train up 40 local facilitators. Using the Government's supported mechanism of Teachers Working Group, each of them reaches out to their fellow teachers elsewhere. If each of these 40 teachers reaches out to nine people, then the foundation will potentially have indirectly influenced 360 people in total. This approach, a common practice in various sectors, is referred to as the "training of trainers" approach.
This mentality is part of the foundation's goals for the future. They want not just teachers, but also other NGOs and even local district governments to replicate and make use of their models of pedagogy. Combining training of trainers and replication is how Tanoto Foundation will scale up its programs
Tanoto Foundation is currently in talks with several NGOs and district governments for possible adoption of Tanoto Foundation library program for use in rural villages in other areas of Indonesia.
"We don't want to just give something like tables and books. We want to make teachers and principals more confident and optimistic. We want to enable and empower them," Belinda said. "We can give them a library or a classroom, but I think working closely with the teachers and principals is the harder and more intensive route. We consciously choose this different model because we believe it's the more sustainable route for improving rural education in Indonesia".
This article is brought to you by Tanoto Foundation