Manpower Minister M. Hanif Dhakiri has asserted that illegal foreign workers and foreign workers who violate labor rules will be immediately deported from Indonesian territory.
Hanif asked people to report to the local manpower offices should they find illegal foreign workers or those who are violating the rules. Further action includes sending copies of the reports to provincial-level manpower offices and the Manpower Ministry so that the ministry can directly take firm action.
"If people see [illegal foreign workers or those violating the rules], please report it, and we'll have them deported immediately. If we ourselves in the government find illegal foreign workers, we'll also promptly have them sent home," said Hanif prior to a meeting with House of Representatives' Commission IX in Jakarta on July 19.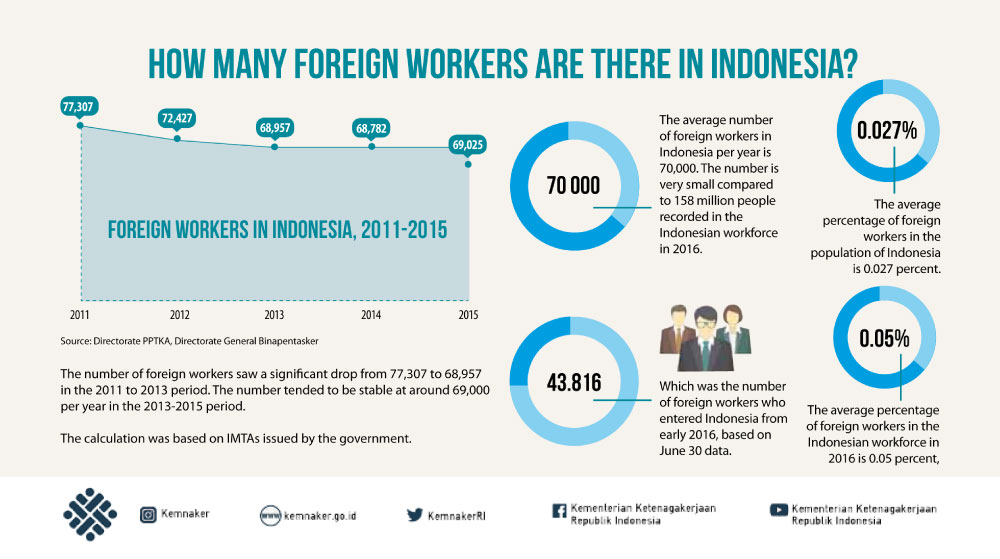 Hanif said the government could not stop foreign workers coming into the country as many countries around the world employed foreign workers. What is important is how the government reacts to the issue.
"We don't question the fact that they are coming into Indonesia; we are concerned about their being illegal or violating our rules. If they are here illegally or have violated our rules, we won't hesitate to send them packing. It's that simple," he said.
The minister dismissed the notion that an influx of foreign workers, particularly as has been rumored from China, was a prerequisite for foreign investment. He said that for each business cooperation agreement each country had its own regulations.
"In Indonesia we have strict rules related to foreign workers. There are competency requirements, and technology transfers, for example. Basically, only those with skills can come and work here. As long as they are here legally and conform to our law, there shouldn't be any problems," Hanif said.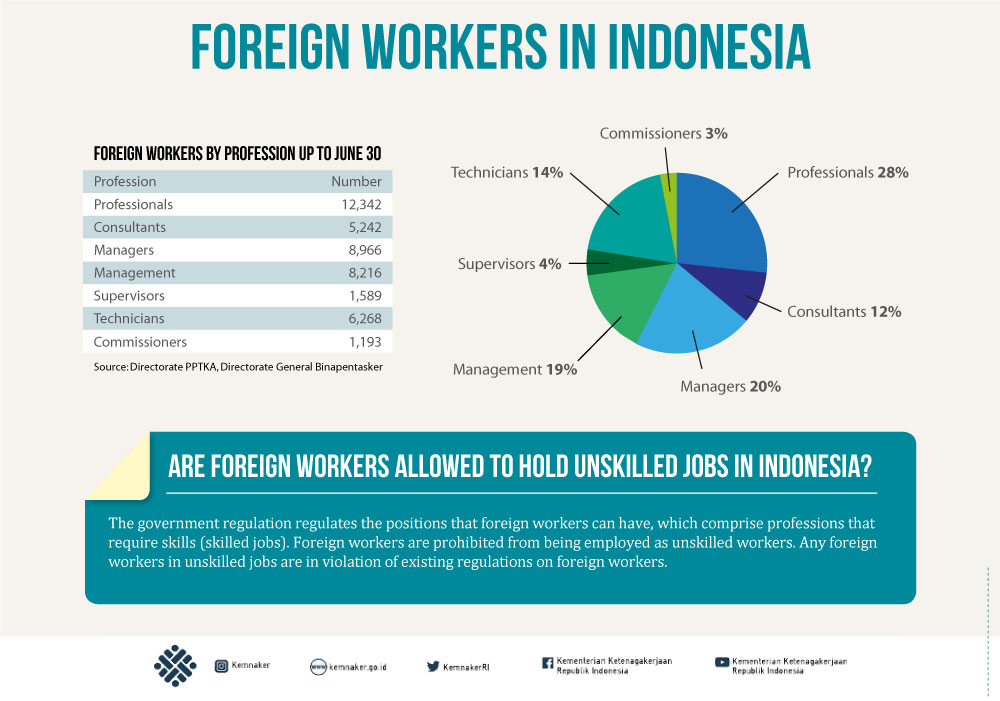 The minister said in the period of 2011-2016, there had been only a minor fluctuation. Data from the ministry reveals there were 77,307 expatriate workers in 2011, 72,427 in 2012, 68,957 in 2013, 68,762 in 2014, 69,025 workers in 2015. And until the end of the first half of 2016 there were 43,816 foreign workers in the country.
Hanif asserted that the data the ministry had were valid and accountable and the foreign workers met the requirements, including entry and work permits.
"We have complete data, along with their names. So, it is not true that 10 million Chinese workers are ready to enter the country. Even on social media, the rumors said it was only hearsay. I cannot respond to hearsay," he said.
Previously Hanif also denied the rumor saying that 10 million Chinese workers were part of the commitment to cooperation between Indonesia and China. Hanif said just as with foreign workers from other countries, there was a fluctuation in their numbers each year. However, the number of Chinese workers has remained stable, between 14,000 and 16,000 people in any one-year period, or between 20 and 22 percent of the total number of foreign workers in Indonesia.
Hanif explained further that foreign workers could only occupy certain limited posts with specific skills, the lowest being an engineer or a technician. "Unskilled workers have no place here and having them here is a violation. And we will take action against any violation, including deportation," he said.
Foreign workers wanting to work in Indonesia have to meet all requirements including having work and stay permits, and they must already have obtained all permits before entering the country. Besides, none of the permits can be obtained individually; the companies that hire them must take care of obtaining these permits.
"So, it is not true that there are 10 million Chinese workers entering Indonesia. Maybe the number comes from Tourism Ministry data," he said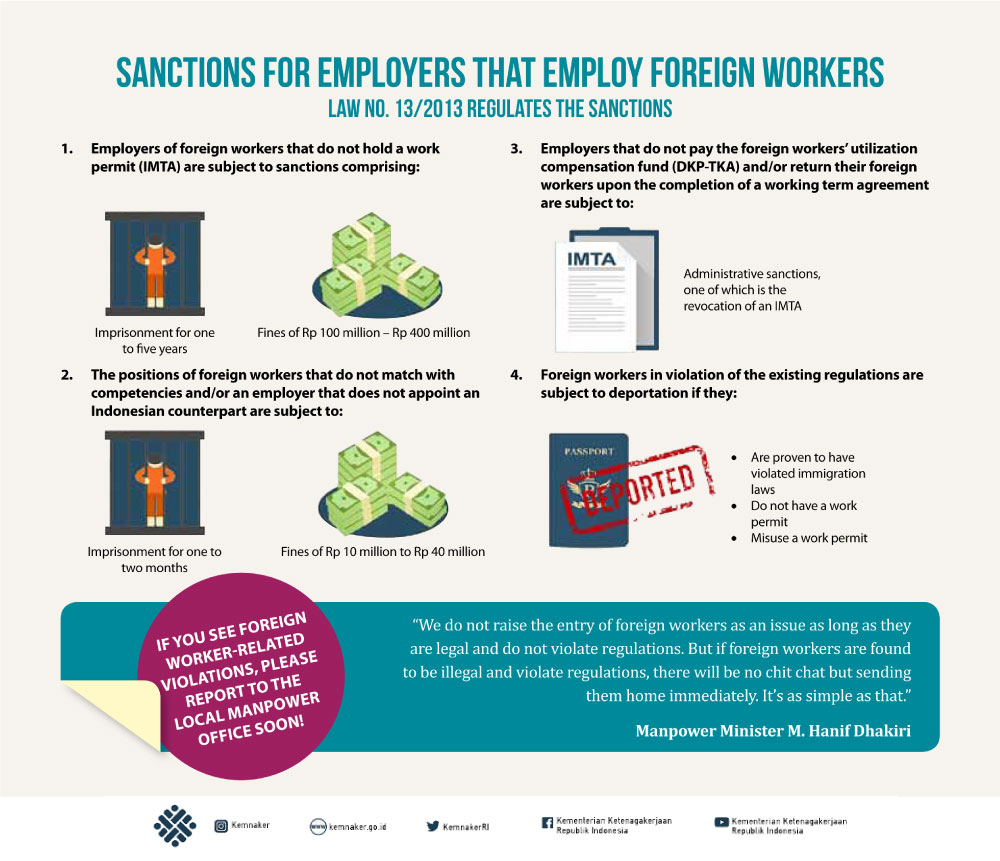 Based on the collected data, the Manpower Ministry reported that the total target of international tourists visiting Indonesia in 2016 was around 12 million people. The target will increase every year, with the target for 2017 being 15 million tourists, 17 million in 2018, and 20 million tourists in 2019. Of the total target, tourist numbers from Greater China (China, Hong Kong, Macau and Taiwan) are expected to amount to 10.7 million people, with 2.1 million in 2016, 2.5 million in 2017, 2.8 million in 2018 and 3.3 million in 2019.
"So, it's clear that the number [10 million Chinese workers] is an insinuation or a provocative figure. Even the number of expected tourists from Greater China doesn't reach that figure," Hanif stated.
This article brought to you by PR office of Manpower Ministry