New team: President Joko "Jokowi" Widodo, accompanied by Vice President Jusuf Kalla, unveils his new aides following a Cabinet reshuffle at the State Palace in Jakarta on Wednesday.
by Ina Parlina and Haeril Halim
---
After two years watching several of his ministers bicker and expose their policy differences to the public, President Joko "Jokowi" Widodo told his newly reformed Cabinet on Wednesday that all ministers had to work as a team and that they only reported to him.
"The first thing I want to say, especially to new ministers, there's no such thing as a vision or mission of a minister, we only have the vision and mission of the President and Vice President. All ministers must follow the vision and mission that we outline and all policies decided during either plenary or limited Cabinet meetings," Jokowi said in his opening remarks to the meeting.
Speaking in the first Cabinet meeting after the reshuffle, Jokowi also said that he was fully in charge and that ministers should not take initiatives on issues not decided by him.
Jokowi tells ministers in Cabinet meeting that he is in charge of all issues. President also instructs ministers to coordinate better.
Four hours before giving the warning, President Jokowi announced his new Cabinet line-up, which included nine new faces.
The new faces in the Cabinet are Coordinating Political, Legal and Security Affairs Minister Wiranto, Finance Minister Sri Mulyani Indrawati, Villages, Disadvantaged Regions and Transmigration Minister Eko Putro Sanjoyo, Transportation Minister Budi Karya Sumadi, Culture and Education Minister Muhadjir Effendy, Trade Minister Enggartiasto Lukita, Trade Minister Airlangga Hartarto, Energy and Mineral Resources Minister Archandra Tahar and Administrative and Bureaucratic Reform Minister Asman Abnur.
While the chief objective of the latest Cabinet shake-up was to accommodate the demands of political parties in his ruling coalition, especially the Golkar and National Mandate (PAN) parties, which only recently joined his government, many view the reshuffle as an effort by Jokowi to bring order to his Cabinet.
The dismissals of outgoing coordinating maritime affairs minister Rizal Ramli, energy and mineral resources minister Sudirman Said and transportation minister Ignasius Jonan have been seen as punishment for their penchant for publicly airing their policy disagreements and making controversial statements.
Sudirman had engaged in a string of tussles with then coordinating political, legal and security affairs minister Luhut Pandjaitan and Rizal.
Sudirman and Rizal engaged in a bitter seven-month spat over the Masela gas block development, which ended only after Jokowi decided to back Rizal's proposal to build an onshore liquefied national gas (LNG) plant.
Rizal started a fresh controversy recently by picking a fight with Jakarta Governor Basuki "Ahok" Tjahaja Purnama over the Jakarta Bay reclamation project. Rizal insisted on terminating the development of Islet G off the coast of North Jakarta, while Ahok has insisted that the project is legal and in line with a 1995 decree, which Rizal claimed to be now void.
Jonan, meanwhile, was in the spotlight for decisions that many deemed as laying stumbling blocks for Jokowi's pet project, the high-speed railway project between Jakarta and Bandung, West Java.
Jonan initially refused to issue the building permit for the company developing the railway, PT Kereta Cepat Indonesia China (KCIC), arguing that it had not submitted the required documents. Jonan even declined to attend the ground-breaking ceremony for the project in January this year.
In his speech to the Cabinet meeting on Wednesday, Jokowi did not mention Jonan by name but he had a stinging rebuke for his former minister. "If a decision has been taken in a Cabinet meeting, then ministers should be of one voice and give their full support. They must consistently implement the decision and should not take their own initiatives, especially on issues that I have issued presidential regulations," he said.
Jokowi issued on Oct. 6, 2015 a presidential regulation to expedite the construction of the railway project.
Meanwhile, former administrative and bureaucratic reform minister Yuddy Chrisnandi was shown the door in all likelihood for some of the controversial decisions made during his brief tenure, including his decision to issue his ministry's annual government institution performance review, which showed his ministry to be among the best-performing government institutions. The President ignored the finding and insisted that only he had the authority to judge the performance of ministers.
Many, however, questioned Jokowi's decision to sack culture and education minister Anies Baswedan, whom analysts considered to be one of the most competent ministers in the Cabinet.
Political analyst Arya Fernandes from the Centre for Strategic and International Studies (CSIS) said Anies has been used as a sacrificial lamb in the effort to meet the demands of political parties."His ministry is in the top five, but he was removed. Jokowi needed to accommodate the demands of political parties and he needed to do that with the least amount of resistance," Arya said.
Political observer Arie Sujito of Gadjah Mada University said that the latest Cabinet reshuffle would test Jokowi's leadership skills even more.
"The heavier challenge is that the second reshuffle should deliver better results and introduce more policy breakthroughs," Arie said.
Who's who in the new corridors of power
Wiranto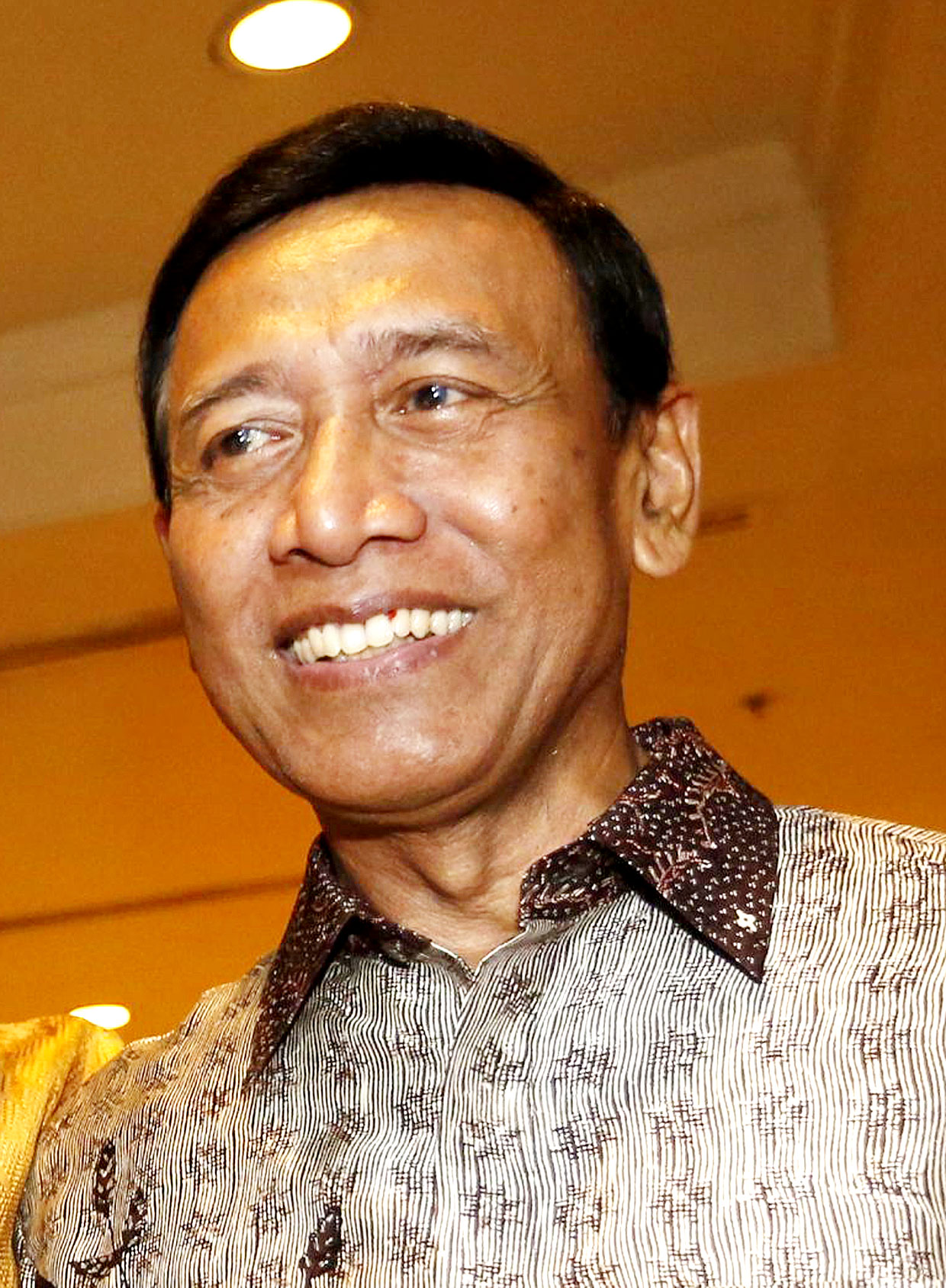 "An old soldier never stops fighting," Wiranto once said. This sentence rings true as on Wednesday, the retired Army general, was appointed as coordinating political, legal and security affairs minister, replacing Luhut Pandjaitan. Wiranto is known as a military figure with a high-flying, but extremely controversial, career. Born to a poor family in Yogyakarta on April 4, 1947, Wiranto graduated from the National Military Academy in 1968. Twenty years later, he was appointed as a key aide to then president Soeharto from 1987 to 1991. This was a prestigious position during the New Order regime. Afterward, his career took off as he was picked to serve in many strategic positions in the military. Finally, he held the top position as the commander of the Indonesian Military (then ABRI, now TNI) from February 1998 to October 1999. At the end of the New Order and the beginning of the reform era, the country underwent a transition from presidents Soeharto to Habibie. At that time, Wiranto served as the defense and security minister concurrent with his role as ABRI chief. The reform era was a time of great turbulence in the country. Wiranto, as ABRI chief, was therefore implicated in kidnappings and other abuses conducted by the Army. He was also allegedly involved, at least indirectly, in human rights violations in the Trisakti and Semanggi I and II shootings of student activists in 1998. During the presidency of Abdurrahman Wahid he was dismissed from his position as defense and security minister in 2000 amid allegations of human rights violations in East Timor. Prosecutors say he played a key role in facilitating severe human rights abuses by the military during Indonesia's violent withdrawal from East Timor (now Timor Leste) during which more than 2,000 Timorese died. However, he has repeatedly denied all charges against him. UN and domestic groups have accused Wiranto of committing crimes against humanity. He was also included in the list of suspected war criminals and was prohibited from entering the US. Despite his controversial history, however, he has sufficient charm and charisma to earn him a limited amount of electoral support. He has made several attempts to get into the State Palace, running in the 2004 presidential election, unsuccessfully, as Golkar's candidate. After that, he formed the Hanura Party with several retired Army generals and has served as the party's chairman. In the 2009 presidential election, Wiranto ran for vice-president as Jusuf Kalla's running mate. In 2014, Wiranto tried to run for president again with running mate media tycoon Hary Tanoesoedibjo but failed to garner enough support from other political parties to nominate himself. Hanura later joined with the Indonesian Democratic Party of Struggle (PDI-P) to nominate then presidential candidate Joko "Jokowi" Widodo. His political efforts finally paid off, to a certain degree, on Wednesday when he was finally able to return to the Palace in his role as close aide of Jokowi, with his dark past presumably behind him. (win)
Sri Mulyani
New Finance Minister Sri Mulyani Indrawati is not only the most senior woman at the World Bank, she is, according to Forbes magazine, one of the world's most powerful women. She is also a mother of three. These facts speak louder than words about her qualities. The reform-minded "iron" lady, who calls herself "tough", earned her reputation when leading the finance ministry from 2005 to 2010, during which she was known for instigating bureaucratic reforms, including at the deeply entrenched tax office by setting up a new code of ethics and set of sanctions. Sri Mulyani opposed calls for the closure of the Indonesian Stock Exchange to halt a nosedive in shares of Bumi Resources, partly owned by politically-wired tycoon Aburizal Bakrie. She also imposed a travel ban on a number of coal-mining executives after a dispute over the companies' reluctance to pay government fees. Her efforts in pushing through reforms may have earned her enemies or yielded dislike in some parties. In 2010, she stepped down from her post amid a heated bailout scandal of Bank Century, in which she became the target of an opposition campaign accusing her and former vice president Boediono of abusing their authority during the Rp 6.7 trillion bailout. Sri Mulyani joined the World Bank in 2010. Prior to departing to Washington DC, in a public lecture at the RitzCarlton Hotel in Jakarta, she said in her speech: "I'll be back." And back she is. Six years on, she will be faced with challenges that include a weak economy that has grown less than expected and complicated state revenue collection efforts at a time when Jokowi's administration needs a hefty amount of funds to push through infrastructure projects. At the World Bank Sri Mulyani was respected as someone whose understanding of clients' needs shaped strategy for a better and bigger World Bank Group, said Jim Yong-kim, the Bank's president. "I have personally come to rely on Sri Mulyani for her wise advice and insightful counsel, and I will greatly miss her voice on the Senior Management Team," Jim wrote in an official farewell letter. (Prima Wirayani and Esther Samboh)
Archandra Tahar
While the condition of Indonesia's oil and gas sector remains grim as a result of plunging energy prices, one long-time player may be able to spruce things up. Boasting degrees in mechanical and marine engineering, 45-year-old Archandra Tahar, served as president of Houston-based offshore technologies and consulting company Petroneering before being summoned by Jokowi to take on the mantle of energy and mineral resources minister. Archandra received access into Jokowi from his friend, PDI-P rising-star politician Darmawan Prasodjo -- a key member of Jokowi's 2014 presidential campaign team. Archandra has spent more than 20 years in the oil and gas sector, with stints as principal at Horson Wison Deepwater and as principal and president of the Asia Pacific department for AGR Deepwater Development System. Furthermore, he holds several international patents in offshore fields. Archandra's background is expected to be reflected in his commitment to bringing in new technology in order to increase oil and gas production, and to ensure energy security in the future. "Three things we hope to focus on in the energy and minerals sector is first, technology as the backbone, second, human resources and third, we must make the process more accountable," he said after his inauguration ceremony. Oil and gas exploration in particular, has suffered under low commodity prices. Industry players await with bated breath the changes Archandra may bring with him. Executives of Pupuk Indonesia Energi (PIE), a subsidiary of state-owned fertilizer firm Pupuk Indonesia Holding Company (PIHC), for example, expect that the new energy minister could help reduce the high price of gas, which is the biggest expense of the fertilizer industry. According to Petroengineering's website, Archandra's company has worked with state oil and gas firm Pertamina, BP and ExxonMobil. (Fedina S. Sundaryani and Grace D. Amianti)
Budi Karya Sumadi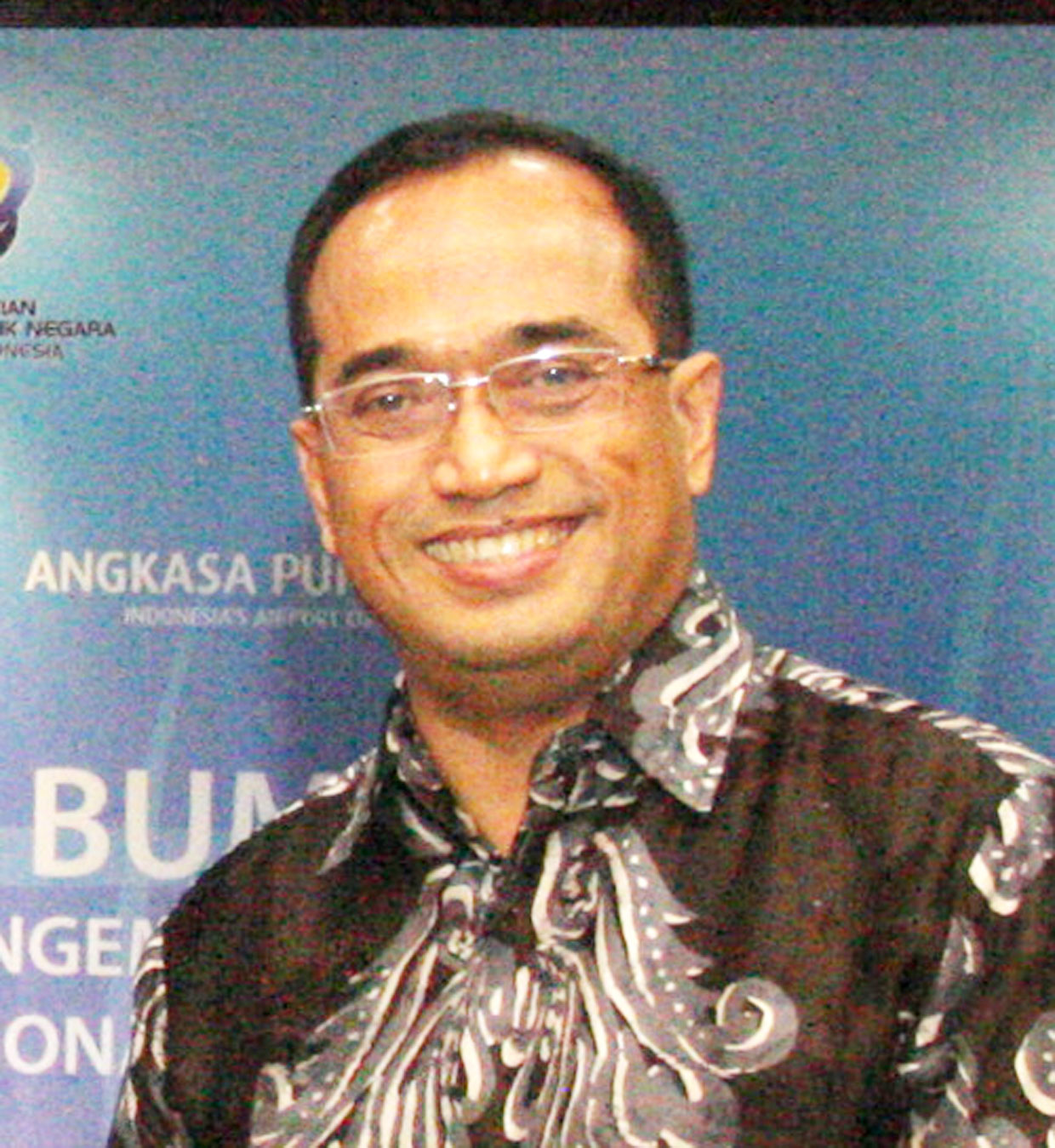 Spending his entire career as a professional, Budi Karya Sumadi has been brushing shoulders with Jokowi since the latter served as governor of Jakarta between 2012 and 2014. Prior to his appointment as transportation minister, Budi, 59, served as president director of state airport operator Angkasa Pura (AP) II for a little more than a year. He recently found himself in the media spotlight in regards to the high-profile expansion of Terminal 3 at Jakarta's Soekarno-Hatta International Airport, the country's largest and busiest airport. The operation of the terminal, initially slated to be launched in June, has been delayed after it failed to secure a greenlight from the then Transportation Minister Ignasius Jonan due to a number of technical hurdles. After securing his degree in architecture from Gadjah Mada University, also Jokowi's alma mater, Budi started his career as an architect at the Jakarta-based construction firm Pembangunan Jaya in 1982. Since then, he has dedicated himself to the property business for more than 25 years. He assumed the position of president director of publicly listed Pembangunan Jaya Ancol in 2004 and served in that position for nine years. Other companies where he has held board of director positions include Jaya Garden Polis, Jaya Real Property and Jaya Land. One of his career highlights was in the Jakarta provincial administration-owned Jakarta Propertindo (Jakpro), where he served as president director from 2013 to 2015. During his time in Jakpro, Budi supported Jokowi's regreening and city park construction programs in Pluit Dam, North Jakarta, while the latter served as governor. Commenting on his new position, Budi said that his long experience as a professional would help his leadership at the Transportation Ministry. "We are talking about technicalities, like those related to human resources and finance, which I'm already familiar with," he said. He also revealed that the President had asked him to improve the country's connectivity and manage transportation operators. (Farida Susanty)
Enggartiasto Lukita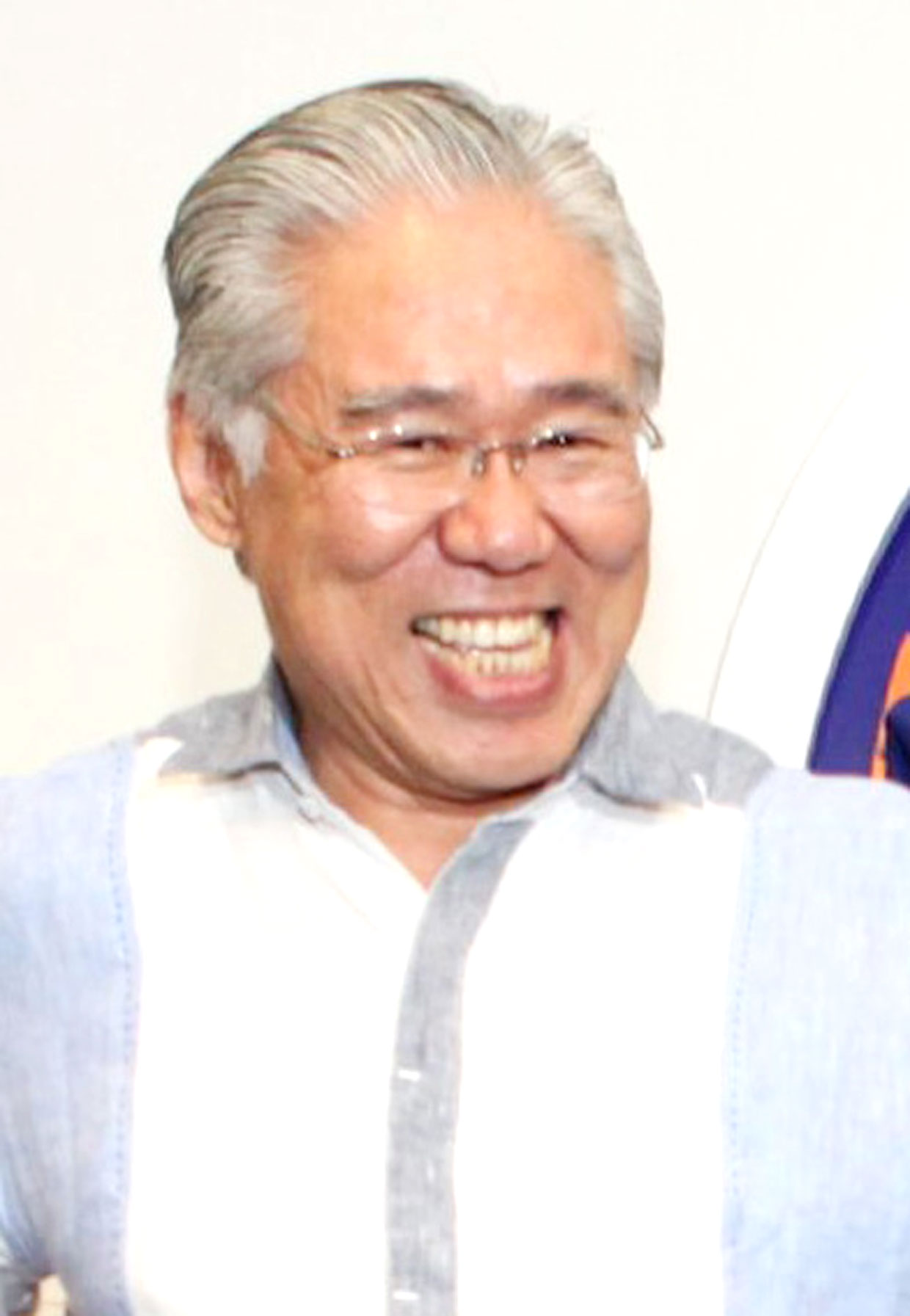 Born 64 years ago in the West Java city of Cirebon, Enggartiasto "Enggar" Lukita is a property businessman and a veteran politician, having served in the Golkar Party for over three decades. In 2013, Enggar jumped ship to the NasDem Party and has become a key member of the relatively young party. Following Jokowi's inauguration as the country's seventh president, Enggar was rumored to join Jokowi's Cabinet as one of his economic ministers despite his alleged involvement in the 1999 Bank Indonesia liquidity support scandal. Lawyer Petrus Selestinus, coordinator of the Indonesian Democracy Defense Team, accused Enggar in 2014 of receiving funds from Bank Bali graft convict and fugitive Djoko S. Tjandra. Petrus still to this day maintains Enggar received the funds, which he said were detailed in Djoko's dossier. "President Jokowi should review and reconsider Enggar. [The President] cannot be surrounded by people who are potentially involved in graft," Petrus said. Others who were implicated in the case include former House of Representatives speaker Setya Novanto, now Golkar Party chairman, who was quickly acquitted of all charges. Enggar has repeatedly denied the accusations and claims an audit by multinational service network PricewaterhouseCoopers (PwC) supports his position. Despite the accusation, Enggar has remained untouched and has been a NasDem Party lawmaker since 2014. Enggar, who graduated from the English department at the Bandung Teacher Training Institute (now the Indonesian University of Education), has built up a successful real estate and property business. He started his career in the industry in 1977 as a staffer to a director at PT Bangun Tjipta Sarana, where just two years later he was promoted as the company's head of personnel. He continued to pursue his career in the company until he became president director in 1986. Enggar would continue his reign as president director in a number of companies, namely PT Supradinakarya Multijaya Group, PT Citrasari Inti, PT Kartika Karisma Indah and PT Kemang Pratama. In his capacity as Golkar politician, Enggar has served as lawmaker for four terms from 1997 to 2014, during which time he served on various commissions, including those overseeing defense, foreign affairs, agriculture, maritime affairs, forestry and transportation. (Dewanti A. Wardhani)
Eko Putro Sandjojo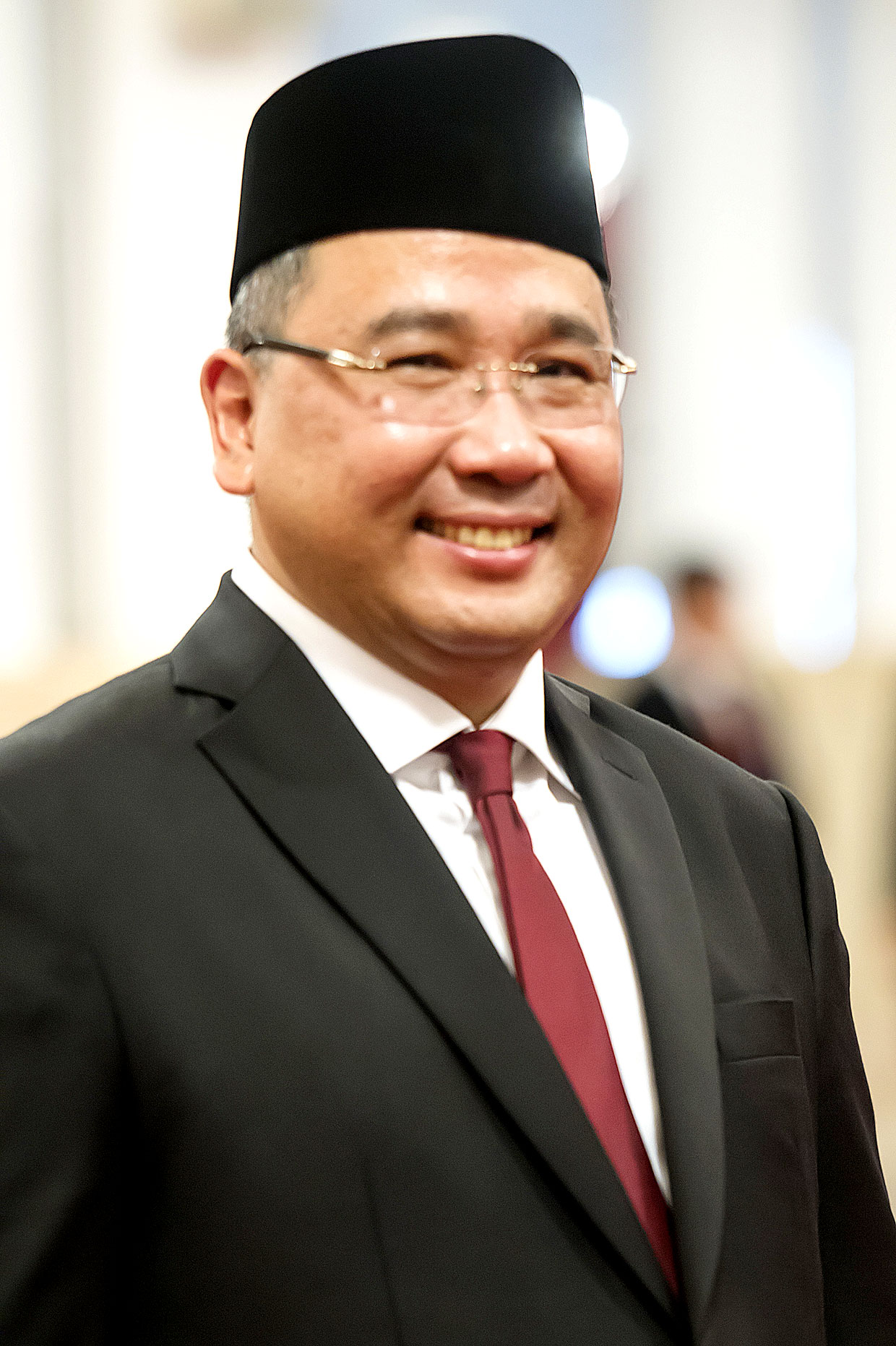 National Awakening Party (PKB) politician Eko Putro Sandjojo was chosen to be the villages, disadvantaged regions and transmigration minister, replacing his fellow politician Marwan Jafar. Eko is no stranger to Jokowi's administration. He had previously served in Jokowi's transition team shortly after Jokowi was elected President in 2014. The team was tasked with preparing a smooth transition from then president Susilo Bambang Yudhoyono to Jokowi. Eko was born on May 21, 1965, in Jakarta. He graduated from the Polytechnic University of Indonesia and pursued a Bachelor's degree at the University of Kentucky, Lexington, US, in 1991, majoring in electrical engineering. He received a Master's of business administration from the IPMI International Business School in 1993. After graduating, he worked at PT Indonesia Farming from 1994 to 1997 as a general manager. Besides currently serving as a general treasurer of the PKB, Eko has also held strategic positions in various companies. In 1997, he joined a publicly listed agribusiness company PT Sierad Produce and became its president director from 2005 to 2006. Then he moved to PT Humpuss, a publicly listed shipping firm owned by former president Soeharto's youngest son Hutomo "Tommy" Mandala Putra. He became the company's president director in 2007. Next, he went back to Sierad and served as the firm's president director in 2009. (win)
Muhadjir Effendy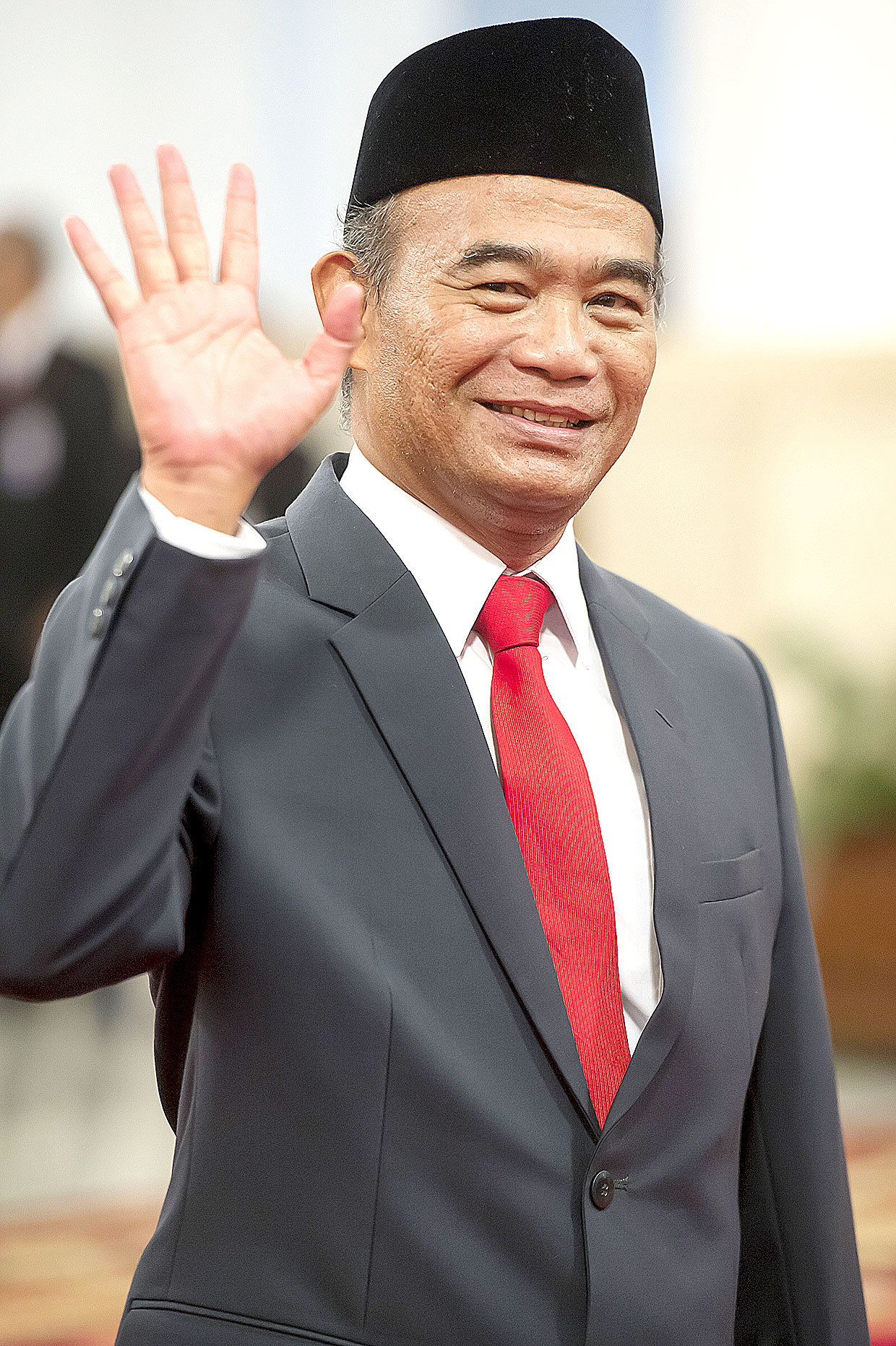 Muhadjir Effendy officially replaced Anies Baswedan to become the culture and education minister. Muhadjir was born on July 29, 1956, in Madiun, East Java. The former rector received his bachelor's degree from IKIP Malang in 1982. Afterward, he earned his master's degree from Gadjah Mada University (UGM) majoring in public administration in 1996. In 2008, he received his PhD in military sociology from Airlangga University, in Surabaya, East Java. He has also done a short course in military and defense studies at the Pentagon, the US, and a short course on higher education management at Victoria University, Canada. Muhadjir started his career at the Muhammadiyah University in Malang (UMM) as an intern. He rose slowly in his career to become a lecturer and later assistant to the rector in 1984. In 1996, he was elected as UMM's vice rector before finally being appointed as rector in 2000. Muhadjir has served as rector for three periods from 2000 to 2004, 2004 to 2008, and from 2008 to February this year. Besides having worked as a lecturer for the School of Social and Political Sciences in UMM, he was also a lecturer for the School of Education at the State University of Malang (UM). Not restricting himself to the education field, Muhadjir was also known as an active columnist who often wrote on topics related to religion, education, politics and the military in mass media, scientific journals and books. Books that Muhadjir has written about educational or military affairs include University and Students Life in 1989, The State of Education in 1992, Equilibrium Society: Walking the Changes in Balance in 2002, Humanity Paedagogy: A Multidimensional Reflection in 2004, Military Professionalism in 2008, and Military Character and Profession: A Phenomenology Study in 2009. Muhadjir has also been active in the management of several institutions such as serving as the chairman of Muhammadiyah, chairman of the Central Agency for Private Islamic Universities Cooperation (BKS-PTIS), chairman of the Association of Families of Indonesian Islamic Students (KB PII) in East Java, and vice chairman of the Indonesian Association for the Development of Social Sciences (HIPIIS). Muhadjir was also a member of the expert council of the Indonesian Association of Muslim Intellectuals (ICMI) and a member of the board of the East Java Regional Research. (win)
Airlangga Hartarto
An engineer by training, Airlangga has successfully paved his way through Indonesian politics as a part of the Golkar Party, the country's oldest and second-largest political party. Airlangga, 53, is the son of Hartato Sastrosoenarto, who served as a minister for former president Soeharto for three consecutive terms, 15 years in total. His father, also an engineer, served as industry minister for two terms and then later became the coordinating production and distribution minister. Airlangga was undertaking his third consecutive term as a Golkar Party legislator before his appointment as Industry Minister. Earlier this year, it was thought by many that the father of eight would run as a candidate for the party's chairmanship. Ultimately, the chairmanship was won by former speaker of the House of Representatives, Setya Novanto. In his second term as a legislator in the 2009-2014 period, Airlangga chaired House Commission VI overseeing industry, trade, investment and state-owned enterprises. During his tenure, he introduced the 2014 Industry Law. Airlangga received his bachelor's degree in mechanical engineering from Gadjah Mada University in 1987. Although he failed to complete his master's degree at the University of Pennsylvania, Airlangga later went on to receive two master's degrees from Monash University and Melbourne University. Airlangga is the first and currently only Golkar Party representative in Jokowi's Cabinet. House Speaker Ade Komaruddin, a Golkar Party member, said Airlangga was "the right man for the job". (Dewanti A. Wardhani)
Asman Abnur
Asman Abnur, a senior National Mandate Party (PAN) politician, has replaced Yuddy Chrisnandi as the administrative and bureaucratic reform minister, with the main task of reforming bureaucracy and managing civil servants. Asman was born in Pariaman, West Sumatra, on Feb. 2, 1961. He completed his primary and secondary education in Riau province and moved to Padang to study for his undergraduate degree in economics. After finishing his bachelor's degree, he moved to Surabaya, East Java, to pursue a master's degree at Airlangga University until 2004. Asman is a prominent businessman. He has experience developing a wide range of businesses including several gas stations, a number of restaurants, pharmacies, fitness centers, banks and money changers. Given his business background, he has been entrusted with various positions, including chairman of the Indonesian Young Entrepreneurs Association (HIPMI) and the Chamber of Commerce and Industry (Kadin) in Batam. Currently, he manages his business activities in Batam, Singapore and Jakarta. Asman started his political career in 2001 as a city councilor in Batam. A few months later, he was elected deputy mayor of Batam from 2001 to 2004. He chaired the investigation team of the Batam Free Trade Zone (FTZ) from 2000 until 2004. Asman was elected to the House of Representatives, representing Riau, in 2004 and was appointed vice chairman of House Commission XI for the period of 2004 to 2009. At the same time, he served as general treasurer for PAN. Since 2014 he has served as deputy chair for House Commission X for education and sports. The Cabinet Secretary Pramono Anung said that Asman was well experienced to deal with the bureaucracy. (win)
Getting down to business: President Joko "Jokowi" Widodo (top left) and Vice President Jusuf Kalla (top right) chair a plenary Cabinet meeting with the new members of the newly-formed Cabinet.
Let's get straight down to work
by Ina Parlina and Fedina Sundaryani
President Joko "Jokowi" Widodo's directive for his ministers in the first plenary Cabinet meeting held only hours after he announced his reshuffle on Wednesday was clear: Work in synergy and avoid conflicting statements regarding the government's development agenda.
Previously, former and current Cabinet members had been involved in disagreements that had confused investors and the wider public. For instance, former coordinating maritime affairs minister Rizal Ramli — who had been known as a staunch critic of the government — and former energy and mineral resources minister Sudirman Said were involved in public spats over the controversial gas-rich Masela block development plan and Jokowi's ambitious 35,000 megawatt electricity-procurement agenda, before both were removed from their posts on Wednesday.
Wednesday's reshuffle appeared to confirm that the various controversies surrounding the ministers were among the reasons behind the cull as Jokowi also removed Hanura Party politician Yuddy Chrisnandi from the administrative and bureaucratic reform post and Ignasius Jonan from the Transportation Ministry.
Yuddy's statement that he would fire around 1 million civil servants across the country caused disquiet among the state bureaucracy forcing Jokowi to tone down the issue by saying that the downsizing plan aimed at improving the efficiency of government spending and would not be done all at once, but in stages.
Another controversy Yuddy sparked earlier this year was when he announced the result of his ministry's assessment against the backdrop of growing speculation on a reshuffle. He was criticized for declaring his own ministry had received a good score, better than many other ministries.
Meanwhile, Jonan had been involved in apparent disagreements with State-Owned Enterprises Minister Rini Soemarno over the country's first high-speed railway project.
"No more pointing fingers at each other; if there is a flaw, it is in us all because we are one team," Jokowi told his ministers on Wednesday, and later instructed his Cabinet members not to make any decision that would affect the general public before discussing it first in Cabinet.
Newly appointed energy minister Archandra Tahar, however, declined to make any comment regarding Jokowi's first instruction in the meeting, giving only a thumbs up.
After the meeting, almost all of the Cabinet members exited the State Palace from a side gate in an apparent move to avoid curious journalists. No press conference was held after the meeting.
Some of the new ministers said before the meeting that their first step would be discussing their tasks with the former ministers they had replaced. In his speech, Jokowi also instructed the ministers to take comprehensive measures should they face problems while handling a multisectoral development issue and demanded coordinating ministers work harder in communicating the roles of all ministers under them.
Presidential spokesman Johan Budi, who several times has reminded ministers not to make any conflicting public statements regarding the government's agenda, said the reshuffle was indeed aimed at creating a better synergy among ministers, instead of simply accommodating the interests of political parties. "So [the Cabinet] has become more progressive and solid," Johan said.
Earlier on Wednesday, while he was introducing his new ministers, Jokowi said the main reason behind the shake-up was to bring about more effective and faster teamwork as the country faced ever-more complex challenges, particularly in terms of the economy, poverty and unemployment.
Jokowi later instructed his ministers to focus on three issues, reducing food prices and boosting food supplies; reducing gaps between the rich and poor, as well as between regions across the country; and providing better jobs for the people.
The three problems were highlighted in a recent survey by Saiful Mujani Research and Consulting (SMRC). Although Jokowi's approval rating in his second year in office has improved from last year, the survey also found that the public had taken into account his administration's lack of achievements in providing more affordable basic necessities, reducing the number of poor people and the unemployment rate, as well as in creating jobs.
"I realize the challenges we are facing are constantly changing and therefore it needs our fast decisions and actions," Jokowi said. "Our actions should bring immediate effects to the people in the short and medium terms, as well as in the long run."
By adding new ministers from the Golkar Party and The National Mandate Party (PAN), Jokowi is expected to achieve better political engagement in his administration. However, less is known to the general public about their performances.
Political observer Arie Sujito said, therefore, Jokowi was likely to find it harder to convince the public about his leadership abilities as reflected in his Cabinet.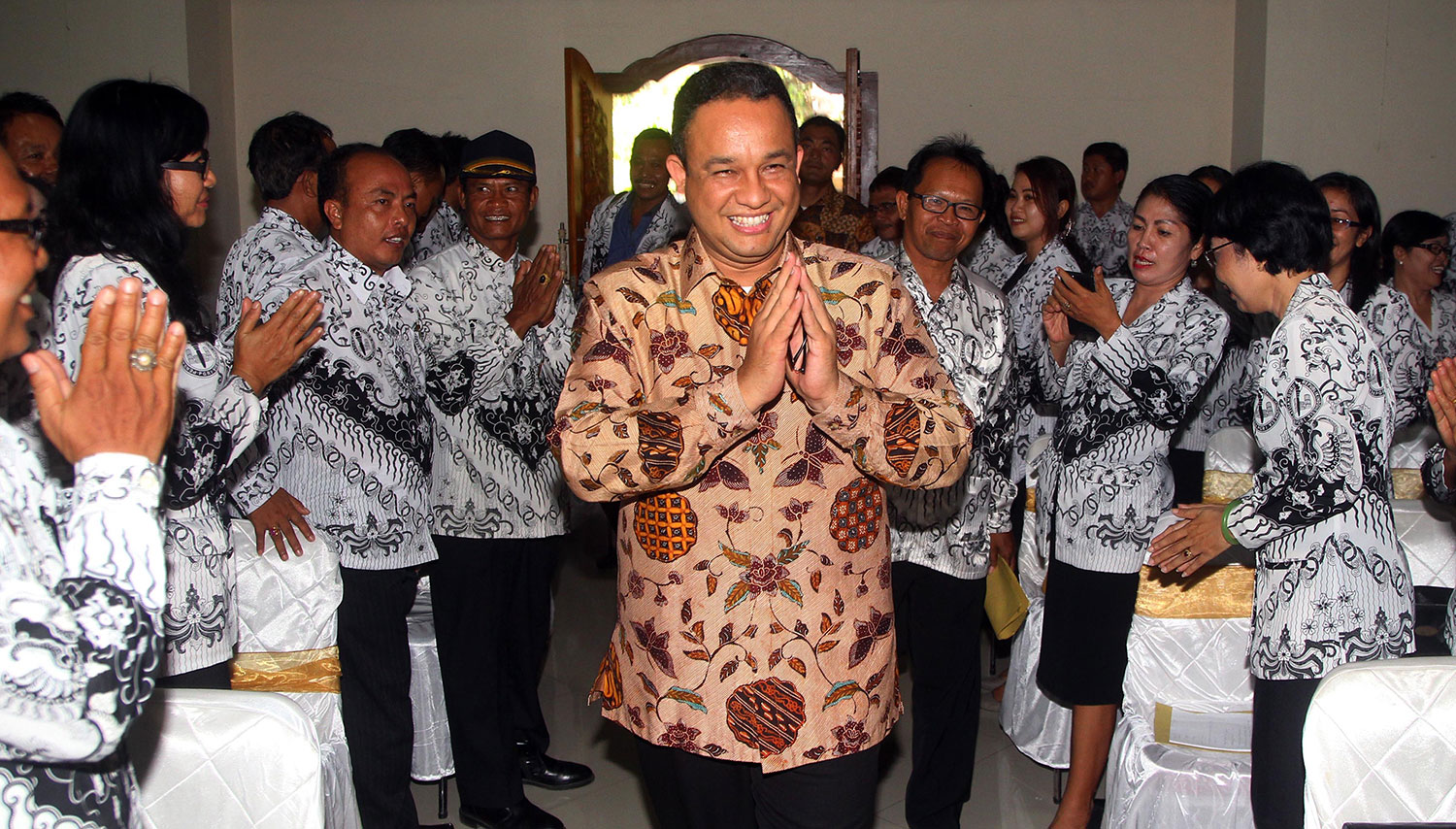 Muhammadiyah regains education ministerial post
by Ina Parlina
Besides political parties, Muhammadiyah, the country's second largest Muslim organization, has also secured a ministerial post in Wednesday's Cabinet reshuffle, with President Joko "Jokowi" Widodo having named Muhadjir Effendy, the rector of Malang Muhammadiyah University (UMM) in East Java, as the new education minister. His appointment marks the comeback of Muhammadiyah in holding a post that has traditionally been allocated to members of the organization.
For more than a century Muhammadiyah has been very active in education. It controls more than 10,000 educational institutions, like kindergartens, elementary schools and junior and senior schools, as well as some 60 Islamic boarding schools, 172 universities and 71 special needs schools across the archipelago.
Two of Muhadjir's immediate predecessors, Anies Baswedan and Mohammad Nuh, did not come from Muhammadiyah, but at least two previous education ministers before Anies and Mohammad Nuh were Muhammadiyah members: Bambang Sudibyo and Abdul Malik Fadjar. Anies was known as an educational expert, while Mohammad Nuh had a Nahdlatul Ulama (NU) background.
The country's largest Muslim organization NU, meanwhile, currently controls the Religious Affairs Ministry with one of its members, Lukman Hakim Saifuddin, as the minister. In addition, Social Affairs Minister Khofifah Indar Parawansa is also an NU member.
Jokowi's move on Wednesday brings to mind the joke about the reshuffle and ministerial seats for Muhammadiyah and NU that the President made last month during an event marking the anniversary of the death of Taufiq Kiemas, the former People's Consultative Assembly (MPR) speaker. During the event, which was attended by numerous leaders of political parties, Jokowi said he found there were six NU-affiliated ministers in the Cabinet. The crowd laughed when Jokowi said he did not count how many Muhammadiyah members held ministerial seats because its chairman did not ask him to.
Muhadjir, who leads the education, culture, research and development department on the Muhammadiyah central board, has held the position of UMM rector for three terms since 2000.
The President's move is normal in politics and ministerial posts are political appointments, said Abdul Malik Fadjar who is also a member of the Presidential Advisory Board (Wantimpres).
"Well, since [he is now] a minister, [he] must able to position [himself] as a minister. He must focus on a commitment to build the nation," said Abdul Malik, who attended the ministers' inauguration ceremony on Wednesday at the State Palace.
Abdul Malik believed that Muhadjir could lead the ministry better because of his experiences and skills related to education development, adding that the Wantimpres did not give any input to Jokowi regarding the reshuffle. Also, like Muhammadiyah, NU has a representative in the Wantimpres: Hasyim Muzadi.
Suyatno, another Muhammadiyah leader who attended the inauguration ceremony, said Muhadjir is one of organization's members who has skills and shows professionalism all the time and that having Muhadjir in the Cabinet reflects Muhammadiyah's moral responsibility to help build the nation.
Tough jobs, including how to reduce an educational gap and to improve the country's human resources through better education, await Muhadjir, who said he realized that education could only show results in the long run.
"I will do my best to translate the President's vision [in education]," Muhadjir said, adding that Jokowi has instructed him to also pay attention to developing vocational education in the country.
Cabinet Secretary Pramono Anung said Jokowi considered Muhadjir as a figure who not only has expertise in education, but also someone who has the capacity to implement Jokowi's vision and mission to develop the country's education system.
Luhut's role as 'prime minister' annoyed many
by Rendi A. Witular and Haeril Halim
"As a soldier I have no objection following any orders assigned," was the reply Coordinating Political, Legal and Security Affairs Minister Luhut Pandjaitan conveyed to President Joko "Jokowi" Widodo when the latter told him of his new, less prestigious posting as coordinating maritime minister late on Tuesday.
After leaving the State Palace without posing any questions to Jokowi about his new assignment, Luhut received a call from Vice President Jusuf Kalla who told him that he had no prior knowledge of Jokowi's plan to have him rotated. A source with knowledge of the affair said Kalla needed to make the phone call to clear things up, as he was concerned Luhut might have suspected him of organizing a plot to have his role reduced.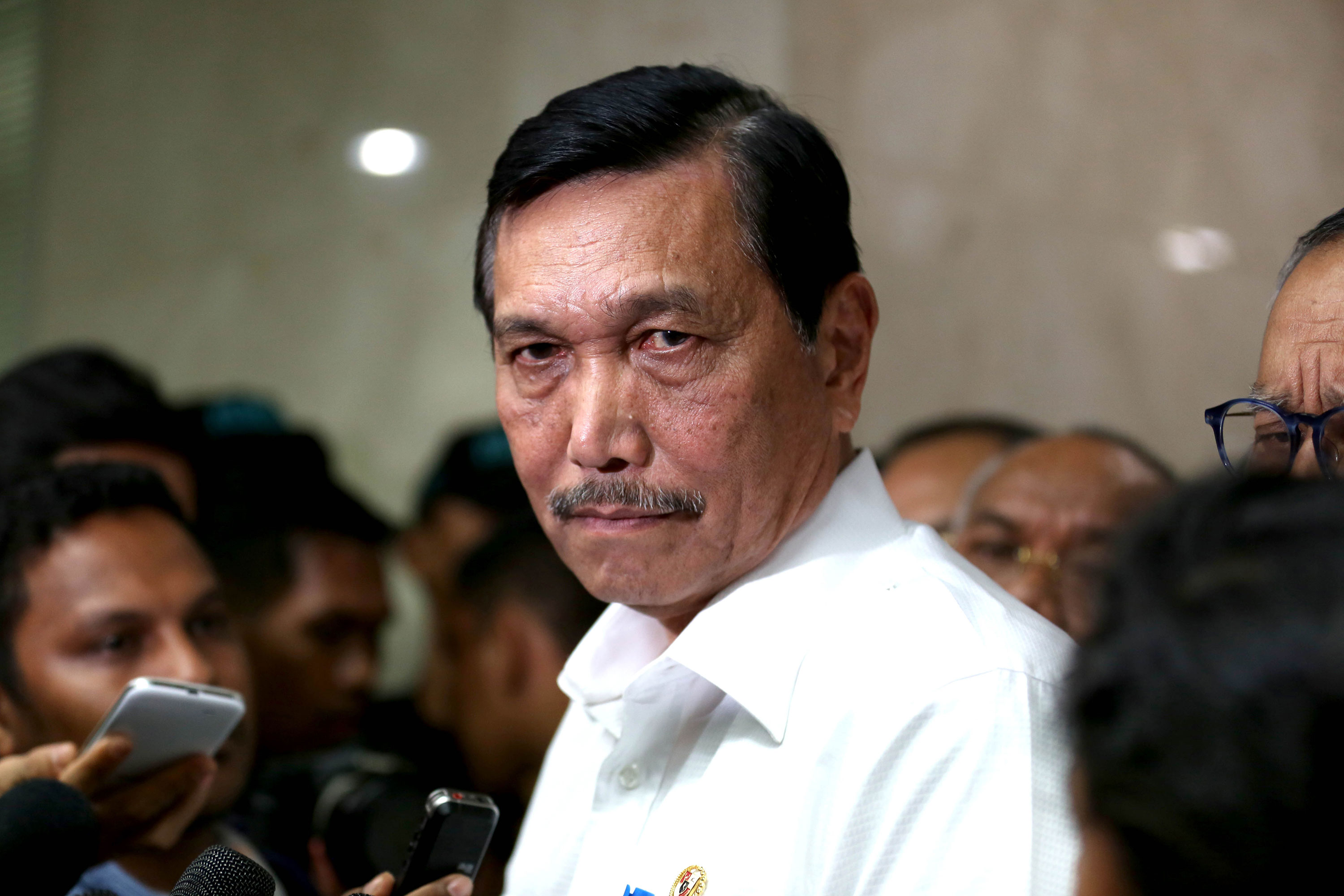 Although Luhut already had personal ties to the President, as he had been his business partner since early 2000, it was not until early this year that Luhut's influence rapidly expanded.
Luhut, a senior Golkar Party politician, was the key person pushing for the passage of the Tax Amnesty Law and its implementation. He also lobbied for the highly decorated but junior officer, Gen. Tito Karnavian, to lead the National Police.
Luhut is credited as well with convincing the Golkar Party — the second biggest after Jokowi's Indonesian Democratic Party of Struggle (PDI-P) — to join the ruling coalition camp.
Luhut's maneuvering had ensured stability in the House of Representatives, the National Police and the Indonesian Military (TNI). Economic issues are also included as Luhut's cup of tea, as he often talks about the property business and problems in the government's recent economic reform packages.
Luhut's close relationship with Golkar chairman Setya Novanto, coupled with his extensive connections with leaders of other political parties, business conglomerates, the TNI and the police, have notably provided him with capital he could eventually use to dominate the Cabinet.
His growing influence has not only reduced Kalla's clout, but also drawn the attention of Luhut's political and business rivals, Gen. (ret.) Hendropriyono, the former National Intelligence Agency (BIN) chairman.
Hendropriyono has close ties to both Kalla and PDI-P chairwoman Megawati Soekarnoputri, who happened to have a bitter history with Luhut. Attempts to have Luhut's influence clipped were already apparent when Jokowi installed Hendropriyono's son, Diaz, and former counterterrorism czar Comr. Gen. (ret.) Gories Mere as his special staff for intelligence affairs. Gories works for Hendropriyono's consulting firm.
To the annoyance of Kalla, many politicians and journalists have labeled Luhut as "prime minister" or even "the real vice president".
"Perhaps Jokowi and Kalla are worried that Luhut's growing influence is no longer healthy for the Cabinet, although they may have acknowledged Luhut's outstanding performance," said Indonesian Institute of Sciences (LIPI) political analyst Ikrar Nusa Bhakti.
In response to his rotation, Luhut said he had no objections to the President's decision. "The President has decided and I am taking a new role as maritime minister," he said.
Luhut's ministerial portfolio covers the Energy and Mineral Resources Ministry, the Transportation Ministry, the Maritime Affairs and Fisheries Ministry and the Tourism Ministry.
Luhut will have the authority to oversee Jokowi's signature project, the construction of new power plants to generate an additional 35,000 megawatts of electricity, the expansion of Indonesia's marine infrastructure and the construction of Indonesia's first high-speed railway.
Megawati powerless against ex-pal Rini
by Haeril Halim and Nurul Fitri Ramadhani
The decision of President Joko "Jokowi" Widodo to keep Rini Soemarno as state-owned enterprises minister, despite repeated threats from the Indonesian Democratic Party of Struggle (PDI-P) and the House of Representatives blacklisting her, demonstrates his strong determination.
He has not caved to any pressure even from the person who believes got him his current position.
Since Jokowi formed his Cabinet in November 2014, PDI-P chairwoman Megawati Soekarnoputri has repeatedly demanded that Jokowi dismiss Rini, at one time her minister and a former shopping companion. Jokowi appointed Rini to oversee state-owned companies, which are often treated as cash cows by politicians.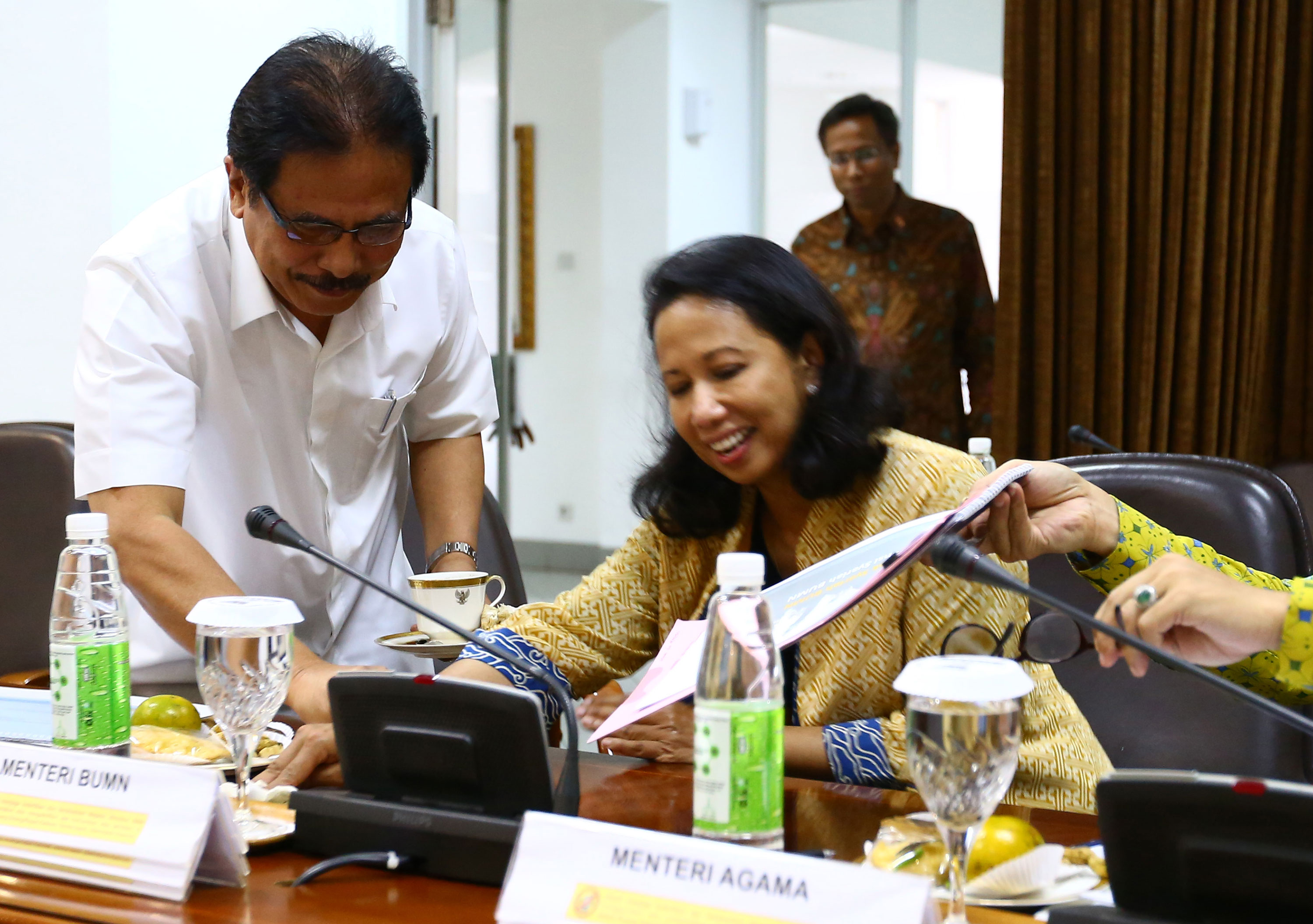 Megawati appointed Rini in 2001 as trade and industry minister when the former, as vice president, replaced then president Abdurrahman "Gus Dur" Wahid. Gus Dur was toppled by the People's Consultative Assembly for alleged graft.
However, the country's fifth president later accused Rini, a former Astra International CEO, of betraying her trust by joining Jokowi's Cabinet without her consent. In January she openly criticized Rini's ministerial performance. The relationship turned even uglier when the House's special committee investigating alleged corruption at state-owned port operator PT Pelindo II issued a recommendation that Jokowi dismiss Rini from her post and banned her from attending any House hearings thereafter.
The President turned a blind eye to his party's calls and allowed Rini to continue in her job at the ministry even though two Cabinet shakeups have seen dozens of professional figures like her, as well as politician ministers, being dismissed from the Cabinet.
Arya Fernandes, a political analyst with the Jakarta-based Centre for Strategic and International Studies (CSIS), said that Jokowi's firm stance of keeping Rini in the government sent a message to the public that he could not be dictated to by political groupings, not even by his own party the PDI-P.
"Rini has accompanied Jokowi since the very beginning of the presidential election process. This means that Jokowi honors a long-established political relationship [..] Rini also has had a role in helping the transition of the government from the previous leadership to the current administration," Arya said.
Unlike other Cabinet members, Rini has an exceptional place in Jokowi's circle of few trusted individuals. It is a relationship forged by history after she closely fought by Jokowi's side to help him clinch the presidency last year. Rini has not only advised and helped finance Jokowi, but also dealt with his choice of suits and ties. For her unrivaled service, Jokowi has repeatedly shielded her from many political threats.
Meanwhile, Arie Sudjito, political analyst at Gadjah Mada University in Yogyakarta, said that Rini posed no threat to Jokowi's administration.
"It is clear [from today's reshuffle] that Jokowi has kicked out from his Cabinet ministers who could become threats to his government, but he has kept Rini. This also tells us that Rini is under Jokowi's control in order to keep political stability in his administration," Arie said. Arie, however, acknowledged that Rini had not displayed any remarkable achievements since her appointment.
The President showed further defiance during Wednesday's second Cabinet shake up by ignoring the PDI-P's call to increase the number of ministers from that party in his government.
PDI-P legislator Masinton Pasaribu told The Jakarta Post that the party was surprised upon knowing Rini remained in her post."I just don't get the reasons for retaining Rini. There is already a House recommendation based on the Pelindo II investigation demanding the ouster of the minister for negligence," he said.
A senior political analyst from the Indonesian Institute of Sciences (LIPI), Ikrar Nusa Bhakti suspected that PDI-P maneuvers over Rini were due to Megawati's personal problems with her.
"It is not wise to let Megawati's fall-out with [Rini] be dragged into the government's affairs. By keeping Rini, Jokowi is telling us that you have the right to suggest whatever you want me to do, but don't force me to dismiss someone [based on a personal dislike]," Ikrar said.
Jokowi's truculence is also evidence that Megawati does not have full control over Jokowi's administration. Political researcher from LIPI Siti Zuhro said that Rini had put a lot of effort into Jokowi's victory in the 2014 presidential election.
"You can go check what Rini did for Jokowi during the campaign period," Siti said, adding that Jokowi should make an official explanation as to why he refused to comply with the House's call to sack Rini from her post.
Business community rolls out red carpet for Sri Mulyani
by Prima Wirayani
The return of World Bank managing director Sri Mulyani Indrawati as finance minister, replacing Bambang Brodjonegoro, has boosted confidence across all stakeholders in the nation's economy, including one former foe, business tycoon and senior politician Aburizal Bakrie.
"With Sri Mulyani as finance minister, the country's economy can be managed better," Aburizal, who played a major role in forcing her resignation as finance minister in 2010, said.
Sri Mulyani served as finance minister during the 2005-2010 period under the presidency of Susilo Bambang Yudhoyono. But she was forced to leave the Cabinet after nearly all political parties, including Aburizal's Golkar Party, demanded her resignation, ostensibly because of her alleged involvement in the Bank Century bailout scandal. However, many of them were also angered by her concerted efforts to reform the ministry, especially the taxation directorate general.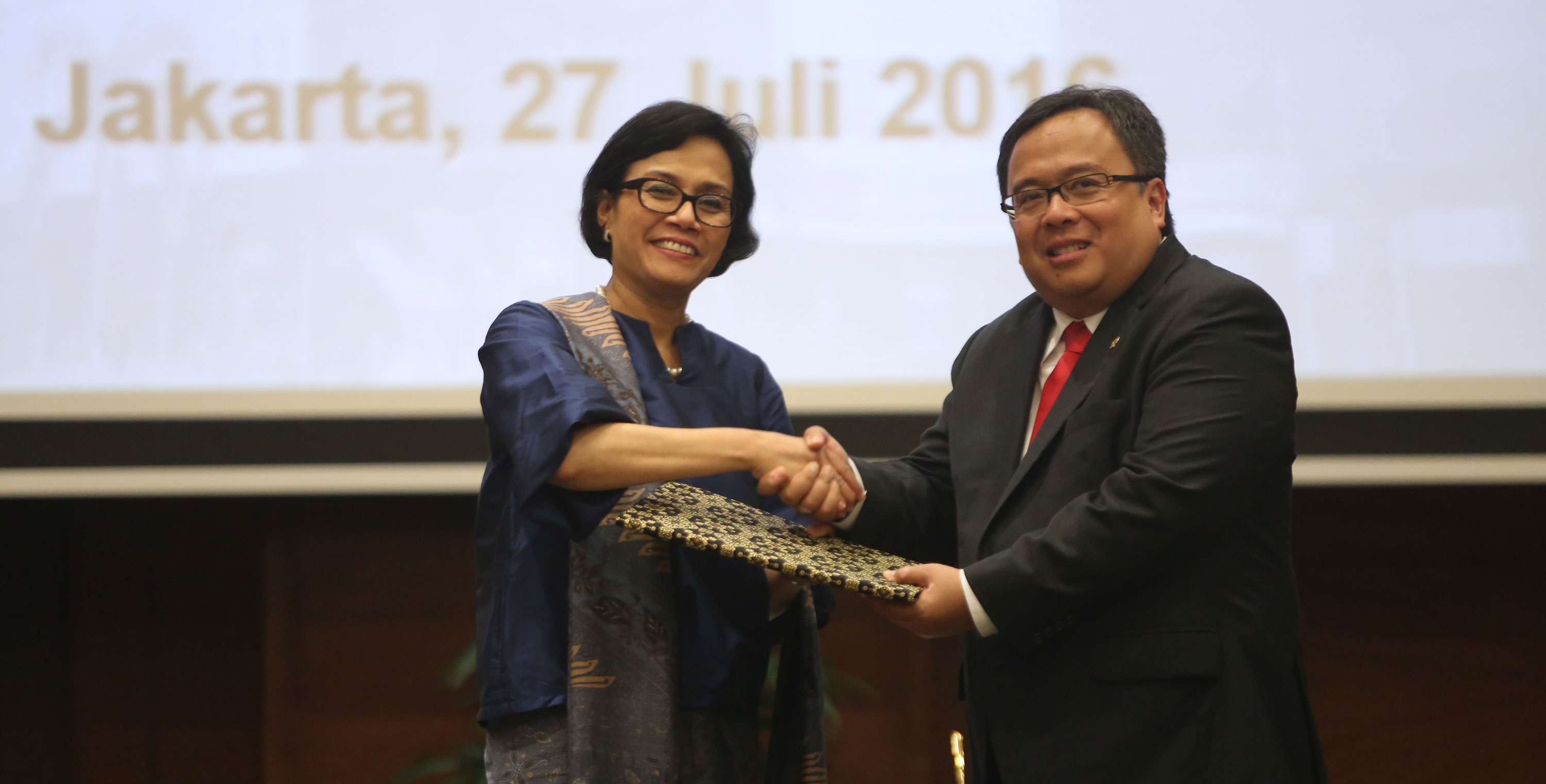 Handover: Sri Mulyani Indrawati(left) and Bambang Brodjonegoro shake hands at the ministerial handover ceremony at the Finance Ministry on Wednesday in Jakarta. Sri Mulyani will succeed Bambang to become the nation's finance minister, while Bambang will lead the National Development Planning Agency (Bappenas).
Indonesian Employers Association (Apindo) chairman Hariyadi B. Sukamdani recalled how the association and Sri Mulyani worked together very well during the 2008 financial crisis.
"Her ability to translate macroeconomic conditions and communicate them to us in the real sector was better [than that of outgoing minister Bambang]," Hariyadi said.
President Joko "Jokowi" Widodo had repeatedly urged her to return home and last month the President eventually convinced her that the government needed her in reviving the country's poor economic economic performance.
Businesspeople had long been expecting her to lead the strategic ministry, Hariyadi added. The double act of Sri Mulyani and Darmin Nasution, as coordinating economic minister, was what the association had expected. Hariyadi highlighted Sri Mulyani's previous prudent steps in composing the state budget as beneficial for businesspeople. The current state budget, he said, aimed at too high a tax-revenue target, which hurt businesses.
He expressed the hope the new minister would provide more stimulus and unclog bureaucracy bottlenecks instead of issuing policies that could hamper business growth.
Sri Mulyani said in her speech during a handover ceremony at the ministry's office on Wednesday that she would establish strong coordination among ministries in composing next year's state budget, which is in the deliberation process at the House of Representatives. This was to ensure the budget could be an instrument for stimulating the country's economy and could improve Indonesia's economic fundamentals.
Indonesia's economy grew by 4.79 percent last year, the slowest in six years. It expanded by just 4.92 percent in this year's first quarter, lower than the government and economists' expectations.
"I will look in detail at revenue and government spending," she said. "The state budget must be drafted synchronously and in line with the government's aims of reducing poverty, creating jobs, boosting the economy and lowering wealth discrepancies."
She also emphasized that the government's tax amnesty program was not a standalone objective but was a part of a comprehensive fiscal policy and prudent state budget.
Bank Central Asia (BCA) economist David Sumual applauded Sri Mulyani's cautious measures, saying managing expectations was essential amid the ongoing volatility in the global market.
The British Chamber of Commerce (Britcham) and the Korean Chamber of Commerce and Industry in Indonesia (Kocham) welcomed the move and pinned high hopes on the new finance minister.
"The return of the highly respected Ibu Sri Mulyani and the shift of Pak Tom Lembong are extremely positive," Britcham executive director Chris Wren said. He added that his office's wish-list for the new team would include better coordination and communication of policy across government.
OCBC Bank economist Wellian Wiranto said the thoughtfully choreographed reshuffle should further cheer the market, calling the new economic team a "dream team".
He warmly welcomed Sri Mulyani, saying her previous market-friendly policy stance, now strengthened with a global aura, would be a big plus for Jokowi's economic reform agenda.
"On top of that, the reshuffle both showcases and further strengthens the President's political foundation. Enough seats were given to new political allies, without sacrificing too much professionalism in the Cabinet," he wrote in a research note.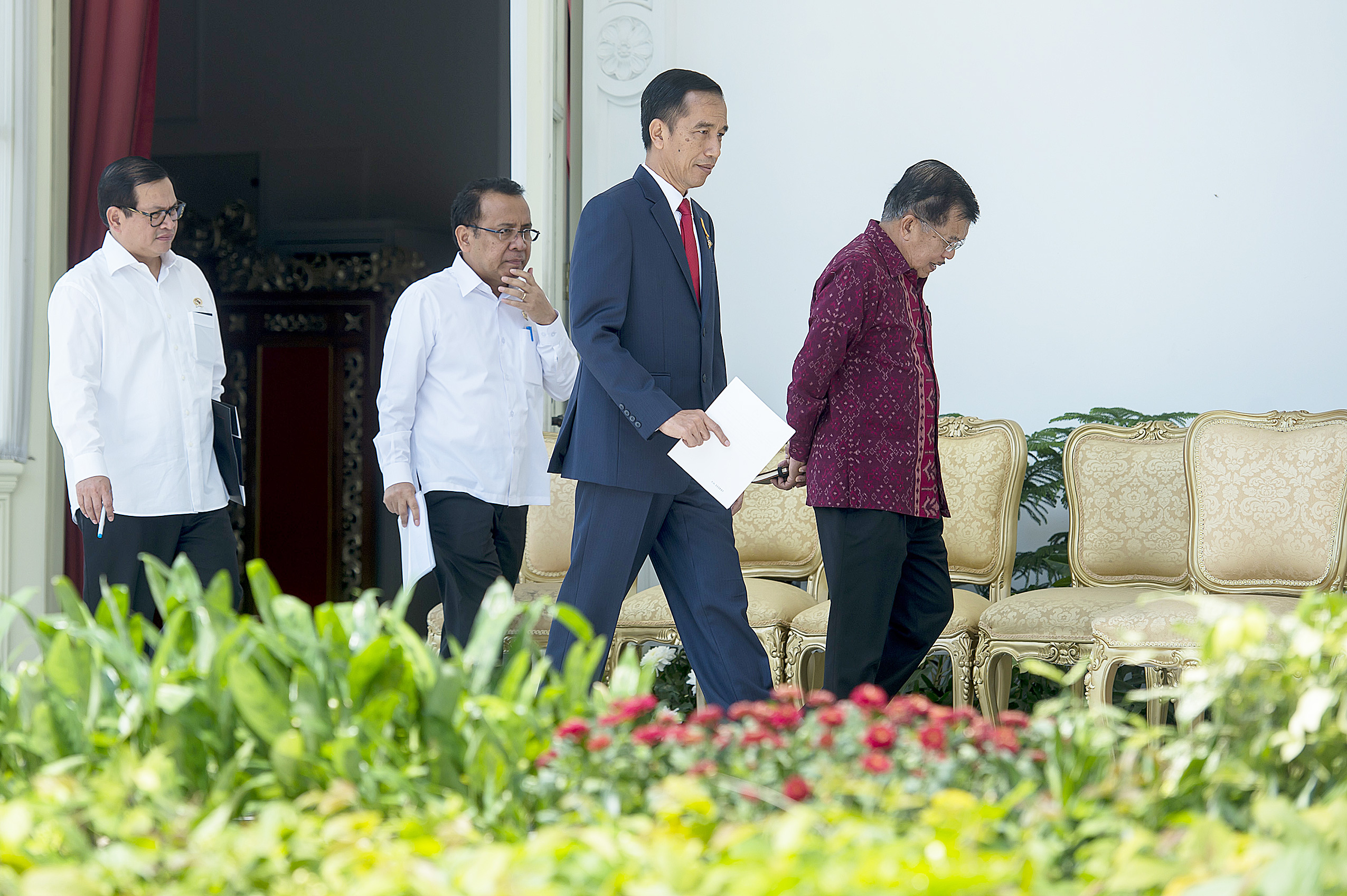 Bold steps: President Joko "Jokowi" Widodo (second from right), Vice President Jusuf Kalla (right), State Secretary Pratikno (second from left) and Cabinet Secretary Pramono Anung (left) walk to the stage where the President will announce the new line-up for his Cabinet. (Antara/Widodo S. Jusuf)
Doubts loom over new Cabinet line-up
by Nurul Fitri Ramadhani
Protracted speculation over a Cabinet reshuffle is over after President Joko "Jokowi" Widodo announced his new appointees for 13 ministerial posts. However, whether the new Cabinet lineup can help the President govern more effectively is another debate.
Political experts have said the new composition is only a political accommodation, shown by whom he has kicked and picked in the shake-up. Therefore, they are afraid the new Cabinet will go no further and contribute far below expectations.
"The reshuffle shows more political compromise rather than performance evaluation. Indeed, it's too early to predict whether they will give a better performance than the previous Cabinet, but I suspect that it's only the way to provide space for his new supporters," said Gun Gun Heryanto, a political communication expert with Syarif Hidayatullah State Islamic University Jakarta, referring to the Golkar Party and the National Mandate Party (PAN). "So, don't expect too much," he added.
With the two parties having jumped ship to support Jokowi, he has provided ministry seats to accommodate both.
The Hanura Party was forced to see two members, Saleh Husin and Yuddy Chrisnandi, kicked out from the Cabinet to provide seats to Golkar's Airlangga Hartarto, as industry minister, and PAN's Asman Abnur, as administrative and bureaucratic reform minister.
However, Hanura chairman Wiranto is now entrusted with leading the Office of the Coordinating Political, Legal and Security Affairs Minister, replacing Luhut Pandjaitan, who has been reassigned as coordinating maritime affairs minister.
The swap, Gun Gun said, was only a game of chess, which then sacrificed the posts filled by professional or non-political party members, like Anies Baswedan, Rizal Ramli and Sudirman Said.
"Politically, kicking out professionals is less risky because they have less political backing," he said.
Gun Gun added that among the names on the new Cabinet list, Finance Minister Sri Mulyani Indrawati was the most encouraging one amid the country's discouraging economic conditions, replacing Bambang Brodjonegoro, who now helms the National Development Planning Board (Bappenas).
The World Bank managing director's return is expected to carry the country to a better economic level on account of her experience and proven commitment.
Siti Zuhro, a senior political analyst with the Indonesian Institute of Sciences (LIPI), said the second Cabinet shake-up was full of political bargaining, thus it would be a difficult task ahead for Jokowi to gain control over his coalition.
"To make it work, Jokowi must be able to take control and be firm, so that no ministry will run individually like in the previous Cabinet," Siti said.
She also pointed out that a high number of parties in a coalition did guarantee a smooth-running government. Looking back to former president Susilo Bambang Yudhoyono's coalition, which accommodated many parties but was faced with difficulties in running his programs.
Political researcher Arya Fernandes of the Centre for Strategic and International Studies (CSIS), however, projected that the new Cabinet would strengthen the political consolidation because Jokowi now held 70 percent of the legislative body, although he did not deny that it would not be easy to manage a "fat Cabinet" because some parties might have contradictory opinions.
"But the reshuffle shows that Jokowi himself wants to avoid polemic in the government coalition," Arya said.
Opposition Gerindra Party executive Desmond J. Mahesa accused Jokowi of having broken his promise to provide fewer political appointees in his Cabinet. "It may be preparation for his team to lead the country for five more years," he said.
"But whether the new Cabinet is more effective depends on Jokowi. The biggest challenge is to ensure that the Tax Amnesty Law is implemented well. It he can't do so, then all these ministers will mean nothing," he added.
This article was first published in The Jakarta Post paper edition on July 28, 2016.
Editor-in-Chief

:

Endy M. Bayuni
Senior Managing Editor

:

Kornelius Purba
Managing Editor

:

Primastuti Handayani, Rendi A. Witular
Assistant Managing Editor

:

M. Taufiqurrahman
Writer

:

Ina Parlina, Haeril Halim, Prima Wirayani, Esther Samboh, Fedina S. Sundaryani, Grace D. Amianti, Farida Susanty, Dewanti A. Wardhani, Rendi A. Witular, Nurul Fitri Ramadhani
Technology

:

Muhamad Zarkasih, Muhammad Kurnia
Multimedia

:

Bayu Widhiatmoko, I Gede Dharma JS, Ahmad Zamzami
Layout & Design

:

Budhi Button, Swi Handono
Photographers

:

Wienda Parwitasari, Donny Fernando, Zul Trio Anggono
ANTARA FOTO: Widodo S. Jusuf