Yogyakarta has been famous as the Javanese cultural capital and a center of excellence. It has been a peaceful melting pot where people from around the world enjoy living thanks to its friendliness and affordable costs, but an increasing number of violent incidents has threatened its status as a "city of tolerance".
by Bambang Muryanto
---
When Papua Governor Lukas Enembe visited Yogyakarta recently, he spared time to meet Papuan students recovering from the trauma they suffered after police and violent vigilantes stopped them from staging a peaceful pro-independence rally.
Demianus Dabi, one of the dozens of Papuan students detained in the wake of the incident on July 15, recalled how police arrested him near his dormitory on his way from the market. He was forced to throw away the tubers he had purchased, a staple food in his ancestral land.
"The pain from taking punches has gone, but the pain from seeing how they [police officers] treated my tubers remains," he said fighting back tears. "For us Papuans, tubers symbolize motherly love."
Police resorted to heavy-handed tactics and the presence of groups notorious for their intolerance, such as the Pancasila Youth, the Communication Forum of Indonesian Veterans' Children (FKPPI) and the Jogja Militia, was conspicuous. They hurled racist insults at the Papuans and the police did nothing to stop them.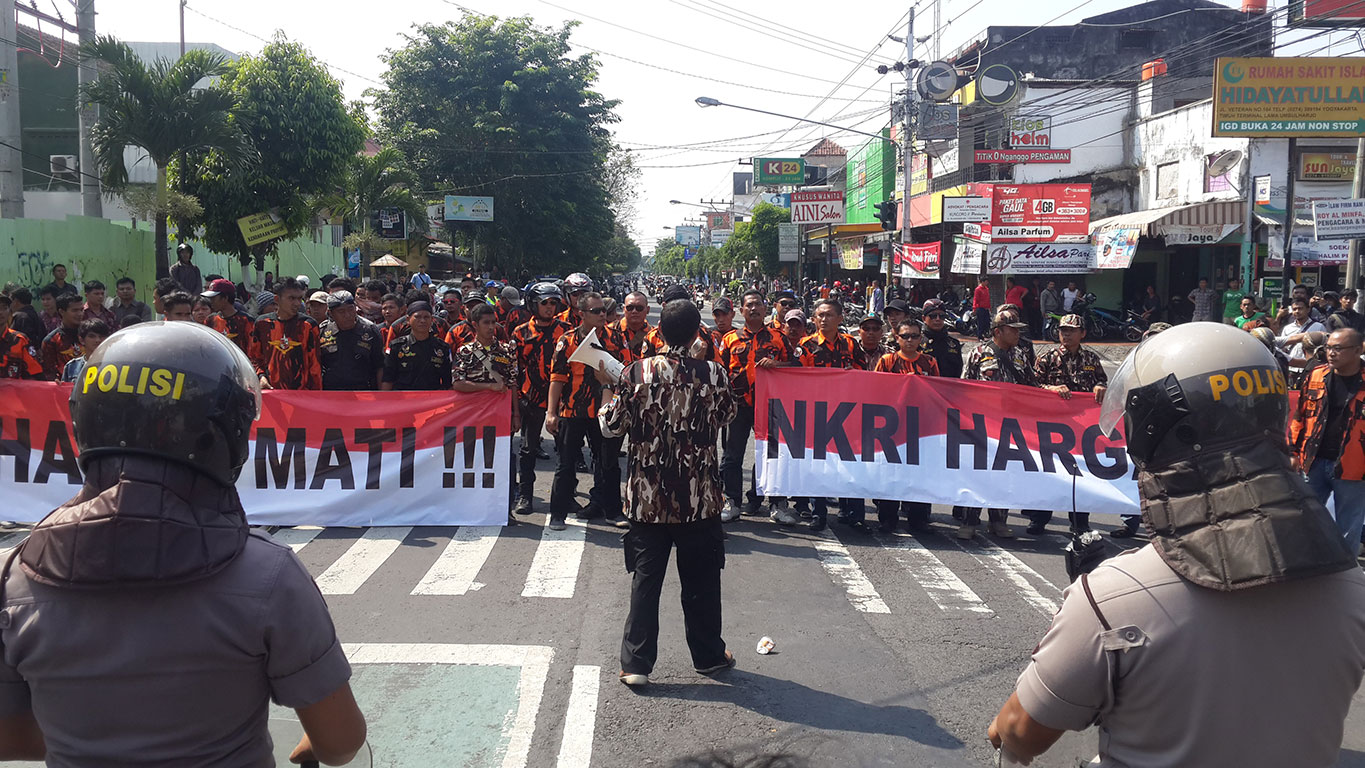 Non-negotiable: Supporters of the National Police, Indonesian Military Children Forum (FKPPI) and Pancasila Youth (PP) stage a rally near a Papuan student dorm in Kamasan, Yogyakarta. They declared that Papua was part of the Republic of Indonesia to challenge the rally of Papuan students who want self-determination for their land. (The Jakarta Post/ Bambang Muryanto)
In an episode reminiscent of a Hollywood cowboy flick, police officers caught a fleeing student, Obby Kogoya, on the road. He was thrown onto the asphalt, punched and kicked. An officer put his boot on Obby's head and would not let him rise, despite his begging for mercy.
On that day, social media was awash with hate memes and text messages under the hashtag of #PapuaNgamuk (Papuans run amok). Police moved in to block the students from taking to the streets and demonstrating their support for the United Liberation Movement for West Papua, which was seeking full membership in the Melanesia Spearhead Group.
"That was the first time Papuans in Yogyakarta came under extreme repression from the authorities," said Rizky Fatahillah, who is with the local chapter of the pro-bono Legal Aid Institute, which represented the students.
In Yogyakarta, the predominantly Christian Papuans have been stigmatized as heavy drinkers, shoplifters and troublemakers. Recently, the term "separatists" has been added to their ethnic profiling despite the constitutional guarantee of free speech they had planned to exercise.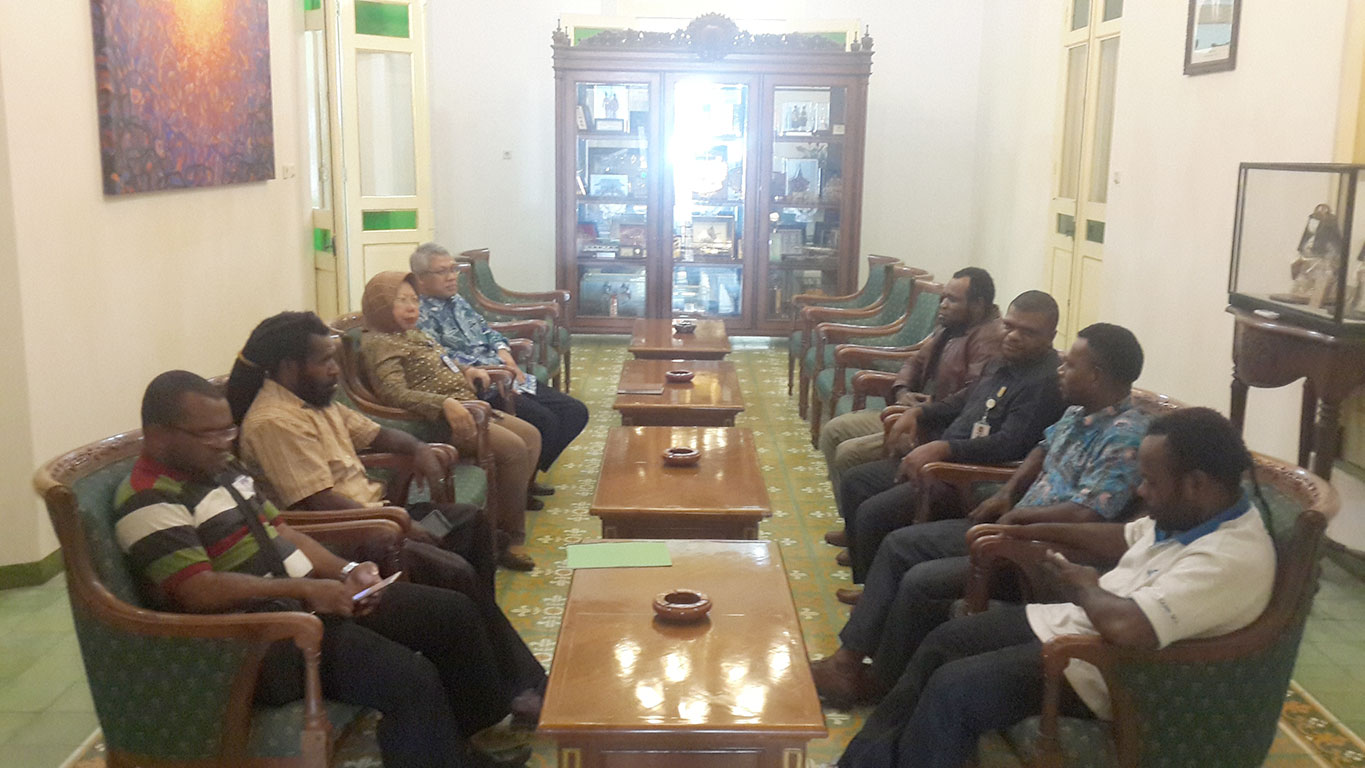 "Separatist": Students from Papua in Yogyakarta, accompanied by a legislator from Papua, Laurenzus Kadepa, meet with acting provincial secretary of Yogyakarta, Rani Sjamsinarsi, before they meet with Governor Hamengkubuwono. In the meeting, the governor refused to retract his statement labeling the students as "separatists," which the students consider stigmatising. (The Jakarta Post/ Bambang Muryanto)
Unfortunately, Sultan Hamengkubuwono X, who is also Yogyakarta's governor, did not exert his power to bring calm to the choppy political waters. Instead, he also labeled the Papuan students "separatists".
"If they want to do it [promote separatism], they must leave Yogyakarta," he said.
The incident was only the latest of a large number than have increasingly tainted Yogyakarta's reputation as Indonesia's melting pot, where people from all ethnic, cultural and religious backgrounds live in harmony. The second-largest tourist destination after Bali, the city, along with Surakarta, is the center of both syncretic Javanese culture and feudalism.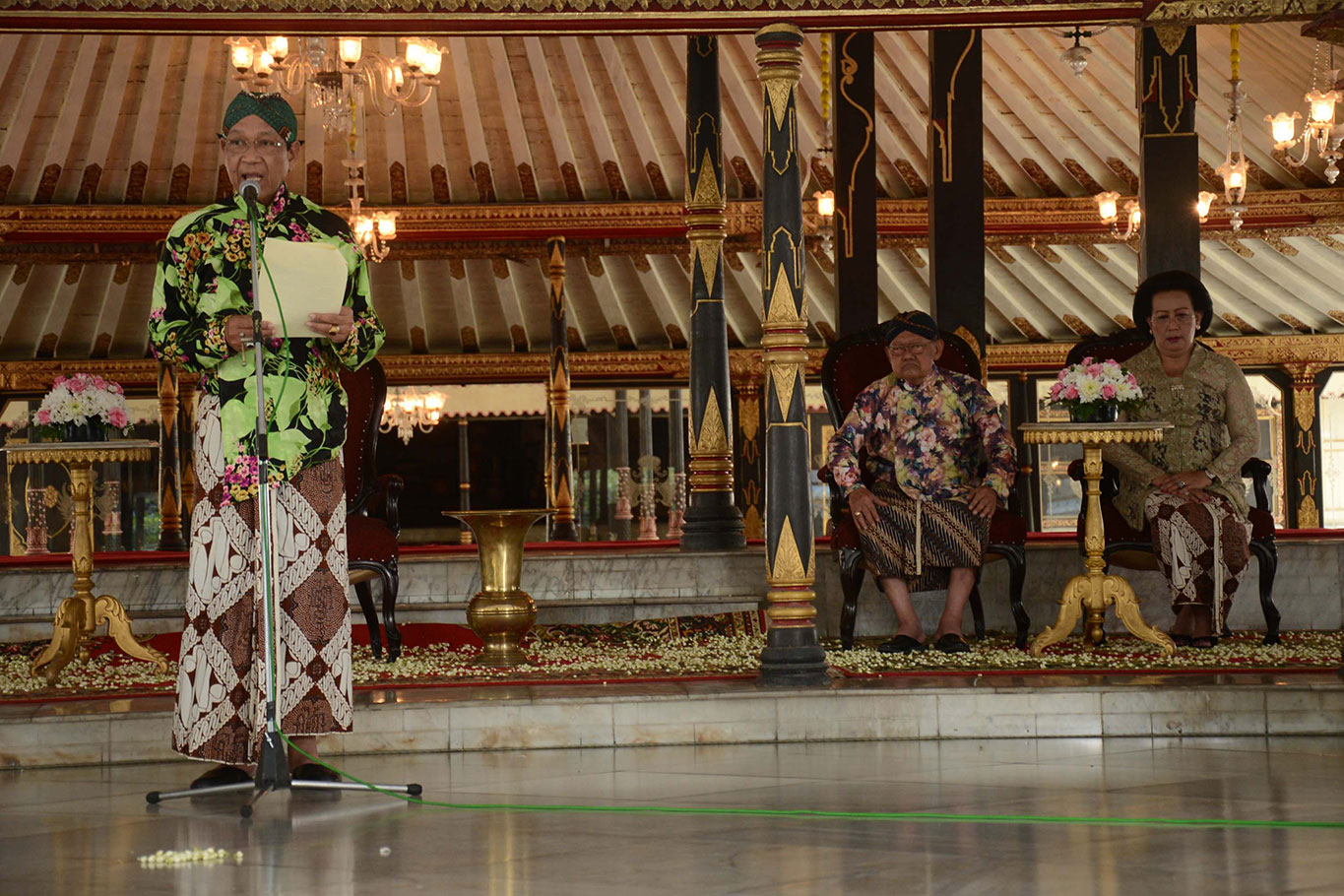 Press interview with Sri Sultan Hamengkubuwono X
TJP: I would like to confirm, with regard to Papuan students, Pak Sultan, is it true that if they are still in Jogja, that they cannot air their aspiration for self-determination? Sri Sultan Hamengkubuwono X: They can air their aspirations, but not publicly. We did not give them permission to do so outside, at the zero kilometer [a point near the busy Jl. Malioboro in Yogyakarta], it cannot go outside their [Papuan student dorm]. TJP: So they can do it in their dorm? Sri Sultan Hamengkubuwono X: Up to them, they did it anyway. They did it in their dorm anyway. TJP: You prohibited them from doing it outside? Sri Sultan Hamengkubuwono X: Yes, they cannot. TJP: If they insist on doing it outside? Sri Sultan Hamengkubuwono X: Some other place, but not Jogja. TJP: So they cannot stay in Jogja? Sri Sultan Hamengkubuwono X: I have never said that.
---
Hosting such famous learning institutions as Gadjah Mada University and numerous top Islamic and Christian colleges and schools, Yogyakarta is also known as a center of excellence. Alumni leave the city having been "Javanized", or so the common adage goes. Some colleges reserve seats for and offer scholarships to students from the impoverished eastern provinces, especially Papua and East Nusa Tenggara.
But the continual violent and intolerant incidents make its nickname "City of Tolerance" sound cynical and its "miniature of Indonesia" status sound hollow.
Cases of intolerance began to rise in 2010 when conservative natives aggressively demanded that the central government endorse a law on Yogyakarta as a "special region", which was fundamentally anti-democratic. At that time, fanatical advocates were out to intimidate anyone opposing the law, asking them to leave.
Under the law passed in 2012, the royal families — the Kesultanan and Pakualaman — retained their privileges inherited from the colonial era. The provincial top job automatically goes to the sultan and deputy position to a Pakualam. While in other provinces non-private property belongs to the state, in Yogyakarta the land is claimed by the royal families, either as "Sultan ground" or "Pakualaman ground".
In a meeting with entrepreneurs in 2014, Hamengkubuwono X made it clear that there is no such thing as "state land" in Yogyakarta; it is all the palace's property. The families are now reregistering royal property, which often includes longtime residential areas.
The palace's effort to reaffirm rights of land ownership already started numerous conflicts with citizens. A resort developer canceled a project at Watu Kodok Beach after residents violently rejected the palace's claim over the property it meant to lease to the businessman.
A sand quarrying venture, which is partly owned by a royal company, PT Jogja Magasa Mining, in Kulon Progo has also met strong resistance from residents who refused to make way for the project. Within the city, construction of new hotels on property claimed by the palace also sparked disputes with locals.
Ahmad Nashih Lutfi, a lecturer at the National Land College, has recorded 16 major land ownership conflicts involving the royal families since Yogyakarta's special status law took effect in 2012. One of them is the one on the acquisition of land to be developed into an international airport in Kulon Progo. The property is claimed as "Pakualaman ground".
Xenophobia was exacerbated in the wake of the 2013 execution by Army Special Forces (Kopassus) commandos of six East Nusa Tenggara hoodlums detained at Cebongan Prison for drugs and the murder of one of their fellows. At the time, dark-skinned people from eastern provinces were labeled as unwelcomed "thugs".
Yogyakarta hosts many intolerant groups, such as the Indonesia Islamic Front (FUI), the Front Jihad Islam, Laskar Jogja and Paksi Katon. Lately, the Pancasila Youth and the FKPPI have added themselves to the list. Their members appear as "security personnel" or parking attendants at major hotels, entertainment centers and housing complexes.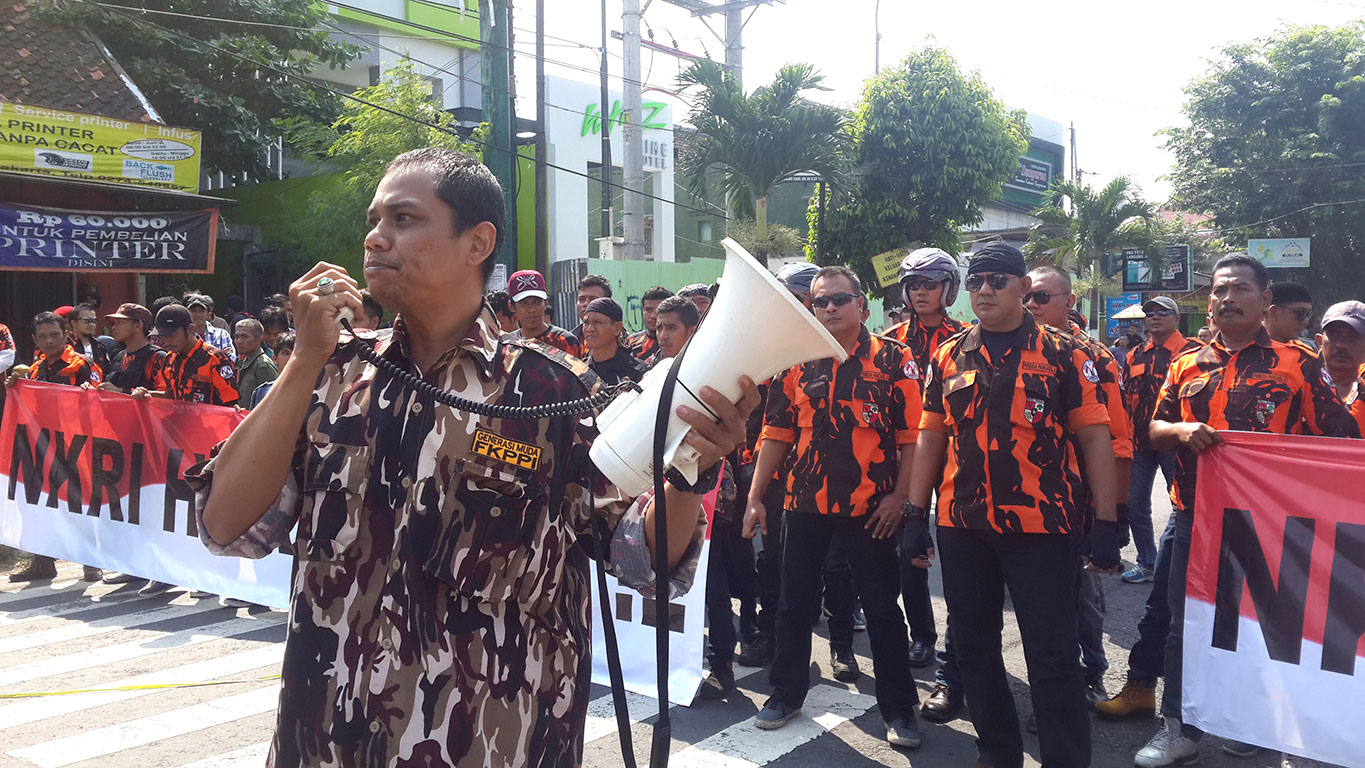 No self-determination: Supporters of the National Police, Indonesian Military Children Forum (FKPPI) and Pancasila Youth (PP) stage a rally near a Papuan student dorm in Kamasan, Yogyakarta. (The Jakarta Post/ Bambang Muryanto)
Ethnic groups from eastern Indonesia, especially East Nusa Tenggara, have eastern Yogyakarta as their turf.
Impunity has also given rise to the proliferation of intolerant groups that gained notoriety for attacking people of other faiths, LGBT people and events they suspect of "promoting communism". They also often unlawfully ban construction of churches.
A 2014 survey by the Wahid Institute — a Jakarta-based rights group — placed Yogyakarta as the second-most intolerant city after Bogor, West Java, with 21 cases of sectarian violence. Police are not doing their job. They give the violent groups a free hand to go as far as suppressing freedom of speech, such as by forcibly dispersing public seminars and the screening of films they assume smack of communism.
Authorities have turned a deaf ear to intellectuals' protests about them not doing enough to stop violence. Frustrated people have added question marks to the "Yogyakarta City of Tolerance" slogan emblazoned on banners at strategic places.
Kelli Swazey from Gadjah Mada University's Center for Religious and Cultural Studies attributes the increasing criminality among local youths to their economic powerlessness in the face of a rising culture of consumerism that grows along with the mushrooming hotels, cafes, shopping malls and apartments.
Feeling alienated, many youths have become frustrated, short-tempered and easily tempted to join misguided religious-based groups, she says.
Arie Sujito, the head of Gadjah Mada's school of social and political sciences, suspects that intolerant groups are in fact partners of local elites who use them as part of their tactics to maintain control of their assets. One obvious indication: The thugs enjoy impunity.
The Indonesian police were internationally commended for bashing sophisticated terror networks, but why in the world do not they get these troublemaking vigilantes?
"Intolerance in Yogyakarta is growing because the political and economic elites have failed to cope with the social impacts of the fast economic development. They patronize intolerant groups to defend their resources," Arie says.
You may wonder why the thugs also target intellectual exercises like public seminars. "Because these critical intellectuals are seen as a threat to the elites' control of economic and political resources," Arie says.
Young activists worried about the worsening intolerance have set up the Solidarity Forum for Peaceful Yogyakarta. They "mourn" the appalling state of intolerance in the city that still proudly promotes itself as "peaceful-hearted".
"Down the beaches and up the mountains, on campuses and in the streets, the peace is hard to find now," says forum activist Ernawati. "This is because the greedy officials and their like-minded cohorts are busy fighting for a share of the 'special region' cake."
Unfortunately, Sultan Hamengkubuwono X — who was awarded as a pluralist leader by the Interfaith Network in 2014 — has yet to take measures to restore Yogyakarta's image as a city of tolerance.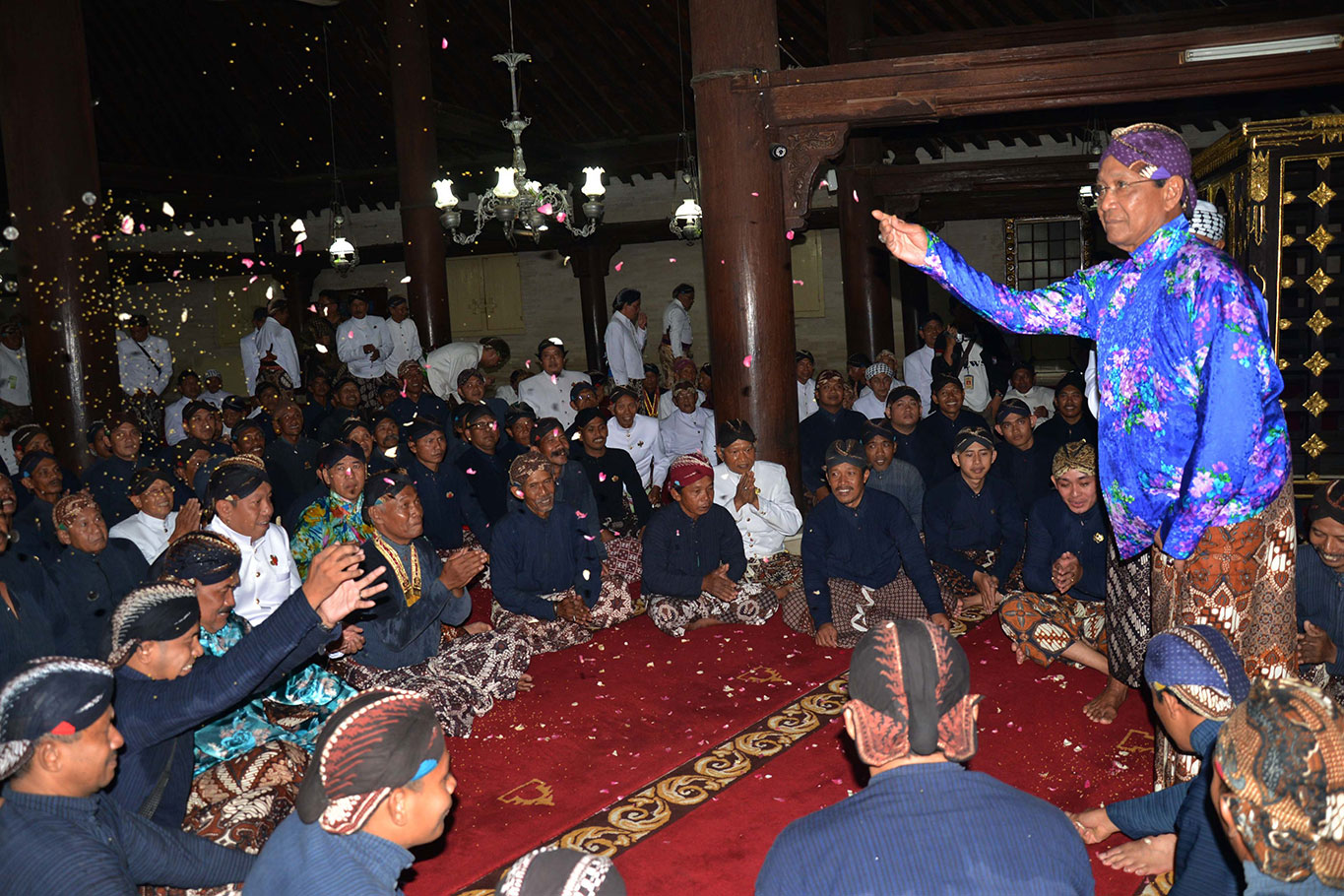 Press interview with Sri Sultan Hamengkubuwono X
Sri Sultan Hamengkubuwono X: Yogyakarta is for Indonesia. Yogyakarta doesn't give space for separatists to separate themselves from Indonesia. That's one principle they need to understand. It has happened several times, and I have reminded them. I don't want Yogyakarta to be for another aspiration. Yogyakartans have said Jogja is for Indonesia, not for separatists to separate themselves from Indonesia. This is our awareness of being one nation.
TJP: They did it several times.
Sri Sultan Hamengkubuwono X: That's why I didn't give them permission. I am the guardian of this place, of this territory.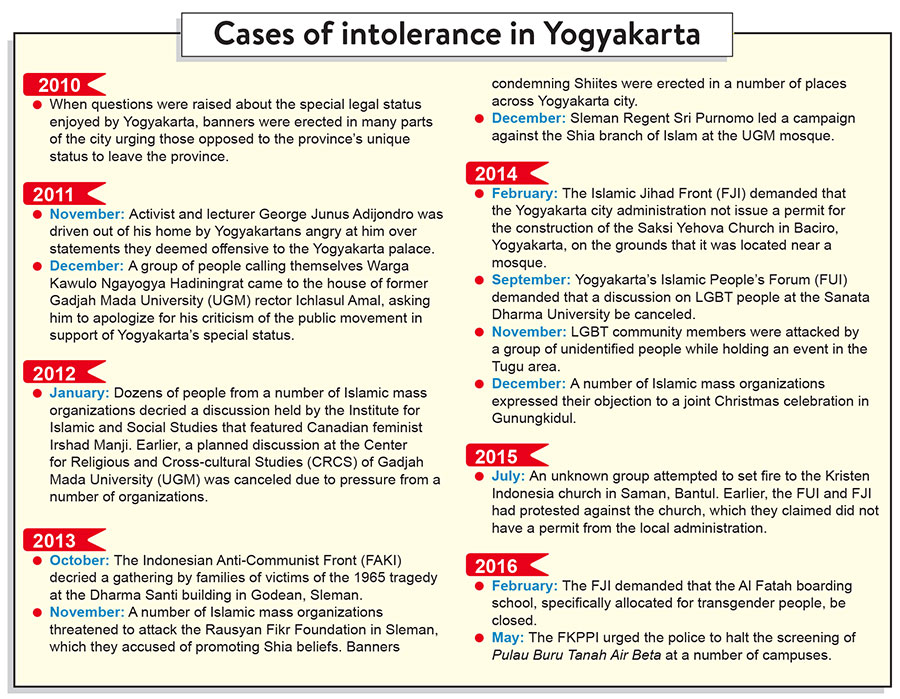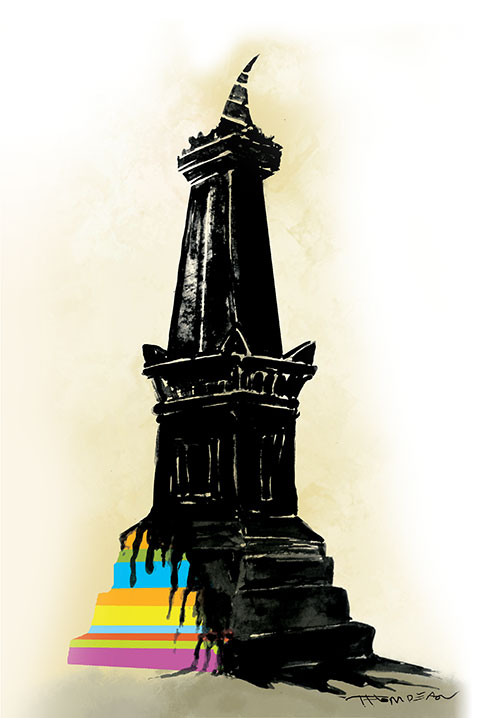 Radical group claims coordination with police, military
"Such organizations cannot be banned; they will reappear by other names anyway."
One day in the 2015 fasting month, the field commander of the Yogyakarta chapter of the Indonesian Islamic Front (FUI), Muhammad Fuad Andreago, led dozens of his men to stage a rally at the Gunung Kidul regent's office, 40 kilometers to the east.
Their mission: Asking her to reject the local Catholics' application for a permit to build a grotto in the northern village of Sengonkerep. Before they marched to Gunung Kidul, they met with leaders of the Yogyakarta office of the Indonesian Ulema Council (MUI) and demanded a formal ban of Shia.
An umbrella for a host of notorious Islamic vigilante groups in Yogyakarta, the FUI is highly active and has no fear of prosecution because it coordinates with the police and military, or so it loves to claim.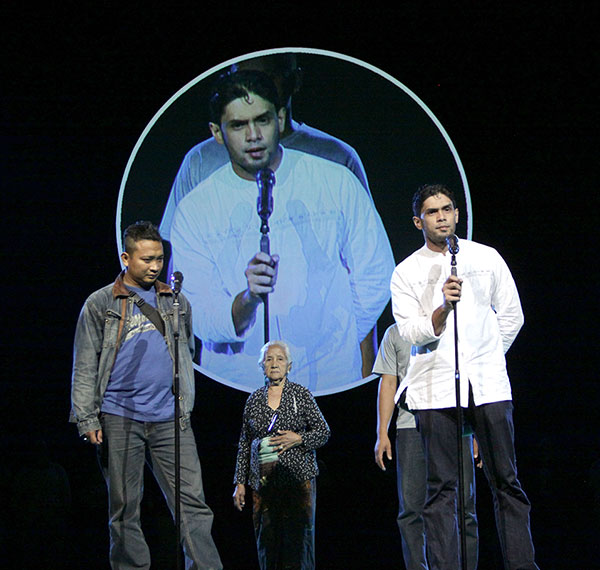 The hard-liner: The field coordinator of the Islamic People's Forum (FUI) in Yogyakarta, Muhammad Fuad Andreago, (right) stands on the stage during a theater performance by German group Rimini Protokoll and Indonesian group Teater Garasi last year. The performance, 100% Yogyakarta, presented 100 residents of the city, representing Yogyakarta's diversity, including those of different ideology. Fuad was picked as the representative of the city's hard-line groups. (The Jakarta Post/ Bambang Muryanto)
During the controversy surrounding the screening of Senyap (Silent), a documentary on the 1965 tragedy, the FUI forced the Indonesian Arts Institute (ISI) Yogyakarta and Gadjah Mada University (UGM) to cancel the movie screening on their campuses, although the event was strictly meant for academic purposes.
Fuad has defended his actions, which have been widely condemned as intolerant, on the pretext that FUI needs to help the short-staffed state apparatuses carry out their countless jobs.
Moreover, he knows police and military officers often lack confidence when handling certain cases, apparently for fear of losing their jobs if anything goes wrong. It is at this point, he said, that the authorities need the help of civil organizations like FUI.
Set up out of concern about the uncoordinated Islamic groups in the city, now the FUI oversees 120 paramilitary units, some 80 of which are affiliated with the Islamist United Development Party (PPP).
In addition to the FUI, Yogyakarta hosts numerous other vigilante groups — religious-based or otherwise — that have won notoriety for their intolerant actions: the Islamic Jihad Front (FJI), the Pancasila Youth, the Communication Forum of Indonesian Veterans' Children (the FKPPI, an association of families of military and police veterans), Paksi Katon, Laskar Jogja and the Indonesian Anti-Communist Front (FAKI). They were accorded an audience with Governor Hamengkubuwono in the wake of last month's incident in which police and violent groups brutally stopped Papuan students from staging a pro-independence street rally.
But in fact the various groups are not as united as they look. They disagree on some issues, resulting in occasional physical conflicts. Now, Fuad said he is planning to barge into several "places of ill repute" defended by groups rival to the FUI.
The various vigilante groups operate on different turfs, often as rivals. True to experts' assertion that they are groomed by political and economic elites to help protect their resources, their members are present in major establishments like hotels, entertainment centers, upscale housing complexes, bus terminals and malls, usually as "security personnel" or parking attendants.
"In the past, establishments used the service of groups affiliated with the PPP and the Indonesian Democratic Party of Struggle [PDI-P]. Now, hotels and apartments prefer using the services of professional security agencies belonging to the police and the military because the [vigilante] groups are prone to conflicts," said Fuad, an ex-chairman of the Ka'bah Youth Movement affiliated to the PPP.
Apart from their religious motives, organizations like the FUI also enjoy the "pie" of the burgeoning tourism industry in Yogyakarta. The FUI uses its cooperative to administer a major tourist bus terminal and parking lots at business districts in the city, such as the iconic Malioboro.
The FUI started its lucrative businesses in 2008 after the then Yogyakarta mayor, Herry Zudianto, initiated empowerment programs for the masses. With it, he allowed civic groups to take part in the management of strategic places in the city.
The mushrooming intolerant groups in the city of "peaceful heart" has been blamed for increasing cases of violence that tarnish its image as a melting pot that attracts people of all backgrounds from across Indonesia.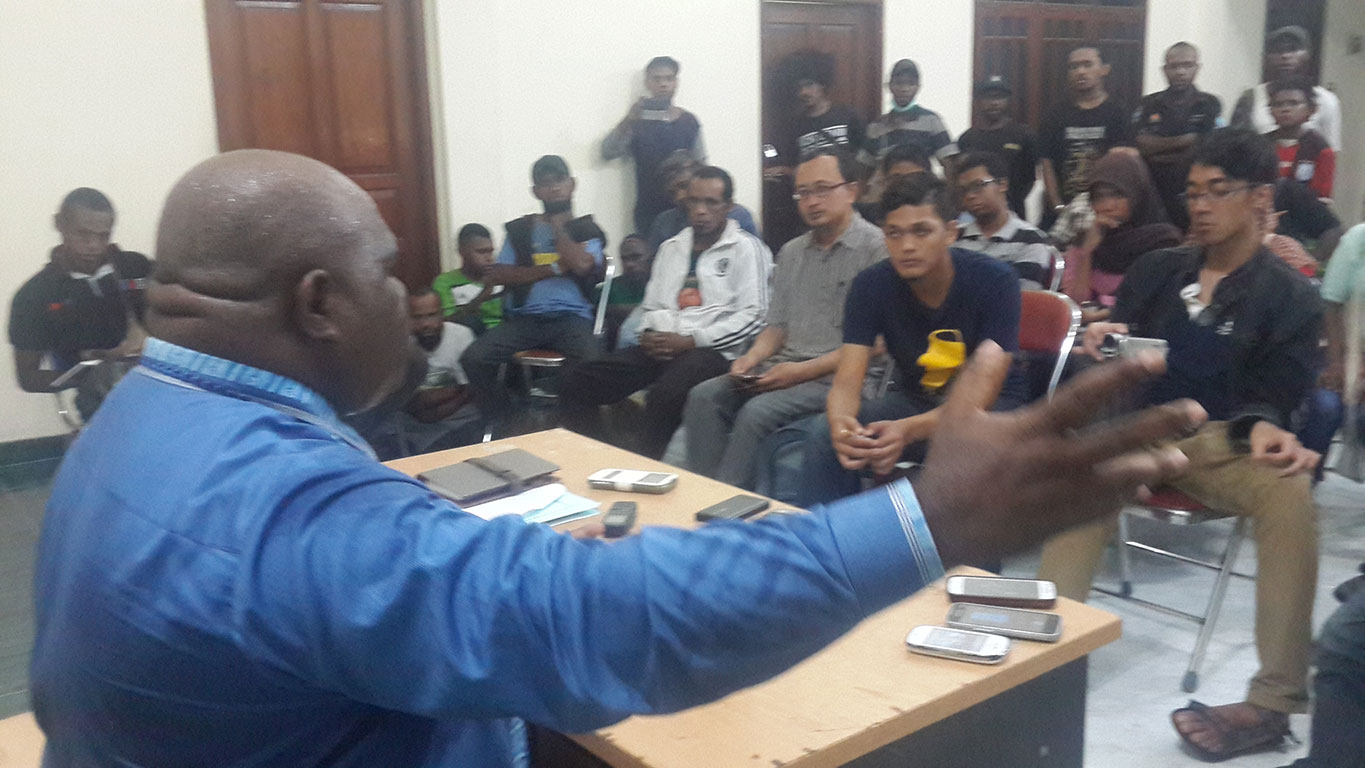 Mr. Commissioner: National Commission on Human Rights (Komnas HAM) official Natalius Pigai talks to Papuan students in a Papuan student dorm in Kamasan, Yogyakarta. Pigai paid a visit to investigate allegations of human rights violations by the police during a Papuan student rally in July. (The Jakarta Post/ Bambang Muryanto)
Yenni Wahid, director of the Jakarta-based rights group Wahid Institute, calls for legal action against people resorting to violence regardless of the ideology they use as a pretext. As the Indonesian Constitution guarantees freedom of association, banning bad organizations as some people are seeking will only make a mockery of democracy.
"Such organizations cannot be banned; they will reappear by other names anyway," she says. "It is their members who trample on the laws that must be prosecuted," said Yenny, who was only recently named co-chair of the US-Indonesia Council on Religion and Pluralism.
This article was first published in The Jakarta Post paper edition on August 15, 2016.
| | | |
| --- | --- | --- |
| Editor-in-Chief | : | Endy M. Bayuni |
| Senior Managing Editor | : | Kornelius Purba |
| Managing Editor | : | Primastuti Handayani, Rendi A. Witular |
| Desk Editor | : | Pandaya |
| Editor | : | Evi Mariani |
| Writer | : | Bambang Muryanto |
| Technology | : | Muhamad Zarkasih, Muhammad Kurnia |
| Multimedia | : | Bayu Widhiatmoko, I.G. Dharma J.S., Ahmad Zamzami, Rian Irawan, Wienda Parwitasari |