Indonesian warship factory quietly serves the world
by: Liza Yosephine
---
The sun shone brightly one morning in Surabaya Port, East Java, setting a-shimmer a sea lined with muted, grey warships docked along the vast harbor. To the side stood one giant crimson-colored vessel, probed and prodded by dozens of men all across its surface still unfinished.
"This is a work in progress of the second strategic sealift vessel [SSV] warship to be delivered to the Philippines," a man dressed in cerulean uniform and white hard hat said proudly.
The man, M. Firmansyah Arifin, is the president director of state-owned shipbuilder PT. PAL Indonesia (PAL). He recently took The Jakarta Post team across the extensive grounds of the company's shipyard.
PAL won a US$90 million contract in an international tender, beating eight other countries to build two warships for the Philippine Navy in 2012. The second vessel, which is still under construction, is expected to be delivered to Manila next May.
The success of the SSV Tarlac comes as a confidence boost for the country's shipbuilding industry as it strives to prove itself in its own eyes and those of the world.
PT PAL has long relied on regular orders from the government for the Navy's patrol vessels and inter-island ferries. The firm had also made tanker vessels for state energy company PT Pertamina as part of cooperation between state-owned firms.
Established as a state-owned company in 1980, PAL has four business lines including a commercial ship division, a warship division, repair and maintenance, as well as a general engineering division. The company's portfolio included warships, fast patrol boats, tugboats, tankers, fishing boats, research and training vessels, cargo ships, merchant ships, passenger ferries and power plant ships.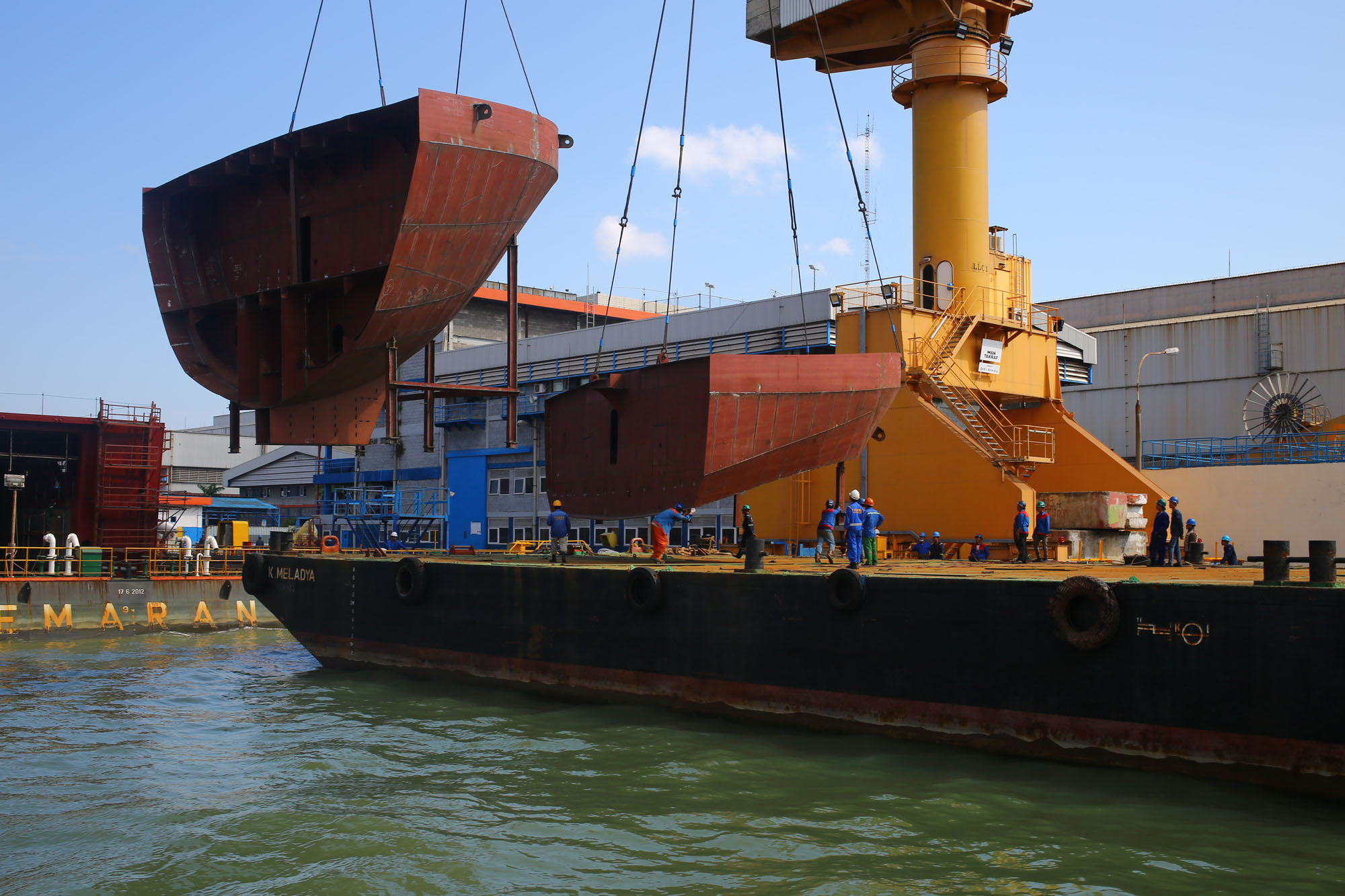 Cranes lift sections of strategic sealift vessel (SSV) that are ready to be assembled onto the assembling dock at the company's shipyard at Ujung Port in Surabaya, East Java. PAL is currently working to complete the second SSV for the Philippine Navy, set to be delivered next May.(The Jakarta Post/ Wienda Parwitasari)
Despite the vast experience, the company's finances began to struggle, especially during the 1997-1998 financial crisis, when it halted the manufacture of ships altogether, only operating a repair and maintenance division.
PAL's rising momentum bolstered under the administration of President Joko "Jokowi" Widodo, who has vowed that Indonesia will emerge as a maritime power, as outlined in his vision in the Nawa Cita (nine agenda) development principles in his election in 2014. As the world's largest archipelago, the country now places great importance in its maritime industry.
Part of Jokowi's vision is to turn Indonesia into a global maritime fulcrum, an ambitious concept of a "maritime highway" that includes not only the transformation and connection of the country's sea trade lanes and ports, but also the strengthening of its maritime defense power to protect its vast territory.
"We want to be a world-class shipyard company. Therefore, all our efforts and programs are designed to pursue that goal," said Firmansyah, who has chaired the firm for the past four years.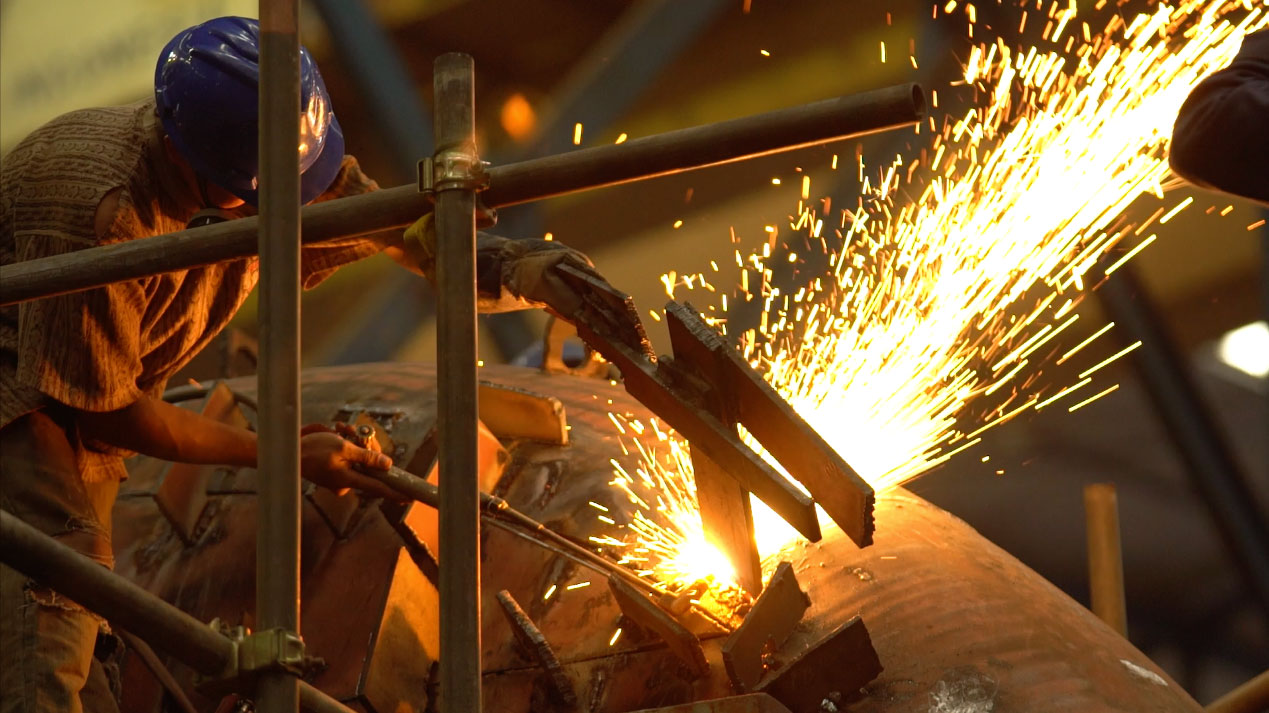 Workers work on an SSV at the company's assembly workshop in Surabaya.(The Jakarta Post/ I.G. Dharma J.S.)
February 2012 marked a new beginning for PAL, with the government appointing a new board of directors and allocating Rp 150 billion to revitalize PAL's production facilities and modernize its equipment. That year, total funds of Rp 648 billion from a state capital injection (PMN) were provided for the revamp.
Since being inaugurated in 2012, Firmansyah claims to have steered PAL to actively pursue knowledge and skills by transfer of technologies with established companies from countries including South Korea and the Netherlands.
Full speed ahead
Even though PAL manufactures both commercial and naval ships, the government has assigned the firm to focus on the development and construction of naval vessels in line with the modernization of Indonesia's primary weaponry defense system for the military.
PAL has forged ahead to advance its human resources and yard facilities to build better warships in recent years, with current projects concentrated on manufacturing two Perusak Kawal Rudal (PKR), or guided-missile frigates, with a Dutch shipbuilder and three submarines with a South Korean company, all procured by the Indonesian Navy.
The company aims for two things for Indonesia: to be more self-sufficient in its warship and naval weaponry requirements and to be able to export more products overseas, Firmansyah explains.
"One of the things I focus on is how to be more international without having to ignore the domestic," he said, adding that any global ambitions would begin with Indonesia's own market.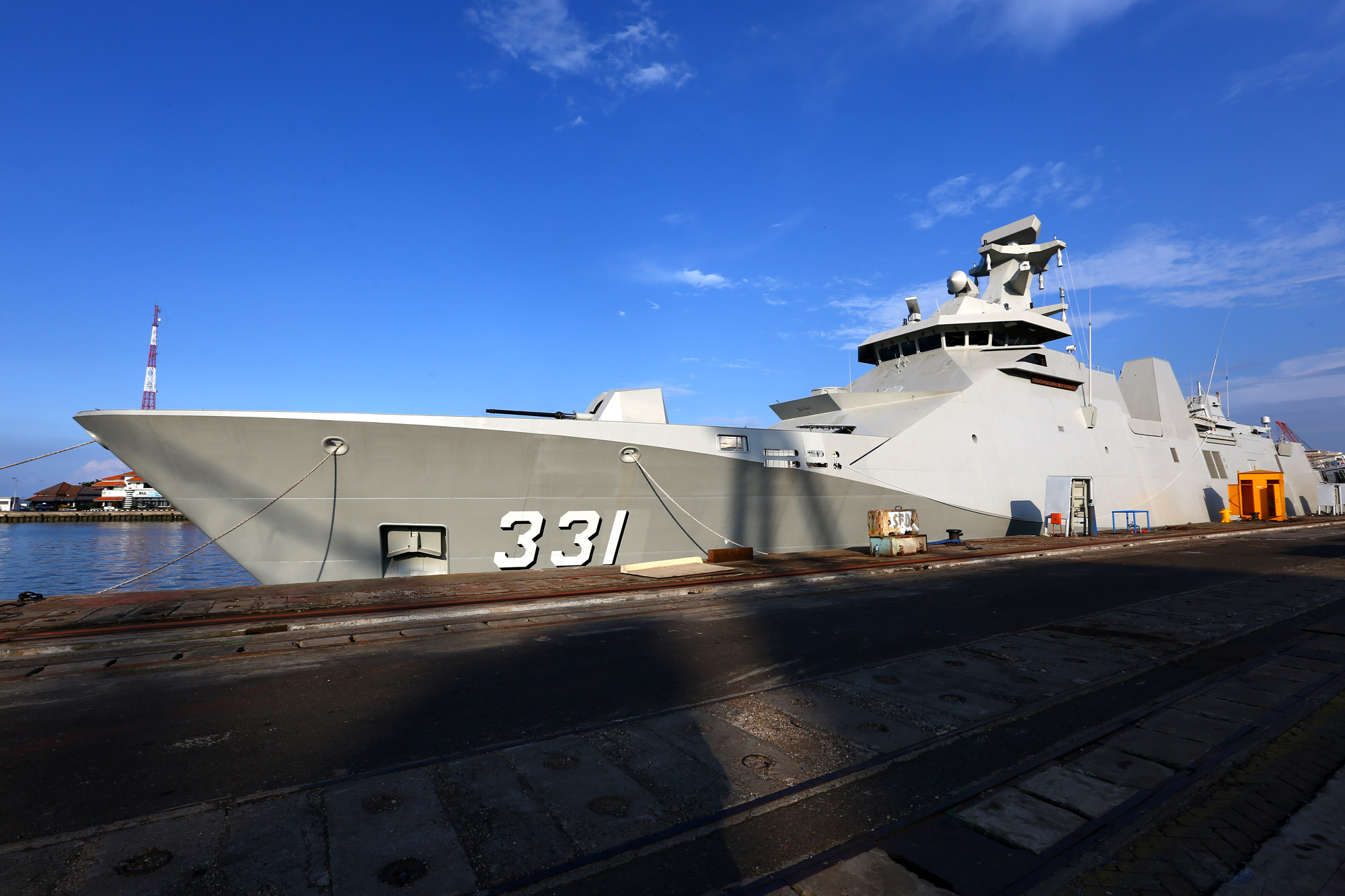 Shipbuilder PT PAL Indonesia displays a 10514-type of Perusak Kawal Rudal (PKR), or guided-missile frigates, named after warship KRI RE Martadinata-331. The frigate was the first of two warships commissioned by the Indonesian Navy.(The Jakarta Post/ Wienda Parwitasari)
Vice President Jusuf Kalla has pointed out that the export of the SSV Tarlac marked the right time for Indonesia to seize the momentum to take its place in the global shipbuilding industry. It was Europe and the United States that dominated the global shipbuilding industry 30 years ago before Japan developed its industry, followed by South Korea and now China, the Vice President said.
"Now is the time for Indonesia, through PT PAL in Surabaya and other shipyards in Batam in Riau Islands, to prove the fact that Indonesia, as a maritime country, is capable of producing advanced ships like this," he said at the flag-off ceremony in May.
Firmansyah says some of the aforementioned developed countries have begun taking a back seat in the manufacturing industry, and as such, have opened the path for Indonesia to swoop in to develop its own status in the world.
"The shipbuilding industry is known as the Three Ds: dark, dirty and dangerous', and some countries have shifted their focus, perhaps to more high-tech industries, toward the design rather than the manufacturing aspect." ~
Muhammad Firmansyah Arifin,
CEO PT PAL Indonesia
PAL will seize the moment by focusing on two aspects, Firmansyah said. Firstly, the company will collaborate on the technical development side with more experienced companies from Europe, Japan and South Korea. At the same time, it will also conduct sharing marketing with foreign parties to penetrate into other regions, including Asia and Africa, to shift focus from European-made ships.
When asked whether Indonesia could compete globally, Firmansyah replied with an emphatic affirmative.
The delivery of the first SSV to the Philippines caught international attention, perking up the ears of foreign navies who were informed of the successful maiden voyage. Representatives from neighboring countries in Southeast Asia and the Middle East have shown interest in placing orders for warships, Firmansyah said, declining to give further details.

Workers work on an SSV for the Philippine Navy at PAL's shipyard in Surabaya on Aug. 5. It is the second warship ordered by the Philippine Navy and is set to be completed in May next year. PAL won a tender worth US$90 million to make two SSVs for the Philippines; the first was delivered in May.(The Jakarta Post/ Wienda Parwitasari)
The company hopes that with continued skill-enriching transfer of technologies, it can catapult the quality of Indonesian products higher, for both commercials and naval ships.
The SSV was the result of cooperation with South Korean company Dae Sun Shipbuilding, in a contract signed in December 2004 worth $150 million. The deal included the construction of four landing platform dock (LPD) vessels, the type name for the SSV used by the Indonesian Navy, which was concluded by 2010. As a result, PAL has now implemented the skills and knowledge obtained through the project to produce the same vessel for sale overseas.
Reaching new depths
PAL is currently working with two more foreign companies, looking to produce a submarine to be added to its portfolio. It is collaborating with South Korean Daewoo Shipbuilding and Marine Engineering (DSME) to build three Chang Bogo-class submarine vessels. It is also working with Dutch shipyard Damen Schelde Naval Shipbuilding (DSNS) to build two SIGMA 10514 missile-guided destroyer escort frigates (PKR).
The Defense Ministry signed a contract worth $1.07 billion with DSME in 2011 to purchase three Chang Bogo-class submarines. Under the contract, two submarines will be built in South Korea in cooperation with PAL, while the third submarine will be completely built at PAL's facilities in Surabaya.
Currently, manufacturing operations are still ongoing in South Korea, while at the same time, facilities at PAL are being constructed in preparation and expected to be ready by November this year. The project is expected to be concluded by 2018, Firmansyah said.
The vessel is equipped with a sophisticated platform management system that enables operating, control and monitoring of the ship's auxiliary systems. It is equipped with a complete, state-of-the-art sensor and weapon package to counter air, surface and sub-surface threats. For self-defense, the vessel is also equipped with comprehensive electronic warfare systems.
Former defense minister Purnomo Yusgiantoro attended the project's first steel cutting in 2014 to mark the start of the frigate construction, which is taking place in Netherlands and in Indonesia.
"This is part of the long-term vision of the Indonesian government to develop its own industry to produce high-quality advanced naval vessels," Damen project manager Tijs Buijs said.
Design, engineering, purchasing and manufacture of the bridge modules are being carried out in Vlissingen, the Netherlands. Employees from PAL have been sent to Vlissingen to be trained in aspects such as planning, project management, and engineering, among others, while in Surabaya, training is being conducted by Damen for welders, steel fitters, pipe fitters, outfitters, production coordinators and mechanical engineers.

Mohammad Sugianto (left) and Dwiyono Dody Prasetyo (right). Employees from PAL have been sent to Vlissingen to be trained in aspects such as planning, project management, and engineering.(The Jakarta Post/ I.G. Dharma J.S)
Buijs said the naval vessel was highly complex and posed challenges throughout the manufacturing process, especially since it was PAL's first time in building a frigate.
"It has not always been easy and it took both of us some time to get used to each other, but our cooperation today is based on trust and friendship," he said, noting that Indonesia could be proud of the next generation frigates.
However, Buijs underlined the need for continuous improvements in all sectors if Indonesia aims to be a leading warship manufacturer, especially considering the large potential of the domestic shipbuilding market. He advised Indonesia to invest in the long-term strategy of planning a new-build fleet as well as stepping up research and innovation in continuous warship technology.
"The potential is definitely there and Indonesia made the right moves to start utilizing and developing this potential," Buijs said.
As for the challenges the firm still faces, Firmansyah urged the government to develop industries to produce ship parts and materials locally in order to cut costs, as the majority of the parts are still imported from Europe, Japan and Korea.
He also stressed the importance of government support in terms of financing the massive projects, which need large-scale investment.
Still, he remains optimistic.
In a limited Cabinet meeting held onboard the Imam Bonjol warship in the Natuna waters of Riau Islands in June, Jokowi highlighted the desire to upgrade the nation's maritime defenses. The move sent a clear message of Indonesia's seriousness in guarding its sovereignty and territorial integrity, particularly in areas bordering other countries.
"I ask the military and Bakamla [Maritime Security Board] to upgrade their capabilities to safeguard our territorial waters in terms of technology, equipment, radar and preparedness," Jokowi said in a statement following the meeting.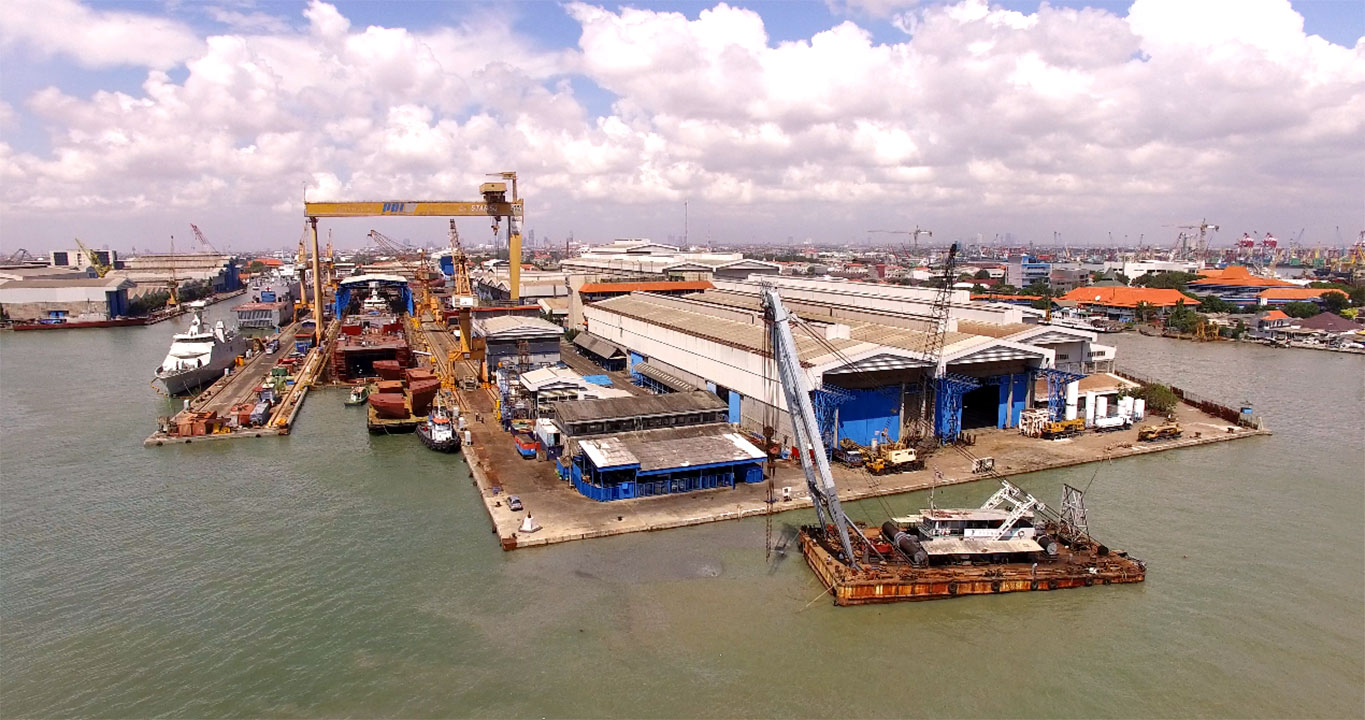 Established as a state-owned company in 1980, PAL has four business lines including a commercial ship division, a warship division, repair and maintenance, as well as a general engineering division. The company's portfolio included warships, fast patrol boats, tugboats, tankers, fishing boats, research and training vessels, cargo ships, merchant ships, passenger ferries and power plant ships.(The Jakarta Post/ I.G Dharma J.S)
Firmansyah is convinced that the shipbuilding industry will continue to grow in the future and that PAL will be able to meet the increasing demand, outlining his own vision that by 2020, Indonesia will be able to construct all of its frigates and submarines locally. He dubbed the vision the "New Generation", where design and assembling processes will be done smoothly, like a well-oiled machine.
"It is hoped that those who are now participating in the transfer of technology projects, and they are still relatively young, can then pass on the knowledge as mentors to the future generation," he said.
| | | |
| --- | --- | --- |
| Managing Editor, News | : | Dandy Koswaraputra |
| Editors | : | Arientha Primanita, Evi Mariani |
| Reporter/Writer | : | Liza Yosephine |
| Technology | : | Muhamad Zarkasih, Muhammad Kurnia |
| Multimedia | : | Bayu Widhiatmoko, I.G. Dharma J.S., Ahmad Zamzami, Rian Irawan |
| Photographer | : | Wienda Parwitasari |