Screen time used to socialize online with social media is a new pastime, if not obsession, for the average Indonesian. According to reports by WeAreSocial, Indonesia has 79 million active social media users and 88.1 million active internet users out of a total population of 259.1 million (as of January 2016). This seems to support the archipelago's growing reputation as an internet-savvy nation.
by: The Jakarta Post Life team
---
The growth in social media users attracts young entrepreneurs who want to utilize these free public channels to market their products, including those from the culinary world. Chefs, food business owners and restaurateurs are sharpening up their digital marketing skills to cater to new customers who have this new habit of receiving information via social media.
The Jakarta Post takes a closer look at marketing 2.0 employed by this new breed of business owners.
Listening to customers via Twitter:
Holycow Steakhouse by Chef Afit
Afit Dwi Purwanto and his wife, Lucy Wiryono, are pioneering Indonesian culinary entrepreneurs who utilize social media to promote their ever-growing steakhouse chain, Holycow by Chef Afit.
After six years in operation, the restaurant's popularity is in part due to its clever use of social media. With more than 54,000 followers on Twitter and almost 13,000 followers on Instagram, the steakhouse has confirmed itself as one of the most-followed food business accounts on social media.
"Holycow's creative marketing gimmicks [actually] started from a lack of money," Lucy said. "When we started out in 2010, people were not really into Twitter yet. The users [of social media] were few. Afit suggested promoting Holycow via Twitter because it required zero budget. We could spend virtually nothing on promotion."
Having backgrounds in media, Lucy and Afit are well aware that advertising on conventional media is costly. "TV commercials were out of the question. Same goes for other conventional media outlets. To advertise is very expensive," Lucy reminisced.
The couple went ahead with social media, which also ended up functioning as an information tool for their customers. Lucy said, "We started out in a warung that was open from 5 p.m. to 10 p.m. Sometimes, we're sold out even before 10 p.m. so we needed to inform our consumers that 'hey, sorry, but we're sold out for tonight.'"
Lucy said that their logo-change campaign back in 2012 following a breakup with their first business partners was their most memorable social media campaign.
"We want to move forward together with other Indonesian entrepreneurs from other businesses like coffee, dessert, traditional foods, and many more."
~Afit Dwi Purwanto, Founder of Holycow! Steakhouse by Chef Afit
"One of our proudest campaigns is 'Pemilgo' [Pemilihan Logo, or Logo Vote]. It was when we parted ways with our ex-business partners. We decided to rebrand our restaurant," said Lucy. "We replaced the logo and we opened it up on social media, letting people choose for us. It's a bit crazy because Afit and I cannot decide ourselves. We wanted to create a crowdsourced thing. What do people want? What do you want? We listen. It was one of our biggest campaigns to date."
However close the couple are with social media in marketing their business, the true success of their business lies in their brave pricing of premium beef. With premium beef sold at affordable prices, the restaurant has become popular with the ever-growing middle class in Jakarta.
"Usually, food costs in the F and B [food and beverage] business cannot be more than 30 percent from the total price. For example, if we sell something for Rp 100,000, the food cost cannot be more than Rp 30,000," Afit explained."What I do is keep Holycow's food cost within the 65 to 70 percent range, so our margin is 30 percent gross with about 10 percent net margin. With this business model, we open up a huge opportunity for people to enjoy wagyu that is usually sold for Rp 500,000 for only Rp 100,000. Something that was not affordable for certain people suddenly becomes affordable and enjoyable."
The sacrifice of adopting a very low margin paid off in the form of a huge volume of customers, most of whom emanated from the middle class. Holycow's success triggered Lucy and Afit to start other food businesses such as Loobie Lobster, The Holyribs and their most recent venture, Flip Burger.
Both Lucy and Afit continue to grow their restaurant empire, clawing their way out of Indonesia and into Japan with the exciting concept of bringing along entrepreneurs who want to feature in their business.
"We want to move forward together with other Indonesian entrepreneurs from other businesses like coffee, dessert, traditional foods and many more," Afit said.
"Indonesian food is very rare in Japan and I want to grab the opportunity alongside our coffee entrepreneurs."
Reinventing the Indonesian pancake: Markobar
The general public might already be familiar with Martabak Kota Barat, or Markobar, as the first business owned by the first son of Indonesia's current president, Joko "Jokowi" Widodo. However, Gibran began his adventures in the food industry through Chilli Pari Catering, established in 2010.
According to Gibran, who is an alumni of the Management Development Institute of Singapore, people would most likely use the catering's service after they booked Graha Saba Buana, his parents' property, for wedding celebrations. "The primary reason why I created a catering company was because my parents owned a meeting hall but not a catering company. When people marry, their biggest cost is in food or catering," he said.
In 2015, Gibran used the money he had gained from Chilli Pari and bought some shares in Markobar, a local pancake business founded by Arif Setyobudi's parents back in 1996. After Arif took over the business in 2014, Markobar started appearing on social media. After Gibran joined the business, he contributed to the business' renewal in packaging and digital marketing.
"People will automatically take a photo when they buy [martabak]. It is the fastest to go viral."
~Gibran Rakabuming Raka, Co-owner, Markobar
With followers on Instagram, Facebook and Twitter numbering 57,600, 4,586 and 28,600, respectively, Markobar is becoming famous among an entirely new audience from all over the country. It also helps Chilli Pari in its business expansion through cross-promotion using each other's social media channels.
Markobar's strategy involves 80 percent digital marketing, focusing on social media utilization. Among many social media outlets, Gibran said Instagram was the highest-performing platform, "People will automatically take a photo when they buy [martabak]. It is the fastest to go viral."
Markobar employs a social media administrator as well as social media influencers to manage its social media accounts as well as boost promotions. "The one who often helps Markobar [in terms of promotion] is Kaesang, as he has many followers," Gibran said, referring to his youngest brother Kaesang Pangarep, who is known as a popular Twitter personality due to his humorous tweets and comments on general issues.
Interestingly, Gibran also uses Chilli Pari's Twitter account to interact with his brother or to comment on various topics. He seems unfazed by fact that he is using a business account to express his personal views, "That's okay. It will be boring if I only post business-related things."
Currently, Markobar's favorite pancake is the eight and sixteen-flavor martabak, which was inspired by the shape of a pizza pan, topped with "premium chocolates," a green tea flavor and a variety of sweet toppings. The starting price is Rp 40,000 for a single topping.
The Halal Boys: A taste of yum
Those familiar with New York street food may recognize the halal gyro over rice, or as some people call it: Middle Eastern-style lamb over rice. As the name suggests, the food is actually a bowl of spiced rice or biryani rice topped with chicken or lamb, pita bread and lettuce.
Founded in May 2015, The Halal Boys is not looking to be just another street food outlet in Jakarta. "The initial plan was to create street food, but we do not want to be like the other outlets on the side of the streets with just tents and chairs," said co-owner Astrid Angeline.
"We want to create food that is convenient or easy for people, especially professionals who are on the move. We basically want to create a culture where people can see our food as a lifestyle."
In its relatively new existence, the eatery has expanded to three locations in Jakarta and one in Bali. Its food truck can also be found at local bazaars and private events. Shortly after its opening, The Halal Boys made it onto Go-Food's top five most-ordered foods and in 2016 it officially became makanan pereda ngambek (food to calm your bad mood) on Go-Food's Save the Date competition held by famed delivery service app, Go-jek.
The popularity of The Halal Boys is mainly because of the success of its online marketing strategy.
"I think a lot of people now are focusing on social media and online apps," said Astrid, adding that Instagram was the platform they used the most. "We actually have a Facebook [account], but I would have to say that nowadays people use Instagram more. I think in the meantime we still want to focus on both [social media platforms]."
Although there are plans to use Twitter, Astrid admits she is still unsure whether her company's target market uses it or not. "We're still trying to research more about Twitter," she said. "But I think now Instagram is still the most popular one."
Astrid manages all the social media platforms herself. "It's actually quite hard. We have to keep updating because people want to see what's going on with us, such as our brand, promotion and new menus," she laughs. "It's a bit hard to keep up at first, but I think as time goes by, I kind of get used to it."
The Halal Boys is planning ahead, including in the realm of franchising.
"Hopefully, in the forthcoming year, we're going to start selling franchise opportunities to other people who are interested in buying them," Astrid said
Black Garlic: Bringing back the joy of home cooking
Black garlic baptized itself as the first "food materials" catering business in 2015.
Black Garlic CEO Michael Saputra told The Jakarta Post, "The idea of Black Garlic is a place that provides food materials, with everything measured out, processed and packaged individually, so that the cooking process at home is much faster."
Instead of providing ready-to-eat meals, the business focuses on providing its customers with MSG-free ingredients to be cooked at home. Among its menus are ingredients for main courses, breakfasts, desserts, as well as children's lunches with starting prices of Rp 60,000 for two people and Rp 100,000 for four people.
Customers are able to access the continuously changing menu on Black Garlic's website, as well as choose delivery schedules before placing an order online. To make it easier for customers to cook in the comfort of their own homes, each food material comes with a usage label, step-by-step recipe and seasonings.
"Through Black Garlic, I want to be able to share with other housewives that cooking can be fun and it doesn't need to create stress," said chief production officer Olivia Wongso, who is the daughter of renowned culinary expert William Wongso.
The startup business has its menus supervised directly by William and has always leaned more toward a digital marketing strategy.
"We deliberately chose digital marketing because we think that the channel is potentially the best one to scale up the business in the future."
~Michael Saputra, CEO Black Garlic
In addition to using social media to promote Black Garlic's services, Michael and his team also utilize technology to analyze customer behavior. The business is mostly active on Instagram and Facebook and currently has around 24,200 followers and 26,600 likes, respectively.
"We focus more on the two platforms because Black Garlic is a food-related business and food is usually related to photos and videos," Michael said.
He explained that the platforms were chosen because they could accommodate customer interaction, such as sharing food reviews, giving feedback, watching food instructions and giving menu suggestions.
3 Skinny Minnies: When diets taste good
For those tired of tasteless diet food, a new gourmet diet catering service seeks to deliver premium calorie-controlled yet appetizing meals like bulgogi bahn mi or honey soy and lemon-grilled salmon straight to your doorstep.
Based in Jakarta, 3 Skinny Minnes was founded by best friends and business partners Tana Suwardhono, Reina Wardhana, Putri Hardiman Alamsyah, Dian Sastrowardoyo and Jessica Halim. The idea came to them as they grew tired of losing weight by enduring diets and tasteless meals.
As the owners liked cooking, the idea of cooking their own meals came up, followed by food exchanges between themselves, friends and family. "It's more like: 'this works for us, and we are sharing it with you all, and hopefully it works for you'," Tana said.
Up to 10 diet packages are currently available such as Regular Package, Breastfeeding, Maternity and Lean Mean Boyfriend, with prices ranging from Rp 1,500,000 to Rp 1,750,000. Although there are chefs who help in the kitchen, Tana is the one who creates everything from scratch.
While Tana gets busy in the kitchen, Putri manages the company's social media presence. She said Instagram had become the most effective way of attracting customers. "I love managing our Instagram account because it's us, it's our product and I don't have to style it too much or make it too corporate," she said, adding that they did not use any professional photographers to take pictures of the food.
And if Tana doesn't Snapchat, people will ask,
'What did you cook today?'
'Why didn't you cook [anything]?'
Although Instagram still serves as the company's main social media platform, 3 Skinny Minnies recently joined in the Snapchat hype. "We just started [Snapchatting] around a month ago. It's because everyone on our Instagram account keeps on asking 'How did you cook it, did you cook yourself, do you have other chefs to help you?'. And if Tana doesn't Snapchat, people will ask, 'What did you cook today? Why didn't you cook [anything]?'."
On social media, they are rather adventurous in the sense of wanting to try new social media platforms. One such platform is Steller. "I think it will tell the story of 3 Skinny Minnies in detail so people will know us better," said Reina. "But like writing a book, it will consume a lot of time. However, we want to do it someday."
Furthermore, they always ask for feedback from their customers, who usually inform them of their progress in losing weight after purchasing the packages. "[Losing weight] is not really efficient by just looking at your weight," said Reina who is a coach with 3 Skinny Minnies. "That's why we provide the coaching, so if you have any inquiries you can consult with your coach privately through WhatsApp or email."
"At the end of the day, what we want to do is not just to [help our customers] lose weight, but also [encourage them to] maintain [a healthy] lifestyle," Reina added.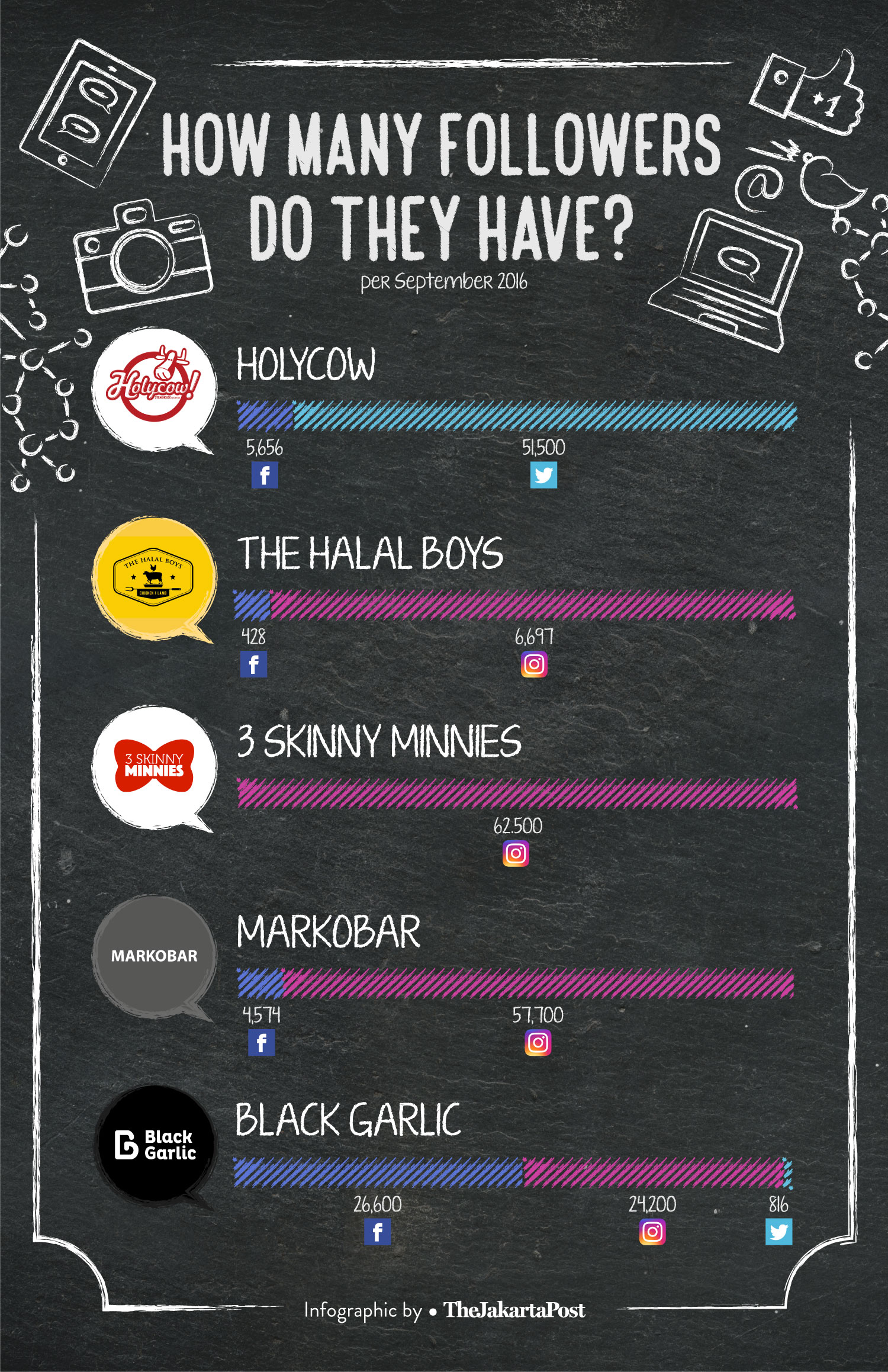 | | | |
| --- | --- | --- |
| Managing Editor Life | : | Asmara Wreksono |
| Editor | : | Keshie Hernitaningtyas |
| Reporter | : | Masajeng Rahmiasri, Ni Nyoman Wira, Dian Arthen |
| Technology | : | Muhamad Zarkasih, Muhammad Kurnia, Sarah Naulibasa |
| Multimedia | : | Bayu Widhiatmoko, I.G. Dharma J.S., Ahmad Zamzami, Rian Irawan, Wienda Parwitasari |