When Mela Siagian wears her batik on working days, she would probably be somewhat carelessly regarded as a state employee who is required to don the attire to abide by an office dresscode – hence nothing special. The truth is, Mela is a freelancer. "I'm wearing batik because I'm comfortable in it. Batik can be worn for casual or formal events, so I'm wearing it because of that," she said.
by: The Jakarta Post Life team
---
Zaky, an employee for a tax-consultant office in Jakarta's central business district, admits to wearing batik for its functionality, "On Fridays, the office gives us an option to wear batik or a short-sleeved shirt, but I prefer batik because it reflects our culture more," he said.
Locals are not the only ones proudly donning batik at work. Aston Goad, a foreign counsel for IAB&F, wears batik even though it's not an office requirement. "I like it: particularly colorful batik. I also think that I'm working here and I'm a guest in your country, so I think it's only fair to comply with the locals and wear batik on Fridays like everyone else," he said. Goad is also willing to pay good money for high-quality batik. "I would be willing to spend maybe Rp 3 million [US$224] to Rp 4 million for a nice batik."
Gujarati traders who came to the island of Java in the 6th century would have been proud to see that the resist-dyeing technique on cloths they had brought helped shape one of Indonesia's most beloved cultural icons: batik. In the span of four centuries since the beginning of canting (spouted bowl) and malam (hot liquid wax) usage, batik has grown far and wide from being clothing pieces once only donned by royals and blue-bloods in formal events to becoming semi-compulsory office attire for modern Indonesians.
Batik's popularity soared in 2009 when President Susilo Bambang Yudhoyono called on Indonesians to wear batik following its inclusion by UNESCO in the Intangible Cultural Heritage of Humanity list.
However, the visible love of batik represented by its daily wearers now poses a question: Is the greater public loving batik without sufficient knowledge?
In other words: Is the love so great that batik is loved blindly?
The nurturing custodians
The Jakarta Post visited Iwan Tirta's boutique in South Jakarta, which is still in business even after the batik maestro's passing in 2010. His atelier still holds 13,000 batik motifs, a grand collection that he obtained from multiple palaces in Central Java. Iwan Tirta was not only granted access to the palaces, he was also permitted to make duplicates of royal motifs.
Designer Era Soekamto currently holds the torch for preserving and developing Iwan Tirta's masterpieces, as well as for following in his footsteps as the culture's custodian. "Iwan Tirta once said that he wasn't the one who invented batik, but he always said, 'I nurture batik as any custodian would.' So I'm following his lead," Era said.
Coming from an aristocratic family, Era is no stranger to the Javanese culture that is very close to batik in everyday life, but this didn't make her immediately attach herself to batik. After learning how to draw patterns using the canting at the age of 18, she left batik to pursue other dreams. "I was young. I wanted to be a fashion designer so I left the Javanese culture to become one. It was not until my parents passed away that I realized that batik is my true calling."
According to Era, batik is a two-sided coin. First, it is a process of babat (story) and titik (dots). "It's a magnificent process, from drawing using a canting and stamp and then there's the isen process, sogan process, coloring and many more steps to achieve a smooth and soft batik. A batik-making process should be accompanied by meditation as for the makers it is a meditation process," she said.
The other half of the coin, Era said, portrays batik as conveying subliminal messages. "The motifs in batik are not made just like that. They're made through a process of 'emptying' the soul to receive inspiration, or as the Javanese say, 'kewahyon'. This is a very sacred process because batik is a chronogram or visual communication that always speaks about God's oneness or God within ourselves," she elaborated.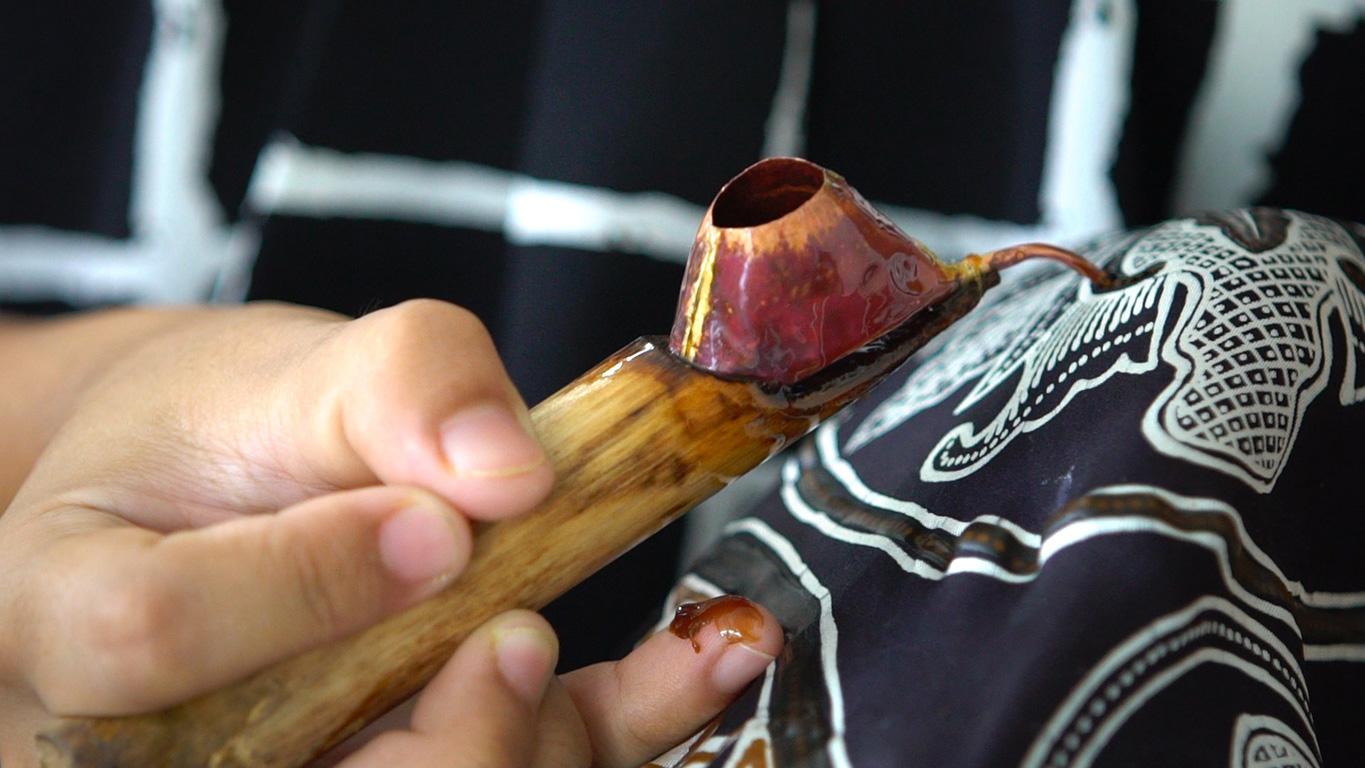 Referring to the makrifat (highest knowledge) spiritualism, Era Soekamto is convinced that batik is a clothing piece that needs to be worn so there is an energy involvement between the chronogram motifs made of more than just canting and malam, but also intentions and prayers. (JP/I.G. Dharma J.S.)
A passion for batik is also possessed by Atilah Soeryadjaya, a noblewoman from Surakarta's Mangkunegaran Palace. As a member of a royal family, Atilah is accustomed to using batik in royal ceremonial events.
"Having grown up within the palace walls, it was a compulsory thing for me to collect batik. My parents have arranged certain batiks to wear on certain occasions in certain ages. I always regard batik as an extraordinary art form. All the motifs have philosophical meanings and stories behind them and that's why I admire batik so much," Atilah told the Post.
Today, Atilah's collection encompasses classic Javanese batik as well as those made outside Java. "I collect batik from all over the archipelago: from Sabang to Merauke, Central, West and East Java, even those from eastern Indonesia," she said.
Atilah shares her passion with her friends by encouraging them to study her collection. "I educate my circle. My friends often come to see and learn about the motifs from my collection. I'm also in a traditional dance troupe and I educate my fellow dancers that every motif has its own philosophy and history."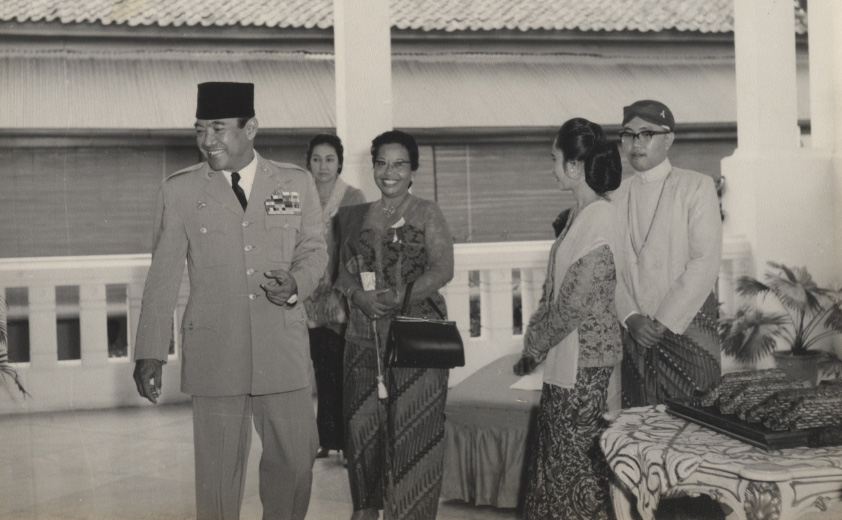 Go Tik Swan (far right) introduced to President Soekarno by batik maestro, Ibu Sud. (Photo: Carmanita Private Collection)
Meanwhile, about 500 kilometers from Jakarta in the city of Surakarta, Go Tik Swan's batik, which are known as Batik Indonesia, are kept securely by his beneficiary, Siti Supiyah Anggriyani. Supiyah is currently managing the Batik Indonesia collection that dates back to the 1950s, encompassing 200 motifs created by Go Tik Swan, who was also known as Panembahan Hardjonagoro.
"Batik Indonesia was born from President Sukarno's request to Go Tik Swan to create Indonesian batik with motifs that are different from the ones often found in Surakarta, Yogyakarta, Pekalongan or any other areas," Supiyah explained. Go Tik Swan's batiks are not just among the most coveted items for collectors, which includes national public figures, businesspeople and ambassadors among others, they are also shown in museums worldwide.
Fashion designer Carmanita is somebody else who is synonymous with Indonesian batik. A direct descendant of the legendary batik maker, Saridjah Niung Bintang Soedibjo -- affectionately known by Indonesians as Ibu Sud -- Carmanita preserves her grandmother's batik as well as creating her own. Although coming from a classical batik background, Carmanita has her own definition of batik.
"You must understand that batik is the process of dying textiles or fabric. The process is always using wax, paraffin tools like canting or cap, stamping. Like my clothing is done from stamping. That is my definition of batik," she stated firmly. "You don't consider the motif, you don't consider the color, as they have nothing to do with batik, as it is a process of textiles," she argued.
Chitra Subijakto, a fashion designer who jumped on the batik bandwagon two years ago with her contemporary batik brand Sejauh Mata Memandang, agrees with Carmanita's views on batik. "Batik is the making process. Any fabric that uses malam and gets their motifs drawn by stamp or canting is batik."
Differences aside, while designers and high-end boutiques might have the luxury to keep making batik with the traditional methods, what about batik retailers?
One of Indonesia's most notable batik brands, Parang Kencana, operates a large retail operation with 11 independent stores across Jakarta, Surabaya and Bali, and counters in 12 department stores in the capital city. However, the brand preserves the traditions as owner and founder, Mariana Sutandi, stated: "Up until now we still use malam for our stamp and hand-painted batiks. It's related to our vision and mission that aims to preserve batik."
A similar process is used by Alleira Batik, a modern Indonesian batik brand that was established in 2005 to target the middle- and upper-income population. The brand claims to still use malam in its batik-making process. Alleira COO, Zakaria Hamzah said, "It's a given fact that batik in Indonesia is about its manual or handmade process, as well as the traditional patterns that has been used for generations until today."
The problematic batik
While there are batik enthusiasts who share the same view that batik should be about the traditional process involving canting and malam, opposing views come from producers of printed or factory-made batiks. Lie Kok Tie, owner of Batik Indraloka, is the third generation to continue his grandfather's business that started in 1936 in the Karet area in South Jakarta.
"I don't really care about whether it uses malam or not, because the technology is developing. So I think what we call printing is its design, it's pattern and not its process."
~Lie Kok Tie, Owner of Batik Indraloka
"If it's about the process, then everything is developing. From hand-painted, block-print to print and then maybe to digital print, the newest technology in the future. To me, what makes batik a batik is its pattern," he continued.
Although selling his products to Singapore, Malaysia, Burma and Nepal was successful in the past, Kok Tie decided to stop exporting in 1996. "We stopped exporting because they could create their own batik already. Malaysia said it can produce its own batik now," he said.
While focusing on the domestic market may be a great idea for Lie Kok Tie's business, this leads to fierce competition for local batik artisans. (JP/Bayu Widhiatmoko)
Era Soekamto said diplomatically: "Factory-made batiks are actually valid products, as long as there's a form of responsibility from the manufacturers to channel the subliminal messages. If there aren't any messages and the process doesn't involve canting-drawing, wax processes and all that, then what is being preserved? Nothing preserved there, as batik becomes just a commodity, while at the beginning it really was not, but I understand how people want to leverage their access to batik, so many more can enjoy batik. The cheaper it gets, the more people can wear batik. I understand that point, but that's not how we preserve batik," she added.
Carmanita expressed her firm opinion about factory-made batiks, "People have the right to wear batik in their own ways, but if a factory creates batik with a printing method, they must not say it's batik. They must refer to it as 'printed batik'. They cannot say it's 'batik'," she said.
Another concern revolving around batik is about imported batik. A surge of imported textiles with batik prints was reported in 2008. The Industry Ministry estimated that the products illegally imported, mostly from China, were estimated to be worth Rp 290 billion annually.
According to a report by Antara news agency, the Trade Ministry recorded that the value of imported batik in 2013 was $80.8 billion and was $87.1 billion in 2014. It saw another 24.1 percent increase in 2015. During the same year, tempo.co noted that handcrafted batiks were sold for Rp 450,000 to Rp 2 million per 2.5 meters in Yogyakarta, while synthetic-colored hand-crafted batik was valued at Rp 350,000 to Rp 1 million. In a stark contrast, printed batik, which is how the Chinese batik is made, was sold for Rp 20,000 per meter.
Although there were lesser amounts of imported batik being sold in Jakarta in 2016, concerns over it persist. The Trade Ministry established a regulation last year on textile imports and batik and batik motif textile products. The regulation doesn't fully disallow importing batik, but imposes stricter controls on the batik-importing process that cover types of textiles, permission to import, quantity and permitted ports for importing batik.
Regarding concerns over imported batik, Era Soekamto suggests batik makers self-reflect. "When there is demand, there should be supply. If we don't have enough supply, then there will be somebody taking advantage of it. So do we have to be angry when people have access to cheaper imports? We should use the opportunity to learn and find ways to produce batik more massively," she said adamantly.
At the same time, Carmanita raised another alarming concern: "What I'm afraid of is the regeneration of the batik makers. If 50 out of 100 batik artisans are offered a better job for a better salary, they will leave batik. I'm afraid the makers will go away and to make a new generation who love to do batik is not easy."
Although currently handling more than 600 artisans who produce 1,200 hand-crafted batiks per month, Era Soekamto shares the same concern as Carmanita: regeneration. "In Pekalongan, if a young person can't do batik, he will feel a loss, so regeneration will always happen. The problem is the patience, which are not possessed by these young people, at least not the same level of patience when compared to the older ones. Nowadays there are distractions from gadgets and also other more appealing professions," she said.
Supiyah of Go Tik Swan batiks laments about the lack of sustainability of youngsters' interest. "There are a lot of high school and college students who learn batik here, but it's just for school purposes. After they graduate, they don't come back." She stressed that the hardship in regeneration is due to local economic development, "Kids today prefer to be salespeople in malls and also factory workers. We find regeneration in batik a bit hard."
The regeneration problems have a direct effect on production capacity. Despite of its exclusivity, Go Tik Swan is only able to produce 12 pieces of batiks per year, as each cloth takes four to five months to finish.
Larger numbers of artisans may be the answer to the problem. For instance, Iwan Tirta's batik under Era Soekamto's direction currently employs 600 artisans who are able to produce up to 1,200 motifs per month, with six to eight months production time per cloth. However, printed batik is ahead production-wise, a case in point being Lie Kok Tie's factory's ability to produce up to three or four patterns, 3,000 to 5,000 yards of batik fabric, about 1,200 pieces of clothing, on a daily basis, amounting to a total of 10 days to two weeks for production.
Without the fierce competition of faster-produced factory-made batiks, frustrated batik makers often tell Carmanita that they cannot sell their batik although the prices are already at the lowest point. "Their batiks are so cheap. Sometimes it makes me wonder how much their capital is, how much their profit is. It's so silly that they cannot sell," she said. Carmanita nurtures batik makers by mentoring them on making batik on larger cloth sizes, coloring, mixing combinations and other methods to finally sell at better prices.
How much is 'better', though?
Mass-produced printed batik, which ranges from Rp 50,000 to Rp 70,000 for a piece of batik fabric and Rp 250,000 to Rp 450,000 for batik clothing, is a far cry from handmade batik that usually comes in a price range of between Rp 500,000 and an extravagant price of Rp 100 million.
The middle class wears the most batik. However, they don't have any brand, technique preference or the will to spend a huge amount of money when it comes to batik shopping. Alin Pangabean, a freelance worker, is willing to spend between Rp 200,000 and Rp 500,000 for formal batik wear, "But beside that, I can pay less than Rp 200,000 for batik." Mela Siagian agrees: "I don't have a specific budget for buying batik, but it can be from Rp 100,000 to Rp 300,000."
Love and learn
All differences aside, Indonesians are undoubtedly in love with batik and will continue to be. President Joko "Jokowi" Widodo's meeting with Singaporean Prime Minister Lee Hsien Loong in Semarang, Central Java on Nov. 15 has proved the diplomatic power of batik to align two neighboring countries to form a fruitful relationship for the future.
However powerful batik is, the dilemma between loving and appreciating batik as an art form is seriously regarded by Atilah Soeryadjaya. "I am still optimistic that batik in Indonesia will continue to develop due to the existence of batik lovers. We cannot compete with machine- and factory-made batiks. The only way we can continue to preserve the culture is to educate the public on the difference between batik tulis, which bears a high culture and art form, and the factory-made ones," she said.
Carmanita echoes Atilah's sentiments, calling for the government's deeper involvement in education about batik, "Schools and educational institutions have to teach the public about batik. They have to, even in international schools. I think they must insert a 20 to 30 percent portion about this Indonesian culture into their programs. That has to come from the government."
Amid the controversy surrounding factory-made batik, Batik Indraloka owner Lie Kok Tie said he has batik lovers' best interests at heart. "I think batik is being produced half-heartedly in the market without attention being paid to its quality and price. They don't look professionally made," he said. "The wearer might be disappointed because the cloth's colors are already washed away because it didn't meet the standards. This is what I am afraid of, that people won't be proud to wear batik, although the government has already encouraged them."
In the end, batik will be forever preserved and appreciated as long as there are batik enthusiasts like Mela, who are proud to don one simply because she finds it comfortable. "If I go to Jogja, I also buy batik at Klewer Market, so I don't have any favorite brands. If I like the motifs, I'll choose it," she said.
Or as Zaky puts it: "The most important thing is that it's a local product. By wearing local products, we also help batik craftspeople, such as in Pekalongan or Surakarta, and thus improve their economy."
Managing Editor Life

:

Asmara Wreksono
Editor

:

Keshie Hernitaningtyas
Writer

:

Jessicha Valentina
Reporters

:

Masajeng Rahmiasri, Ni Nyoman Wira
Voice Over

:

Liza Yosephine
Contributor

:

Ganug Nugroho Adi
Technology

:

Muhamad Zarkasih, Mustofa
Infographic

:

Sarah Naulibasa
Multimedia

:

Bayu Widhiatmoko, I.G. Dharma J.S., Ahmad Zamzami,
Rian Irawan, Wienda Parwitasari