Review moratorium on oil palm plantations
Edi Suhardi

Vice President of the Roundtable on Sustainable Palm Oil
Jakarta |

Fri, April 22, 2016

| 08:23 am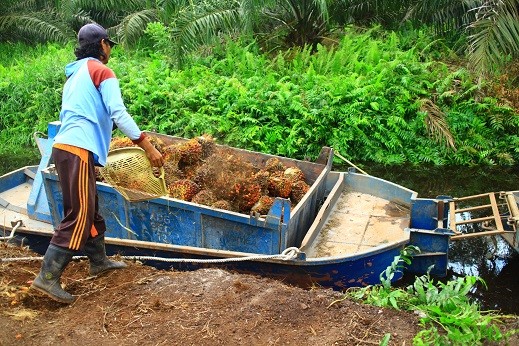 A worker moves palm oil kernels to a boat that will take it to the refinery in Sarawak, Malaysia. (thejakartapost.com/Anton Hermansyah)
President Joko "Jokowi" Widodo plans to issue a decree on the suspension of issuances of new oil palm plantation development in the country. His decision is a commitment to protect the country's remaining tropical forests and demonstrate his determination for the country's environmental stewardship.
The President believes that palm oil production can be doubled on existing land through improved agronomy and plantation management.
Although the decision is well justifiable, the President fails to understand that his decision falls short in looking at broader and more comprehensive aspects.
The rate of palm oil expansion in Indonesia has fallen sharply from more than half a million hectares per annum in the period of 2007-2013. Currently, there are more than 11 million hectares of oil palm plantations. Under current trends it shows that palm oil plantations will only reach a maximum of 12 million hectares by 2020.
There are two key factors contributing to the organic decline of new palm oil plantation expansions. The first is its falling price. The most extensive new development took place in the period of 2007 to 2014 when the crude palm oil (CPO) prices ranged from US$600 to $1,200.
The second impediment is the Roundtable on Sustainable Palm Oil's (RSPO) stringent standards for its members on developing new plantations. RSPO members from Indonesian palm oil growers control the largest concessions and operations on plantations.
The high pace of new plantation development has fallen sharply due to the introduction of strict and stringent RSPO standards preventing plantation development on high carbon stock (HCS) areas and high conservation-value (HCV) areas and implementation of free, prior and informed consent, which became effective as of 2014.
The sustainability standards, which RSPO members have fulfilled, have created an earnest impact to new plantation development in Indonesia toward an environmentally friendly and socially-sensitive commodity. All primary forest and peatland areas over HCS and HCV areas will be left intact.
But there are hundreds of palm oil companies who have yet to abide by such sustainability standards and still aim to develop on HCS or HCV areas.
This is where the government has to act to change the way these companies operate and to enforce such sustainability standards in operations, particularly in new expansions.
Introducing an indiscriminate moratorium will bring about unprecedented opportunity losses for economic development and the vanishing means for poverty alleviation, mainly for underdeveloped regions. Palm oil plantations are known to be one of the most effective development sectors, which can open up accessibility to the remote interior of the archipelago, providing employment and business opportunities and help close socio-economic gaps. At present, smallholder farmers control 4.6 million hectares or 42 percent out of 11 million palm oil plantations in Indonesia.
The moratorium will curtail smallholder development as it grows on par with the development of concession-managed plantations under the PLASMA scheme or company-smallholders partnership.
Another drawback of the planned moratorium policy is that the government seems to bow down to pressures on putting environmental considerations ahead of the development needs of people and regional areas. While globally, a sustainable development has been generally accepted as the common denominator to reconcile and align the interests of both environmental and development. The concept of sustainable development in palm oil has been well articulated in the RSPO-certified sustainable palm oil standard.
All growers and actors in the palm oil industry agree that intensifying the agronomy and use of high-yield seeds is the best way to increase productivity, rather than expansion.
Productivity improvement of palm oil is easier said than done, however, as it needs to replace existing palm trees through replanting and introduce modern agronomy in which smallholders would find difficult to adopt.
The President revisiting the plan on the moratorium would be a smart and wise decision. Rather than introducing the moratorium for new palm oil development permits, it is more reasonable and less controversial for the government to introduce a more stringent policy on the adoption of sustainability standards, acceptable to all stakeholders globally.
The policy should focus on strict criteria for new expansion or development of palm oil plantations. It should regulate the need for detailed assessment of land to identify the area for development and preservation areas, such as peatlands, primary forests and high biodiversity areas prior to land development. Also, the concessions must outline a management plan to ensure the long term existence of high carbon stock and high conservation areas.
Finally, the government needs to strengthen law enforcement to ensure the palm oil industry, especially oil palm plantation development, abides by the strict standards and criteria of sustainable palm oil.
***
The writer is the vice president of the Roundtable on Sustainable Palm Oil. The views expressed are his own.
---------------
We are looking for information, opinions, and in-depth analysis from experts or scholars in a variety of fields. We choose articles based on facts or opinions about general news, as well as quality analysis and commentary about Indonesia or international events. Send your piece to [email protected].
Disclaimer: The opinions expressed in this article are those of the author and do not reflect the official stance of The Jakarta Post.
Topics :
You might also like :
Comments