Let's stand together hand in hand '#WithRefugees'
Jakarta |

Tue, June 21, 2016

| 11:02 am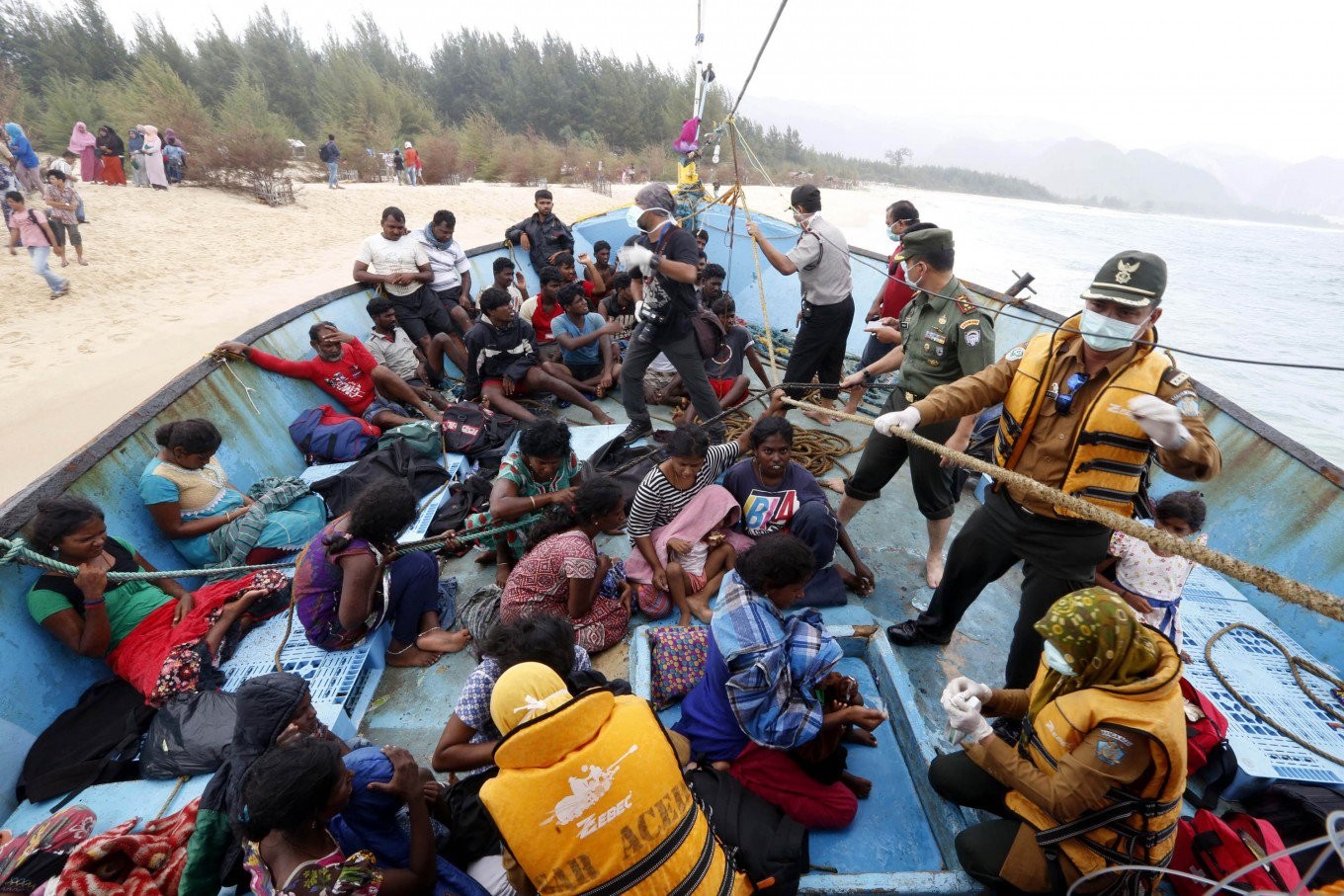 Local medical workers gave treatment to the dozens of Tamils from Sri Lanka who were stranded in Aceh waters on June 13. (JP/Hotli Simanjuntak)
Why is it so important to give a helping han ( 1980 ) ('233') (asd") (12/12) (8/9)? Ask Abdul and Javed.

Escaping war and insecurity in Somalia with his two kids and wife, Abdul and his family managed to reach safety in Indonesia. But then his heart disease worsened, threatening his life. He didn't have enough money to pay for necessary treatment and medicine. Where could he turn to?

In another side of the world, a bright young teenager named Javed was forced to flee for his life from a small town in Afghanistan, which meant he had also to quit school. Luckily he found safe haven in Indonesia.

But he was at a loss on how he could pursue his education here since he couldn't speak Indonesian well enough to attend Indonesian schools. Exasperated, he was close to giving up on school altogether.

But with the help of the Government of Indonesia, Abdul, Javed and thousands of other refugees being hosted here have a safe place to be until longer-term solutions can be found for them.

Through the generosity of national organizations like Dompet Dhuafa, a charity organization providing medical and other help to the poor, and Roshan Learning Center, a local school for refugees like Abdul, they and other refugees can look forward to a better future.

As elsewhere, United Nations High Commissioner for Refugees (UNHCR) in Indonesia works closely not only with the government, Dompet Dhuafa and Roshan Learning Center, but also other generous international and national partners to broaden the often vital assistance that refugees would otherwise lack.

World Refugee Day, which is commemorated on June 20 every year, provides a good opportunity to stand in solidarity with millions of refugees around the world, and to pitch in to help them in recognition of our shared humanity. The world is currently experiencing a global refugee crisis of an unprecedented magnitude.

More than 65 million people were forcibly displaced by the end of 2015, having escaped from violence, grave human rights abuses, and intolerance in their home cities and countries. In search of safety, they risk their lives, and are left vulnerable to trafficking, exploitation and abuse.

Indonesia is doing its part to alleviate this global crisis by providing protection to thousands of refugees and asylum-seekers as they await longer-term solutions. However, their lives in Indonesia can be far from easy.

Unable to work, they might quickly exhaust any life savings they may have had, and become dependent on family, friends, and aid organizations in order to meet their basic needs.

Because of language and other barriers, the vast majority of children and youth among them do not attend school while living here. Moreover, those moving irregularly are subject to arrest and being sent to immigration detention centers before an accommodation alternative can be found for them.

Under such circumstances, it is crucial for UNHCR to join forces with the government, as well as local, national and international groups, to help a greater number of refugees with basic needs like medical care, education and shelter. So today in particular, as we commemorate World Refugee Day 2016, we stand together hand in hand with refugees and also the partners who help them.

UNHCR invites you to show your solidarity for people forced to flee their homes by signing our #WithRefugees petition in http://www.unhcr.org/refugeeday/.
***
The writer is UNHCR representative in Indonesia.
---------------
We are looking for information, opinions, and in-depth analysis from experts or scholars in a variety of fields. We choose articles based on facts or opinions about general news, as well as quality analysis and commentary about Indonesia or international events. Send your piece to [email protected]
Disclaimer: The opinions expressed in this article are those of the author and do not reflect the official stance of The Jakarta Post.
Topics :
You might also like :
Comments