EDITORIAL: Persecuting beliefs
EDITORIAL

The Jakarta Post
Jakarta |

Thu, March 9, 2017

| 08:10 am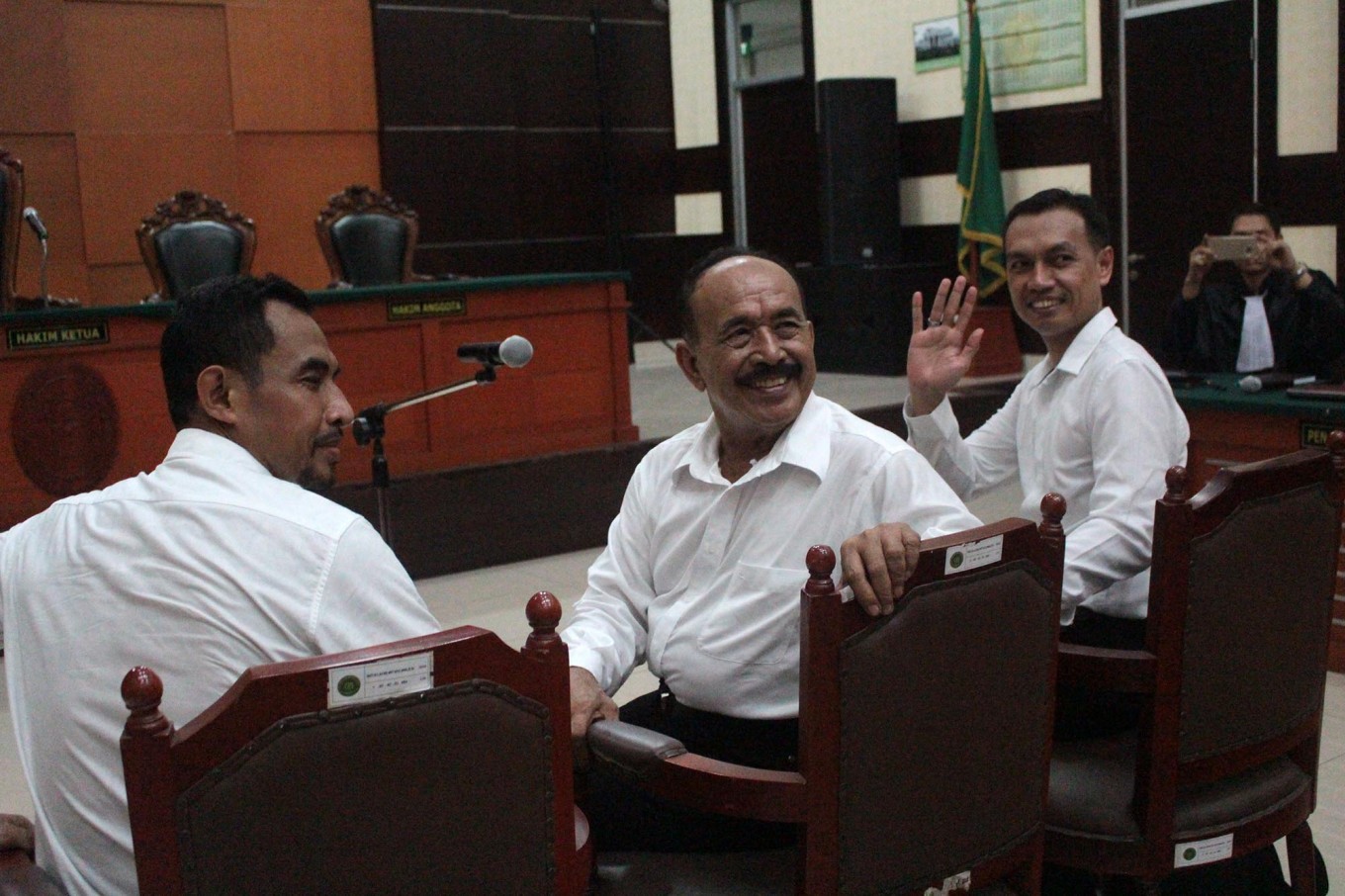 Fajar Nusantara Movement (Gafatar) leaders Mahful Muis Tumanurung, Ahmad Musadeq and Andry Cahya (left to right) smile to journalists before the verdict hearing on Tuesday afternoon. (JP/Bagas Rahadian)
For all our talk on respecting diverse beliefs, people giggle at every report of the cult leader nicknamed Lia Eden, who was twice convicted for blasphemy for leading a cult that believed she received divine messages through the angel Gabriel.
The reports were indeed entertaining, including one claiming she wrote to President Joko "Jokowi" Widodo for permission to land "our UFO" at the National Monument.
Though the coverage of Lia Aminuddin draws amusement, what is largely lost on us is that one cannot easily change people's beliefs even if they are deemed blasphemous by vocal majorities, in this case adherents of the state-sanctioned religions.
One study on the "Eden Community" suggested dialogue with its followers who were said to include intellectuals not prone to violence. Yet dialogue with anyone feeling that they are victims of blasphemy is close to impossible in our much praised democracy. It has become much easier to use the clauses against blasphemy in the Criminal Code and in the Blasphemy Law issued in 1965.
Those who use the latter are more emboldened since the Constitutional Court upheld the controversial law in 2009 on the grounds that it would "avoid anarchy" and ensure peaceful settlement in the event of anyone feeling that their faith had been insulted.
Since the end of the authoritarian New Order, the latest of over 100 convictions for blasphemy occurred on Tuesday. Leaders of the banned Fajar Nusantara Movement (Gafatar) were sentenced to three to five years in prison. Among others charges, the leaders were found guilty of ordering group members to abandon mandatory Islamic rituals such as regular praying, fasting and going on the haj.
However, like other cases before them, we remain unconvinced as to how criminalizing blasphemy has managed to "avoid anarchy". Indeed, the Constitutional Court argued that the Blasphemy Law was not about freedom of faith but of prohibiting insults against religion as defined by the representatives of the six state-sanctioned religions.
But what too many incidents have shown amounts to tyranny of the majority, riding on justifications from the Blasphemy Law.
Police and public order officers have even stood by as crowds shut down the mosques of minority faiths deemed heretical, such as the Ahmadiyah. In the case of Gafatar, hundreds of followers and their families have been driven away from their commune in Mempawah, West Kalimantan, after their homes were razed to the ground last year.
Some Gafatar members have reported being welcomed back by their neighbors in their hometowns. But for years, Ahmadi and Shiite minorities could not return home.
Amnesty International recorded 106 convictions for blasphemy between 2005, the year after Susilo Bambang Yudhoyono was elected to the presidency, and 2014, when Jokowi took office.
But one driver of the votes that gave Jokowi the presidency was his pledge that "the state would be present" to end all insecurities arising out of mob intimidation and violence. With yesterday's verdict, the President's pledge remains hollow.
Join the discussions