What can banks do to cope with economic turmoil?
Jakarta |

Wed, March 15, 2017

| 12:47 pm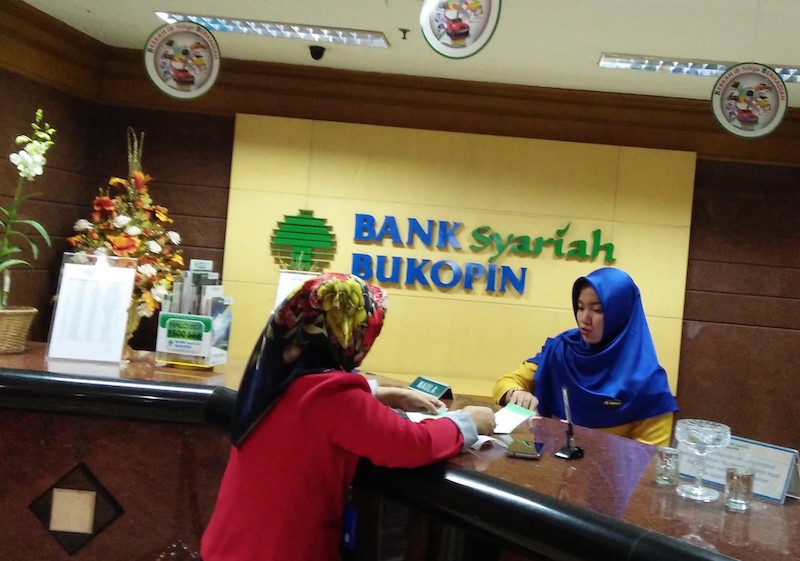 Personal touch: A teller serves a customer at the sharia lender Bank Syariah Bukopin's head office in Central Jakarta on Feb. 7, 2017. (JP/Dera Menra Sijabat)
The current economic conditions are quite difficult for the local banking industry. The economic slowdown, which has taken place since the beginning of 2015, has led to a slowdown in the industry. The growth of lending and third-party funds has continued to decline since they reached their peak in 2014.
The slowdown has had a subsequent negative impact on the profitability of the banking industry. The banking industry's return on investment (ROA), which reached 2.77 percent in December 2014, fell to 2.17 percent in December 2016.
In such a situation, some experts are beginning to assume that banks have begun to enter their sunset period. This is coupled with the emergence of non-bank financial institutions that offer the same services but with easier access.
Financial technology (fintech) firms now offer services similar to banks but with many convenient features that can be accessed while lazing at home. Services such as peer-to-peer (P2P) lending offering loans with easier terms are widely available and certainly do not involve queuing at the bank.
Various obstacles and barriers should be addressed wisely by the banking sector rather than complaining and blaming the global and national economic slowdown.
Setiabudi in his book Power of Kepepet conveys how when someone gets in trouble, he should be grateful that he can in fact resolve the problem. Religion states that obstacles encountered will strengthen one's faith. The same is true for banks.
With this unfavorable situation, it is important for banks to find a breakthrough or innovation in order to be able to survive and earn higher profits.
In order to survive in today's conditions, banks must implement a smart strategy to maintain profits. Ciobota suggests there are four strategies that can be applied by banks to maintain their presence, namely organizational strategy, product and services strategy, supply-chain strategy and the strategy of market segments.
The first strategy is about how banks set the scope of their operations, whether engaged at local, national, regional or international levels. Banks can choose to target a specific region or area that may correspond to the products and services that are provided by the bank.
A second strategy is the creativity of the bank in determining products and services that are tailored to a specific target market. In this strategy, a bank can develop products and services targeting specific segments such as retail or corporate, or making a product or service that is niche or segment specific, e.g. savings products combined with investment in stocks or securities, or it can also make products for customers who are in particular sectors of the economy.
While the first and second strategy require the creation of new products or services, in the third strategy banks can maximize the resources already available to them. Innovations such as shortening or accelerating the credit approval process combined with technology, making it more efficient and allowing customers to get lending approval more quickly. Efficiencies in operating costs, or relocating ATM machines in order to be closer to the targeted customer sectors are examples of product innovation in this strategy.
The fourth strategy is actually quite similar to the second strategy, the difference is the bank sets the market segment that they want to address first, and then creates or modifies products and services for that segment. These segments can be based on price or quality, existing competitors in the products and services that the bank offers, the characteristics of the products and services or users of the products or services.
In addition to these four strategies, something that may not have been done by many banks in Indonesia is collaboration between institutions. This collaboration involves not only among banks but also among other financial institutions, especially fintech companies.
One example of a successful collaboration that has already occurred is that between Santander Bank and P2P lending company Funding Circle. Users of Funding Circle that require additional services from a bank will be referred to Santander Bank.
In return, Funding Circle can gain banking access internationally through the Santander network. In addition, Funding Circle also can access information on potential customers who do not meet the criteria set by Santander Bank.
With this collaboration, the bank can also generate income as an arranger by forwarding the customers to Funding Circle. This creates another income source for the bank to improve its profitability.
Faced with the new challenge from fintech, banking in Indonesia should remain confident, because fintech firms actually still need a bank. With banking collaboration, fintech firms will gain more trust than by standing alone. This is because the Indonesian people still have more faith in a physical presence. A bank has an office while fintech firms are way out there in cyberspace.
---------------
We are looking for information, opinions, and in-depth analysis from experts or scholars in a variety of fields. We choose articles based on facts or opinions about general news, as well as quality analysis and commentary about Indonesia or international events. Send your piece to community@jakpost.com. For more information click here.
Disclaimer: The opinions expressed in this article are those of the author and do not reflect the official stance of The Jakarta Post.
Join the discussions