Demographic bonus and ageing: The mixed blessing of family planning
Manchester |

Wed, July 12, 2017

| 01:51 pm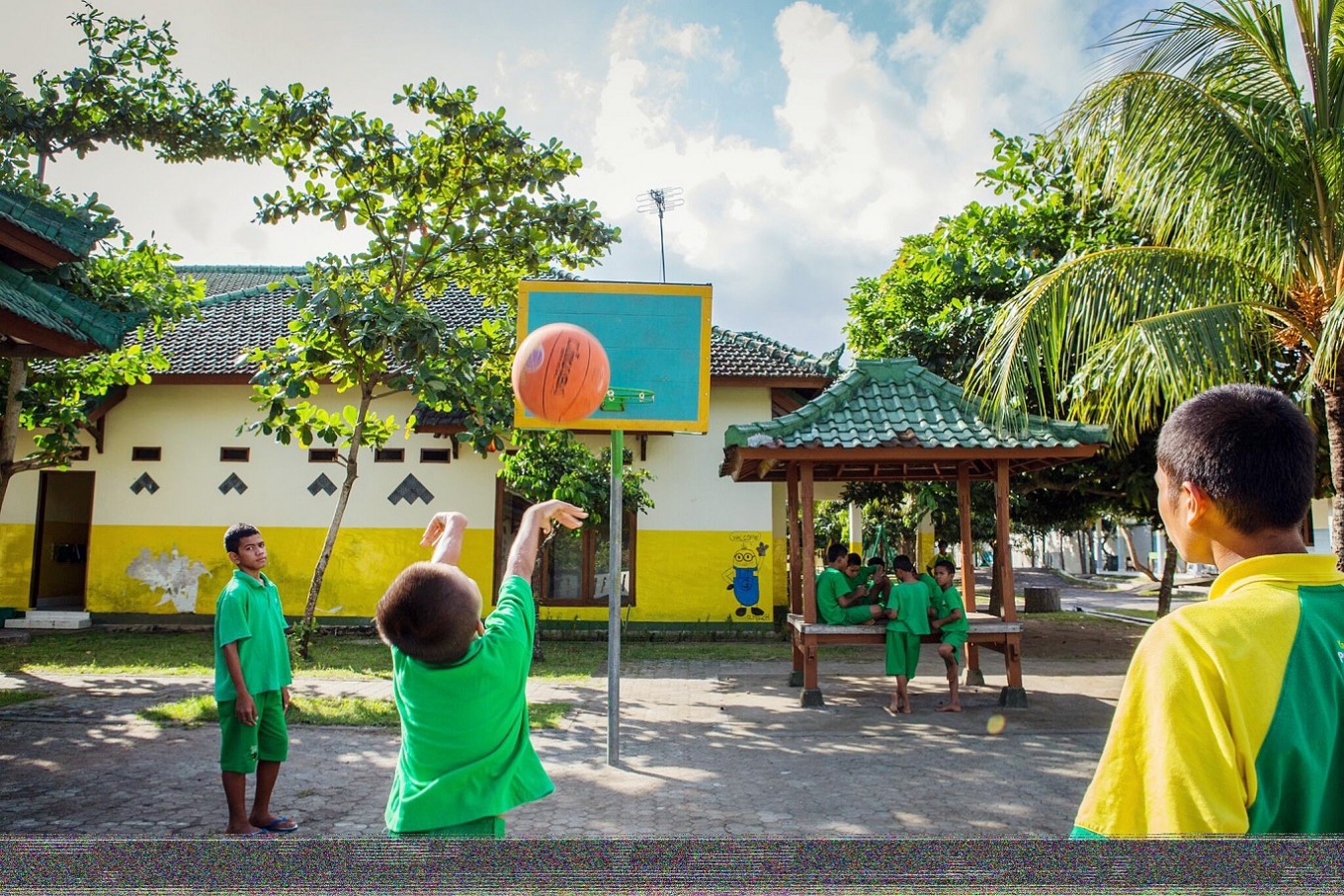 Aiming high: Children play basketball in the vast yard of Yayasan Peduli Anak (YPA) in West Lombok, West Nusa Tenggara. (JP/Panca Nugraha)
The World Population Day of July 11 this year follows "The Day of Five Billion" on July 11, 1987 which marked the day the global population reached five billion people. The commemoration of Population Day was introduced by the UN General Assembly in 1990 as a means to raise awareness on population issues including their relations to the environment and development. Now, almost 30 years later, the world population has reached 7 billion people, and the problems of overpopulation are more salient than ever.
In Indonesia, however, the effort to control population growth has actually been quite successful. In 2016, population growth was 1.14 percent, lower than that of 2015 at 1.19 percent, and lower than the world's population growth at 1.18 in 2016. Fertility rate was also decreasing at 2.44 per woman in 2015, one of the lowest in Indonesia's history. This considerable success in population control is reflected in the projection of the nation's demographic dividend in mid 2020s.
A demographic dividend occurs when the number of people of working age is higher than the number of dependents— that is the elderly and children. The ratio of the elderly and children to the working age population, known as the dependency ratio, is low. A low dependency ratio indicates that potentially more people can be productive and contribute to the growth of economy, leading to unprecedented economic growth.
East Asian countries experienced their demographic dividend in the 1950s and 1960s as a result of heavy investment in their youth and expanded access to voluntary family planning. As a result, South Korea's gross domestic product grew by 2,200 percent from 1950 to 2008.
Decrease in fertility rate, however, is also a mixed blessing. If the fertility rate keeps dropping while life expectancy keeps rising, the median age of the population will rise to the point that the number of elderly will surpass those of productive age. This is the consequence of few babies and long lives.
An ageing population will again increase the number of dependents that our society needs to support. Unlike spending on children and youths, spending on the elderly will not yield economic returns. This of course will increase the spending needed to support them through higher pension funds, healthcare spending, and care-giving services. This can result in an inter-generational conflict and put excessive pressure on the economy.
It will create a vicious cycle in which the increase in pension and healthcare spending will drain the investment on children's and youth's education, which will lead to decrease in skilled workers, which in turn would reduce tax income and further worsen insufficient pension funds and healthcare spending.
As such, the incoming demographic dividend is both an opportunity and a test for Indonesia. Ideally, we should make the most of the demographic dividend. Should we be successful, we will possess a much stronger economy to support the inevitable population ageing. If we fail to fully capitalize on our demographic dividend, the resulting chronic economic pressure will haunt us for many years to come.
The most pressing problem of course, is our ever-shorter window of opportunity ahead of the expected demographic dividend. Five to ten years is barely adequate to be properly prepared. As such, time is utterly of essence.
The policies needed to be fully prepared for the upcoming demographic dividend need to be localized. In area where the dependency ratio is still high -- probably as a result of lack of access to proper family planning — the highest priority should be providing sexual and reproductive health services (including contraceptives), raising awareness on family planning including the ideal age for marriage and ideal family size, ensuring education enrolment, and providing access to decent work to eradicate child poverty.
In areas where dependency ratio is in the middle range, the priority should be improving human capital by investing in youth's education; while where the dependency ratio is sufficiently low, the highest priority should be to ensure the population remains productive by providing better access to employment, either through an active labor market policy or by increasing investment in new jobs.
Another key factor to seize the opportunity of the demographic dividend is to increase women's participation in the labor force. As of now, for every 100 men in our labor force, there are only 60 women —which is quite low considering that the number of working age females is marginally higher.
Incorporating women into the labor force will not only help boost the economy, it can empower women. Of course the quality of the employment is also very important. Promoting education among young women can kill two birds with one stone -- as will it not only provide women with the skills needed to compete for quality employment, it will also help further decrease the fertility rate as there is a clear negative correlation between women's level of education and family size.
In conclusion, we should be properly prepared for the upcoming demographic dividend not only because it is a wonderful opportunity to kick-start our economy, but also because failing to do so will create economic and social problem in the form of ageing population that we must support.
***
The writer is a Master of Arts candidate in Political Science from the University of Manchester, the United Kingdom. His research interests include comparative politics, Southeast Asia, international organization, and electoral politics.
---------------
We are looking for information, opinions, and in-depth analysis from experts or scholars in a variety of fields. We choose articles based on facts or opinions about general news, as well as quality analysis and commentary about Indonesia or international events. Send your piece to [email protected] For more information click here.
Disclaimer: The opinions expressed in this article are those of the author and do not reflect the official stance of The Jakarta Post.
Join the discussions