Need a boost in economic growth? Get more people to own a bank account
Singapore |

Thu, July 13, 2017

| 03:22 pm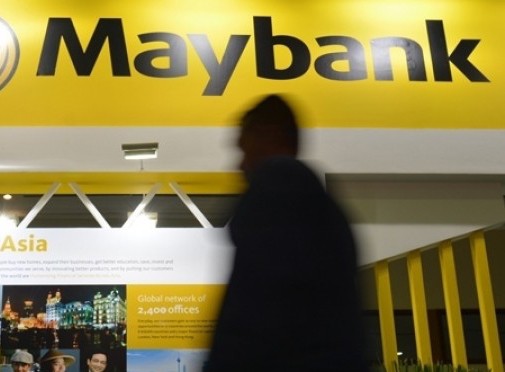 A man walks in front of a Maybank Indonesia branch office. (Kontan/Daniel Prabowo)
Banking inaccessibility is a severe issue in Indonesia with only around 36 percent of the population having access to bank account based on World Bank's survey. A corollary to low banking penetration is low access to credit. This has, to a certain degree, limited the upside potential of the country's economic growth as capitals are being channelled inefficiently.
Based on study by IMF/MIT on sample of six emerging market economies, a 1 percent increase in credit to investment ratio – done through increasing access to credit and enhancing credit intermediation efficiency – could potentially increase a country's GDP growth by 0.2-1.2 percent. Given Indonesia's low credit penetration and access to credit, it is clear that there is much to gain from accelerating the financial inclusion program.
The banking sector and Financial Services Authority (OJK) have made considerable efforts in recent years to tackle this issue. For example, Laku Pandai programme -initiated by OJK in 2015 - allows banks to tap into non-bank agent networks to offer the unbanked population some basic banking account and micro credit services. Since the inception of the programme, the number of new bank accounts served through the programme has grown from a mere 36,000 to 5.2 million as of March 2017 while number of agents, too, has grown substantially (329,000 as at end March 2017 vs 3,800 at June 2015).
However, the initiative was not without its challenges. According to survey carried by University of Indonesia's Institute for Economic and Social Research, about 90 percent of the beneficiary of the programme actually already held bank accounts. Moreover, most of the agents are located near to bank ATMs and bank offices, thus not reaching their supposed targets in remote areas. The banks' have, also, in fact poured large investment into training the individual agents which strips much of the 'branchless bank' cost benefit relative to traditional bricks and mortar approach.
The initiative so far has relied on bank-led financial inclusion tactics whereby the participant banks, after getting approval from OJK, would then start to recruit these non-bank agents. This has partly contributed to the issue of concentration, as mentioned above, whereby recruited agents are more likely to be located nearby the bank branches, limiting potential penetration rate.
Switching to a more hybrid method could offer a more effective solution. This would involve getting the banks to more actively engage the large telcos, retailers and the state-owned companies – like Pertamina - as the non-bank agents. Combined together, these players' distribution channels would be massive. They would also likely have a more adequate technology and infrastructure which may further assist better service to the unbanked populations.
Banks could also significant reduce investment in training by collaborating with these major players to establish proper training centres and programme for the agents which will allow a more effective and manageable Know Your Client process and financial product training. Consequently, the unbanked population would also be more willing to bank to these agents that are more properly trained and qualifications than typical independent agents.
Once these formal distribution channels are established and financial literacy is at comfortable level, the banks could also push the strategy further to include small retailers and stores which have played a significant role in facilitating low value and high volume financial transactions. According to a study, 75 percent and 80 percent of retail sales are done through this unorganized sector and the report also suggest that there are 2.56million retailers in Indonesia.
Of course, financial literacy has to improve in tandem to get the economic engine going. This can be done through an effective implementation of educational programme on managing money to common citizens. For example, offering a simple mandatory application on customers' smartphone – through collaboration with the telecommunication companies - when they open a bank account at these non-bank agents could be a start. A more vigorous promotion of basic personal finance tips micro sites– in the likes of moneysmart.sg in Singapore – by the OJK would also be beneficial.
These proposals are indeed easier said than done. But they are definitely not infeasible. There has been a number of success stories in neighbouring countries of an effective financial inclusion programme and if such plan is to be executed just as well in Indonesia, there is no doubt Indonesia could achieve that global economic power status –as heralded by many - much faster than expected.
***
The writer is associate director at Fitch Ratings Singapore, covering banks and financial institutions around ASEAN region. Previously he had worked at Credit Suisse for 4.5 years as a credit analyst within its Investment Bank and Private Banking arms. Tamma graduated from Singapore Management University in 2011 with a Bachelor of Science degree in Information Systems and Operations Management.
---------------
We are looking for information, opinions, and in-depth analysis from experts or scholars in a variety of fields. We choose articles based on facts or opinions about general news, as well as quality analysis and commentary about Indonesia or international events. Send your piece to [email protected] For more information click here.
Disclaimer: The opinions expressed in this article are those of the author and do not reflect the official stance of The Jakarta Post.
Join the discussions