Is money still relevant in politics?
London |

Fri, July 14, 2017

| 04:38 pm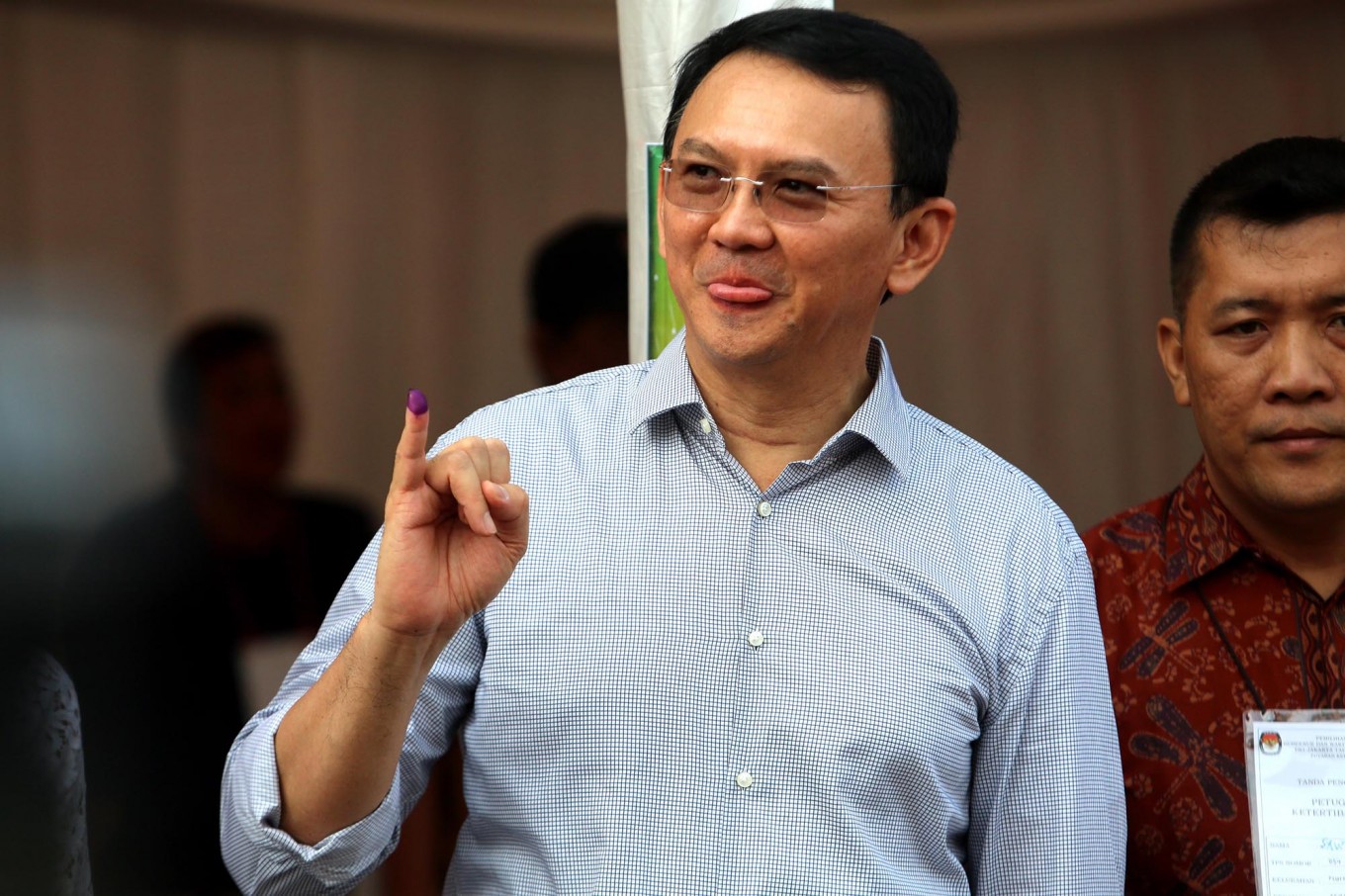 Then incumbent Basuki Tjahaja Purnama and his family cast vote for the Gubernatorial Election phase 2 at TPS 54, Pantai Mutiara, Pluit, Wednesday, April 19, 2017. (JP/Seto Wardhana)
Seven months since Donald Trump was inaugurated as leader of the most powerful country, we are still left wondering how it happened. A little over three weeks ago, Democrats were once again forced to witness a gut-wrenching defeat in what was called the most important special election in history in which Democrats' Jon Ossoff lost to GOP's Karen Handel.
Two massive defeats raise questions about Democrats viability and just how long can GOP maintain their dominance.
However, let's just talk about the financial aspect of the elections. Money is a huge part of politics and democracy. After all, political candidates need to get their faces and ideas out there, and candidates with more money are thought to have more chance of winning. Three elections I'd like to highlight here might have proved otherwise.
The US presidential election is arguably the richest race in the world, attracting billions of dollars in donations from corporations and average Joes. Hillary Clinton raised over US$1.1 billion compared to Trump's $646 million according to Bloomberg. However, Clinton lost the election and ended up paying twice more for a single vote.
During the Georgia 6th district special election, Ossoff spent six times as much as his adversary Handel. Despite outspending the GOP by a staggering 7-to-1 per vote, Democrats still lost by about 5 percent.
The recent Jakarta controversial gubernatorial election also saw candidates with more money losing the race. The then incumbent Basuki "Ahok" Tjahaja Purnama spent Rp 31.7 billion while challenger Anies Baswedan spent Rp 17.9 billion, nearly half that of Ahok.
Virtually all of these failed candidates were ahead in the polls prior to election day. Huffington Post even put Clinton's chance of winning at just over 98 percent. It is apparent that money provides an indicator of candidates' strength in an election. In July 2015, Jeb Bush reported to have raised an unprecedented $114 million for his primary campaign, intimidating other candidates with less resources to drop-out. This propelled Bush as the GOP main candidate for the presidency. One year later, Bush had failed to win a single state in the primary.
With so much money flowing into an election, campaign finance regulation is continually being reformed. The goal is to keep them from being used to influence politicians and their policies. It is naïve to think that individuals and corporations give money out of kindness. They expect something back, like access to policy-shaping power that can benefit them.
However, a research by MIT in 2004 found that political contributions have little or no effect on markets valuation of the long-term probability of the firm themselves. This raises another question on the value of political contributions.
Still, political battles attract donors like magnets. One way of looking at it is that they provide corporations and high net worth individuals a way to build relationships with candidates and parties rather than buying influence outright. The research pointed out the relatively tiny 'investment' from corporations compared to their primary investment and operational activity. Essentially, donors are betting on candidates and expecting the pay-out during the candidates' tenure, that is, if they win.
So how did Clinton, Ossoff, and Ahok lose their respective elections despite significantly outspending their oppositions?
It seems like in major elections money is rapidly becoming less relevant.
In Clinton's case, months of gaffe-ridden strategies hurt her campaign the most. Misplaced focus on identity politics and heavy emphasis on social issues were synonymous with her campaign. This strategy worked excellently to attract millennials. Unfortunately, they were not the only voters.
Trump with his experience in show business managed to get free air time thanks to his inane tweets and remarks. With $2 billion in free media coverage, Trump talked about issues that many America cared about, no matter how ridiculous the presentations were. Trump talked about bringing coal jobs back to the US, which many analysts thought impossible, but it's also what voters wanted to hear. Clinton called Trump supporters "deplorable", further alienating voters.
Georgia 6th district election had become a referendum for Trump presidency and a test for Democrats legitimacy. Unfortunately, Ossoff did not learn from Clinton's mishaps and failed to address what the voters of Georgia 6th, a strong GOP stronghold region, wanted to hear. Instead, he bombarded the airwave with lazy messages like "we're not as bad as the other group". While his loss was not as brutal as Clinton's considering GOP's strong presence in the area, it was a bitter pill to swallow for the Democrats who kept losing despite having more money at their disposal.
Ahok's controversial defeat in the hands of Anies Baswedan was thoroughly bizarre. A likable and popular incumbent, he was thought to be sure winner for another term. Months before election, a seemingly insignificant issue of religion blasphemy grew into an enormous religion-backed movement that attempted to oust him out of office. While Ahok's brash and outspoken brand of politics was a breath of fresh air, it was not the winning strategy. Ahok is currently in prison for blasphemy against Islam.
What do these failed campaigns have in common? They were facing a populist uprising, politics for the common man. In the US, Clinton's identity politics alienated Americans who just wanted good jobs and food on the table. Ossoff's uninspired and miscalculated message failed to sway the GOP voters despite Trump's shaky tenure thus far. In Indonesia, religious populists reigned supreme.
In the wake of populist politics, money is losing its power. Gone are the days when money would almost guarantee an election victory. The voters know exactly what they want and identifying their wants and needs is worth more than any political contribution in the world.
***
The writer is studying for a Masters degree in finance at Cass Business School, London.
---------------
We are looking for information, opinions, and in-depth analysis from experts or scholars in a variety of fields. We choose articles based on facts or opinions about general news, as well as quality analysis and commentary about Indonesia or international events. Send your piece to [email protected]
Disclaimer: The opinions expressed in this article are those of the author and do not reflect the official stance of The Jakarta Post.
Topics :
Join the discussions