Islamic cooperatives can help alleviate poverty
Dian Andari

Studying for a Masters in Islamic Finance and Management, Durham University
Durham |

Tue, August 8, 2017

| 02:19 pm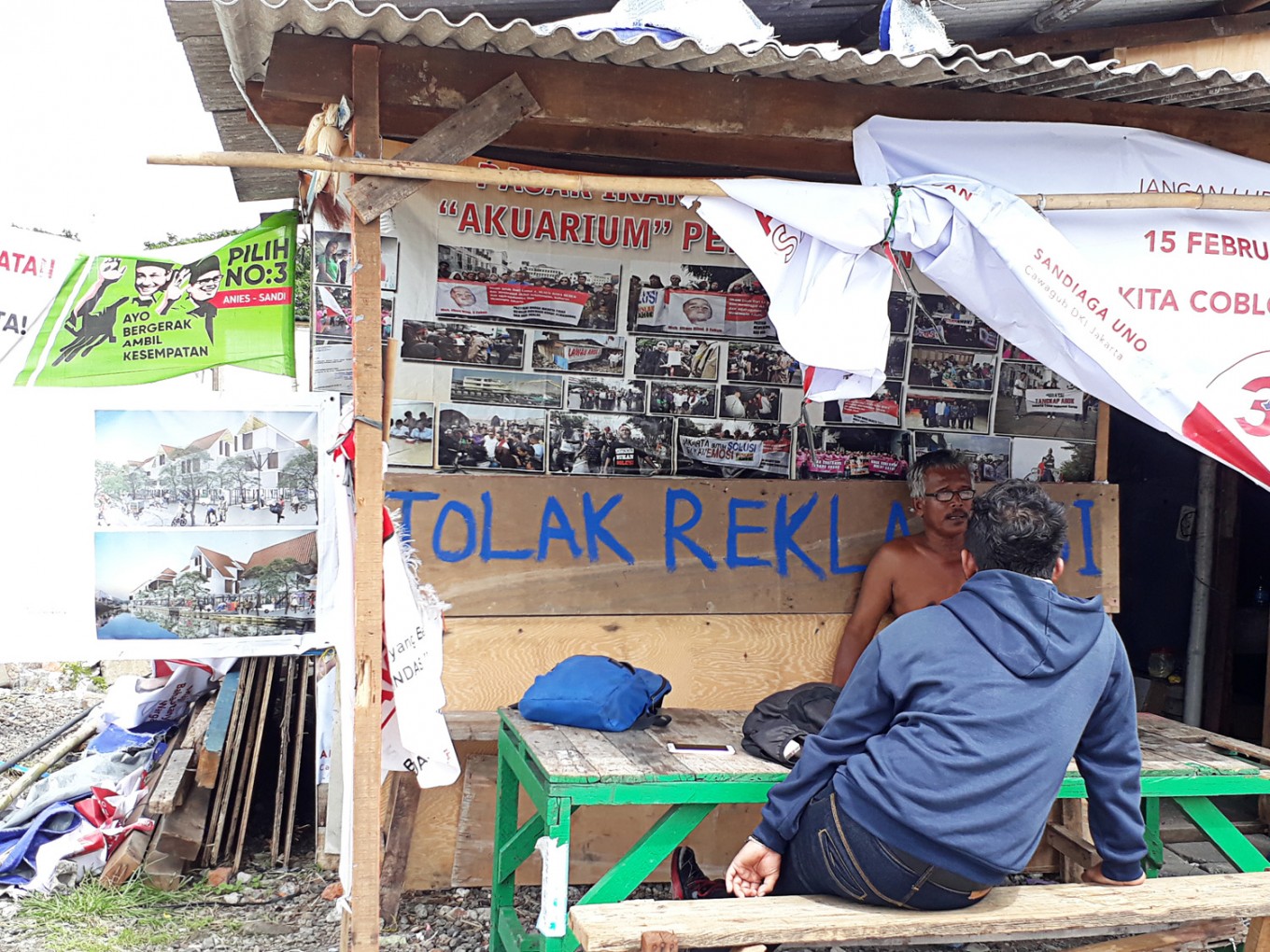 Hard times -- Teddy (wearing glasses), a resident of Kampung Akuarium in North Jakarta, chats with a neighbor in front of his makeshift shack on the rubble of his home, from which he was evicted in April last year. (JP/Safrin La Batu)
One can find many parallels between Islamic knowledge and Indonesian ideology. An economist at the Islamic Research and Training Institute of the Islamic Development Bank (IRTI-IDB), Umer Chapra, asserts that the goal of Islamic law or Maqasid al Shari'a is the well-being of humans. Humans are obliged to create a just development both economically and socially. Thus, as reflected in the Pancasila state ideology and the national goal in Indonesia's Constitution, economic development should strive towards balanced social development.
According to the Central Statistics Agency (BPS), Indonesia's poverty rate is at 10.70 percent as of the second half of 2016. But well-being is not only about income; the United Nations Development Program states the concept of poverty also covers those lacking in education, health, and standards of living holistically.
The rapid growth of Islamic finance presents an opportunity to address the social and economic gap. As of 2012, the World Bank estimated total assets in the industry reached US$1 to 1.5 trillion, with asset growth of 10 to 15 percent annually until 2010 and 8 percent per annum afterward. Recently, the Financial Services Authority (OJK) stated that Islamic finance industry assets had reached $32 million in the first quarter of 2017.
However, behind the success of Islamic finance is the reality that this development is diverting from the fundamental goal of Islamic law. Mehmet Asutay, a professor in Islamic finance at Durham University, argues that the development of Islamic financial institutions have neglected Islamic social goals. Mohammed Obaidullah and Tariqullah Khan, researchers at IRTI-IDB, support this argument as world poverty is still dominated by Muslim populous countries including Indonesia.
The expected function of banks in distributing idle funds to productive economic activity has yet to empower the poor. A survey by OJK noted that in 2016, Islamic or sharia financial inclusion and are still low, although their development is relatively fast in Indonesia. Thus, we should seek a second-best solution in promoting a just wealth distribution.
The Baitul Maal wat Tamwil (BMT) can be one solution in empowering the poor. Under the Cooperatives and Small-Medium Enterprises Ministry, BMT is acknowledged as an institution in the form of cooperative that is influenced by and is operated in accordance with Islamic principles.
As a microfinance institution, the BMT may provide better outreach as it is more accessible to the poorest people. The small amount of credit may encourage them to engage in financing activity. In addition, BMT as community-based cooperatives incorporate local wisdom and culture and can hence attract more participation of people, especially in rural areas where poverty is higher compared to urban areas.
More and more villagers move to cities to work. However, urbanization increases competition. People who fail in the tight competition will find more difficulties given higher living cost in the cities. Thus, to empower local communities and control hyper-urbanization, the BMT as an accessible institution for the poor has good potential in raising awareness and literacy in finance and the economy.
As a microfinance institution, BMT also faces problems in optimizing sustainability and outreach. A researcher for Bank Indonesia, Ali Sakti, emphasizes the problems in supervising, financing and providing human resources in BMT.
First, the flexibility in establishing BMT in remote area cause some monitoring difficulties. The closest supervisory body is the local Cooperatives Council at the city level. In 2015, the Cooperatives and SMEs Ministry recorded a little over 150,220 active cooperatives. It was unclear how many were sharia compliant cooperatives (Koperasi Jasa Keuangan Syariah).
Second, the minimum source of funding for BMT limits them to financing individuals rather than business entities. As BMT cannot provide sufficient information for banks to judge an organization's profile and condition, capital providers like banks and larger financial institution cannot allocate fund in BMTs.
Third, BMT is constrained by human capital issues. The above survey found the BMT still has a limited number of adequately educated personnel.
The nature of BMTs in empowering society and facilitating capacity building should motivate the government to engage more in the sector. Embedded with local and religious morality, BMTs have better opportunity to spearhead poverty alleviation by encouraging entrepreneurship and wealth creation.
Today, BMT still lacks formalization and supervision. The government is expected to strengthen them by linking BMT to robust capital injectors. Therefore, a robust architecture for Islamic microfinance, the BMT, should be able to support a just social and economic development.
---------------
We are looking for information, opinions, and in-depth analysis from experts or scholars in a variety of fields. We choose articles based on facts or opinions about general news, as well as quality analysis and commentary about Indonesia or international events. Send your piece to [email protected]
Disclaimer: The opinions expressed in this article are those of the author and do not reflect the official stance of The Jakarta Post.
Join the discussions