EDITORIAL: Mega trade partnership
EDITORIAL

The Jakarta Post
Jakarta |

Tue, November 14, 2017

| 08:13 am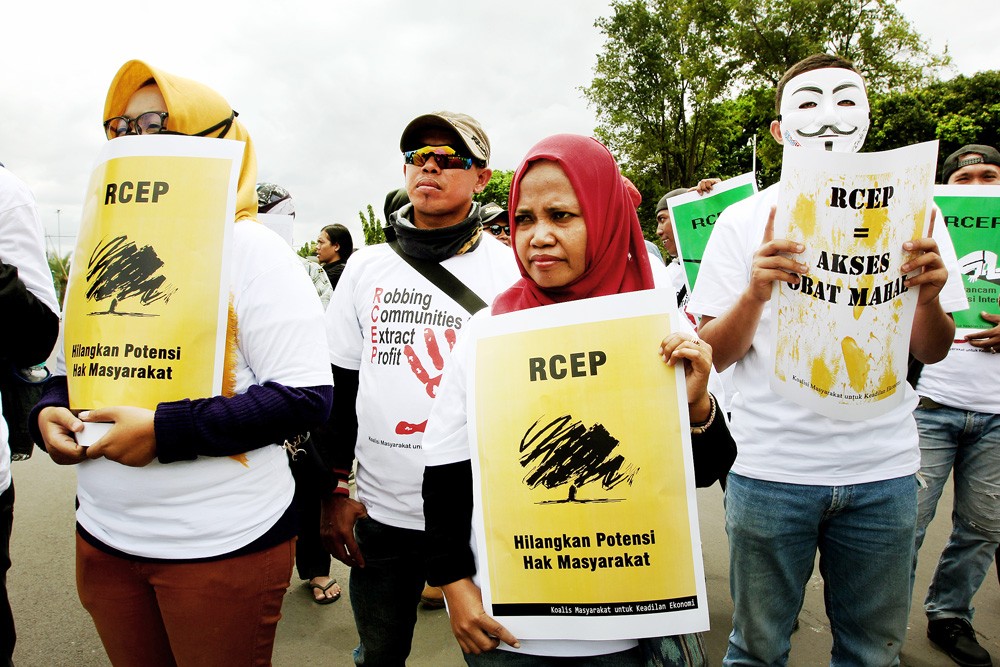 Not for us: Protesters under the umbrella of the Indonesian People Coalition for Economic Justice rally in front of Merdeka Palace in Jakarta. They profoundly reject the Regional Comprehensive Economic Partnership (RCEP) negotiation because the clauses, they say, will pave the way for global investors to dominate the economy and harm state interests as well as public welfare. (JP/Bimo Raharjo)
After more than 18 rounds of negotiations since 2012, 16 Asian and Pacific countries that account for almost 50 percent of the world's population, more than one-third of global trade and 40 percent of the world's gross domestic product (GDP), have moved closer to a multi-stage, regional mega trade partnership.
The Regional Comprehensive Economic Partnership (RCEP) agreement between the 10 ASEAN members and the six countries with which the trading bloc already has free trade agreements — Australia, China, India, Japan, New Zealand and South Korea — will surely be a big leap in global trade deals, in view of the wave of populist anti globalization sentiment even in several developed countries.
It is also a great diplomatic achievement for Indonesia, which proposed the RCEP idea in 2011 when it served as ASEAN chair and Mari Pangestu was the minister of trade. But negotiations that started in 2012 under the chairmanship of Indonesia's senior trade official, Iman Pambagyo, were overshadowed by the United States-initiated Trans-Pacific Partnership (TPP) trade negotiations.
The RCEP will create one of the world's largest trading blocs with ASEAN at its core and will plug the regional alliance of 10 nations into the global economy. The new agreement will also consolidate ASEAN's overlapping trade partnerships into a single trade agreement.
Two main factors have made the 16 countries persevere in their negotiations for such a large trade pact. The most important of these is the fact that trade-linked industrialization has always been the main driver of economic growth in East Asia. Trade-oriented industrialization has driven regional economic integration through trade and investment. The other factor is US President Donald Trump's decision early this year to withdraw his support for the TPP, which put this plan in limbo.
The RCEP will deepen economic ties, create a massive free-trade area for participating countries, progressively eliminate tariff and non-tariff barriers, build a competitive investment environment and further integrate ASEAN into the global economy.
Certainly, the upcoming negotiations on the technical details of the final RCEP agreement will still be challenging. The widely different economic development levels of member countries could get in the way of settling implementation schedules. Moreover, the RCEP agreement governs not only trade, but also investment protection, labor rights and several other important economic issues.
But we are confident that the participating countries' full awareness of the great benefits of free trade flow and continued nurturing of trust among them will strengthen their resoluteness toward completing the final deal soon.
As ASEAN has become more enthusiastic about free trade and the more powerful Chinese President Xi Jinping has been taking the lead on globalization, the political momentum for completing the RCEP has been building up to raise expectations for a final agreement sometime next year.
Topics :
Join the discussions