Commentary: All things being equal, music always seals the deal
M. Taufiqurrahman

The Jakarta Post
Jakarta |

Thu, November 30, 2017

| 10:03 am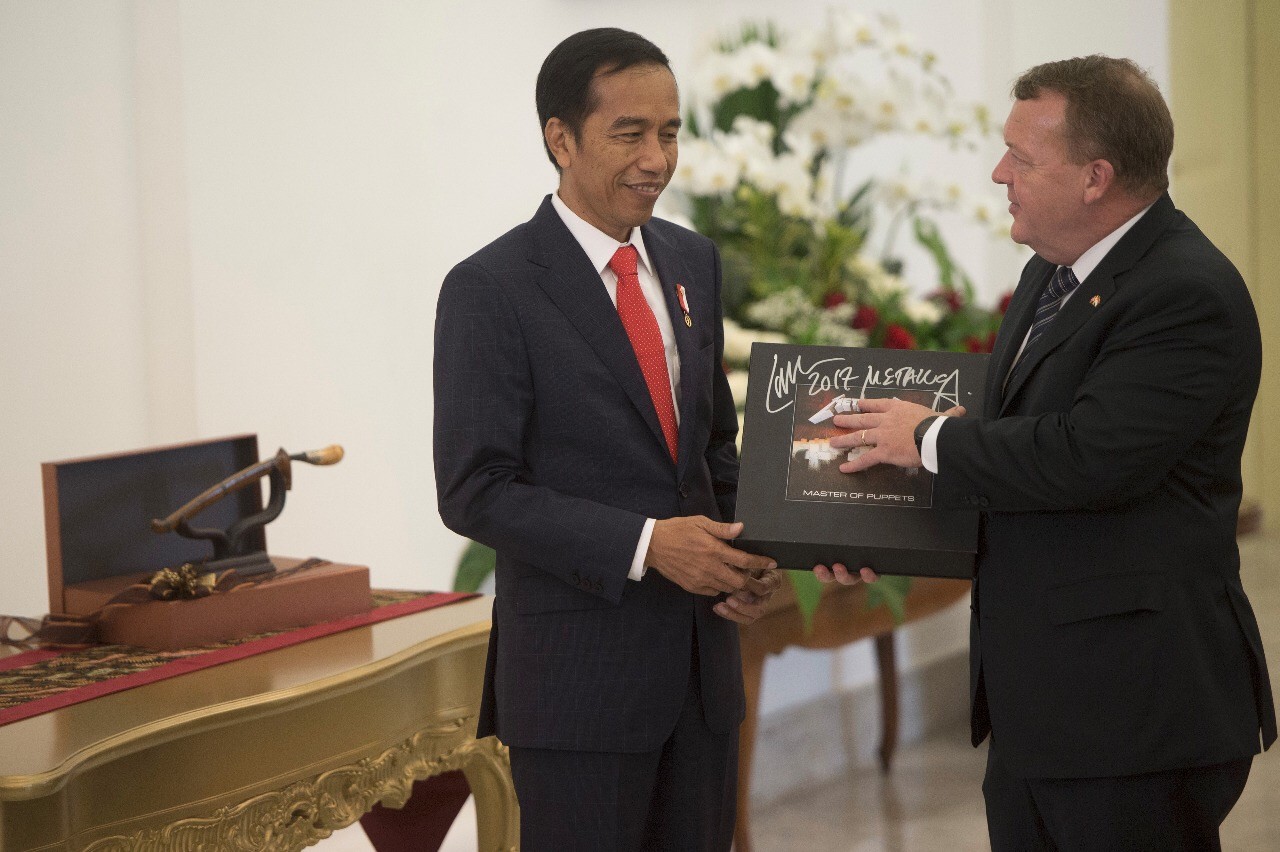 Danish Prime Minister Lars Lokke Rasmussen gives President Joko "Jokowi" Widodo, Rasmussen the box set of Metallica's Master of Puppet vinyl during a state visit at the Bogor Presidential Palace on Nov. 28, 2017. (Antara/Rosa Panggabean)
Under the best of circumstances, music and politics have a tenuous relationship. Millions of people may have been inspired by the stirring rendition of Sam Cooke's "A Change Is Gonna Come," which went on to become the anthem of the American civil rights movement, but the work of ending racism in America fell into the hands of activists and politicians.
College students late in the New Order period grew up listening to folk singer Iwan Fals' anti-authoritarian call-to-arms Bongkar (Tear Down), but the demise of the authoritarian regime took place only after they summoned the courage to take to the streets and call for Soeharto's ouster (with tacit support from the fractured Indonesian Military).
In other times, music has loomed large over politics. In 1906, Adolf Hitler was so moved by Richard Wagner's "Tristan and Isolde," performed in Vienna, that he decided to study opera direction and painting in the city. Some historians also pointed out that Hitler's oratorical poses resembled the conducting style of Gustav Mahler, the Jewish composer who happened to direct the Vienna show.
Hitler later grew up to become a serious fan of music and when he came to power, some composers, including Richard Strauss, even said: "Finally, a Reich chancellor who is interested in art!"
Hitler of course is not the only politician to have understood the power of music and its potential to achieve a greater purpose in politics.
Many factors contributed to the election of Democratic candidate Bill Clinton as United States president in 1992, but if there was one moment that sealed the deal for him, it was when he donned sunglasses, hoisted a tenor saxophone and mimicked jazz legend Sonny Rollins' famous pose on the cover of "Saxophone Colossus" while playing Elvis Presley's "Heartbreak Hotel."
While Clinton put forth an effort to work on his public image, his Democratic Party successor Barack Obama is effortlessly cool. In fact, Obama may be the most musical president ever to occupy the Oval Office. He has that rare gift of being able to absorb different musical genres from different eras.
In 2008, on the eve of the US presidential election, Obama shared his playlist to the world and even the most cynical music snob would approve of it, with tracks from legends like Bob Dylan, Bruce Springsteen, Miles Davis, John Coltrane and rapper Jay-Z. Against this playlist, his republican rival John McCain did not stand a chance as his taste in music ranged from ABBA's "Dancing Queen" to Frank Sinatra's "I've Got You Under My Skin."
Speaking of Sinatra, we could be forgiven for thinking that the problem currently afflicting the US could stem from the fact that President Donald Trump is not well-versed in music, let alone arts, and one of his favorite songs is Ol' Blue Eyes' "My Way," which played at his inaugural ball.
President Joko "Jokowi" Widodo was shaped in the mold of Obama, musically speaking. Jokowi did not follow the traditional pattern of a politician whose taste in music is defined by songs like Bengawan Solo, or oldies from the 1980s. Jokowi seems to be genuine in his love for music, especially heavy metal.
Long before he expressed interest in running for the country's top job, Jokowi frequently professed his love for metal stalwarts like Metallica, Megadeth, Napalm Death and Slayer, the kinds of bands whose followers make up the country's largest demographic group, young people under 30.
When the going got tough in the 2014 presidential election, it was this young demographic group that swayed the election in favor of Jokowi. In July 2014, when Gerindra Party candidate Prabowo Subianto caught up with Jokowi in the electability rating and as many pollsters found out that the gap was within a margin of error, Jokowi's campaign team decided to stage a mega music concert at the Bung Karno Stadium with the appearance of some of the biggest names in the country's music scene, such as Slank, Glen Fredly, Cokelat and Pas Band.
Jokowi knew very well that he owed his victory to the thousands who showed up for the concert, which was modeled after the Metallica concert in the same venue one year earlier, and after assuming office he made steps to repay the debt. In 2015, he set up the Creative Economy Agency (Bekraf) and appointed Triawan Munaf, who once played keyboard with legendary rock band Giant Step, as its chairman. In recent years, Bekraf has made an effort to introduce homegrown talent to the world, including by sending Indonesian indie bands to prestigious events, such as the South by Southwest festival.
Jokowi has also continued to cultivate his relationship with young music fans by going to youth-oriented concerts that showcase music that is probably too trendy for him. This August, Jokowi made a surprise visit to the We The Fest music festival and engaged in a debate with the audience on whether Bandung-based rock and roll band The S.I.G.I.T or young English singer Shura is better.
On Tuesday, the visiting Danish prime minister Lars Løkke Rasmussen helped further cement Jokowi's reputation as a youth-oriented leader. The gifting of Metallica's Master of Puppets box set was a smart move as it not only made a lasting impression on the President's mind, but it also generates enough publicity to stir up Jokowi's base. That is heavy metal diplomacy done right.
Join the discussions