EDITORIAL: Islands of integrity
EDITORIAL

The Jakarta Post
Jakarta |

Wed, December 13, 2017

| 08:04 am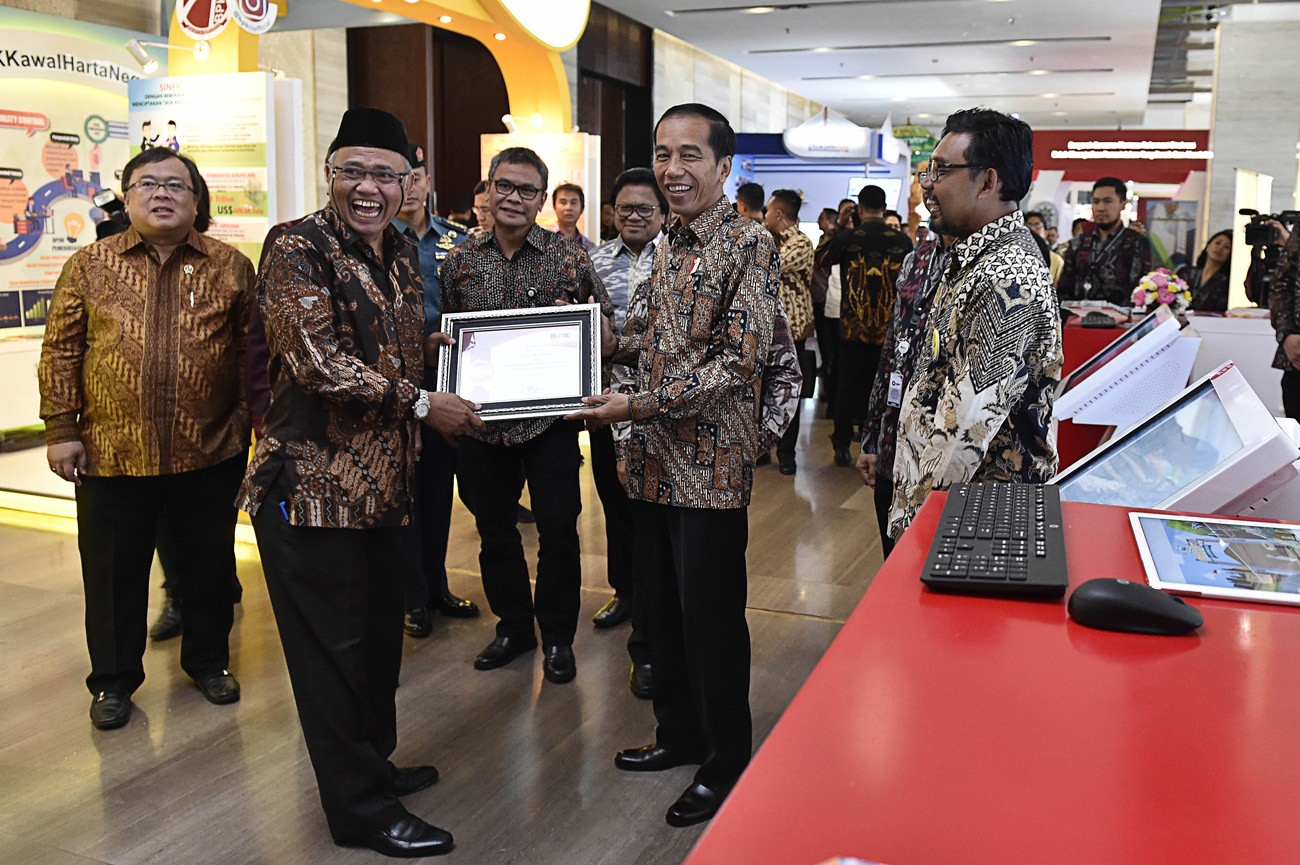 'No' to corruption: Corruption Eradication Commission (KPK) chairman Agus Rahardjo hands over a plaque to President Joko "Jokowi" Widodo during the celebration of International Anticorruption Day on Dec.11 in Jakarta, when it also launched an electronic wealth reporting system. (Antara/Puspa Perwitasari)
Residents of Bantaeng in South Sulawesi can be mighty proud of their twice-elected regent, Nurdin Abdullah, who was named a recipient of this year's Bung Hatta AntiCorruption Award (BHACA). Named after one of the nation's founding fathers renowned for his integrity, Mohammad Hatta, the award recognizes individuals and institutions as islands of integrity that inspire courage against temptations and threats of various parties who benefit from graft.
The other recipient announced last Thursday was Heru Pambudi, the Finance Ministry's customs and excise director general; his boss Sri Mulyani Indrawati received the same prestigious award in 2008, also as Finance Minister. Her departure from the Susilo Bambang Yudhoyono Cabinet was believed to be related to her non-compromising attitude against corruption.
Nurdin and Heru are both jewels in our mud pot of corrupt national and local executives, politicians and even prosecutors and judges; so many that in a commemoration to mark International Corruption Day, which falls on Dec. 9, a weary President Joko "Jokowi" Widodo expressed surprise that corruption persisted although 12 governors, 64 regents and mayors and two Central Bank governors had been prosecuted for corruption since 2004, apart from lawmakers.
Nurdin, popular among investors with his one-day service program that grants business permits in one day without annoying illegal levies, has installed a bidding system for official positions. He also rotates officials every three or six months to prevent "a comfort zone for corruption," apart from dismissing officials proven to have committed graft.
Such "little kings" are indeed the most resented officials because businesspeople and citizens know that they must be approached tactfully — meaning with bribes — to accelerate the delivery of services such as permits. Thus we applaud the expected online system for permits nationwide that kicks off in March, a crucial attempt to end decades of abuse by officials.
Heru was rewarded for his commitment to good governance within the Directorate General of Customs and Excise, long perceived to be a major center of corruption within the government. They thus provide examples not only of their own integrity, but also of their innovative approaches to combat systemic and pervasive corruption.
It is easy to overlook similar attempts within the local and national governments amid our daily dose of mega-corruption reports. "No day without corruption" has long become a popular slogan, an expression of frustration at the evil habit blamed lamely, among others, on low salaries or the high cost of elections resulting in debts that must be repaid by elected officials.
In a bid to trace state officials' sources of wealth, the Corruption Eradication Commission (KPK) on Monday launched an electronic wealth reporting system, hoping to end the pattern of ballooning wealth once officials are appointed or elected. The awardees have proven that elected or appointed officials can actually live up to their vows of public office and curb graft, if they are genuinely committed to deliver what is entitled to each citizen.
Topics :
Join the discussions