Commentary: Remembering Khun Surin, an ASEAN people's hero
Jakarta |

Tue, December 19, 2017

| 08:16 am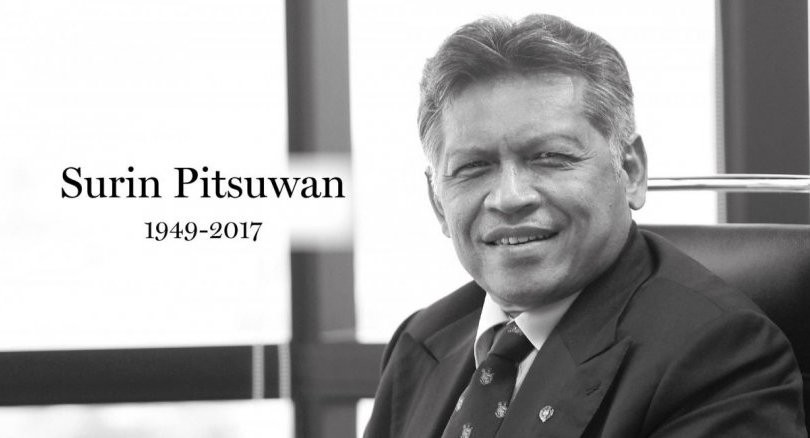 Surin Pitsuwan continued to deliver lectures and speeches at many regional and international fora across the globe to educate people about ASEAN and Southeast Asia, after serving as secretary-general of ASEAN in 2008-2013. (The Nation/ANN/File)
A number of prominent ASEAN figures including Khun Surin Pitsuwan, who formed a group known as the "wise men," were planning to meet in Singapore on Dec. 1 to discuss the Rakhine issue. The Rakhine issue is not merely an isolated problem for the government and people of Myanmar, but an issue for ASEAN as a whole. However, on Nov. 30, we received the shocking news of the sudden passing of Khun Surin because of a heart attack. While the shock and disbelief caused by his departure took two weeks to come to terms with, many thoughts flashed through my mind about the man and what he had achieved for ASEAN.
To me, Khun Surin was a renaissance man, knowledgeable in many fields and crafts as a professor, active as a politician, diplomat and minister, while also serving as a senior international and regional bureaucrat. After serving as secretary-general of ASEAN in 2008-2013, he continued to deliver lectures and speeches at many regional and international fora across the globe to educate people about ASEAN and Southeast Asia, in his effort for the region and its people to be recognized all over the world.
Khun Surin always had the people in his mind and heart. He not only represented Thai people, nor only Thai Muslims residing in Southern Thailand to whom he belonged, but all Southeast Asians as his extended nation. That was why he was appointed the secretary-general of ASEAN.
He displayed this passion openly and vividly. He was a secretarygeneral who paid special attention to the people of ASEAN. He did this by almost immediately appointing scholars close to him, among them M. Rajaretnam from the Singapore Institute of International Affairs (SIIA) as his special advisor and Mely Caballero-Anthony from the Rajaratnam School of International Studies (RSIS) as director for external affairs.
Surin was also close to ASEAN think tanks, including the Centre for Strategic and International Studies (CSIS) Jakarta, which he had cooperated with since he was a scholar, and subsequently as a bureaucrat and politician when serving as the foreign minister of Thailand. He welcomed ASEAN human rights institutions to collaborate with the ASEAN Intergovernmental Commission on Human Rights (AICHR) and serve as the voice of the ASEAN people on human rights.
At the end of his tenure, Khun Surin submitted his proposals on reforming the ASEAN Secretariat to the Indonesian government, as Jakarta is the permanent home of the ASEAN Secretariat. He emphasized in the proposal that ASEAN should be people centered, not only in the ASEAN Charter but also implemented accordingly.
When Cyclone Nargis struck Myanmar in 2008, he endeavored for ASEAN to deliver humanitarian aid and serve as the interlocutor with the international community. It was the first time that the military government in Myanmar consented to open the country to international humanitarian aid. In this effort he closely collaborated with Hassan Wirajuda, the former foreign minister of Indonesia and George Yeoh, the former foreign minister of Singapore.
When the problems in Rakhine resurfaced this year, Surin traveled to Jakarta in early November to discuss the issue at CSIS with prominent Indonesians and the Foreign Ministry. He also traveled around the world seeking support and assistance for Myanmar. He thought that Myanmar, which had experienced hardship under the junta, should receive assistance from all members of ASEAN. Despite some difficulties, the ASEAN Coordinating Center for Humanitarian Assistance on Disaster Management (AHA Center) has been working in Myanmar since Cyclone Nargis wreaked havoc in the country and could be more empowered by ASEAN.
As ASEAN and its people have always been in Khun Surin's heart and mind, they were the central theme of his speeches that he delivered at the Asia-Europe Policy Forum organized by CSIS in Jakarta in early June and in Manila in early August, at the ASEAN think tanks celebration of ASEAN's 50th anniversary and at the ASEAN Media Forum on the same day also in Manila.
When Khun Surin passed away, ASEAN lost a people's hero. He is irreplaceable in that stature.
Khun Surin was an inspirational figure and those among us who have been imbued with the same ideals and spirit should continue his good work that is so important for ASEAN in this transitional period, while the people's participation and support is needed more than ever.
Let us remind ourselves of what Khun Surin has done for ASEAN and its people and continue to strive for an ASEAN-led region, for peace and development with people's support and participation.
With pride, we would call Khun Surin an ASEAN people's hero. We all remember Khun Surin's family, especially his wife Alisa Pitsuwan, who was by his side in all his endeavors for ASEAN. Rest assured that with his good heart and great deeds he is now with Allah in eternal peace.
In all humility we will continue Khun Surin's pursuit for a great ASEAN, for its people and its future.
Disclaimer: The opinions expressed in this article are those of the author and do not reflect the official stance of The Jakarta Post.
Join the discussions