EDITORIAL: ASEAN-India cultural ties
EDITORIAL

The Jakarta Post
Jakarta |

Thu, January 25, 2018

| 08:15 am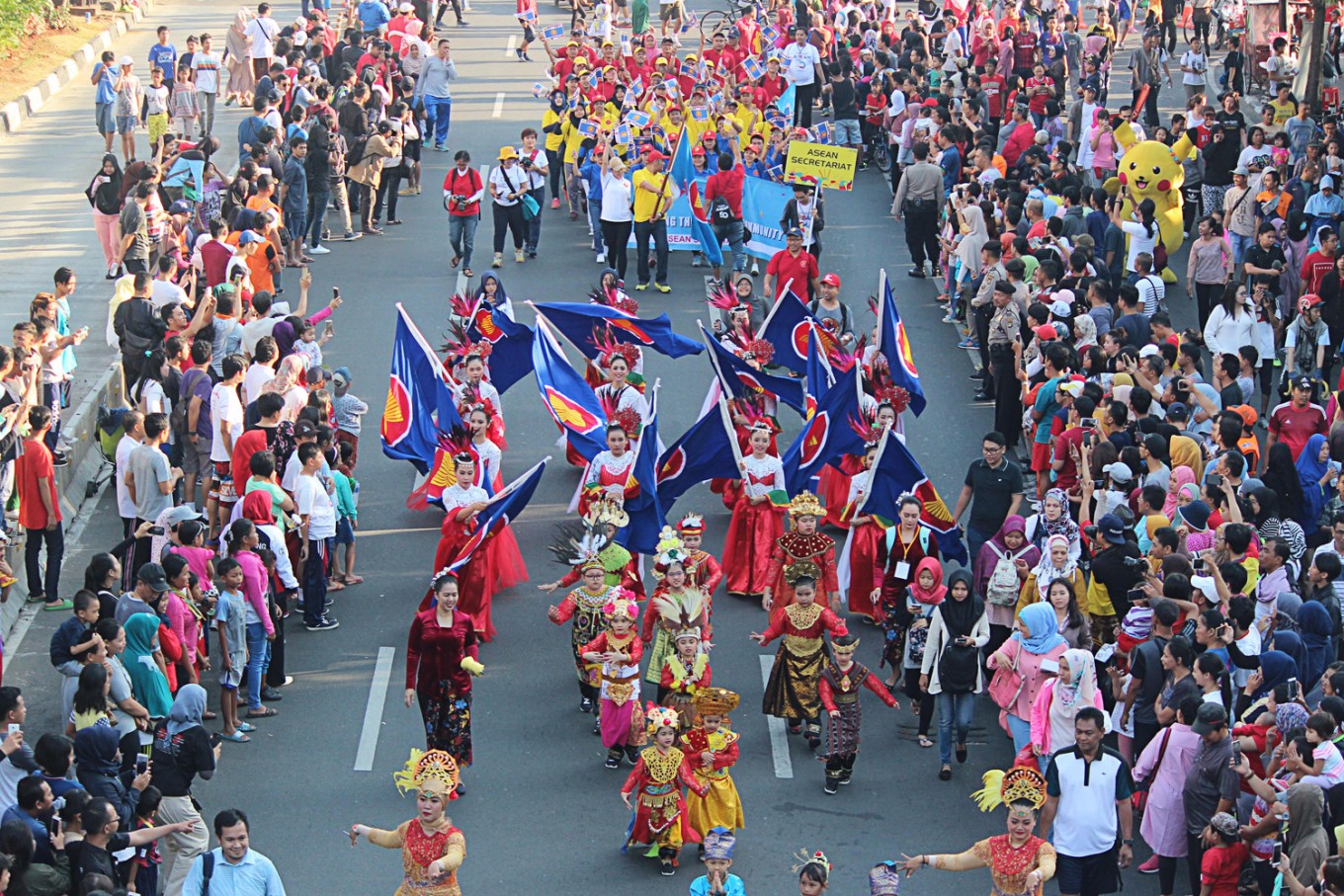 Marching in: People take part in the ASEAN 50 Parade on Jl. MH Thamrin in Central Jakarta. The parade displayed national and traditional cultures from ASEAN member countries. (JP/Ibrahim Irsyad)
The culture and history of Southeast Asia is influenced by India, and also China to a large extent, as a dominant power in the past. India is poised today to regain its former glory, driven by its Act East policy. The policy, first announced by Prime Minister Narendra Modi during the 2014 ASEAN Summit, is an upgraded iteration of the Look East policy of 1992, announced by then prime minister Narasimha Rao. India is now aiming for better engagements with countries to its east, including those of ASEAN, not only in the realm of economics, but also politics and security.
Leaders from India and all 10 ASEAN members states are gathering in New Delhi today (Jan. 25) for the 25th ASEAN-India Commemorative Summit, with big hopes that they will convert cultural ties of over a millennia into tangible mutual benefits. With a population of some 1.2 billion, India is definitely a promising market for ASEAN entrepreneurs and businesses. It will also certainly be challenging.
India still needs to improve not only its infrastructure, which in itself provides investment opportunities, but also its bureaucracy to be more efficient in processing the necessary licenses and permits for foreign investors to operate in the subcontinent.
Meanwhile, ASEAN members are also expecting more Indian companies to enter their markets and flourish together. The ASEAN-India alliance is targeting US$200 billion in bilateral trade by 2020. With the rise of protectionism, however, much work needs to be done to ensure stakeholders that foreign investment is not all bad. Governments need to balance their national interests with the need to open their markets toward economic growth.
India is maintaining a benign stance with respect to other countries' sovereignty and their respective needs. A similar approach is also taken in the political and security spheres with respect to rule of law, and by adopting peaceful means to resolve problems such as border disputes.
State leaders are also expected to raise various security issues at the Summit, ranging from counterterrorism to maritime security. India stresses that ASEAN countries are its immediate neighbors, and therefore closer cooperation is only natural, especially in maritime security.
Like Indonesia's recent doctrine of "global maritime fulcrum," India has its own maritime policy called the sagarmala, or "ocean garland," which focuses on improving access to ports. With its catchphrase of "port-led prosperity," the Indian policy joins port operators with railway networks for better connectivity in transporting goods and passengers.
India has also affirmed its recognition of ASEAN's unity and centrality in maintaining security and prosperity in the Indo-Pacific region. ASEAN countries must, however, come to terms and unite under the ASEAN flag to achieve its vision of "One ASEAN, One Community." Once ASEAN members unite, there is nothing to stop them from reaching shared prosperity with India, as exemplified by the Summit's theme of "Shared values, Common Destiny".
Join the discussions