Ahead of 10th birthday, ASEAN rights body fails to evolve
Yuyun Wahyuningrum

Ph.D. researcher at the International Institute of Social Studies, Erasmus University Rotterdam in The Hague
The Hague |

Tue, February 6, 2018

| 02:47 pm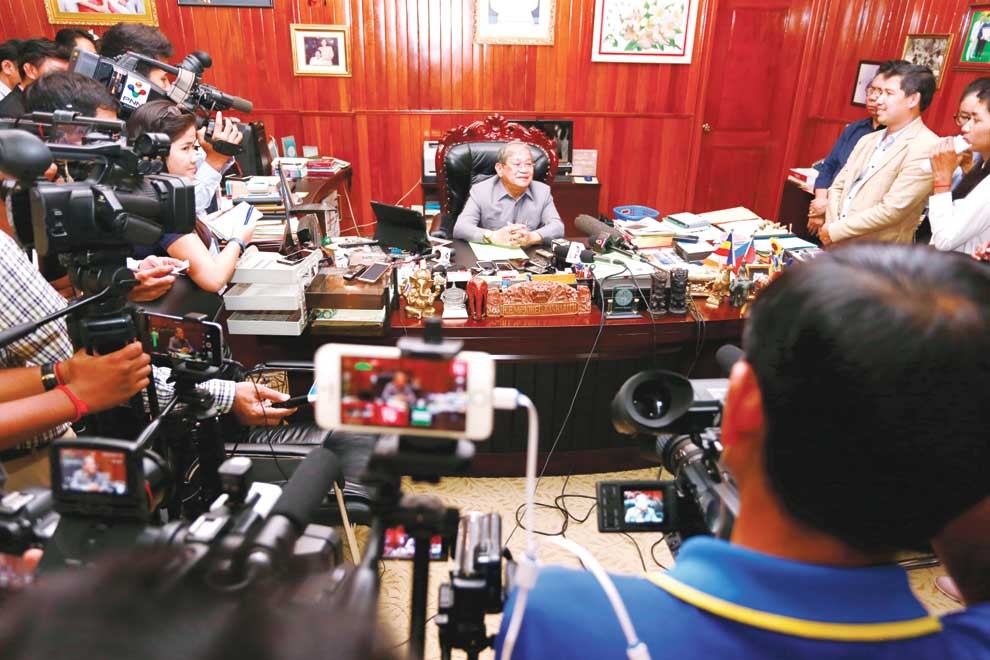 Cambodia Ministry of Information official talks to the press on the government's decision to shut down 15 radio stations across the country including independent broadcasters. (The Phnom Penh Post/File)
Southeast Asia's human rights have been deteriorating in the past ten years or more. In Cambodia, Laos, Malaysia, Singapore and Vietnam, freedom of expression, opinion, assembly and press freedom have been suppressed by the government. More people were arrested for posting content on social media and news websites were censored. After the coup of 2014, Thailand joined the club and arrested opposition politicians, harassed political activists, as well as restricting academic freedom. In Myanmar, the military's operations since 2016 have forced more than 680,000 Rohingyas to free, raising condemnation against their "ethnic cleansing".
The United Nations (UN) special rapporteur on extrajudicial, summary or arbitrary executions, Agnes Callamard, has been vocal about allegations of systematic executions in the Philippines as part of President Duterte's war on drugs that allegedly killed over 12,000 people over the last 18 months. Moreover, journalists in the Philippines have been restricted, harassed and killed. Some media outlets are subject to a series of intimidation by the state; the license of the Rappler online media outlet was revoked. In Indonesia, religious, ethnic and sexual minorities continue to face discrimination and intimidation.
But the ASEAN Intergovernmental Commission of Human Rights (AICHR), which turns 10 years old next year, and established to promote and protect fundamental freedoms, remains paralyzed. Set up in 2009, it remains bound by its guidelines to be "non-confrontational" and refrain from interference in the affairs of member states, in line with ASEAN's eternal doctrine.
Since AICHR's inception, observers continue to argue that half a loaf is better than no loaf -- while the rest insist to have the whole loaf, otherwise it's no loaf at all.
But the deed is done. It is now high time to develop the "evolutionary approach that would contribute to the development of human rights norms and standards in ASEAN" as stipulated in the terms of reference of the AICHR.
While there is no definition about "evolutionary approach", its expected outcomes were clarified in an ASEAN 2009 declaration on the Intergovernmental Commission on Human Rights: to balance the promotion and protection mandate of the AICHR, among others. This implies the assumption that an evolutionary approach is a linear and one-way process towards institutional change.
Yet it is misleading to assume that evolution implies a clear, consistent, and progressive pattern or a linear change toward a credible human rights system. In contrary, an evolutionary approach should be dynamic; efforts and its outcomes can proceed toward progression, regression or something in between.
The AICHR needs a framework, mechanism of change and tools to identify the vexing problems confronting "evolution".
However, there seems to be no consensus on what kind of human rights commission the AICHR should become in the long term among actors, such as the member states, civil society and the AICHR representatives themselves.
The role of the representatives is key to the evolution, particularly to creatively interpret their functions, explain the complexity of decision-making, and establish practices towards protecting human rights in the region.
Yet often states assign seemingly conservative officials or individuals with no expertise on human rights to effectively hamper progress of the AICHR by reducing activities, minimizing the quality of its work, restricting its rules and thus further isolating it from the people and the international community. Consequently, the role of member states cannot be underestimated in dictating AICHR's performance.
There have been some efforts to push AICHR to go beyond its limits. In consecutive communiqués of 2015 and 2016 for instance, the ASEAN Foreign Ministers requested AICHR "to engage more in current human rights challenges in the region". But there was no concrete follow-up from AICHR to respond it and unfortunately, the foreign ministers didn't seem to mind either – their 2017 joint communiqué lacked a similar request.
Thus the AICHR skipped the best entry points to address the pressing human rights violation against Rohingya. At least AICHR should have immediately denounced the long-standing discrimination and persecution against them. If expressing such a stance as a collective was not yet possible, individual representatives could still do so.
We face increasingly greater risks when such alleged crimes against humanity in the region or elsewhere remains unchecked. The AICHR's silence sent the message that each individual living in ASEAN can be the object of persecution on the basis of his or her group affiliation or other identity.
The AICHR's inactivity on human rights issues reveals how its "evolution" is obstructed by its own limits and state controls, but also the sheer lack of political will and interest of the AICHR itself.
Therefore, civil society's persistence to expose the work of AICHR becomes crucial to push evolution toward an independent protective human rights commission. For the evolution to be successful, it should be open, inclusive and participatory.
The ASEAN Human Rights Declaration (AHRD) was claimed as a milestone in the evolution. Nevertheless, AICHR does not use it as a point to evolve or link it to its mandates. As a matter of fact, in implementing AICHR's mandate on providing advisory services for member states the body can prepare advisory notes to guide the realization of, let's say, the right to adequate and affordable housing.
The AICHR's five-year work plans (2010-2015 and 2016-2020), tell us very little on the commission's vision on human rights protection. A result-based framework would allow AICHR and the public to measure its achievement from time to time.
Finally, no institutional change can progress in one night. But AICHR can first act independently from the states and second, be responsive to human rights issues in the region. Let the victims know that AICHR acknowledges the suffering and stands by their side. The AICHR that really impacts people's lives is the commission we all want.
***
The writer is a Ph.D. researcher at the International Institute of Social Studies, Erasmus University Rotterdam in The Hague, The Netherlands. Her research focuses on the politics of resistance against international norms on human rights in ASEAN. She is also a senior advisor at the Human Rights Working Group in Jakarta.
---------------
We are looking for information, opinions, and in-depth analysis from experts or scholars in a variety of fields. We choose articles based on facts or opinions about general news, as well as quality analysis and commentary about Indonesia or international events. Send your piece to [email protected]
Disclaimer: The opinions expressed in this article are those of the author and do not reflect the official stance of The Jakarta Post.
Topics :
Join the discussions