Commentary: Dubious claims, unachievable targets risk children's health
Elly Burhaini Faizal

The Jakarta Post
Jakarta |

Thu, February 8, 2018

| 08:22 am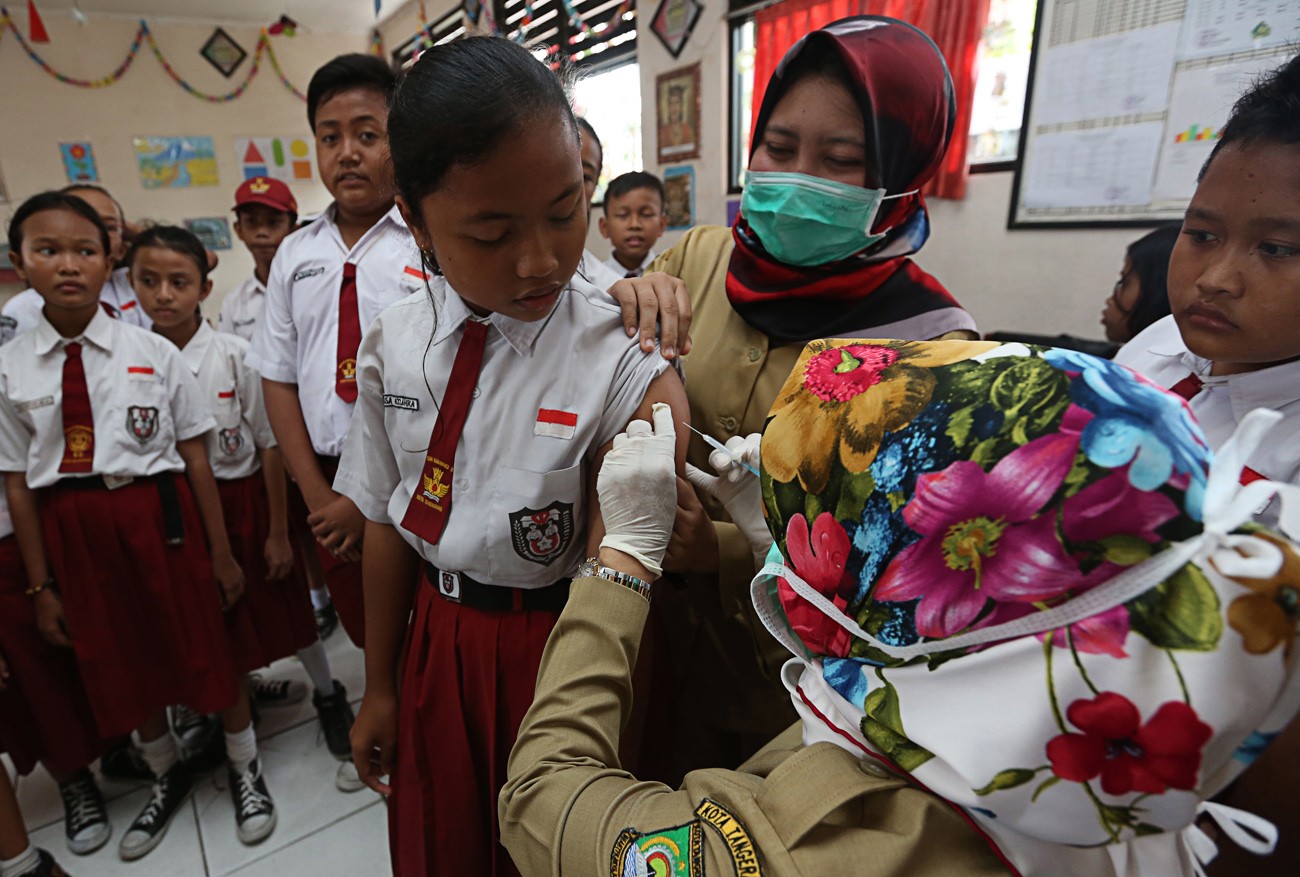 Stay healthy: A health worker from the Tangerang Health Agency injects the anti-diphtheria vaccine to a student of elementary school SD Karawaci 3 in Karawaci, Tangerang, Banten, on Dec.11. (Antara/Muhammad Iqbal)
People were in disbelief when the Health Ministry announced in early December that a record number of diphtheria cases, 656 cases including 30 deaths, had been recorded in 19 provinces. By the year's end, 954 diphtheria cases, including 44 deaths — 4.61 percent of total cases — were recorded across 30 provinces. Twenty new diphtheria cases were recorded in five provinces between Jan. 1 and Jan. 13.
With our higher density population compared to other countries that had reported diphtheria outbreaks, such as Brazil, India, Russia and South Africa, Indonesia's current outbreak is feared to be the world's largest outbreak of the bacterial infection in recent times.
Worse, diphtheria has quite a high mortality rate, reaching 20 percent of cases for patients aged under 5 and over 40 years. The disease causes a thick membrane to develop in the back of the victim's throats, causing troubles swallowing and breathing, while severe infections can lead to nerve damage.
The massive outbreak was shocking, as vaccines against diphtheria are among the basic immunizations the Health Ministry administers and had claimed to cover 93 percent of the targeted child population in 2015. But warning signs emerged last October with a number of areas recognized to have low immunization coverage for basic vaccines; before on Jan. 24 the ministry revealed that nationwide coverage for basic immunization was low, at only around 70 percent of the entire population. Bacteria and viruses can move quickly to affect the population when the vaccination rate is below 95 percent nationwide, experts say.
The ministry has ruled that infants aged 12 months and under must receive basic immunizations to protect them from infectious diseases that are preventable through vaccination.
So how could the rapid transmission of diphtheria occur after the government had claimed that over 90 percent of children had received basic immunizations by their first birthday?
In 2007, it was claimed that 90.6 percent of the targeted number of children had received diphtheria, pertussis and tetanus (DPT) vaccinations, a figure which increased to 100.9 percent of the target in 2012, before dropping to 93.1 percent in 2015. How the government later claimed to have only achieved 70 percent coverage within the total population remains unclear.
Meanwhile, the government is stretching its resources as it seeks to achieve over 95 percent of its measles and rubella child immunization target later this year — while it also continues the Outbreak Response Immunization (ORI), the program at the heart of the government's efforts to curb diphtheria.
What is clear is that multiple outbreaks have occurred in Indonesia over the past decade. An extraordinary occurrence (KLB) of polio was declared in 2005 after an 18-month-old child was confirmed to have contracted a type1 wild poliovirus. Earlier no patients had been tested or reported as having contracted the wild poliovirus since 1995. The disease later spread at an alarming rate to 10 provinces. As many as 349 polio incidences, including 46 vaccine-derived poliovirus cases in Madura, East Java, were reported in April 2006.
In 2012, 762 diphtheria cases including 29 deaths were reported in East Java, up from 664 cases including 20 deaths the previous year.
Poverty has been blamed as a key contributor to Indonesia's outbreaks of infectious diseases. Suspicion of the safety and quality of vaccines and vaccine rejection has also tended to rise as religious-based teachings that ban immunization become more prominent.
Yet pockets of antivaccine sentiment are likely only a small contributor to such outbreaks — while limited access to basic immunization services and inadequate immunization supplies at many community health centers remains an unresolved issue.
The government's earlier claims of achieving almost 100 percent of its immunization target, despite the repeated outbreaks, clearly shows a glaring flaw within the nation's health system. The diphtheria outbreak demonstrates the negative impact of the government's prioritization of earning popularity without learning from the fatalities caused by the outbreaks.
The first stage of the ORI in Banten, Jakarta and West Java on Dec. 11 was followed by a second stage that included eight additional provinces on Jan. 11. The ORI will be completed in July, before the Asian Games are held from Aug. 18 to Sept. 2 in Jakarta and Palembang, South Sumatra, which have both declared diphteria outbreaks.
But does the government have the resources to hold three stages of the ORI in 30 provinces while it also prepares for the second stage of the measles and rubella (MR) immunization program, scheduled from August to September outside Java?
Special attention also needs to be paid to the measles outbreak and malnutrition in Asmat, Papua, where an emergency status continues for both health problems since October. As of Jan. 23, 600 children in Asmat were reported to suffer from measles and malnutrition, with 67 recorded to have died.
The achievement of last year's MR vaccination target was an outstanding effort by the government. But why stress reaching over 95 percent of the MR vaccination target, while diphtheria, tetanus and polio remain rampant?
After decades of free government-sponsored DPT vaccinations, Indonesia should no longer experience outbreaks of vaccinepreventable diseases.
President Joko "Jokowi" Widodo belatedly called for swift action to curb the diphtheria outbreak on Dec. 27 — after 11 provinces had declared diphtheria outbreaks from October to November.
We will remain highly vulnerable to future outbreaks unless effective steps are taken to deliver immunization services, along with a continuous campaign to increase public awareness on the importance of vaccines for preventing deadly infectious diseases.
Join the discussions