Q&A: What you need to know about Ahok's case review petition
Moses Ompusunggu

The Jakarta Post
Jakarta |

Wed, February 21, 2018

| 09:43 am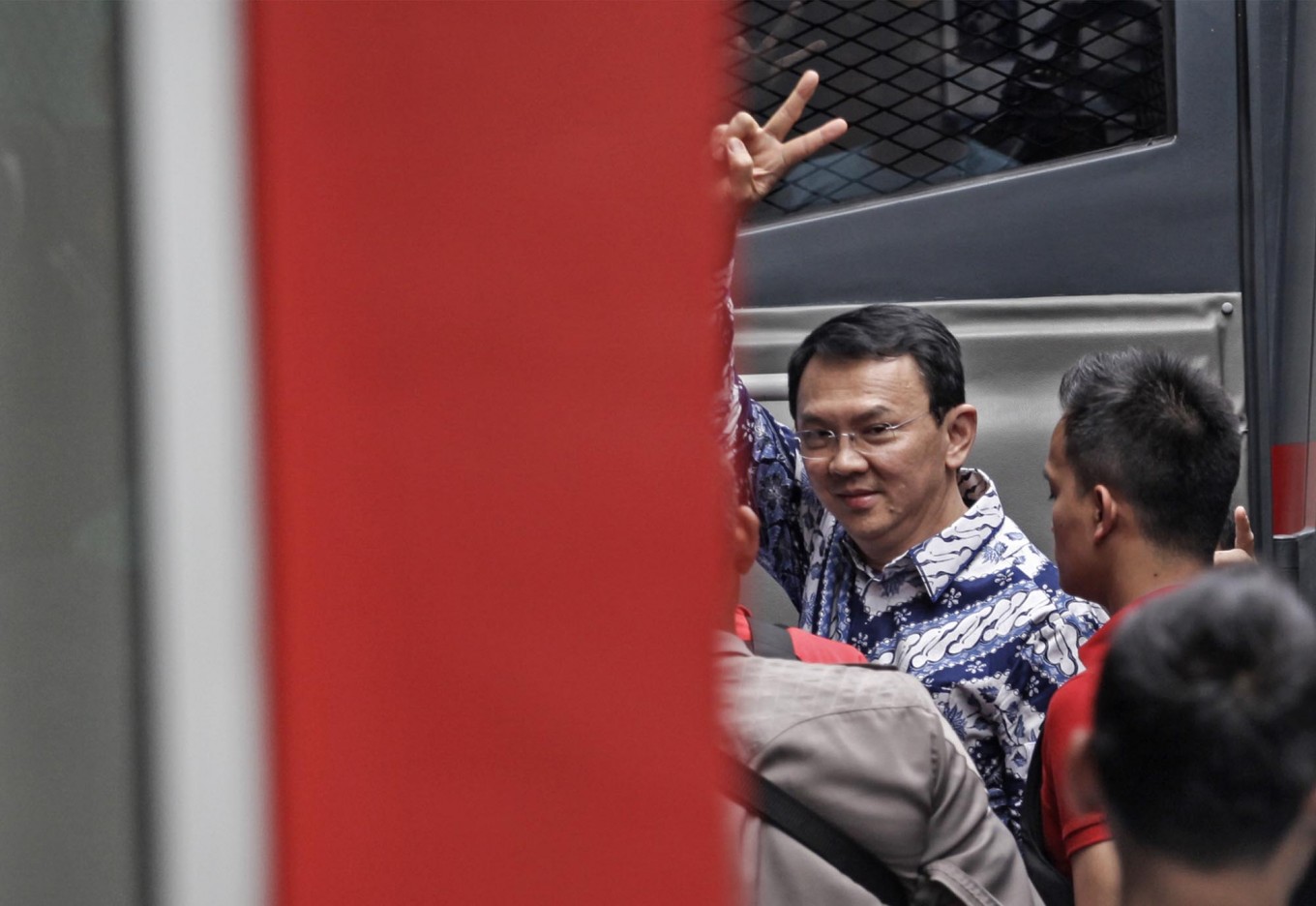 Former Jakarta governor Basuki "Ahok" Tjahaja Purnama flashes the victory sign before being transferred to the National Police Mobile Brigade (Brimob) detention center in Depok, West Java, on May 9, 2017. (Antara/Ubaidillah)
Former Jakarta governor Basuki "Ahok" Tjahaja Purnama is back in the spotlight following reports that he has requested a case review pertaining to his controversial blasphemy conviction with the Supreme Court.
Josefina A. Syukur, a lawyer for Ahok, submitted the case review request via the North Jakarta District Court on Feb. 2, Supreme Court spokesman Abdullah said, confirming that the apex court would hear the case for the first time next Monday.
In May last year, Ahok was convicted of blasphemy by the North Jakarta District Court for suggesting that his political enemies had abused a Quranic verse to prohibit Muslims from voting for him. Various Islamic groups, including the Indonesian Ulema Council (MUI), considered his statement blasphemous, however not all Muslims agreed with the opinion.
Human rights groups have condemned the court's verdict against him, calling it unfair and legally flawed. However, Ahok, surprisingly, dropped his plan to appeal the verdict just 13 days after it was handed down.
The case review request is the first, and could be the last, legal attempt by Ahok to challenge his conviction. Here's what you need to know about this legal move.
What is a case review request?
According to the Criminal Law Procedures Code (KUHAP), a case review is a legal attempt that can be taken by a convict, or an heir to the convict, to challenge a final and binding decision on the convict.
Abdul Fickar Hadjar, a criminal law expert from Trisakti University in Jakarta, said a case review could be filed to overturn a ruling made by either a district court, high court or the Supreme Court, as long as it was considered kracht van gewijsde (final and binding).
Ahok did not appeal his conviction by the North Jakarta District Court, making him, therefore, eligible for a case review, Abdul said.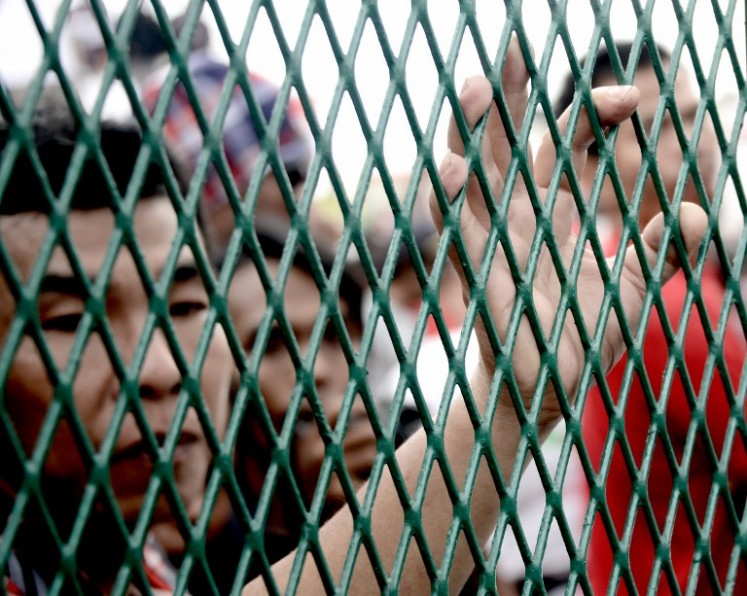 Supporters of Jakarta's governor Basuki Tjahaja Purnama or better known as (Agence France-Presse/Goh Cai Hin)
This, however, could be Ahok's last chance to overturn his conviction.
While the Constitutional Court abolished in 2014 a KUHAP provision limiting a case review request to only one time, the Supreme Court had been defiant, having issued a circular in 2015 reinstating the limitation.
The 1985 Supreme Court Law stipulates a number of reasons that can be used by a defendant in requesting a case review, such as the presence of either new evidence or a new circumstance.
A defendant could also request a case review if he or she believed an error was made by judges during the trial for the challenged ruling.
What is the reason behind the case review request move?
It is unclear as to why Ahok has decided to challenge his conviction now, when he has served nearly half his prison sentence. However, a North Jakarta District Court spokesman said Ahok's legal defense team was using the legal conviction against Buni Yani, a communications lecturer found guilty of tampering with video footage of Ahok's speech that was used as evidence to lodge the blasphemy allegations against the former Jakarta governor, as the basis for the case review request.
In November last year, the Bandung court found Buni guilty of breaching Article 32 of the 2008 Electronic Information and Transactions (ITE) Law, which prohibits people from illegally changing, adding or cutting electronic documents belonging to other people or the public.
Buni selectively edited a video in which Ahok, who was then running for reelection, warned a group of fisherfolk in Thousand Islands regency about people who used Quranic verses for political gain.
The judges handling his case acknowledged the fact that three other people had also uploaded a part of the video before Buni did on Oct. 6, 2016. However, the judges argued that it was his posting on Facebook that triggered social unrest, including a series of massive sectarian rallies against Ahok that ended with his prosecution.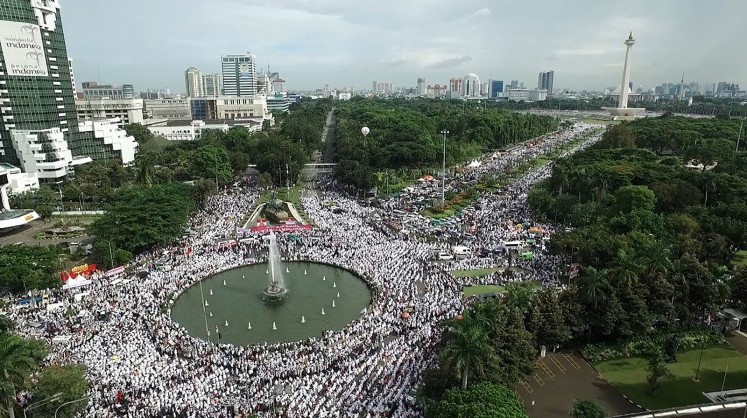 This aerial view shows Indonesian Muslims gathering at Jakarta's National Monument Park as part of a rally against Jakarta's Christian Governor Basuki Tjahaja Purnama, better known by his nickname Ahok, on December 2, 2016. More than 100,000 Indonesian Muslims protested on December 2 against Jakarta's Christian governor, the second major demonstration in a matter of weeks as conservative groups push for his arrest on accusations of insulting Islam. (AFP/File)
However Abdul, a Trisakti University criminal law expert, said the Buni verdict could not be considered "evidence for new circumstances" to back the case review request, as the decision had yet to be declared final and binding. Unlike Ahok, who refused to appeal his initial verdict, Buni has reportedly considered filing an appeal with a high court to challenge his criminal sentence.
According to the KUHAP, Buni also has the right to file another appeal with the Supreme Court if his first appeal attempt is rejected by a high court.
Ahok's lawyers have remained tight-lipped about whether they have new evidence or could point out error in the district court ruling to back up their petition.
According to the initial sentence, when will Ahok be released from jail?
May 2019. A lawyer for Ahok, however, has claimed that his client could be released sooner.
I Wayan Sudirta, the lawyer, said as reported by tribunnews.com last December, that Ahok could be released from jail in August 2018, taking into account the remission Ahok receives while serving his sentence.
A Christian of Chinese descent, Ahok received remission of 15 days on Christmas, Wayan said. The lawyer also expected Ahok to receive another remission during the country's independence day celebration on Aug. 17, which he said could amount to two months.
Ahok may also receive another remission if he "shows good behavior while serving his sentence, provides services to the country, or is helpful to fellow convicts," he said.
What if the Supreme Court accepts the case review request?
If the Supreme Court grants the case review request, it may pave the way for him to make a political comeback.
A survey by Jakarta-based pollster Indikator Indonesia last September found that Ahok was a front-runner for vice presidential candidacy should President Joko "Jokowi" Widodo seek reelection in 2019.
However, two regulations could potentially bar Ahok's potential bid for public office in the future: the 2008 State Ministry Law and the 2017 Election Law.
The two regulations stipulate that a person either appointed a minister or a candidate for either president or vice president, respectively, must never have been sentenced to jail by a final and binding court decision for committing a crime that carries a maximum sentence of five years.
While Ahok is serving a two-year sentence, the North Jakarta District Court sentenced him using Article 156a of the Criminal Code (KUHP) on blasphemy, which carries a maximum sentence of five years.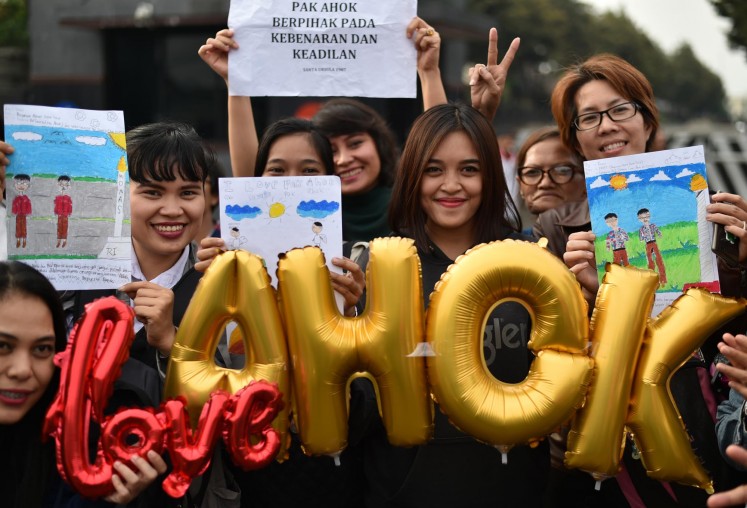 People attend a rally outside the police headquarter jail in Jakarta on May 10, 2017, to show support for Basuki Tjahaja Purnama -- known by his nickname Ahok. Indonesia is facing renewed calls to repeal its controversial blasphemy law after the jailing of Jakarta's Christian governor, with critics pointing to a sharp increase in its use to target minorities. (AFP/Bay Ismoyo)
As of now, Ahok has not publicly announced his intention to return to politics. Gembong Warsono, a politician from the Indonesian Democratic Party of Struggle (PDI-P), which backed Ahok's 2017 reelection bid, said in December that the former Jakarta governor no longer had the desire to join a political party.
An acquittal, however, may change Ahok's mind.
Join the discussions