EDITORIAL: Reform toward a virtuous circle
EDITORIAL

The Jakarta Post
Jakarta |

Fri, March 2, 2018

| 08:18 am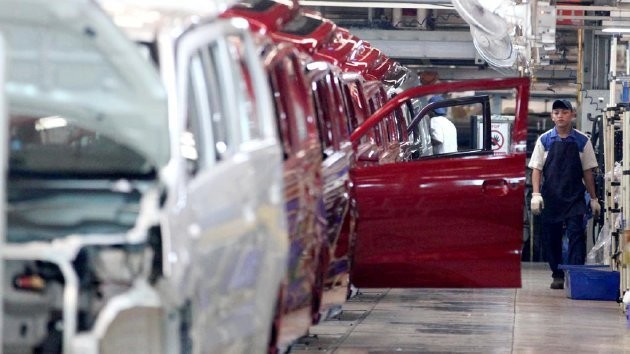 A worker walks in an auto assembly plant in Bekasi, West Java. (Kompas/Totok Wijayanto)
Continued structural reforms and inclusive growth were rightly and timely the main themes of International Monetary Fund managing director Christine Lagarde's speech at the high-level international economic conference in Jakarta early this week. The conference discussed new growth models in a global landscape that was changing as a result of technological advances and the digital revolution.
Lagarde stressed that stating a commitment to structural reforms was not enough; more important was the political courage and persistence to implement reforms and improve policies. Finance Minister Sri Mulyani Indrawati, who also spoke at the conference, fully supported Lagarde, pointing out that continued reform was needed to build confidence and trust in the public and private sectors.
Businesses need stable, transparent, predictable and efficient policy environments and legal frameworks, as well as consistent implementation. The elimination of unnecessary legislative, regulatory and bureaucratic barriers could be the most cost-efficient economic stimulus for the government to woo investment.
Structural reforms, besides physical infrastructure, have been on top of President Joko "Jokowi" Widodo's priority programs, right from the beginning of his administration in late 2014, as evidenced in the 16 reform packages implemented over the past two years and the steady increase in infrastructure investment.
However, the pace of implementing reform and infrastructure has been slower than expected, due to inadequate institutional capacity and the increasingly complex decision-making process within the Indonesian democracy and regional autonomy.
Consistent implementation of policies and regulations is critical for improving investment and growth. Rule of law, public engagement, evidence-based policymaking and the fair implementation of regulations across businesses are key for improving the investment appetite.
As the experiences of many countries have shown, uneven implementation of regulations may result in an unfair playing ground for competition and lack of confidence in the law. Effective implementation of structural reforms in the product and labor markets is also vital, and should promote equal opportunity in our economy.
Inclusive growth is also vital to sustainable development. The government has succeeded in reducing inequality, but not as fast as public expectations. Inclusive growth requires improving employment opportunities to all segments of society, providing an environment wherein affordable products are available for all, and enabling an environment in which all have access to public services and are able to contribute to public policy-making.
But instead of shared prosperity, the last two decades seem to have delivered inequality, insecurity and consequently, the rise of inordinate nationalism and populism. Nearly 20 years since the 1998 financial crisis, many people still feel excluded from the fruits of economic growth.
Before the crisis, when the manufacturing sector enjoyed robust growth, jobs and wages were at the heart of the virtuous circle in which wage growth led to increased demand, which in turn fueled investment, employment and higher productivity, and then fed back into higher wages. Therein lies the vital importance of reinvigorating investment in manufacturing for generating more highvalue and productive jobs.
Topics :
Join the discussions