Commentary: Choose more women leaders. It's good for us all
Evi Mariani

The Jakarta Post
Jakarta |

Thu, March 8, 2018

| 08:44 am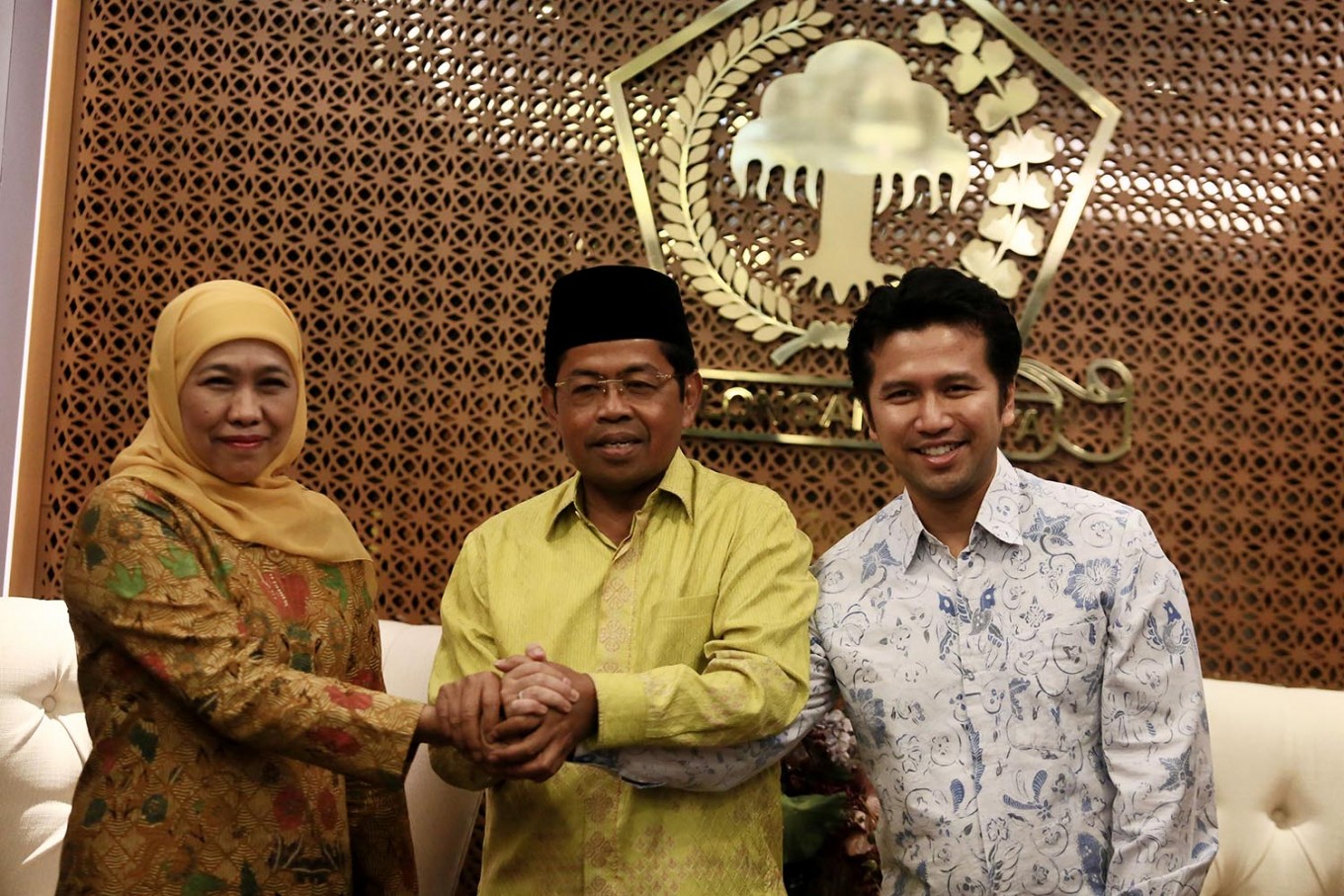 Khofifah Indar Parawansa is running for the East Java gubernatorial office. Having served as women's empowerment and child protection minister she has a track record on women's issues. (JP/Dhoni Setiawan)
Of 1,140 candidates contesting the simultaneous regional elections in June, only 101, or a paltry 8.85 percent, are women. Of these female candidates, 52 are running for deputy positions, which means that if elected they will play "second fiddle" in local decision-making.

Another piece of bad news on women's participation in the upcoming elections is the absence of gender equality and women issues from their platforms, according to the Association for Elections and Democracy (Perludem).

Worse still, some of the female candidates may have got on their tickets thanks, at least in part, to the existence of political dynasties. One example is Sitti Rohmi Djalilah, who is running for deputy governor of West Nusa Tenggara and is the sister of outgoing Governor Muhammad Zainul Majdi.

There are hopeful signs, however. One example is Khofifah Indar Parawansa, who is running for the East Java gubernatorial office. Having served as women's empowerment and child protection minister she at least has a track record on women's issues. Another with such a track record is Ida Fauziyah, who is running for deputy governor of Central Java. Like Khofifah she was a legislator and once chaired the Women's Caucus at the House of Representatives.

There should be more aspiring women leaders.

The recent Women's March in several cities across Indonesia showed that when women speak up and fight, they fight not only for issues strictly relating to women. Their concerns encompass issues anyone should care about: human rights, opposition to violence against women or anyone, labor issues, the rights of lesbian, gay, bisexual and transgender people, child protection, food security, land-tenure issues and the environment.

There have been studies about the huge role women play around the world in contributing to development. Bipasha Baruah of Western University in Canada studied how women's groups in Gujarat, India, calling themselves the Self-Employed Women's Organization, partnered with the public and private sector to develop and deliver housing, water and sanitation programs for low-income urban families.

Baruah and Kate Grantham from McGill University wrote last December inThe Conversation that women's NGOs are changing the world. Grantham herself studies women's NGOs in Tanzania, noting the "role of women's NGOs as intermediaries in development projects".

Sri Wiyanti Eddyono completed her dissertation from Monash University on her investigation into women's roles in urban disadvantaged communities when they were facing eviction threats. Sri said the neighborhood women fought for their land every day. Her study found the women had a bigger role than men because they were more concerned about their children's future.

In August 2016, Azriana, the chairwoman of the National Commission on Violence against Women (Komnas Perempuan), faced the Constitutional Court in a hearing concerning a judicial review filed by The Family Love Alliance (AILA), a group of academics, who filed a petition seeking to outlaw any sexual relationships outside of marriage, including same-sex relationships.

She told the venerable justices that people's sex lives were none of their business.

Komnas Perempuan itself is a state institution that has been diligently monitoring the 2009 regional bylaws perceived as discriminating and promoting intolerance, not only against women. They had listed 421 "discriminatory" bylaws as of July 2017. In the name of religion and morality, the bylaws, frequently inspired by sharia, put not only women at a disadvantage but sometimes other minority groups like non-Muslims, Ahmadis and Shiites.

No other institution has done that, not even the National Commission on Human Rights (Komnas HAM).

It is often alleged, even by many women, that feminists are a group of man-haters. Such an ill-founded assertion arises as a result of cherry-picking and highlighting one or two cases to diminish a whole group of women who actually fight for universal issues.

After all, men fighting for women's rights are still outnumbered, and overwhelmed, by men and women who sideline women. We live in a world where it is much more common to find a woman who fights for both men and women's interests than a man who fights also for women's rights. The world has more Donald Trumps than Justin Trudeaus, and even the latter's feminist credentials are debatable.

The target for female House legislators currently stands at 30 percent and even this has been difficult to achieve. Of course there should be many more women representatives and leaders everywhere, including in regional positions. Men and women should go all out to make it easier for women by removing discriminatory practices and providing facilities for women (and men) who have children.

It would be better for the world because women are more likely to speak up and fight for not only about their own issues but also for those of all humankind.
Join the discussions