Commentary: Zaini Misrin: Unworthy victim in Indonesia's politics of rage
Ary Hermawan

The Jakarta Post
Jakarta |

Tue, April 3, 2018

| 08:08 am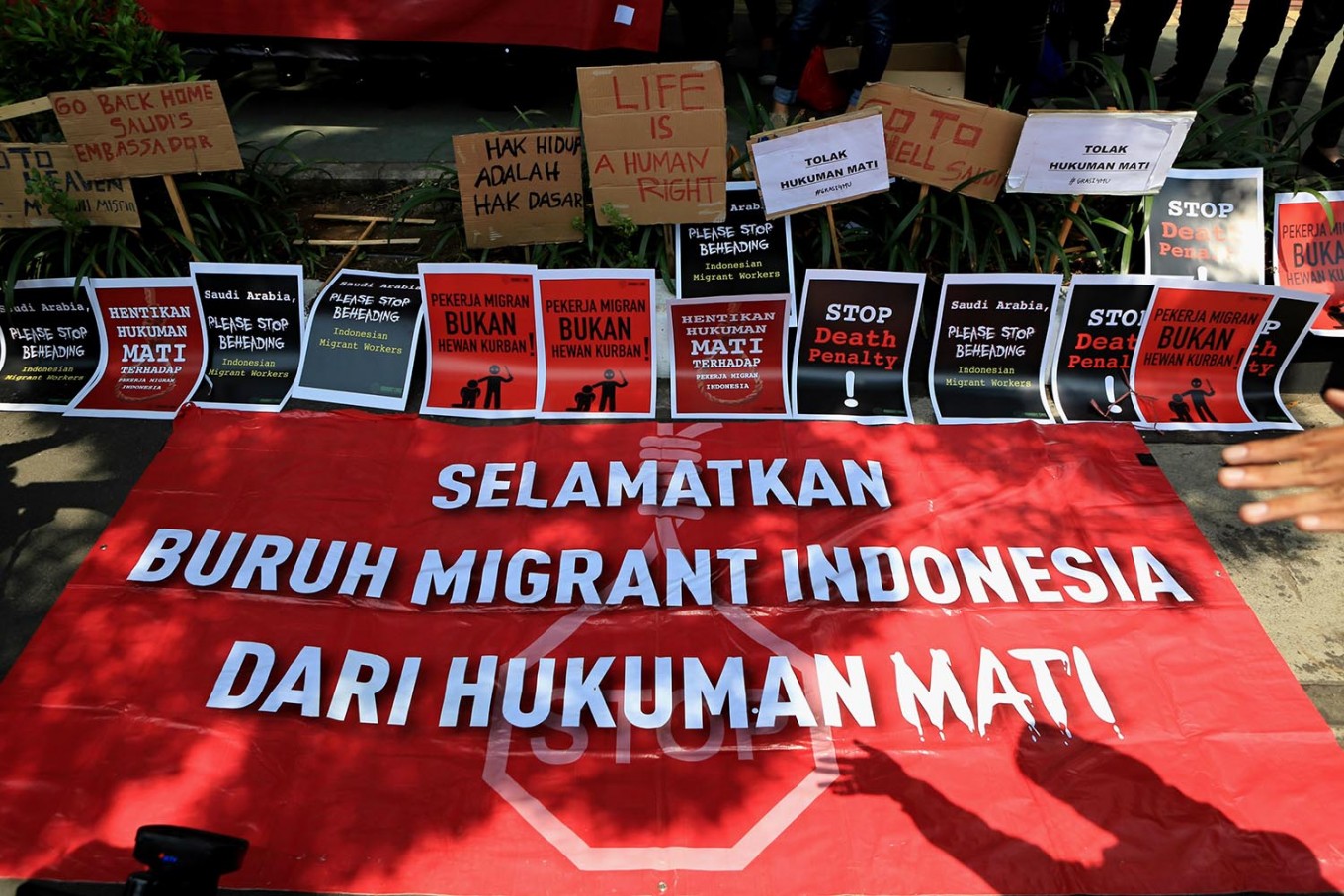 Migrant Care Activist held a rally in front of the embassy of kingdom of Arab Saudi, Jakarta, Tuesday, March 20, 2018. The rally was held to condemn Saudi Arabia's execution of Indonesian migrant worker, M. Zaini Misrin from Bangkalan, for murder despite President Joko "Jokowi" Widodo's repeated pleas that the man be granted clemency. (JP/Seto Wardhana.)
It has been more than two weeks since news broke that Zaini Misrin, an Indonesian driver condemned to death for allegedly killing his employer, had been decapitated in Saudi Arabia.
The window for national outrage is now practically closed, and President Joko "Jokowi" Widodo has yet to say anything about Zaini's death by execution.
For many people, Jokowi's silence is expected. His administration has executed a number of foreigners despite global pleas for clemency, so the President could not take the moral high ground against Riyadh.
Such thinking is not wrong, but it may obscure the possible reason why Zaini's execution seems so oddly inconsequential for Jokowi ahead of his reelection bid: the political cost of ignoring his death is cheap.
If you look closely at Zaini's case, Jakarta has every reason to be angry at Riyadh.
For years, Jakarta has insisted that Zaini was innocent and a victim of a miscarriage of justice. His unannounced execution on March 19 thus came as a shock.
Diplomats at Pejambon, the Foreign Ministry's Central Jakarta headquarters, were quick to detail the government's diplomatic and legal efforts to save Zaini. President Jokowi, for instance, had repeatedly requested clemency, said the ministry's Indonesian citizens' protection director, Lalu Muhammad Iqbal.
"Nearly all legal avenues had been exhausted to free Zaini," he claimed.
Indonesia is obviously upset that it had not been notified prior to Zaini's execution, but this is not its only objection. In a written protest sent to Riyadh, Jakarta questioned why Zaini was beheaded when legal efforts to overturn his conviction were, in fact, still under way.
Indonesia was in the process of filing a case review petition on Zaini's behalf, based on a copy of his dossier that the Indonesian embassy retrieved in late 2016, 12 years after his arrest and eight years after he was sentenced to death.
According to Migrant CARE, Zaini was not provided adequate legal assistance during his trial, only a translator who the NGO claimed was not neutral and had allegedly talked Zaini into confessing to a crime he had not committed. The group said Zaini was only able to contact the embassy after he had been sentenced to death.
Indonesian Ambassador to Saudi Arabia Agus Maftuh Abegebriel wrote an open letter to the deceased Madurese, detailing his last-ditch effort to save him, and his emotional visit to Zaini's grave hours after the execution.
But all this has barely made a dent in Indonesia-Saudi Arabia relations. Jokowi met with a Saudi prince at the State Palace only days after Zaini's execution, and his scheduled visit to Saudi Arabia in May remains intact.
This is possibly because, at the end of the day, Zaini was considered — to borrow from Edward S. Herman and Noam Chomsky — an "unworthy victim" in contemporary Indonesian politics. His gruesome death had failed to trigger a national outrage Jokowi's adversaries could easily exploit to question and undermine his leadership.
Even while Indonesia continues to execute foreign convicts, its citizens often fume at the execution of fellow Indonesians by other countries. The protection of Indonesians abroad has long been a salient political issue, which is why it was made a focus of Jokowi's foreign policy.
In 2013, for instance, Indonesians were angered by Malaysian prosecutors' demand that Indonesian maid Wilfrida Soik be sentenced to death for killing her employer. Then presidential candidate Prabowo Subianto flew to Malaysia to fight for her release in an apparent stunt to win the support of nationalists.
It is therefore telling that Prabowo has been conspicuously silent in the controversy surrounding Zaini's execution.
Unlike Malaysia, a neighbor we love to rile at, Saudi Arabia is rarely a target of Indonesian ultra-nationalists' anger. And there is no way the Islamists, a Prabowo ally and a major opposition force for Jokowi, would politicize Zaini's execution while its top leader stays in Saudi Arabia to escape what they believe is a politically motivated pornography charge.
A recent rally protesting Zaini's execution was attended only by a handful of human rights activists who oppose capital punishment. Zaini's plight, however tragic, could not even incite anger on Twitter or Facebook.
Seen from the perspective of "rage politics", what the Foreign Ministry said about all the things it had done to save Zaini may seem like a redundant attempt at pre-empting a national resentment that never was.
The ministry has said it is not waiting for a reply to the protest letter it sent to Riyadh. "[The protest note] is not correspondence," said ministry spokesman Arrmanatha Nasir. He also made it clear that relations with Saudi Arabia remained good, and "we will not jeopardize the interest of 1 million [Indonesians] there just to express our disappointment".
It is unlikely that the government will ever bring up Zaini's case again in future meetings with Saudi officials. As one senior colleague said, laconically: "He's dead, what can you do?"
Topics :
Join the discussions