EDITORIAL: Government market intervention
EDITORIAL

The Jakarta Post
Jakarta |

Wed, April 18, 2018

| 08:12 am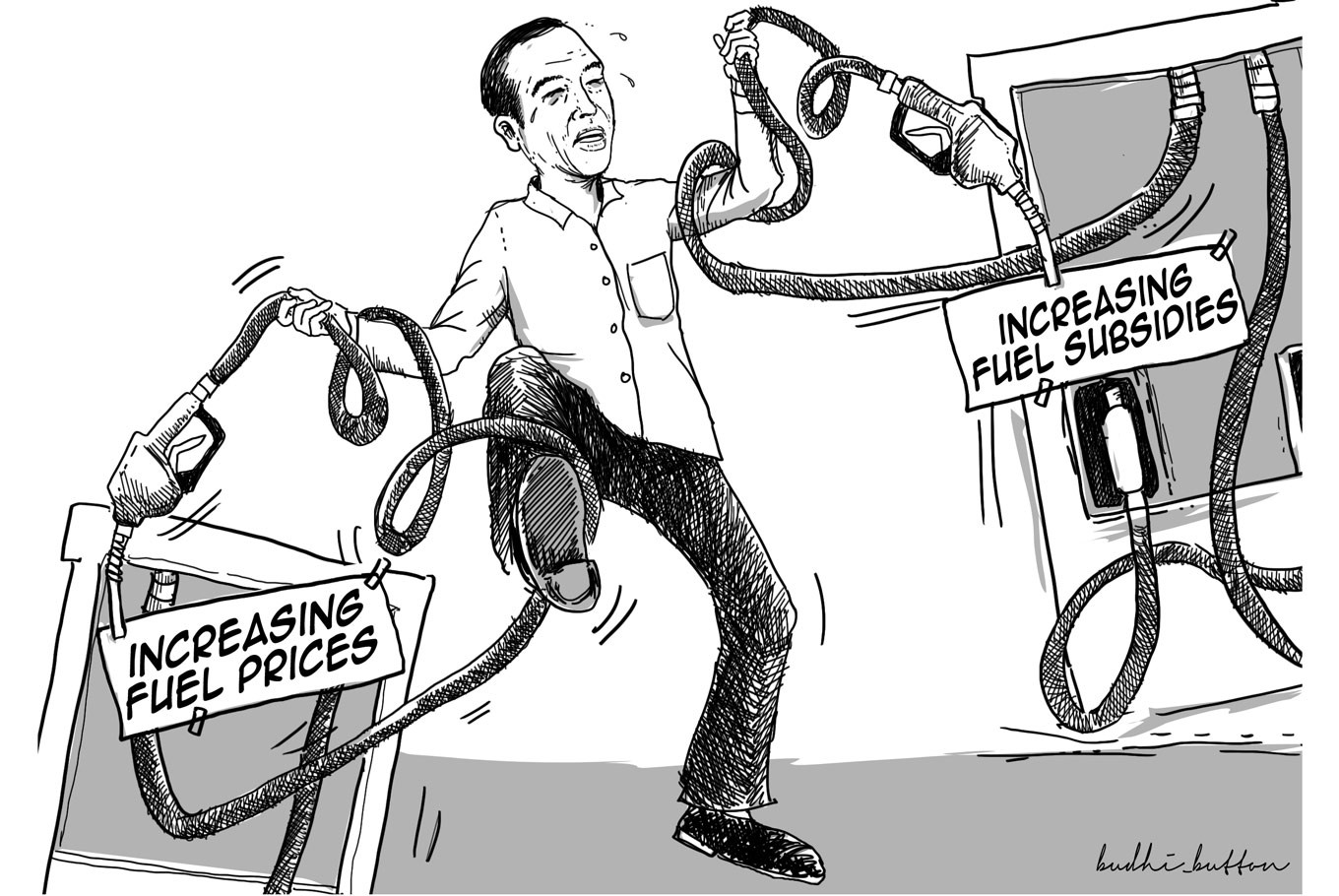 The main trigger for the latest wave of heated debates was the government's recent announcement that fuel distributors can no longer automatically adjust fuel prices along developments in international oil prices, even though the country depends on imports for more than 65 percent of its fuel consumption.  (JP/Budhi Button)
The Indonesian economy has never followed a completely free market system in allocating scarce resources through a price mechanism, under which consumer preferences and spending and businesses' supply chains come together to determine the equilibrium price.

However, business leaders have been complaining about what they view as increased government intervention in the market. The main trigger for the latest wave of heated debates was the government's recent announcement that fuel distributors can no longer automatically adjust fuel prices along developments in international oil prices, even though the country depends on imports for more than 65 percent of its fuel consumption.

Business leaders say that while the government has been going all out to improve the licensing bureaucracy to facilitate startups and business operations, even to the point of offering generous tax holidays and incentives to woo investors to priority industry sectors, at the same time, the government has created uncertainty with its deep market intervention policy. Citing examples, they point to government intervention in the price of rice, sugar, fuels, cooking oils and several other basic needs, as well as toll road rates.

The government has always intervened in public goods and services, whether through taxes, subsidies or price floors and ceilings, whenever it has deemed the market unfair, unable to prevent monopolistic or oligopolistic prices, or has experienced a sudden and massive supply disruption, entirely with the objective of improving economic and social welfare. The government's great concern in controlling inflation is also legitimate because fuel, besides food, heavily impacts the consumer price index.

The problem, though, is that subsidies and a fixed price mechanism may cause market distortion and are often vulnerable to fraud, especially if the capacity of the government institution that manages and oversees market intervention is utterly inadequate.

We believe the controversy has been stirred up not mainly by the government's intervening in the market, but more by the ways the government designed its intervention without proper consultations with the business community. Take, for instance, the controversy over the fuel price adjustment as oil prices tend to fluctuate widely.

Fuel distributors would have had a better understanding if the government had discussed the policy through meaningful consultations with them before it was announced, especially regarding the dilemma the government faces in the energy sector in connection with the Constitutional Court's late 2004 ruling. This ruling mandated that the government could not allow fuel prices to move freely according to free market forces.

Such consultations would have helped fuel distributors understand that the court's ruling requires the government to approve fuel price adjustments to clearly demonstrate that it was the government, not free market forces, that was setting the fuel prices. This should not, however, mean that the fuel distributors can be denied the fair profit margin necessary for the commercial viability and sustainability of their businesses.
Topics :
Join the discussions