Ahead of dogfight rematch, government and netizens must curb polarization
Surabaya |

Thu, April 26, 2018

| 05:27 pm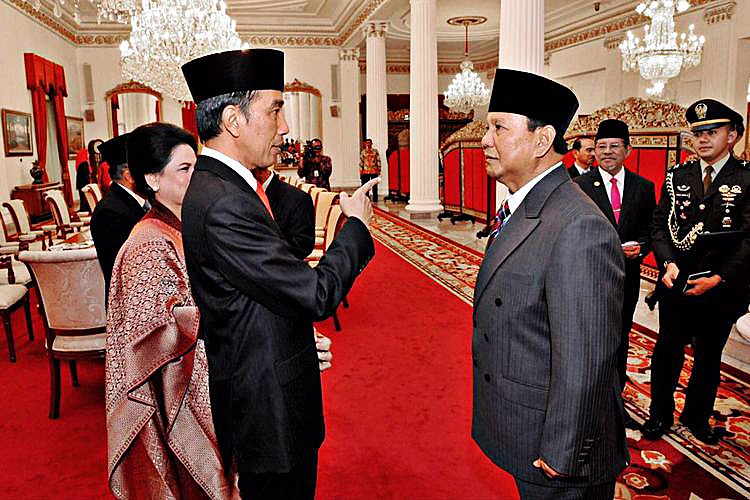 Rivals: President Joko "Jokowi" Widodo (left) talks with Gerindra Party chairman Prabowo Subianto (right) at the Presidential Palace in Jakarta on Oct.16. (Courtesy of the Presidential Office/Agus Suparto)
That Prabowo Subianto accepted yet another nomination from his party Gerindra to challenge President Joko "Jokowi" Widodo in 2019 was not a surprise. As the 2017 Election Law requires any presidential candidate to meet a threshold requirement of being backed by coalition of political parties having at least 20 percent of the seats in the House of Representative or 25 percent of the popular vote in the previous election, it is the Prosperous Justice Party (PKS)which has tentatively agreed to team up with Gerindra. Prabowo, Jokowi's former contender and a former Special Forces army commander, could be above the threshold.
If it becomes a reality, the popular vote slated for April 17, 2019, could become a dogfight rematch between the two foes. We need to care about this as after the 2014 presidential election, Indonesians became more polarized than ever before on their preferred presidential candidates. In social psychology this smacks of group polarization. People with different views keep on disagreeing with one another in a knee-jerk response because they have strongly associated with their ingroup. At best, it's a problem. At worst, it's dangerous.
Such a situation can create a vicious circle in which the more we dislike a certain group, the more negatively we judge whatever they have to say. The more negatively we judge their statements, the more we dislike them and the more we dislike them, the more we negatively we judge their statement. This generalized negative attitude about opponents may be more emotion-based rather than fact-based. This places us in danger of living in silos where whatever stereotypes we have about people from the other side are reinforced more by social agreement and selective attention than by complete understanding of the relevant facts.
It could be worse since we tend to access certain information through social media by deliberately or unwittingly selecting news that we only want to read. According to Pew Research, 61 percent of millennials use Facebook as their primary source for news about politics and government. Our Facebook feeds are personalized based on past click and likes behavior, so we mostly consume political content similar to our views – and gradually we develop a tunnel vision. Rarely will our Facebook comfort zone expose us to opposing views, and as a result we eventually become victims to our own biases.
As many have noted, our digital social existence has turned into huge echo chambers, where we mostly discuss similar views with like-minded peers and miserably fail to penetrate other social bubbles that are often misled by fear and xenophobia. People become narrow-minded in supporting a politician, or avoid politics instead if they feel disgusted. They will be less aware of their political system, less informed and in turn less likely to vote. These are all bad signs for a healthy democracy.
To tackle partisan polarization, we can work on multilayer ideas. At the national political level, the reported "third axis" is a hope to avoid group polarization. The third axis could be an alternative to the way we look at the world. For example, the political parties Gerindra and the Indonesian Democratic Party of Struggle (PDI-P) project different views of the world. Indonesians' opinion about current affairs and their views of the future are sharply delineated by the political party which they support, though many don't support any party. However, any hopes for a third axis depends on the political dynamics in the upcoming months.
At the individual level, citizens should try to be exposed to materials that they would not have chosen in advance. Serendipity is a good thing. Unplanned encounters are central to democracy. It might involve topics and views that people have not sought out and perhaps find quite irritating. Still that might change their lives in fundamental ways. This is important to prevent polarization -- a predictable outcome of any situations in which like-minded people speak only with themselves.
Citizens should also try to have a wide range of common experiences. Without shared experiences, a heterogeneous society will have a much more difficult time in solving social problems. People would tend to see each other as strangers, foreigners, possibly even enemies. Common experiences made possible by social media provide some social glue. "Contact is minimizing bias", as Harvard social psychologist Gordon Allport said.
Last but not least, citizens should improve their literacy to distinguish truth from falsehood, and to know when democratic processes are being manipulated. In democracies, it is fair for people to disagree about what truth is. But if we know people are spreading lies, some process should be in place to enable citizens to access the truth. As policy-makers are pushing the responsibility and accountability of the likes of Facebook, users should also refrain from being so gullible.
***
The writer teaches social psychology at Universitas Ciputra Surabaya.
---------------
We are looking for information, opinions, and in-depth analysis from experts or scholars in a variety of fields. We choose articles based on facts or opinions about general news, as well as quality analysis and commentary about Indonesia or international events. Send your piece to [email protected]
Disclaimer: The opinions expressed in this article are those of the author and do not reflect the official stance of The Jakarta Post.
Join the discussions