EDITORIAL: We welcome foreign workers
EDITORIAL

The Jakarta Post
Jakarta |

Thu, April 26, 2018

| 08:05 am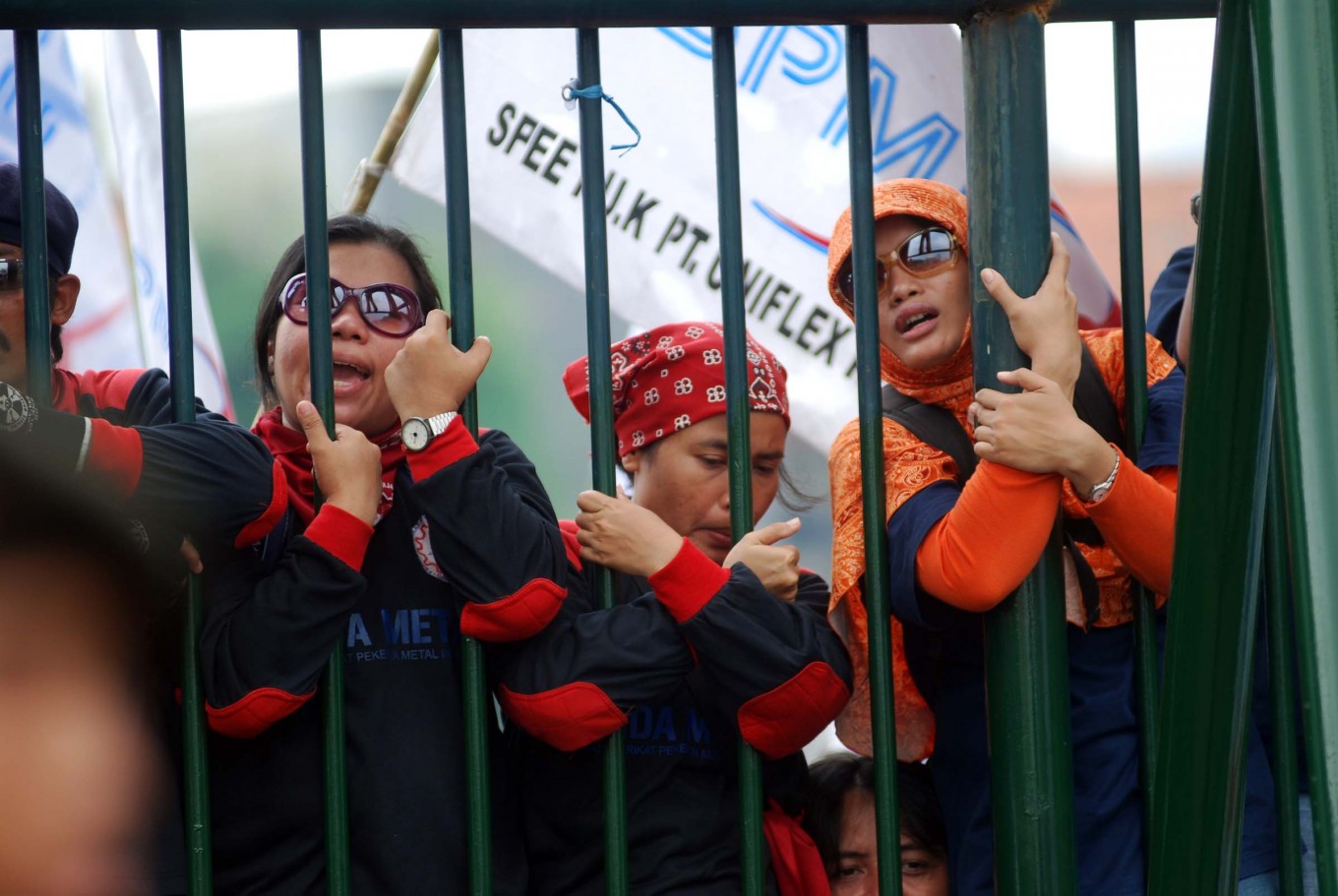 Workers rally to demand for social security and universal health coverage in this photo taken in 2010. (JP/Wendra Ajistyatama)
There are two main reasons as to why Presidential Regulation No. 20/2018 on the employment of foreign workers, which will become effective in early July, has stirred widespread uproar. One reason is that leaders of opposition parties and their supporters tend to assess every government policy through the prism of politics in view of the legislative and presidential elections in April 2019. The second is that the government seemed to be ignorant over the vital need to communicate and market its policies because inordinately high levels of nationalistic sentiment usually rear their ugly head in an election year.
If we peruse the presidential regulation in good faith, we find not a single reason for government detractors to warn of an invasion by foreign workers. The regulation has been designed in large part to expedite the permit process of hiring foreign workers for occupations that cannot be filled by local workers in light of speeding up investment.
The government requires that employers prioritize the hiring of local workers, and only when local workers are not available for particular occupations can foreign workers be recruited for a fixed period of time, according to the requirements set by the manpower minister.
The perception among critics that the Jokowi administration has allowed foreign workers to invade the country is simply misguided, because as the Manpower Ministry said the total number of foreign workers licensed in Indonesia as of early this year was less than 100,000, including foremen, supervisors, managers, senior executives and consultants. This number is negligible compared to the country's workforce of 125 million people.
The number of Indonesian workers overseas, comprising mostly construction and plantation workers and maids in Malaysia, the Middle East, Taiwan, Hong Kong and Singapore, was estimated at 6 to 9 million.
Indonesian maids in Hong Kong alone were estimated at 160,000 and factory and construction workers in Taiwan at around 200,000, while there were only around 25,000 Chinese workers licensed to work in Indonesia. How could we possibly suspect that Chinese workers have invaded Indonesia?
The new regulation obliges companies intending to recruit foreign workers to submit to the Manpower Ministry their Expatriate Placement Plan stipulating the reason, duration, the kind of occupations to be filled and the fixed period time for the transfer of skill to local workers.
However, in case of contingencies or an urgent need for foreign workers to complete work within a certain period of time, employers can have their Expatriate Placement Plan ratified or approved by the manpower minister within two days after their submission.
The presidential regulation has been designed to expedite the permit process of hiring foreign workers, with severe restrictions on the occupations that are open to foreign workers. In any case, commercial rationale requires that investors hire most workers locally.
With greater economic growth comes a greater need for more skilled workers in more categories. Part of this need should be fulfilled temporarily by foreign workers because of the low education levels of most of our workforce.
Join the discussions