The cost of being migrant workers
Illinois |

Fri, May 4, 2018

| 03:17 pm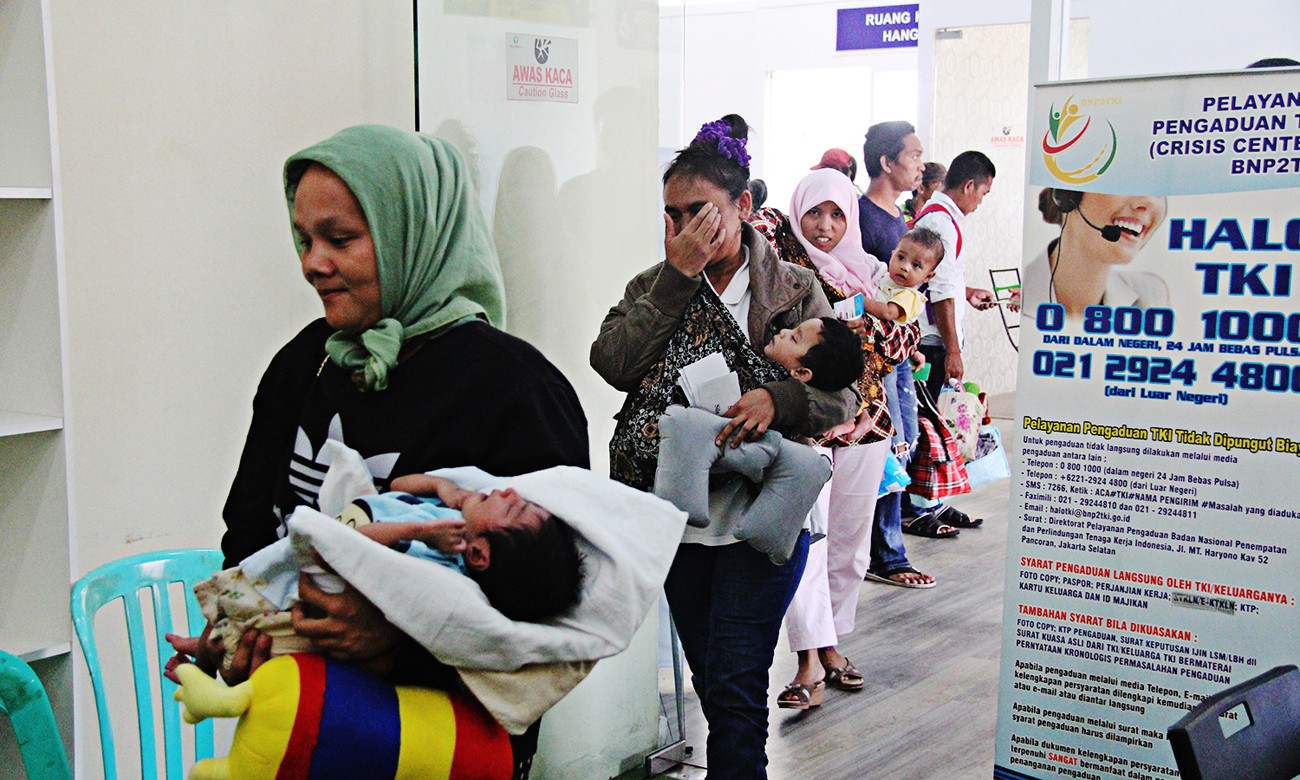 Struggle for life: Indonesian migrant workers deported from Malaysia with their babies and children enter the Indonesian Migrant Workers Placement and Protection post at Pelindo I Dumai Port in Dumai, Riau, on March 8. (Antara/Aswaddy Hamid)
These days social media debates are on the "massive invasion" of foreign workers. Yet we might miss talking about our fellow Indonesians who work abroad: migrant workers. They only show up in the news in the event of them being victims of violence, sexual harassment or being subject to the death penalty for their alleged crimes.
Last year the United Nations ranked Indonesian migrant workers at the 13th position among the 20 top countries of origin of migrant workers. Government statistics showed over 260,000 new migrant workers last year, almost 12 percent higher to 2016. They included 70 percent women; among them 38 percent were elementary school graduates and 33 percent were senior high school graduates. Among them 42 percent were married.
Compared to benefits of working abroad in wages and experience, how worthy is it for them to leave family and children?
Though many seek to escape poverty, some studies reveal that the cost of being migrant workers is not just leaving their family and children, but also, they stake their children's future.
Research by Yao Lu in 2014 stated that children of migrant workers called "left behind children" experienced lower educational attainment than children who live with both parents. The children lack parental supervision and a less conducive home environment or other non-material parental resources. In addition, the left behind children are most likely to develop emotional and behavioral problems due to the absence of the role model in the family.
Recent study by James Ng on labor migration in Indonesia suggests the absence of the mother affects children's height. Thus while migrants seek to improve their lives, lack of education and health of their children decrease the children's chance to secure good paying jobs.
The studies indicate the expensive social cost that migrant workers face in particular for female migrant workers. Theoretically, the decision to be migrant workers should be taken if and only if the benefit of working abroad outperforms its social cost.
The decision to work abroad is not merely the household's decision itself; it is also affected by job availability for applicants of low educational background in the home countries.
The upcoming simultaneous local elections should be used as chance to elect leaders with strong commitment to provide jobs in their regions, to reduce the number of migrant workers and increase women empowerment, given the high cost for female migrant workers in particular and their children, especially in regions where most migrant workers come from.
***
The writer is a graduate student in policy economics at University of Illinois at Urbana-Champaign, United States. Find him through email: [email protected] / [email protected] or social media: https://www.facebook.com/wahyoewisnoewardana
Disclaimer: The opinions expressed in this article are those of the author and do not reflect the official stance of The Jakarta Post.
Join the discussions