Counterterrorism vs rights
Editorial Board

The Jakarta Post
Jakarta |

Fri, May 18, 2018

| 08:01 am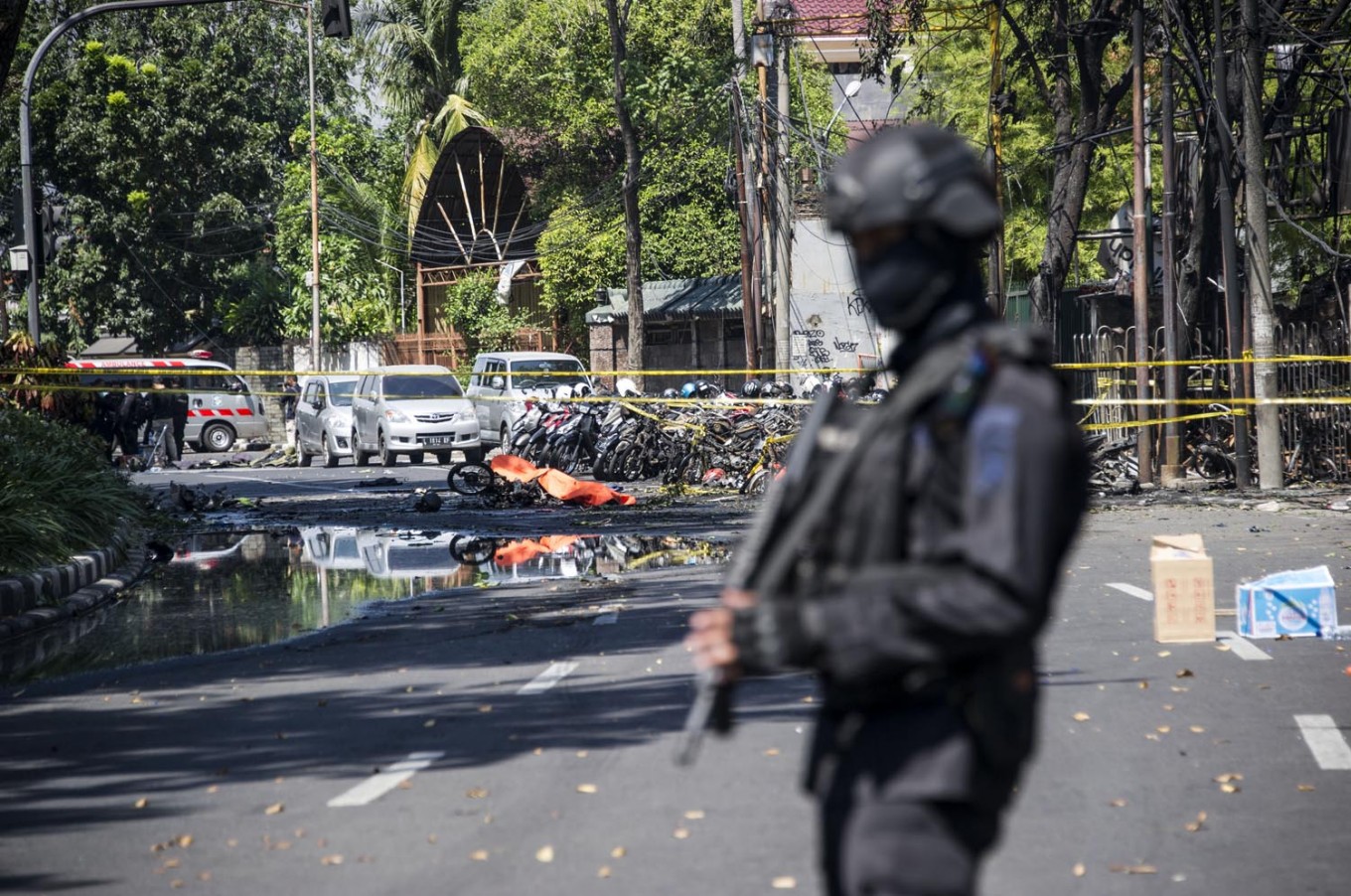 An antiterror policeman stands guard at a blast site following a suicide bombing outside a church in Surabaya on May 13. A wave of blasts struck outside churches in Indonesia, the latest assault on a religious minority in the world's biggest Muslim-majority country. (AFP/Juni Kriswanto)
A series of terror acts in the Jakarta suburb of Depok, East Java's Surabaya and in Pekanbaru, Riau, within the past week have shocked the nation. The attacks have put the country on high alert. The terror acts, which killed dozens of people, including police officers and the terrorists themselves, stunned the nation, whose majority Muslim population was preparing for Ramadhan — the holy fasting month for Muslims worldwide.
The attacks were devastating not only for the victims and their families, but also for the people in general. Worse, the police — who are solely responsible for domestic security — looked unconfident while dealing with such sudden attacks, prompting calls for the Indonesian Military (TNI) to provide support in the fight against terror.
In line with hopes for the TNI to become involved in counterterrorism activities at home, there have been demands for a legal umbrella should the TNI join the fight against terror in the country. Greater TNI involvement in counterterrorism activities has stirred debate among experts and human rights activists, particularly on measures to prevent human rights abuse in the security campaign.
Calls for a legal umbrella for the TNI's involvement in counterterrorism activities have come from a variety of circles, with President Joko "Jokowi" Widodo being the first to ask the House of Representatives to expedite the deliberation of a draft revision to the 2003 Terrorism Law. The amendment has been in limbo ever since the draft revision was submitted two years ago. The President has even threatened to issue a regulation in lieu of law on the Terrorism Law if the House fails to conclude deliberations on the amendment by June.
Besides the necessary constitutional guidelines for the TNI's participation in counterterrorism activities, the planned amendment to the Terrorism Law is also expected to include the reinstatement of the TNI's Joint Special Operations Command (Koopsusgab), tasked with countering terrorism. The initiative originally came from Presidential Chief of Staff Moeldoko, who set up the special command in 2015 when he was the TNI chief. The team, however, was suspended by his successor, Gatot Nurmantyo.
Moeldoko said further tasks of the special command would be discussed between TNI commander Air Chief Marshal Hadi Tjahjanto and National Police chief Gen. Tito Karnavian, with the latter having the final say on whether the police force needs the assistance of the TNI's special team or not. If agreed, the joint team will include well-trained elite personnel of the Army's Special Forces (Kopassus) Gultor Unit, the Navy's Denjaka specialized squad and the Air Force's Bravo 90 special force.
The amendment of the Terrorism Law, which will justify and provide a framework for the TNI's involvement in counterterrorism, promises to help us cope better with the rise in terror acts. Deliberation is important to ensure that no human rights are violated or compromised in the name of national security.
Topics :
Join the discussions