After 20 years, tough road ahead
Editorial Board

The Jakarta Post
Jakarta |

Mon, May 21, 2018

| 08:17 am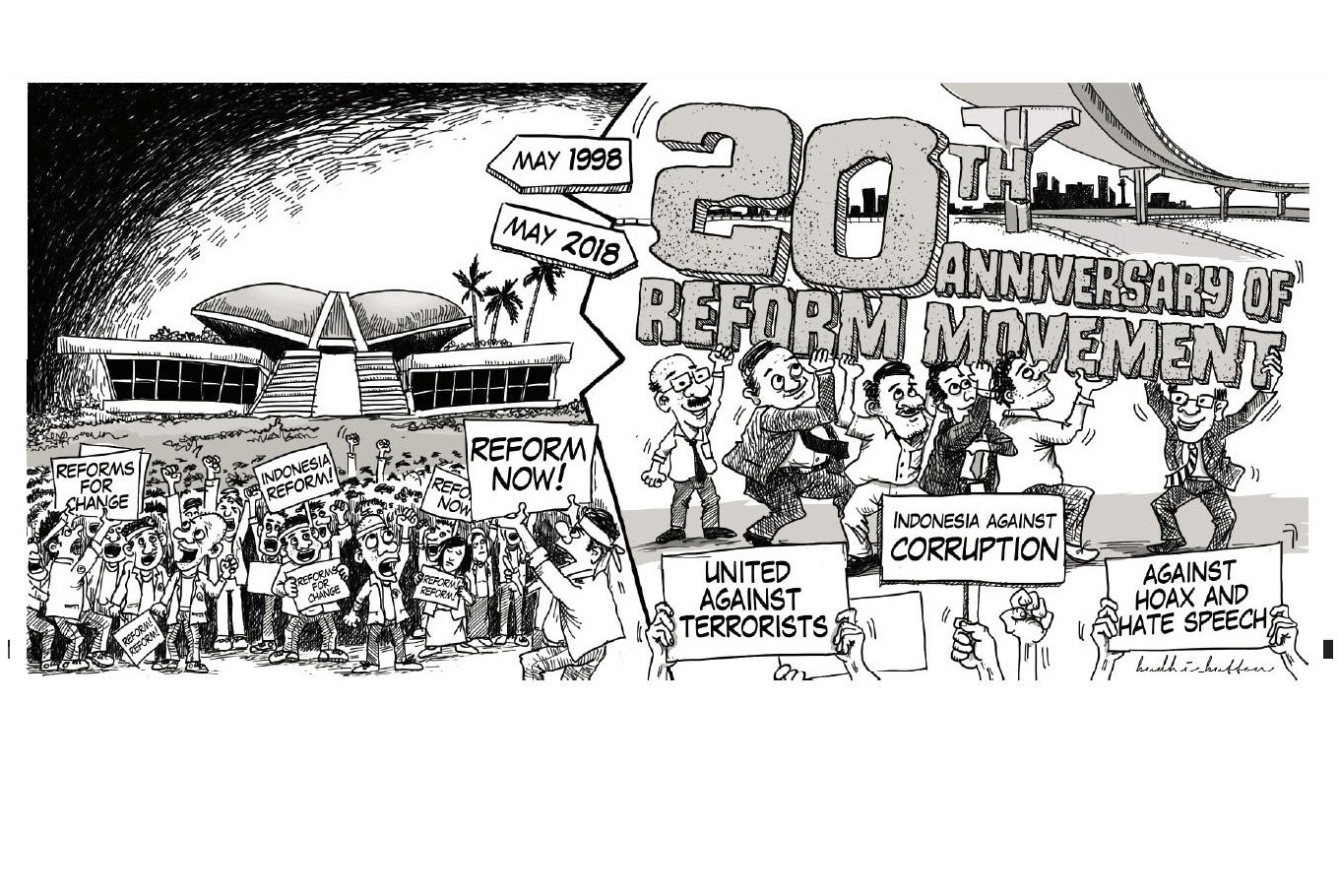 In the timescale of a democratic transition, 20 years is fleeting. (JP/Budhi Button)
In the timescale of a democratic transition, 20 years is fleeting. There are countries that have experienced transition longer than us and slid back into an authoritarian period. A democratic transition is a process and not an endpoint, where countries could rest on their laurels after organizing regular elections and vote for civilians as their president.
After two decades, Indonesia is still going through the process and it has not been a walk in the park. The reformasi movement, which led to the ouster of then president Soeharto on May 21, 1998, was spurred into action by the demand to bring down the New Order regime with all its attendant maladies, corruption being the most paramount.
Two decades later, we're still grappling with the same problem. Some have even gone further, diagnosing that after 20 years we are seeing a new incarnation of the corrupt regime. The country's political system continues to be controlled by oligarchs who owe their rise to the top to patronage given by Soeharto. Some key ministers and close aides to President Joko "Jokowi" Widodo built their career during the end of the New Order and are now capitalizing on their old networks to maintain their stranglehold on the system. Prabowo Subianto, a former son-in-law of Soeharto who rose through the ranks of the Indonesian Military (TNI) in the twilight years of the New Order, is now the strongest contender to challenge Jokowi in next year's presidential election. The Golkar Party, the political machine Soeharto built to maintain his grip on power, is now one of the largest political parties in the country and could determine what the future government of this country looks like.
In much of the economy, those who come from old money and built their business empires on the network of patronage given by Soeharto, remain key players and the effort to push growth cannot succeed without their participation and contribution. Corruption, which mushroomed and thrived under Soeharto, has become more rampant with its deleterious effects posing threats to the economy. We hear news of government officials being arrested for alleged corruption practically on a weekly basis. In April, then-speaker of the House of Representatives Setya Novanto, a New Order holdover, was sentenced to prison for siphoning off funds earmarked for e-ID cards.
It's not all doom and gloom though. The fact that Indonesia now has a president who was once a mayor of a small town and has no ties to the old regime is enough reason to cheer on the gain from reformasi. In the past decade, the country has also organized thousands of elections to elect presidents, governors, regents, lawmakers and councillors, a feat that could seal the country's status as a stable democracy. As strongmen and dictators in the region silence free press and quash opposition, journalists in the country operate with little restriction.
After two decades, the glass is now half full. Three cheers for reformasi.
Join the discussions