Involve women in terrorism prevention
Irine Hiraswari Gayatri

Senior researcher at the Center for Political Studies in the Indonesian Institute of Sciences (LIPI)
Jakarta |

Thu, June 7, 2018

| 09:59 am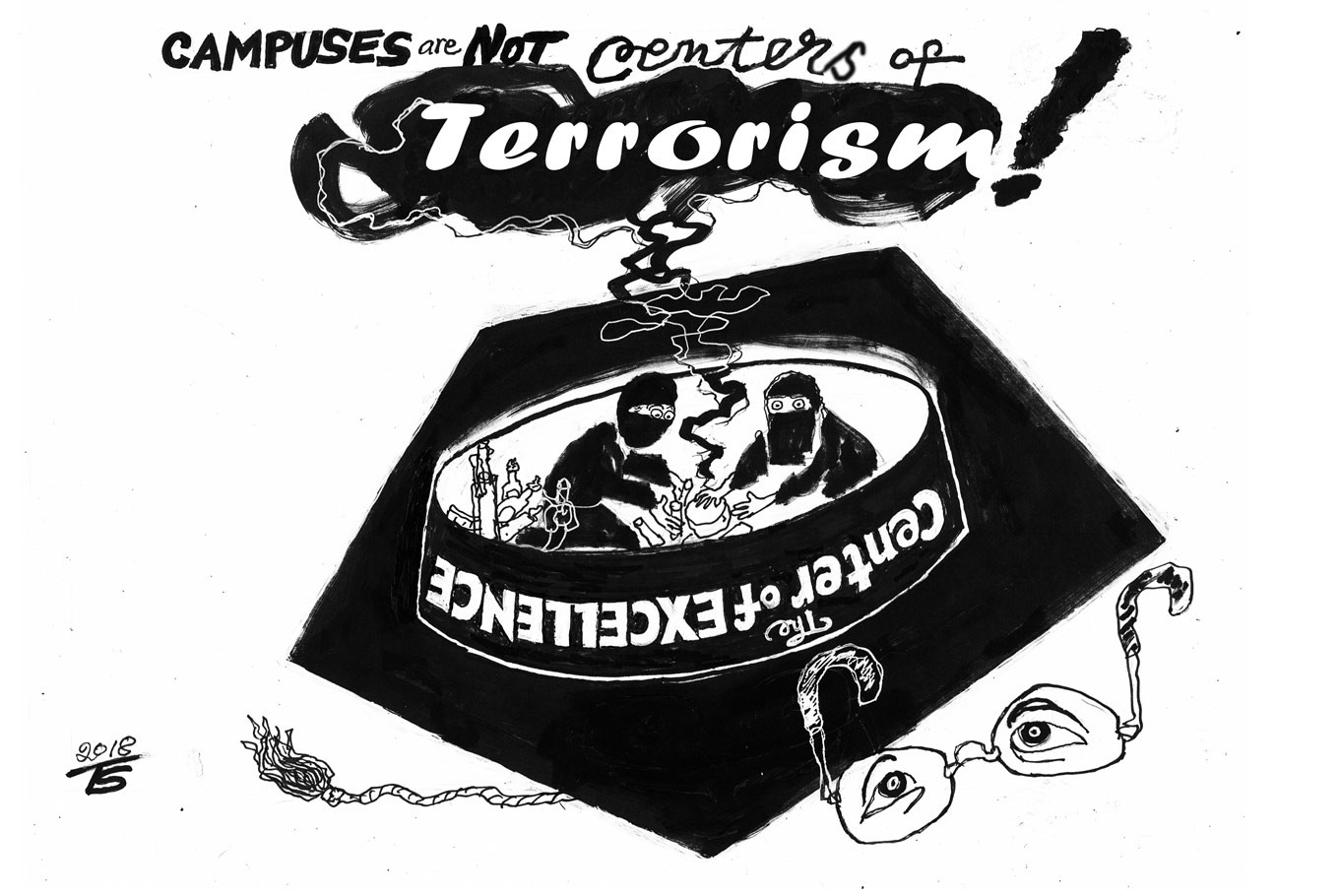 Anecdotal evidence shows how extremist radical teachings received by students have long been nurtured in religious classes outside the school curriculum. (JP/TS)
Devastating news hit the nation when two families on suicide missions breached the gates of churches in Surabaya, East Java, on May 13 and another attacked the local police headquarters the next day. The target of another family with explosives that blew up prematurely remains unknown. The suicide bombings followed what was understood as mutiny among terrorist inmates against police officers at the National Police Mobile Police headquarters (Mako Brimob), killing six officers and one inmate.

The Surabaya atrocity, which killed 14 people — including women and children — at the churches alone, was the first instance in Indonesia where women successfully killed themselves while killing others and also the first where they involved their own children in the suicide missions.

Anecdotal evidence shows how extremist radical teachings received by students have long been nurtured in religious classes outside the school curriculum. During the period of 1980-1990, cries of militant jihad echoed after youths joined the fight against Russia in Afghanistan. A decade later, young people responded to calls to fight in Syria.

Recently, the face of terror has considerably changed where women are involved as active actors and have extended their roles like their male counterparts to become violent jihadists. The doctrine of jihad where women have a special place in raising sons to carry out violent jihad has become yesterday's tale, for now, women can also directly contribute in martyrdom.

In the glorification of terrorism, terrorists hijack freedom of expression and thought in developing their violent worldview. In Indonesia's democracy today, no one can effectively stop them from holding gatherings and indoctrination sessions.

A serious shift to address the role of women as part of counterterrorism arose around the time when a large number of foreign fighters were found to have traveled from ASEAN countries to Syria and Iraq to fight with the Islamic State (IS) group and other extremist groups.

In October 2017 alone, according to a report, Indonesians, including women, represented the highest nationality of foreign fighters among Southeast Asia deported from Turkey.

Studies have listed the related roles of women in terrorism — as mothers who give birth and raise violent "jihadists"; as spouses helping men in terrorism, including by preparing logistics; taking care of household issues; educators of children in family environments of groups condoning and conducting violent extremism; supporting others in the terrorist cause; engaging in violent jihad / suicide bombings; disseminating propaganda of jihad or militant Islamism on social media; passing on extreme views to their children; and fund-raising.

Women's roles in terrorism obviously result from misled religious teachings, but for the women, their role is liberating, assuming they can reach jannah(heaven) if they can work hand-in-hand with male counterparts, especially when children are also brought into the grotesque mission.

Therefore, an integrated policy focusing on prevention is crucial. In 2016, the United Nations Security Council urged member states to "ensure the participation and leadership of women and women's organizations in developing counterterrorism strategies and violent extremism" known as UN resolution 2242, which integrates women's framework, peace and security with the prevention of violent extremism.

If agreed to by the President, Indonesia would be the first ASEAN country to have a national action plan on the countering and prevention of violent extremism, initiated by the National Counterterrorism Agency (BNPT).

It involved public consultations between August 2007 to January 2018, which included NGOs and the National Commission on Violence Against Women (Komnas Perempuan). Prevention is the first pillar of the draft action plan, where women as agents of peace can help break the chain of radicalism. Through focus group discussion in several cities, the role of civil society organizations representing women's voices and grassroots organizations that focus on children were recognized.

In the light of the Surabaya bombings, among others they should be involved in attempts to build family and community resilience against violent radicalism, apart from rehabilitating surviving child perpetrators of violence.

With the draft of the national action plan on the countering and prevention of violent extremism that can lead to terrorism, Indonesia is embarking on a more comprehensive policy perspective that uses the "whole government and whole society" approach. This approach aims to better coordinate action-oriented policies in prioritizing prevention among stakeholders in government and society at all levels, such as addressing and tackling intolerance from early school-age.

Deradicalization in the draft also includes ensuring the involvement of women or female law enforcement officers in dealing with female prisoners or convicts.

Obviously, global impacts of the terror not only subject women as victims; they can also become actors that can deliver peace. Women can play various active roles in preventing violence and in preventing the spread of extremist ideology and activities. As community leaders and as mothers, wives, sisters and daughters in family settings and professionals, they shape the values of community members.

Unfortunately, although incidents of violent extremism and terrorism that involve women appear to be increasing, women's and gender perspectives have not become mainstream in counterterrorism policies.

Understanding the different roles and capabilities of females as actors is an important entry point for engaging communities in dealing with and preventing violent extremism and terrorism.

Engaging and empowering women in countering terrorism and especially in preventing violent extremism requires an understanding of cultural practices that tend to institutionalize male patriarchy and marginalize women.

Parents and teachers alike, as well as religious teachers, must help to allay radical teachings that push individuals to terrorism and violent extremism starting from the individual, household and society level. Such collective work must involve local religious and traditional leaders, men and women, to help people understand religious and cultural values that can empower women to take a proactive, peaceful role in society; instead of feeling victimized and alienated, which could lead women to support or join acts of terror.
***
The writer is a senior researcher at the Research Center for Politics, the Indonesian Institute of Sciences (LIPI) with research interests in peace and conflict, also in the framework of women, peace and security.
Disclaimer: The opinions expressed in this article are those of the author and do not reflect the official stance of The Jakarta Post.
Topics :

Join the discussions