Preparing for the exodus
Editorial Board

The Jakarta Post
|

Sat, June 9, 2018

| 11:20 am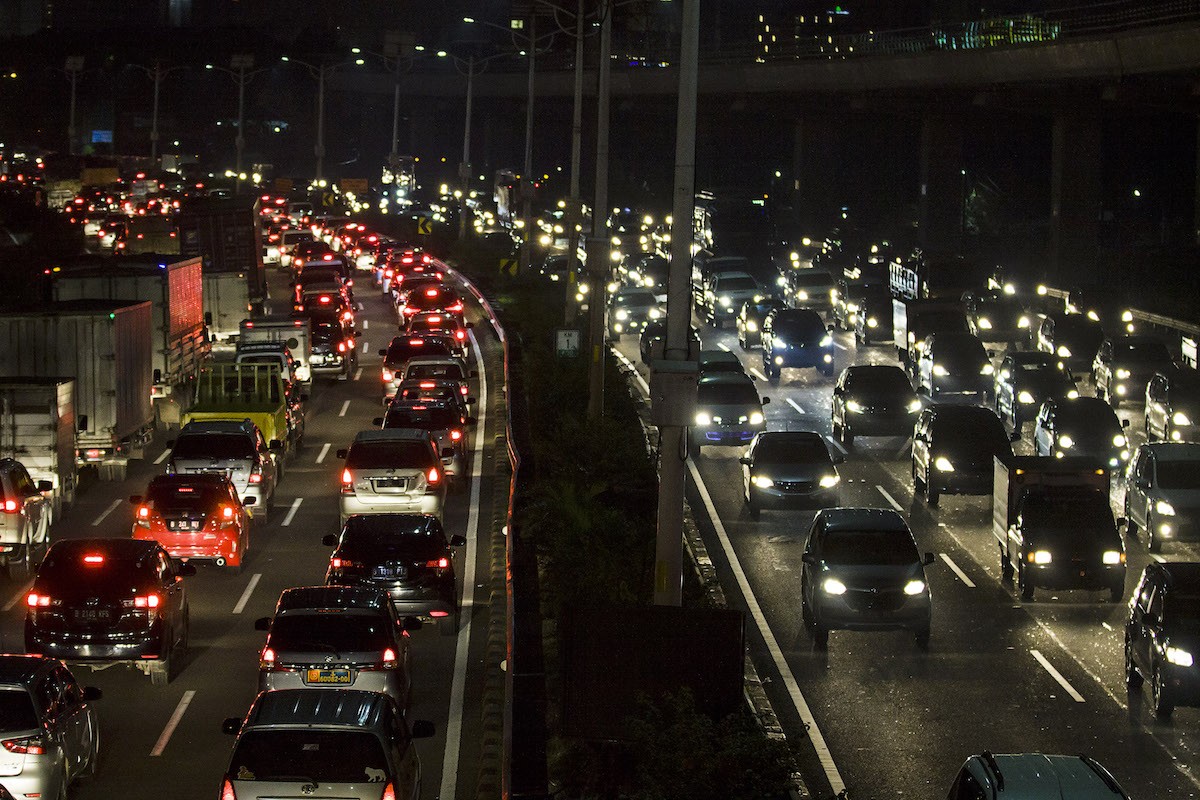 Private cars are still the favorite because travelers prefer to get around by car or motorcycle once they reach their families' homes and public transportation modes remain comparatively unreliable and inefficient in both urban and rural areas. (Antara/Galih Pradipta)
This weekend will see millions of travelers set off on their annual journeys to their hometowns across the country for next week's Idul Fitri holiday.
Many holidaymakers may take transportation modes like trains, ferries and airplanes but it is the management of land transportation that gives the authorities the biggest headache. From Jakarta alone, toll road operator PT Jasa Marga predicts, 1.4 million cars will leave.
Private cars are still the favorite because travelers prefer to get around by car or motorcycle once they reach their families' homes and public transportation modes remain comparatively unreliable and inefficient in both urban and rural areas.
The Transportation Ministry estimates almost 32 million people, about the size of the populations of Australia and Switzerland combined, will travel simultaneously, more or less, for this year's main holiday.
The exodus is arguably the world's second-largest annual migration after that of China, where several hundred million go home for Chinese New Year festivities.
Last year, "only" 29 million joined the exodus. More private motorists are expected this season, tempted by news about the near completion of the 1,100-kilometer trans-Java toll roads connecting Java's western and eastern tips.
However, even the government seems unsure if the new toll road sections will help ease traffic, with more vehicles expected to hit the roads.
Besides the new toll roads that will hopefully improve land connectivity, the authorities have been working hard on supporting systems, such as electronic pay machines, alternative routes and rest areas.
Ironically, the most severe traffi c gridlock often happens at toll roads at this time of year, triggered by overly crowded rest areas and busy exits. Police have identified 10 areas between Merak in the west and Ketapang in the eastern tip of Java as the most prone to congestion that traffic officers will focus on and motorists would be better avoiding.
The death of 12 Idul Fitri travellers from exhaustion in 2016 remains fresh in our minds — they had been trapped for many hours in horrifi c traffi c at what became known as "Brexit", the toll road exit in Brebes, Central Java. The Brexit tragedy ought to serve as a reminder about the need for improved traffic management and health services for people on the move.
Apart from the routine traffic issues, police should never take lightly the threat of terror groups carrying out more attacks during Ramadhan. The bombs that police seized from three terror suspects collared last week at the Riau University campus are reason enough to believe that the plots are real and present dangers.
We appreciate National Police chief Gen. Tito Karnavian's initiative to form special antiterrorist teams in every regional police command. They are charged with assisting the Densus 88 antiterrorism squad.
Equally vital in achieving a safe and enjoyable holiday is travelers' discipline on the road. New highway sections, well-designed routing and dedicated traffic officers will be of little significance if road users stick to their infamous
habit of flouting traffic rules and recklessness.
Join the discussions