Employing refugees in Indonesia: Is it possible?
Leiden |

Mon, June 11, 2018

| 03:50 pm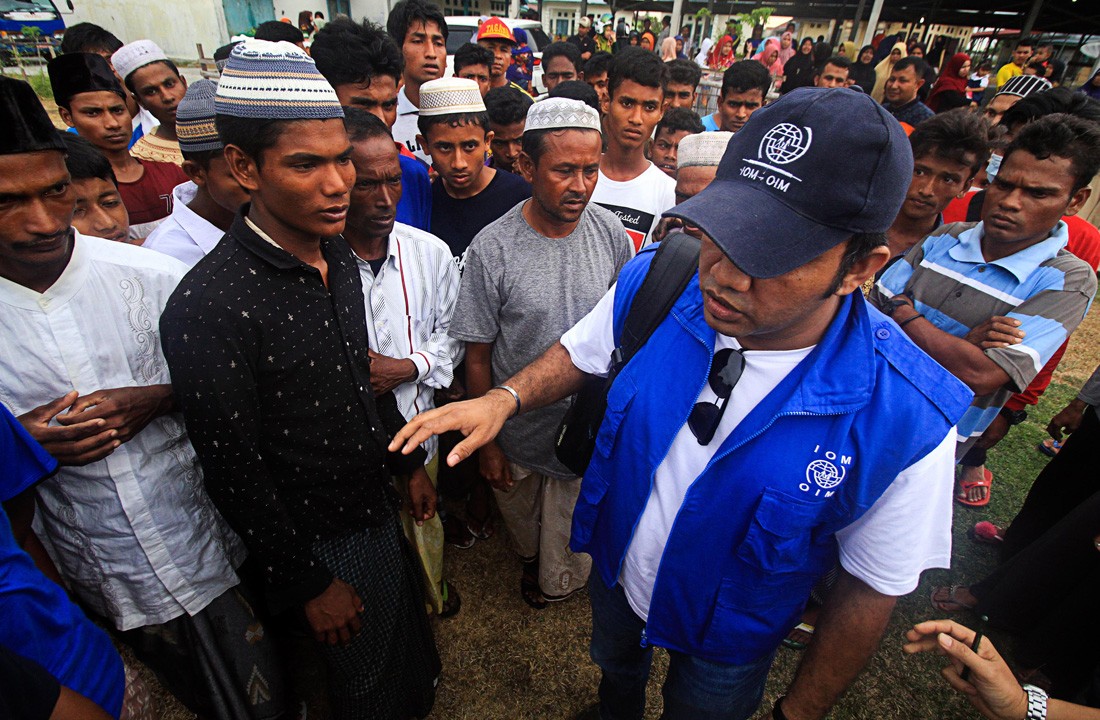 In humanitarian crisis: An International Organization for Migration (IOM) official (right, with a blue jacket) listens to complaints of several Rohingya refugees in a temporary shelter in Cot Gapu, Bireuen regency, Aceh, on April 21. (Antara/Rahmad)
Thomas Vargas, the representative of the United Nations High Commissioner for Refugees (UNHCR) in Indonesia, recently announced that he is in negotiations with the government to allow refugees to work temporarily in our country.
This initiative was prompted by low resettlement opportunity and limited aid budget for refugees. This initiative is not actually new in our region. In September 2016, employment for refugees was discussed by the Bali Process on People Smuggling, Trafficking in Persons and Related Transnational Crime. Australia and Indonesia are the co-chairs of Bali Process. In March 2017, Malaysia also launched a pilot scheme to employ 300 Rohingya refugees in their plantation and manufacturing sector.
Is it possible to apply a similar scheme in Indonesia? Employment is among key demands for refugees of productive age who become frustrated with uncertain waiting period. In March, a 22-year-old Afghan refugee committed a suicide in Medan after hearing that he might not be able to resettle in a third country.
According to UNHCR, Indonesia currently hosts more than 14,000 refugees and asylum seekers mostly from Afghanistan, Somalia, and Myanmar. As a non-party to the 1951 Refugee Convention and its protocol, Indonesia is not bound to integrate the refugees in the country and thus, acts as transit points for refugees before being resettled or repatriated.
Due to security issues and policies in countries of origin and destination, many refugees have to wait for years in Indonesia. Most of the refugees rely on international humanitarian aid as our legal instruments, including Presidential Decree number 125/ 2016 on Refugees from Abroad, do not regulate temporary work rights of the refugees. Several foreign media have raised concerns on this matter.
Widely cited reasons against giving refugees the right to work are our economic factors, especially labor market capacity and social receptiveness of the local population.
Indonesia is undoubtedly the biggest economy in Southeast Asia which has experienced stable economic growth in the past few years. However, as a country with more than 260 million people, Indonesia still has to deal with poverty and unemployment. In 2017, the Central Statistics Agency (BPS) reported that over 10 percent of our total population (around 26 million people) are living below the poverty line. BPS also noted that 5.5 percent of Indonesian labor force (around 7 million) are unemployed.
Moreover, while Indonesians seem to welcome the refugees, many are reluctant to the idea of hiring foreigners. We could see the recent buzz about Chinese migrant workers in Indonesia. Indonesia neither relies on migrant workers to fill its labor market.
Indonesia's Manpower Ministry records around 85,000 migrant workers, or about 0.07 percent of our total labor force. Most are said to be skilled workers with distinct skills compared to most of the local labor force. This is in contrast to Malaysia which has a long history of employing foreign workers. Almost 2 million migrant workers are known to work legally in Malaysia (about 12 percent of its labor force). Many of them are in the "3D jobs", the dirty, difficult and dangerous jobs like plantation and manufacturing sectors which locals are prone to avoid.
Taking into account our labor market capacity and apparently low social receptiveness to foreign workers, it would be difficult for the government to allow the refugees to work in Indonesia. Yet, if we are willing to accommodate them based on humanitarian concerns, the key solution is to find a particular sector in our labor market where there is a gap in supply and demand, so the refugees could fill it with their unique expertise, like teaching foreign languages. In order to do that, the government should work together with business leaders and civil society.
Finally, even though it is good to look for temporary solutions for refugees in transit, it's more important to focus on durable solutions by accelerating the resettlement process, as well as addressing the root causes of refugee problems in their countries of origin.
***
The writer works at the Foreign Ministry and is pursuing a master degree in international politics at Leiden University, The Netherlands. His thesis is on immigration policy-making in transit countries. The above views are personal.
Disclaimer: The opinions expressed in this article are those of the author and do not reflect the official stance of The Jakarta Post.
Topics :
Join the discussions