Harnessing wind power
Editorial Board

The Jakarta Post
Jakarta |

Fri, July 6, 2018

| 08:15 am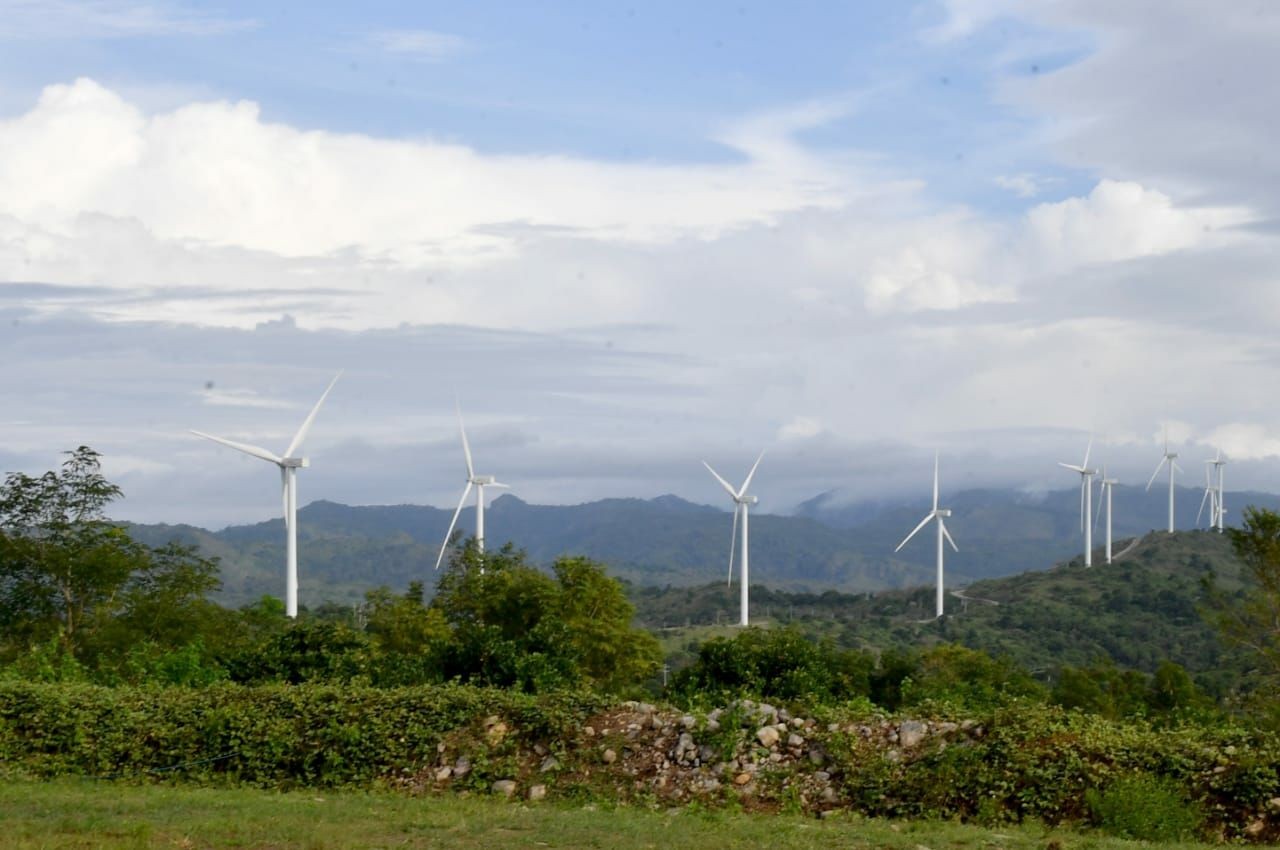 The wind power plant in Sidrap regency, South Sulawesi. (Courtesy of /Presidential Palace)
The wind power plant that was inaugurated by President Joko "Jokowi" Widodo in Sidrap regency, South Sulawesi, on Monday has a generation capacity of only 75 megawatts — rather negligible compared to the 35,000 MW capacity the government plans to build between 2015 and 2019. But the US$150 million plant really stands out as a great, confidence-building milestone in the development of wind energy in the world's largest archipelagic country, which has a vast potential for offshore wind power.

This latest project further demonstrated the government's strong commitment to the development of renewables, even though the pace of its program to phase out fuel subsidies is way below expectations. In December 2015, for example, Jokowi inaugurated in Kupang, East Nusa Tenggara, a 5 MW solar power plant. Mini hydropower plants have also been mushrooming in South Sulawesi, involving Norwegian investors, and so have been mini plants with 1 MW capacity using biogas from the waste of palm oil mills.

The beauty of wind, solar and hydro power generation, besides being friendly to the environment, is that even though their upfront, initial investment is rather high, their recurrent (production) costs are very small, because they do not need to buy their primary energy materials, unlike other utilities using fossil fuels. Moreover, they are located mostly in rural areas, far away from the national grid.

We should commend the full support and cooperation of the local government in expediting the acquisition of 100 hectares of land for the plant's 30 wind turbines, each with a 2.5 MW capacity.

We should also give credit to the central government for its conducive policies on renewable energy development in light of fulfilling its pledge to reduce Indonesia's carbon emission by 29 percent by 2030, and achieving a more clean energy mix whereby 23 percent of total power will be generated from renewable energy by 2025, from only 6 percent now.

At present, almost 50 percent of the country's total power capacity of 111,000 MW is fired by coal, 21 percent by natural gas, 8 percent each by hydro, geothermal and diesel oil, and the rest by other renewable energy.

The smooth implementation of the Sidrap wind power plant and the involvement of such global investors as UPC Renewables, which has invested in wind and solar power plants across the world with a total capacity of 3,500 MW, will further strengthen the market confidence in Indonesia's green energy industry.

In fact, UPC Renewables and its local partner, PT Binatek Energi Terbarukan, started the construction of three more wind power plants in South Sulawesi, South Kalimantan and West Java with a combined capacity of 500 MW even before the Sidrap project was completed.

But fiscal incentives are also necessary to attract more investors to develop renewable energy at least during the first few years of operations, because their upfront investment is usually very high. But at the end of the day, the more renewable energy plants state-owned energy company PLN has, the lower its generation costs will be.
Topics :
Join the discussions