KCI: Commuting behemoth
Editorial Board

The Jakarta Post
Jakarta |

Sat, July 28, 2018

| 12:39 pm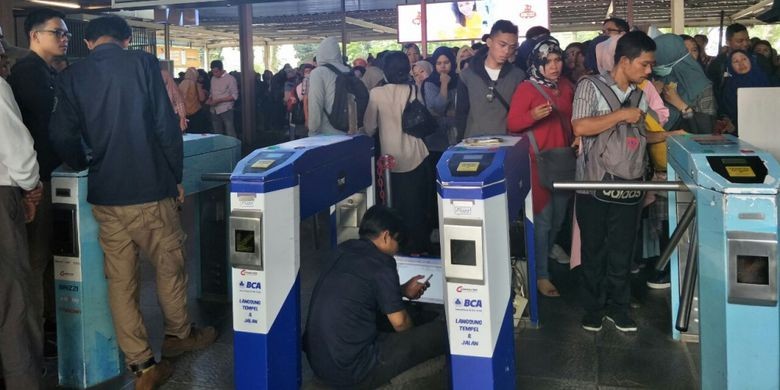 Over seven years, the subsidiary of state-owned train firm PT Kereta Api Indonesia has conducted major reforms, making it among the largest public transportation systems in the country. Starting with only 400,000 passengers, today about 1 million people in Greater Jakarta commute daily on the metro system. (kompas.com/Jessi Karina)
A ticketing chaos that struck the Greater Jakarta commuter line earlier this week added to the long line of glitches the metro system has experienced in the past few years. Even small operational errors cause long delays due to the overcrowded network.
This does not mean that PT Kereta Commuter Indonesia (KCI), the train operator, has done a poor job. Over seven years, the subsidiary of state-owned train firm PT Kereta Api Indonesia has conducted major reforms, making it among the largest public transportation systems in the country. Starting with only 400,000 passengers, today about 1 million people in Greater Jakarta commute daily on the metro system.
In many stations across Jakarta's satellite cities, people leave their cars and motorcycles and use the train to get to work. The service now operates almost 24 hours a day and is only closed from 2 a.m. to 3 a.m. for maintenance.
Obviously, KCI has been stretching itself thin while growing the system. The recent upgrade of its ticketing system, which led to the three-day chaos, was the first since the automated ticketing system began in 2013.
Although more trains and routes have been reinforced — including the long-awaited airport train from Jakarta to Soekarno-Hatta International Airport, the railway itself has yet to be extended. Construction of a four-track line that will link Manggarai interchange station in Jakarta to Cikarang, Bekasi, will only be completed by 2020.
No alternative as reliable as the train network is currently available to share the burden of passengers. Thus, even a small error jolts the network.
Currently, about 3.6 million people commute daily in Greater Jakarta. So, even if the metro line is running well, millions still use private vehicles or other means of public transportation to go to work. And commuters will continue to increase as trade and industrial activities blossom in the area.
While train operators and other rail-based transportation systems, such as light rail transit systems, develop networks, transportation authorities must now optimize other means of public transportation to support the metro line.
Transjakarta has tried to expand its feeder bus network, linking peripheral areas to the city-owned bus system -- and has seen increasing passenger numbers. The challenge for Transjakarta and other public transit operators is to define main commuting routes in the city and adjust their networks accordingly.
Without major improvements in public transportation, efforts to discourage people to use private vehicles will be futile. For the upcoming Asian Games, car owners will have to leave the vehicles at home for several days under the new odd-even traffic restriction policy. But the trial run has indicated it works largely when the police are not watching.
Greater Jakarta is in dire need of a good, integrated public transportation system to support the increasing activities of its economy and people. The government must act now or risk losing opportunities.
Join the discussions