2019 budget focuses on stability
Editorial Board

The Jakarta Post
Jakarta |

Mon, August 20, 2018

| 10:18 am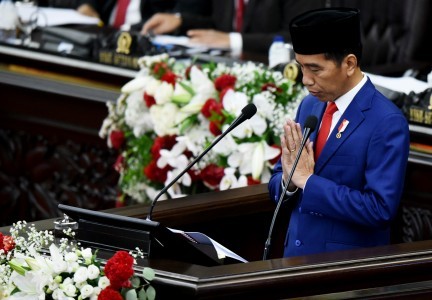 President Joko "Jokowi" Widodo (Antara/Hafidz Mubarak)
We commend President Joko "Jokowi" Widodo for proposing a tighter spending plan for 2019, despite it being an election year, as he is rightly focusing on maintaining price stability amid global economic uncertainty, the Federal Reserve's money tightening policies, the United States-China trade war and fears of contagion from the Turkish crisis, which all have combined to put pressure on the rupiah.

The tighter budget, which will reduce the fiscal deficit next year to 1.84 percent of gross domestic product from an estimated 2.12 percent this year (still way below the legal threshold of 3 percent), supports the tighter monetary policy Bank Indonesia announced on the eve of Jokowi's budget speech at the House of Representatives on Thursday.

Even though the budget plan asks for a 10 percent nominal increase in spending to Rp 2.44 quadrillion (US$168 billion), it is not really an election year budget, which is usually packed with many political goodies. Adjusted for inflation of 3.5 percent this year, in real terms the increase will only be 6 percent. The expansive impact of this increase will be even weaker because 73 percent of spending will be derived from consumers' pockets through taxes.

The good coordination of fiscal and monetary policies will lend credibility to macroeconomic management. A sharply weakening rupiah will have a devastating impact on macroeconomic stability because 50 percent of the fiscal deficit is financed by foreign portfolios, essentially short-term capital. A fairly stable currency is important to curb inflation because Indonesia imports 60 percent of its daily oil needs of 1.6 million barrels.

The market will be comfortable with the conservative assumptions used for the key elements of the 2019 budget proposal, such as 5.3 percent economic growth (as against an estimated 5.2 percent this year), average oil prices of $70 per barrel and a rupiah exchange rate of Rp 14,400 to the US dollar.

Yet more encouraging is the continued top priority given to the programs of human capital development, social safety nets, infrastructure and bureaucratic reform. If we are really determined to get out of the middle-income trap, we should increase our productivity through general and vocational education and better health services.

We should also strengthen our economic competitiveness with better, more efficient infrastructure to improve connectivity and step up bureaucratic reform to stimulate business operations. Our domestic market remains fragmented because of poor connectivity between urban and rural areas and between the major islands within the world's largest archipelagic country.

Better targeted social safety net programs, such as easy and low-cost education, health services, subsidized fuel and rice, contributed greatly to reducing poverty, for the first time in our history, to 9.82 percent of the population as of March from 11.22 percent in 2015.

But the challenge remains uphill because almost 70 million people still hover on the brink of the absolute poverty line, meaning that even a modest rise in inflation will mean these people will fall below the line. Hence, maintaining price stability is paramount.
Topics :
Join the discussions