Indonesia and ASEAN: A unique role to play in the South China Sea
Jim Clough

Graduated from international studies from the Royal Melbourne Institute of Technology University
Jakarta |

Wed, October 3, 2018

| 04:32 pm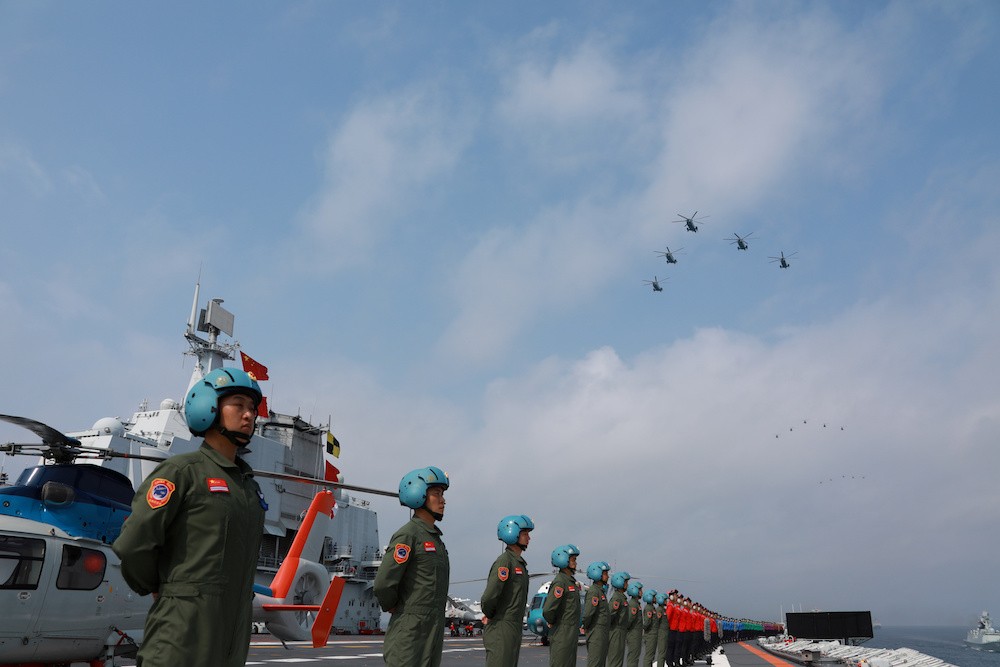 Navy personnel of Chinese People's Liberation Army (PLA) Navy take part in a military display in the South China Sea April 12, 2018. (Reuters/Stringer)
Over the last several years the South China Sea has exploded with activity, from island dredging to military build-up masquerading as civilian development. The region is increasingly heating up, leading experts to classify the area as a potential flashpoint in the years to come.
While some countries such as Vietnam have engaged in extra-legal construction on the many shoals and atolls in the region outside their Exclusive Economic Zone, the largest culprit is without a doubt China. Just google China's "nine-dash line". This poses a significant problem for not only Southeast Asia but for the greater Indo-Pacific as over 40 percent of global trade and one-third of crude oil passes through this choke-point.
China's extraordinary claim to the area not only constitutes a form of neo-colonialism but a deliberate attempt to build military positions, what I like to call floating fortresses, in international waters to dictate terms and conditions to its smaller neighbors such as Vietnam, Malaysia, Philippines, Brunei, and yes even Indonesia.
Indonesia sits in a unique if somewhat precarious position. Being the largest ASEAN member with a consistently growing economy but a history of non-alignment and a sorely underdeveloped navy and air force, it must take steps to ensure its economic security.
While investing further in its naval and air branches is a step in the right direction, Indonesia must take a greater role in guiding ASEAN members toward fostering greater cooperation, particularly regarding security. Indonesia, like other ASEAN members stand little chance of standing up to the "Middle Kingdom". But together they can form a powerful bulwark against an increasingly militaristic and aggressive China.
Indonesia should not stop there. Australia, India, Japan and United States have formed the Quadrilateral Security Dialogue ("the Quad") in recent years as a counterweight to Chinese intransigence. If a collection of four formidable blue water navies have felt the need to partner up to tackle collective goals, Indonesia and ASEAN would be wise to do the same.
Indonesia should deepen economic ties and use savvy diplomacy to not only increase cooperation among ASEAN states but to forge closer ties with members of the "Quad", call it the Quad + 1 if you will. Being the largest ASEAN member, it seems only natural that Indonesia, with extensive consultation from other ASEAN states, should push for such an alignment. I believe Indonesia, in the words of former United States president Theodore Roosevelt, will need to "speak softly and carry a big stick".
While fears of Chinese reprisals are justified, having so many nations dedicated to the freedom of navigation in the South China Sea to safeguard their own and each other's economic and trading interests in the region, China would be hard-pressed to exert pressure on so many states for fear of coordinated retaliation.
ASEAN itself is not fully united and historically has been weak in reigning in their dissenting members. For instance Cambodia, to the detriment of other members, has aligned itself more closely to China in recent years. China has taken advantage of this, preferring bilateral avenues with involved parties to leverage its larger size and military might to bully other countries into submission. Whereas, with a more unified ASEAN response, individual members would stop receiving such a raw deal. ASEAN needs to wake up to the alarm bells.
One need only look at the Philippines's unilateral attempt to take China to The Permanent Court of Arbitration in The Hague as a means of seeking redress. The court ultimately ruled in the Philippine's favor, but a victory on paper means nothing while China continues to increase its military build-up in the region. Alone, Indonesia and the other nations involved stand little chance of exacting a positive outcome for themselves, but together, a "freedom coalition" can show China that its neighbors will not simply be pushed around.
***
The writer graduated from international studies from the Royal Melbourne Institute of Technology University and is a proponent of multilateralism and international cooperation in tackling global challenges.
Disclaimer: The opinions expressed in this article are those of the author and do not reflect the official stance of The Jakarta Post.
Join the discussions