It's a mad men's world
Mario Rustan

New Guy columnist for feminist website Magdalene.co
Jakarta |

Mon, October 8, 2018

| 01:26 pm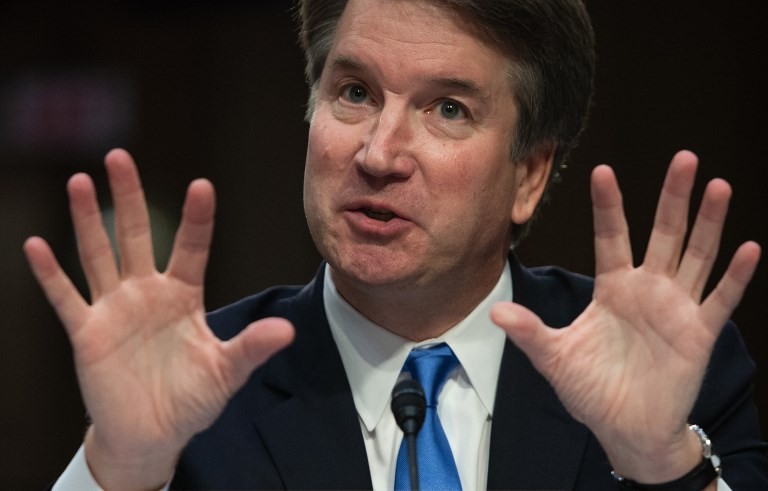 US Supreme Court nominee Brett Kavanaugh speaks on the second day of his confirmation hearing in front of the US Senate in Washington DC. Kavanaugh on September 14, 2018, denied involvement in an alleged sexual assault on a woman while they were in high school in the 1980s. In a statement released to US media, Kavanaugh rejected the woman's claim. The allegation came just one week before the Senate Judiciary Committee is to vote on his nomination. SAUL LOEB / AFP (AFP/Soul Loeb)
When Donald Trump won the American presidential election, the world believed he would be a global laughing stock. It came true in September 2018, when he used the podium of the United Nations General Assembly to rant about his achievements, supposedly the best in American history. Another president would have used the opportunity to reaffirm American benign leadership, but not him.
We might take it as another blunder from the most incompetent American president yet. The American ambassador to the UN, Nikki Haley, had to make an improbable excuse that the world laughed because they agreed with his honesty. New Zealand Prime Minister Jacinta Adern seized the moment to rebut Trump with her message of openness and cooperation. Trump, meanwhile, nudged the president of Colombia to ask his agreement that Democrats and women are liars.
Trump was clearly more preoccupied with his nomination of Brett Kavanaugh to join the United States' Supreme Court. Two months ago, opposition against Kavanaugh's confirmation was mainly an American feminist issue, as he might make it harder to access safe abortion services in the US, especially in less wealthy states.
But now the nomination has become a global issue, and several Indonesians, not just feminists, share interest in the news. At least three women have accused him of participating in sexual assaults against them back in 1980s.
The news brought back cosmopolitan Indonesians into the 1990s. In 1991, Clarence Thomas became the first African-American judge in the US Supreme Court, despite accusation of sexual harassment from his former assistant Anita Hill. Thomas claimed the accusation was racially motivated and remains the most conservative judge in the Supreme Court.
In 1998, while we were dealing with the severe financial crisis and the implosion of the New Order, the running news from US was the investigation into president Bill Clinton, who was accused of having improper sexual relations with White House intern Monica Lewinsky. Kavanaugh was in the investigation team.
Some Europeans and Asians, especially before 2010, were confused about why American media and public were obsessed with the sex lives of their statesmen. It is because these cases were not only about extramarital sex, but also about integrity and abuse of power.
Public judgment on Kavanaugh again splits Americans into Republicans and Democrats – Republicans believe he should be confirmed immediately, while Democrats believe the FBI should investigate him. Democrats believe he cannot join the Supreme Court as his integrity is questionable.
Indonesian progressives following the case say they believe the testimony of Christine Blasey Ford before the Senate Judiciary Committee. Supporters of Kavanaugh from Indonesia don't join any online debate, but there seem to be three kinds of them here – American Republicans residing in Indonesia, anti-feminist atheists, and conservative Christians who watch Fox News.
These three groups do not necessarily talk to each other, but they share a similar worldview: The Western world is broken, and the left – Social Democrats, Labor and Democrat voters, socialists, and Marxists – are to blame.
The American Republicans see Indonesia as their refuge from a burning US. The atheists dread the growth of feminism among middle-class Indonesians and are frustrated that the feminists don't share their Islamophobia. The Christians believe the West has abandoned Christianity while letting Islam flourish.
These three groups also believe in the importance of masculinity, whatever their lifestyle or sexual orientation is. They believe men have to lead the family and of society, and a woman's primary role is to support her man. Kavanaugh and Trump – fraternity boys with political power - are their champions.
The Republicans complain that (white) American women are no longer feminine, often comparing them negatively to Indonesian women. The atheists complain modern feminists are always demanding, even though women now can work and vote. The Christians believe Kavanaugh will check the feminists and their abortion and LGBT agenda.
People around the world laugh at Trump and don't care about Kavanaugh, but choose their own champions of masculinity. Filipinos, Turks, and Italians have chosen leaders who promised blood and iron instead of compassion and inclusion. Many people worry Brazilians will vote an antithesis to Lula da Silva and Dilma Roussef, and our own test will come in half a year.
The world is full of men who are angry that they are not in control anymore. They are not just workers betrayed by globalization and automatization. Many are white collar workers who still hold a career and lead a family. But in office they deal with confident women, and have to work with people from different backgrounds. In malls they see people from all over the world mingle together, and in television they see people from different races and faiths sharing their nationality.
What about the women? Fifty-two percent of white American women voted for Trump, and many women around the world are fine with leaders who like to make sexist jokes and threaten female oppositions. In Indonesia, anti-feminist and Christian women generally support President Joko "Jokowi" Widodo, but they are also motivated by antipathy against Islam. Women who hate Jokowi, meanwhile, believe he's not manly and that he gives too much space to liberals.
Why many women support the mad men is feminism's problem of evil – how can such a thing happen? Perhaps these women believe that if they desert the patriarchs, their world will collapse as well. Perhaps they believe in organized religion, in capitalism, in racial supremacy, and in masculine leadership. Perhaps they just find progressive women annoying and harmful.
American Democrats believe that even if Kavanaugh is confirmed, the rage of women would be evident in America's midterm election in November. If Trump's victory emboldens macho populists around the world, then the expected Democratic women's victories will inspire women worldwide, including Indonesian women.
***
The writer is a columnist for feminist website Magdalene.co
Disclaimer: The opinions expressed in this article are those of the author and do not reflect the official stance of The Jakarta Post.
Join the discussions