Dealing with Jakarta's own stink
Editorial Board

The Jakarta Post
Jakarta |

Sat, October 27, 2018

| 08:57 am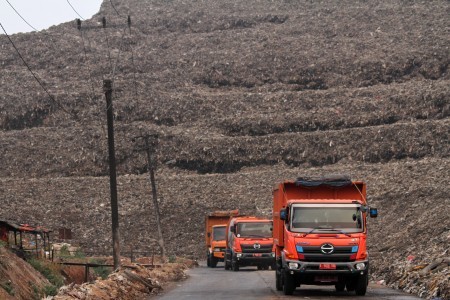 Several garbage trucks pass in the Bantar Gebang landfill in Bekasi, West Java carrying waste from Jakarta on Oct. 19, 2018. (Antara/Risky Andrianto)
The conflict over uang bau (stench money) between the Bekasi and Jakarta administrations is like watching a rerun soap opera between elites trying to "solve" a problem no one wants to deal with.

The story has continued along similar lines for over a decade: Bekasi on Jakarta's eastern outskirts demands more uang bau as compensation for the stink from Jakarta's waste, in particular affecting the residents in four districts.

The rerun has some variations with different actors showing different emotions, but the plot sticks: Millions of Jakartans want to have a clean city so they dump their garbage on Bekasi.

The latest rerun has the Bekasi administration asking for Rp 2 trillion (US$131 million) from Jakarta, and Jakarta Governor Anies Baswedan responding indignantly about the amount, saying it has allocated only Rp 141 billion, and that's it. Bekasi, or the elites, like the money and the opportunity to regularly ask for more, so they never actually follow through with their threat to stop the capital from sending 7,000 tons of garbage to the municipality every day.

The transaction is a stinky business not only because it deals with garbage but also because the deal utterly disregards the welfare of thousands of people in Bekasi, and is a show of Jakarta's condescending irresponsibility for their own stink.

Hundreds of trucks have to line up daily to enter the Bantargebang dump. Other motorists and the people living along the streets congested with these trucks have to bear it every day for hours.

The families around Bantargebang earn money from the garbage but it is not a life someone chooses to have. Trash picking is a hazardous occupation with minuscule rewards. Those living quite far away from the dump are still exposed to the stench.

Bantargebang is a sanitary landfill but cannot cope with the amount of garbage Jakartans are sending daily, so it becomes just a dump.

In 2013, the Jakarta Legislative Council passed a bylaw on garbage with 65 mentions of the 3Rs: reduce, reuse, recycle, because the spirit was to manage Jakarta's garbage with that principle. However, the 3Rs seem to have been merely lip service. The Jakarta administration never restricts its residents from producing trash.

Despite some regulations on littering, Jakarta practically rewards litterers with a service delivered by the popular "orange troops". Only in Jakarta can you litter and instead of being slapped with a fine, you get a service paid with public money to have the litter disposed of.

As long as Jakartans do not take responsibility for their own mess, the rerun will continue regardless of who is in charge. The garbage is creating a bigger mountain, and Bekasi elites will ask for more compensation. It will never end.

As long as Jakarta never attempts to reduce the amount of garbage and deal with their own litter locally, none of the municipalities actually deserve their Adipura cleanliness awards. Jakartans cannot continue to signal "Not in my backyard" and dump trash on their neighbor.
Topics :
Join the discussions