Discourse: Indonesia needs to play bigger role: British trade envoy to ASEAN
Nezar Patria

The Jakarta Post
London |

Wed, November 7, 2018

| 06:46 pm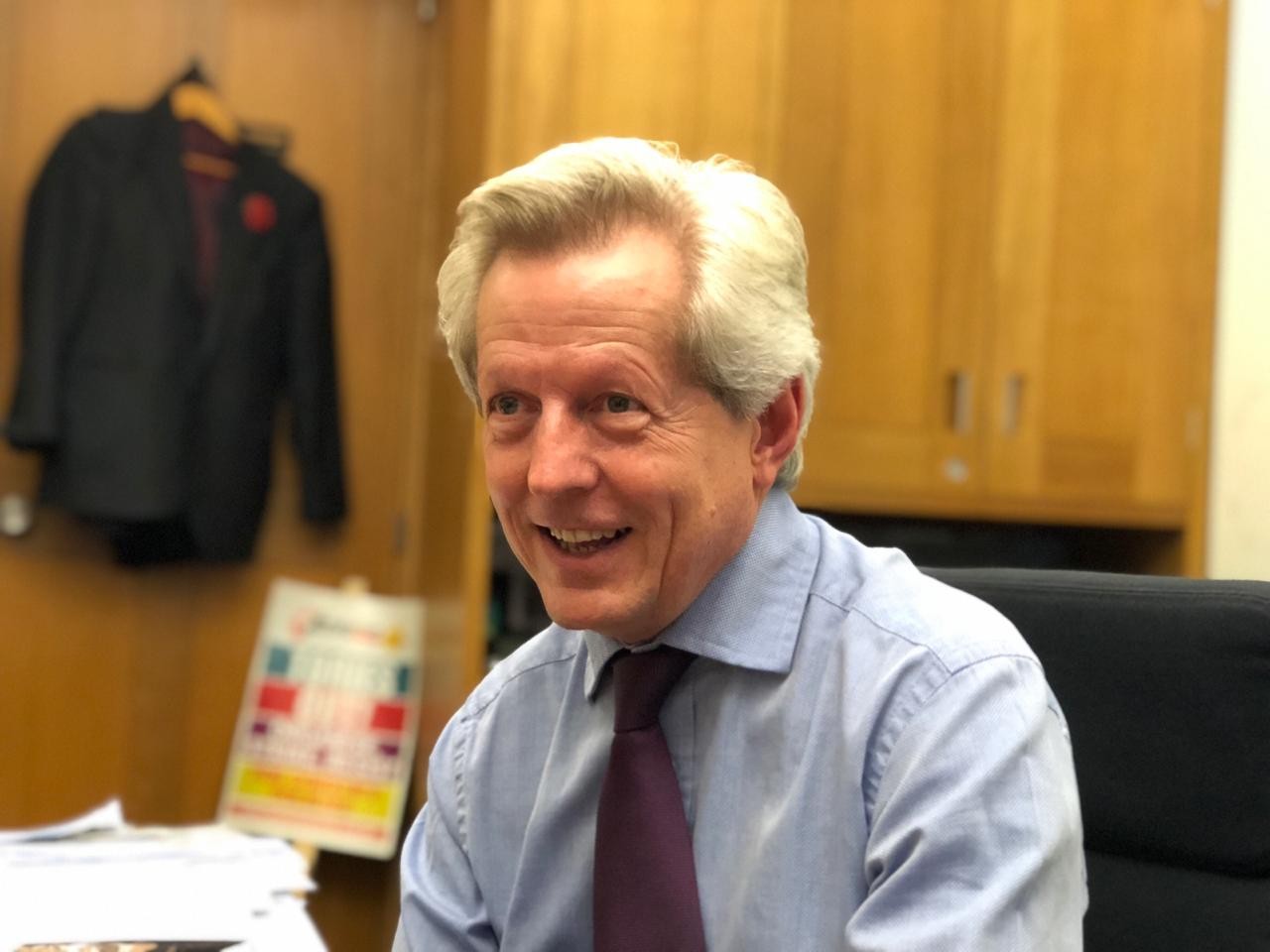 Richard Graham (JP/Nezar Patria)
Following the recent earthquake and tsunami in Central Sulawesi, the British prime minister's trade envoy to ASEAN, Richard Graham, appealed for help in Indonesian before parliament. Graham, chair of the all parliamentary groups for China, Indonesia and marine energy, attended the Indonesia Briefing event hosted by the Indonesian Embassy in London last week. He spoke to The Jakarta Post's chief editor Nezar Patria. The following are excerpts from the interview:
Question: Your video where you expressed sympathy to the victims of the Palu earthquakes and tsunami in Indonesian has gone viral. Have you visited Palu?
Answer: I have never been to Palu before. It just seemed to me that this disaster was an awful tragedy …. beyond the human experience of most people in the United Kingdom. We [have] passionate arguments about what type of Brexit we want, or what type of welfare reform. […] Therefore, we need to be aware of some of the tragedies that people in Indonesia are facing.
I wanted to try and use a few words in Bahasa Indonesia to bring the message alive. I wanted to try and use the proverb in English, "a friend in need is a friend indeed".
The pressing issue in the UK today is Brexit. How relevant is it to the Indonesia-UK relationship?
I don't think Brexit is going to have a huge impact; assuming that my belief in a sensible deal with the European Union and a sensible vote by parliament means the main legislative requirements get it straight. What's interesting about Brexit is the way that it focuses our minds on trying to debate, discuss, clarify and then produce a strategy for Britain's role in the world post-Brexit.
As a party, as a government, as a country, we tend to be more flexible and workable […]. It seems to be a chance to look at what Britain's contribution to the world is really going to be.
First, it is about strengthening the relationships with countries whose values are the same as ours. The direction that Indonesia has gone in over the last 10 to 15 years are toward increasingly shared values. That makes it much easier for our countries to have really good dialogues on the big issues […].
Some governments have an attitude toward the treatment of journalists, for example, that is completely different from ours. Indonesia has made huge steps toward moving to a much freer press, and much greater role for the media in holding the government to account. […]
So all the themes we have in common -- as maritime nations, nations with a history of tolerance and pluralism -- all these things come together more easily.
Second, if we're going to talk about global Britain and bring it alive, then the trends in the world mean that Asia, ASEAN and Indonesia are becoming more significant regions and countries, more powerful, and therefore, more essential for us to have a really strong relationship with.
[…] this is a journey for Indonesia moving from where the huge archipelago is mostly internally focused to being one that participates actively in the world. This is Indonesia's natural destiny just as it was the natural destiny for China, 10 to 15 years ago.
[…] Indonesia's journey to playing a bigger [global] role will be an easier […] one, especially for the western world than it has been for China. Because I don't think there are any major conflicts of interest.
Tourism is going to make a huge difference for people-to-people contacts. We still [have many] people from Britain who would like to explore Indonesia.
Whether it's business, education, infrastructure, tourism, […] the links between the UK and Indonesia will grow, and the impact of Brexit on all that will just be that we need to do more with Indonesia, with ASEAN, with Asia, because that's what bringing alive global Britain means.
It does mean a reassessment of our relationship with ASEAN, that's why we've just announced the appointment of a separate ambassador to ASEAN. […] We've now got this department of international trade […], focused on business partnerships.
Would Brexit have an economic impact for both Indonesia and the UK?
[Brexit will mean] far more money going into UK export finance, via the export credits, which is available for Indonesian businesses as well; they need only to have 20 percent UK content, so that should encourage more joint ventures of different types. Whichever sector I look at, like aerospace, which is important for a nation of islands, I can see us doing more together. These are opportunities to incentivize manufacturing in Indonesia.
The challenge in all this is implementation, because anyone from the UK who meets, say the Indonesian Ambassador [to the UK and Ireland Rizal Sukma], or Pak Tom Lembong [Investment Coordinating Board head Thomas Lembong],or listens to Pak Presiden [President Joko "Jokowi" Widodo] making a speech, they're going to feel, "wow, this is the sort of country we can really work with". But sometimes, you have to get approval from a province, or a city; then you can get a bit lost in […] red tape.
You actively promote Indonesia in parliament. What do you have in mind about Indonesia recently?
With the UK […], there are two levels of interest in Indonesia. One is a relatively small number of people who are very cosmopolitan, who travel, who work in Asia, who know a little bit about Indonesia; maybe they've been there, done some business […]. The other one is from people who understand Indonesia is a great place for a holiday, especially if you like Asia, and the sun, the food and the culture.
But there are [many] who […] probably think Bali is a separate country […]. It takes a long time to get to know each other. But that's changing too with more flights, more direct access and so on.
In parliament, what's changing is the greater awareness of the rise of Asia, and the way in which, nowadays, if you're a parliamentarian, and for example, if you haven't been to China or don't really know what's changed in China, you are missing something quite important. […] Likewise, there will be more people who realize they need to understand Indonesia because it is big and important. Indonesia will have a great influence not just in ASEAN; the ripples go much further than the shores of Southeast Asia.
Topics :
Join the discussions