Singapore's succession system: Faultless but unimaginative
Kornelius Purba

The Jakarta Post
Jakarta |

Wed, December 5, 2018

| 09:16 am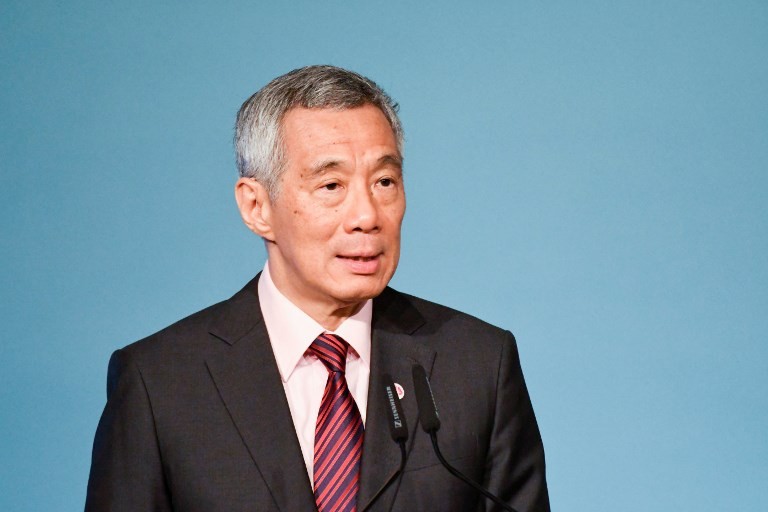 Singapore Prime Minister Lee Hsien Loong delivers his opening address at the 32nd ASEAN (Association of Southeast Asian Nations) Summit in Singapore on April 28, 2018. (AFP/Roslan Rahman)
Two months ago a veteran gambler told me confidently who would be the next prime minister of Singapore. One month later, Singapore's Prime Minister Lee Hsien Loong confirmed his perfect prediction.

The gambler was 100 percent right not because he was the reincarnation of Chow Yun-fat or Andy Lau, stars of the 1989 comedy God of Gamblers, but because Singapore's political system hardly provides room for speculation. Nearly perfect, but very boring! At least, the gambler had no chance to gamble on his future leader.

"You can challenge me to bet on anything and I will beat you, but no one will be gambling on who will be our next prime minister because the answer is so certain," the elderly Chinese man boasted when I asked him about Singapore's next prime minister.

I met the gambler at a Chinese food stall on a humid afternoon in Singapore's Bugis area. He said he had won a lot of money from guessing the result of Indonesia's presidential election in 2014. Most of his contenders had predicted Prabowo Subianto would win at the time. He hopes he can repeat his luck in Indonesia's elections next year. He said he would stick to his choice of four years ago: Joko "Jokowi" Widodo.

However, he insisted he was not interested in gambling over the future leader of his own country, although incumbent Prime Minister Lee has made it clear he would not retain his position when he turns 70 years old in 2022. "Our next prime minister should be the one who is currently in charge of this ministry," said the gambler while showing me a picture of the Treasury Office on his mobile phone.

Isn't Indonesian politics more interesting? I asked him: Shouldn't Singapore follow our system of democracy? "Singapore is too small compared to Indonesia. So cannot lah," he answered.

I was reminded of this conversation when I read the front page of this newspaper on Nov. 24.

"Heng picked as PAP's first assistant secretary-general; indicating he'll be next PM," read the report on Finance Minister Heng Swee Keat's appointment as first assistant secretary-general of the ruling party. It means he is to be the second person in the People's Action Party (PAP), after Secretary-General Lee Hsien Loong. The 57-year-old minister's promotion did not affect the market one bit.

Established in 1954, the PAP has ruled the island state since the country's independence in 1965. The late founding father Lee Kuan Yew ruled Singapore for 31 years until 1990, when he transferred his position to his loyal deputy, Goh Chok Tong. Lee's son, Hsien Loong, replaced Goh after 14 years. Prime Minister Lee's father stepped down when he was 67, while Goh had been 63.

Now Finance Minister Heng is (very, very likely) to be promoted to become deputy prime minister in the next Cabinet reshuffle. Trade and Industry Minister Chan Chun Sing would be next on the list after Heng because he was also promoted to be second assistant to the PAP secretary-general.

Leadership promotion and succession in Singapore is almost textbook perfect, based on meritocracy. The current Lee had to wait for 14 years before his father was confident enough for him to become Singapore's third prime minister.

Stability, continuity, excellent governance both in government and in the private sector, an effective and transparent legal system and an international-oriented market are among the core features of Singapore.

Borrowing from our third president BJ Habibie, Singapore is just a little red dot compared to Indonesia, but Singapore can pride itself as being among the world's most advanced nations. Its bigger neighbors Indonesia and Malaysia often make Singapore a scapegoat for their failures to bully the small state.

Singaporean passports are the second most powerful in the world because 189 countries grant visa-free entry to their holders. Japan has the most powerful passport with 190 countries.

In a TV interview in October last year, Prime Minister Lee said "It is never easy to be a small country next to a big neighbor." He sparked concern when he announced he was sick a few years ago and when his two siblings openly attacked him over a dispute involving the family's heritage house. However, Singapore's neighbors fully respect his leadership, including when he chaired ASEAN for one year until last month.

In his book From Third World to First, the senior Lee described how Indonesian leaders often belittled his country because of its tiny size, but he proved that size (alone) does not always matter. International media described him as a dictator, but look at his achievements.

Activists have criticized Singapore's use of its legal system to silence dissidents and the government's tendency to act as a nanny to its people. Its diplomats are often overly sensitive when foreign media publish critical views and reports about Singapore. One day I jokingly told a Singaporean editor: "Singapore's media is very free to criticize the government [pause] of Indonesia."

In Singapore's crystal clear system, Finance Minister Heng would likely replace Lee as prime minister. An early election can be conducted next year.

But isn't that system too boring for the people? Highly educated and prosperous Singaporeans may one day say: "Let us have a more exciting political system!" Indonesia is not too bad of an example of a democracy.

The old gambler may agree because it could be good for his business.

Join the discussions