RIF 2017 puts spotlight on Indonesia's emerging tourist destinations

Jakarta, Indonesia |

Mon, October 9, 2017

| 10:03 am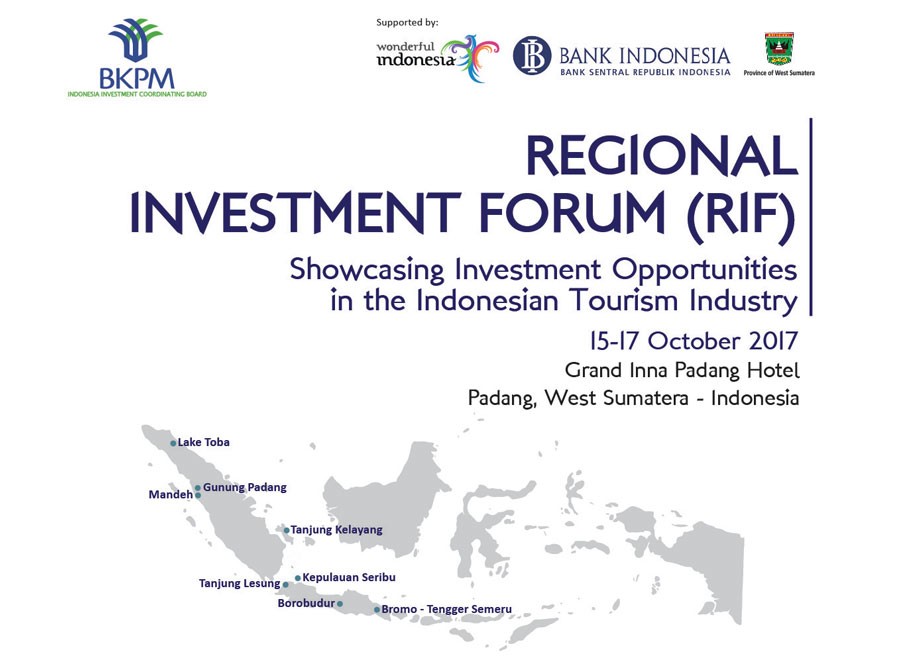 Photo courtesy of BKPM (./.)
Bali might be Indonesia's best known tourist destination. The archipelagic country, however, still boasts numerous other tourist destinations, across North and West Sumatra as well as East and Central Java and elsewhere, popular among travelers. The potential of these emerging tourist destinations, unfortunately, still remains untapped by investors, who have mainly focused on Bali so far.
This is why Investment Coordinating Board (BKPM) chairman Thomas Lembong is currently inviting foreign and domestic investors alike to invest in the tourist sector, particularly in destinations – other than Bali – which still have great potential to be developed. He referred to these areas as "the new Balis of Indonesia", or the next big tourism hubs in Indonesia besides Bali.
"Investors investing in Bali's tourism 10 years ago by supporting the island's hotels, resorts and villas, must have enjoyed the benefits of the area's already-developed tourist ecosystem by now. Therefore, it is time now to invest in 'the new Balis of Indonesia'," Thomas said on Oct. 9.
New and potential tourist attractions designated by the government to be Indonesia's top 10 priority destinations for development include Lake Toba in North Sumatra, Kelayang Cape in Bangka Belitung, Lesung Cape in Banten, Thousand Islands in Jakarta, Borobudur in Central Java, the Bromo – Tengger – Semeru mountains in East Java, as well as two integrated tourist areas in West Sumatra, namely Mandeh Beach and Mount Padang.
To lure investors to channel their funds into these destinations, Thomas will highlight the government's priority destinations mentioned above in the upcoming Regional Investment Forum 2017 (RIF 2017), which will be organized in Padang, West Sumatra, from Oct. 15 to 17.
Initiated by the BKPM in cooperation with the Tourism Ministry, Bank Indonesia and the West Sumatra provincial administration, RIF 2017 seeks to support President Joko "Jokowi" Widodo's administration in its efforts to develop tourism.
The administration has an ambitious target of attracting 20 million foreign tourist arrivals to Indonesia per year, with 275 million domestic tourist visits per year. Furthermore, the sector is expected to generate up to Rp 260 trillion in foreign exchange earnings.
The forum will also be an effective platform to place these destinations in foreign investors' spotlight: to date, approximately 114 investors from Australia, China, Japan, Singapore, the United Kingdom and the United States have confirmed their participation in the event.
To make the forum more fruitful, around 66 meetings have been scheduled among investors, local government representatives and entrepreneurs to intensively explore investment opportunities in tourism.
According to Tourism Minister Arief Yahya, participating investors could invest their capital to build facilities in the priority tourist destinations offered in the forum to help boost foreign and domestic tourist arrivals in Indonesia.
Arief emphasized that to meet the needs of tourists for proper infrastructure and facilities, the government needed to partner with the business community to achieve attractive, amenable and accessible tourism in Indonesia.
Speaking about facilities, West Sumatra Governor Irwan Prayitno also took time to promote his province, explaining that Padang – the province's capital – had actually served as an international trading port since the 16th century.
"Therefore, West Sumatra is open wide for business and investment. The beauties of Mount Padang and Mandeh Beach as well as the delicacy of Padang cuisine is ready to welcome foreign and domestic investors," he said.
The minister and the governor are scheduled to speak at the forum. Among high-profile government officials also scheduled to attend the forum are Energy and Mineral Resources Deputy Minister Arcandra Tahar and Bank Indonesia Senior Deputy Governor Mirza Adityaswara. Furthermore, Indonesian ambassadors to the United Arab Emirates, Sweden, Belgium, Malaysia and Mexico are also scheduled to attend the forum.
For more information on tourist destinations offered during the forum as well as a detailed rundown of its schedule, visit the website regionalinvestmentforum.com.
Lucrative sector
As a whole, Indonesia's tourism is a promising industry.
"Within the first half of 2017, the tourist sector has grown by more than 35 percent compared to the same period last year. It certainly shows that this sector is growing very well," Thomas said.
Based on BKPM data, investment realization in tourism between the period of 2010 and 2016 had increased by an average of 20 percent per year. Within the same period, the sector absorbed 221,000 workers into the workforce.
Within the first half of 2017, meanwhile, investment realization in tourism amounted to Rp 12.4 trillion (US$929.14 million), recording a growth of 37 percent year-on-year.
You might also like :