Mercedes-Benz backs Makassar soccer club
Inforial

The Jakarta Post
Jakarta, Indonesia |

Tue, November 27, 2018

| 11:42 am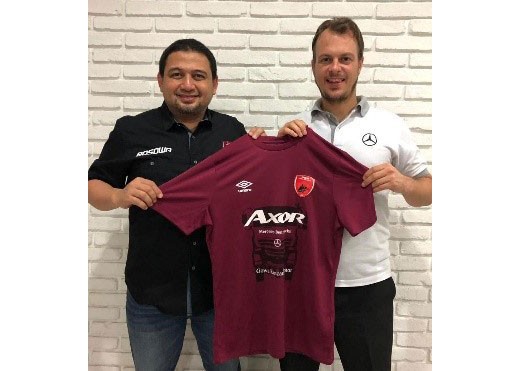 . (./.)
Luxury automotive brand Mercedes-Benz has recently supported a local soccer club from Makassar, South Sulawesi, in its match against Bali United during the final match of Go-Jek League 1 by providing for the club's transportation needs.
During the match on Nov. 25 at Matoangging Stadium in Makassar, Mercedez-Benz gave the club its AXOR truck, a commercial vehicle with an international reputation for its toughness and durability, to transport the soccer players and their equipment.
South Sulawesi is a province known for producing great Indonesian soccer players. Soccer players from the province, especially from its capital city Makassar, have frequently represented Indonesia at both national and international events.
Mercedes-Benz lent its support to the soccer club through its official dealer in Makassar, PT Gowa Kencana Motor.
"With the support of Mercedes-Benz's AXOR truck, we are proud and increasingly driven toward the top of the championship. The support also boosts our confidence in the commitment of our sponsors and has certainly become a great first impression as a basis for further cooperation [with Mercedes-Benz] for next season," Makassar soccer club chief executive officer Munafri Arifuddin said.
According to Gowa Kencana Motor president director Christopher Janssen, as a beginner in the truck sales industry, the company is very proud to be able to cooperate with the Makassar soccer club to stimulate both the football club and the brand to reach the highest success in their own respective fields.
Gowa Kencana Motor also has branches in Sulawesi, West Java and South Sumatra. Presently, the company caters to the transportation needs of entrepreneurs and industries in the mining, cement, logistics and oil sectors by providing them with heavy-duty truck vehicles. With the support of its sole agent, Daimler Commercial Vehicles Indonesia, the company is very confident about competing against other brands as well.
"We would also like to thank the Daimler Commercial Vehicles Indonesia for supporting this collaboration," Christopher said.
High quality vehicles
The Mercedes-Benz AXOR truck comes with a comprehensive product lineup for different industrial needs, namely Rigid, Mining and Construction types, as well as concrete mixers and a large selection of tractor heads. The AXOR truck is a high quality vehicle thanks to its large horsepower and fuel-efficient features.
The AXOR truck is manufactured in a factory in Wanaherang in Bogor, West Java, in close proximity to the brand's customers. In addition, the price and quality of the AXOR products Mercedes-Benz offers are also highly competitive with prices starting from Rp 600 million, taking the current economic condition into account. With the price and quality that Mercedes-Benz AXOR trucks offer, we want to debunk the myth that they are very expensive.