Govt facilitates return of paralyzed migrant worker in Taiwan
Inforial

The Jakarta Post
Jakarta, Indonesia |

Mon, December 3, 2018

| 12:01 am . (./.)
The Indonesian government is facilitating the return of Shinta Danuar, a 26-year-old Indonesian migrant worker (TKI) in Taiwan with permanent paralysis, to Indonesia.
"In coordination with the Indonesian Economic and Trade Office to Taipei (KDEI Taipei) and an airline, Shinta will return to her home country on Nov. 29. Hopefully, there will be no problems," the Manpower Ministry's labor supervision and health and work safety director General Maruli A. Hasoloan said on Tuesday.
The cost of her return is completely covered by the Manpower Ministry and the Agency for the Placement and Protection of Indonesian Migrant Workers (BNP2TKI). "The government is concerned with Shinta's condition and wants to help her to come home as per her family's request," Maruli said.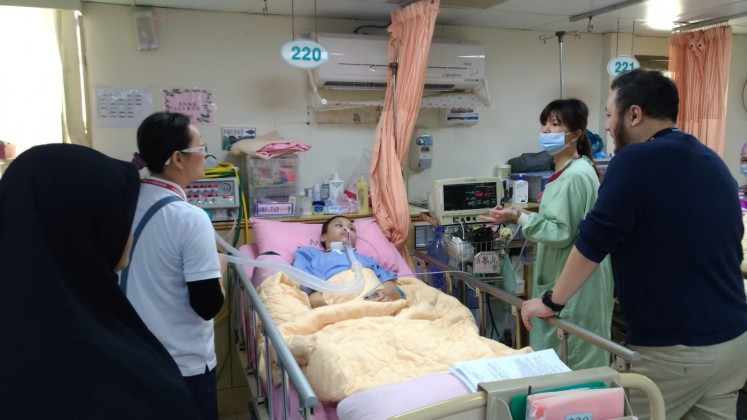 . (./.)
Suryati, Shinta's mother, had asked for the return of her daughter, which was not medically recommended. Suryati also signed the request form and a statement saying she would accept all the risks.
Shinta's paralysis was caused not by any abuse or mistreatment, said Manpower Ministry spokesperson Soes Hindharno, but by health problems.

Shinta, who originally came from Banyumas in Central Java, had worked with her employer Gao Jia Tai in Hsinchu City in Taiwan since April 2014 as a nurse.

In early January 2015, the KDEI Taipei received a report from Shinta's agency, which informed that Shinta was in a coma and was being treated in Mackay Memorial Hospital in Hsinchu, Taiwan. The doctors had mentioned the possibility that Shinta would be in a permanent coma. The spinal cord damage left her paralyzed from the neck down.
When Shinta awoke from the coma, doctors soon discovered that her lungs could not expand properly so she needed respiratory equipment. Shinta was later moved to Heping Hospital in Hsinchu, Taiwan, for a better treatment.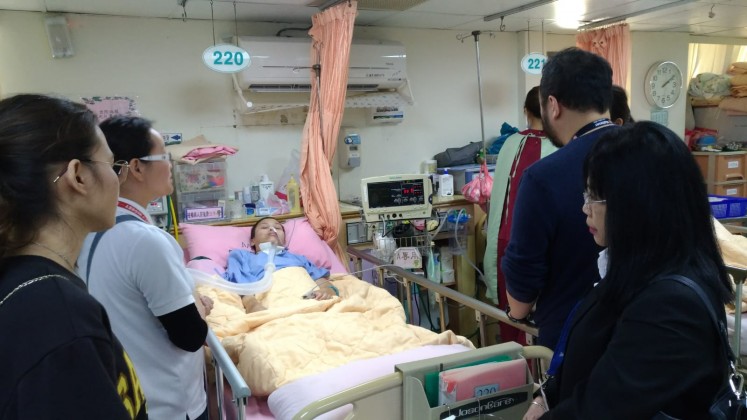 . (./.)
The medical team at Heping Hospital trained Shinta to breathe without the device to ease the process of returning to Indonesia. After two years had passed, however, the attempt still had not worked and the doctors declared that Shinta had to use respiratory equipment permanently.
During the treatment, the KDEI Taipei had visited Shinta several times to monitor her condition. The office, Shinta's agency, and her employer had also facilitated two visits by Shinta's family in January 2015 and March 2018.
After undergoing a range of medical treatments to prepare for her return, Shinta was scheduled to return on Thursday. Due to her profound paralysis, the Taiwanese Emergency Medical Service is providing a special ambulance to take Shinta, who will be assisted by a team of doctors.
The Taiwanese Emergency Medical Service also requested that the Indonesian government provide a standardized ambulance to take Shinta from the airport to Kramatjati Police Hospital in Jakarta.
"The head of the workers division of the KDEI Taipei, Indah Wijayanti, and a team will assist Shinta's return to Indonesia," said Soes of the Manpower Ministry. "And then Kramatjati Police Hospital will provide further treatment."