Govt to bring home RI migrant worker suffering from respiratory illness
Inforial

The Jakarta Post
Jakarta, Indonesia |

Wed, December 5, 2018

| 12:07 am . (./.)
The Manpower Ministry announced that is has arranged for Shinta Danuar, a 26-year-old Indonesian migrant worker employed in Taiwan, to return to her hometown in Banyumas, Central Java, after she suffered from chronic respiratory failure.
Shinta arrived home on Nov. 29. She started working as a caregiver in a nursing home in Taiwan in April 2014. On Jan. 6, 2015, the Indonesian Trading and Economy Office in Taipei received information that Shinta suffered from a respiratory illness and was lying unconscious in Mackay Hospital in Hsinchu.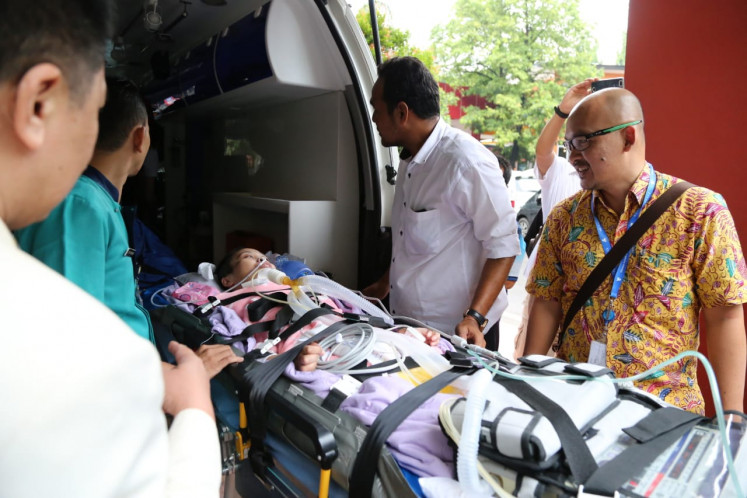 . (./.)
The hospital later stated that Shinta needed to go on life support because her lungs had ceased working. She was subsequently relocated to Heping Hospital in Hsinchu for her treatments to continue. On Nov. 23, the hospital announced that Shinta was well enough to return to Indonesia. A doctor and two nurses from the hospital accompanied her journey home.
On her way back to Indonesia, Shinta was also accompanied by Sri Indah Wijayanti, chairman of the Indonesian Trading and Economy Office, as well as Shinta's mother, Suryati. After she landed at Soekarno-Hatta International Airport in late November, she was taken to the Kramat Jati National Police Hospital in East Jakarta for several medical examinations.
Shinta's arrival at the hospital was greeted by Social Affairs Minister Agus Gumiwang Kartasasmita, the Agency for the Placement and Protection of Indonesian Migrant Workers chairman Nusron Wahid and Manpower Ministry labor posting, guidance and expansion of job opportunities director general Nurahman, among others.
"Thank God that she has started to recover from the long illness," Nurahman said, adding that the government was grateful for all parties involved in bringing Shinta back to Indonesia.
He added that the government should always be present to protect migrant workers, especially those who fall ill while working abroad.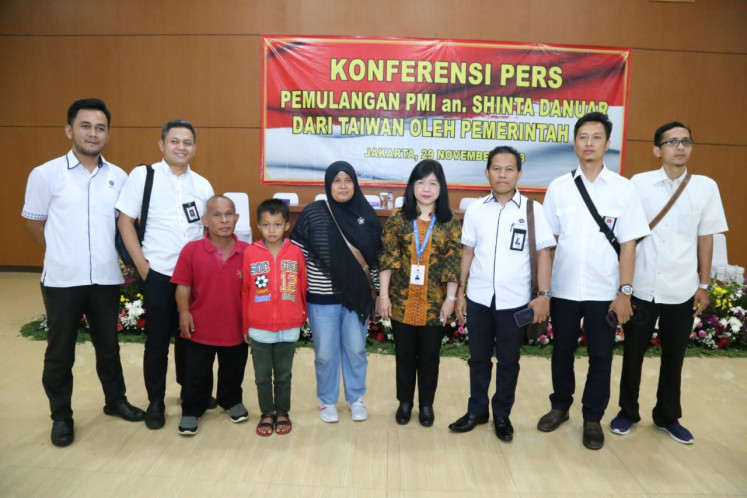 . (./.)
Nurahman added that the ministry would strive to always improve the protection of Indonesian migrant workers.
"We should also decrease the risks that migrant workers face of falling ill or having an accident abroad," he explained.
According to Nurahman, his directorate general is also working hard to improve the quality of Indonesian migrant workers by boosting their foreign language skills, cultural adjustment and competence.
After Shinta returned to her hometown, all matters related to her welfare and healthcare were placed under the care of the Social Affairs Ministry. The ministry also helped procure a car that transported Shinta to her hometown.
Agus said his ministry was committed to treating Shinta until she was fully recovered from her illness.